The holidays don't have to be perfect, but they should be delicious. Today I'm sharing a simple, forgiving recipe for flaky, sugar-flecked raspberry-chocolate rugelach.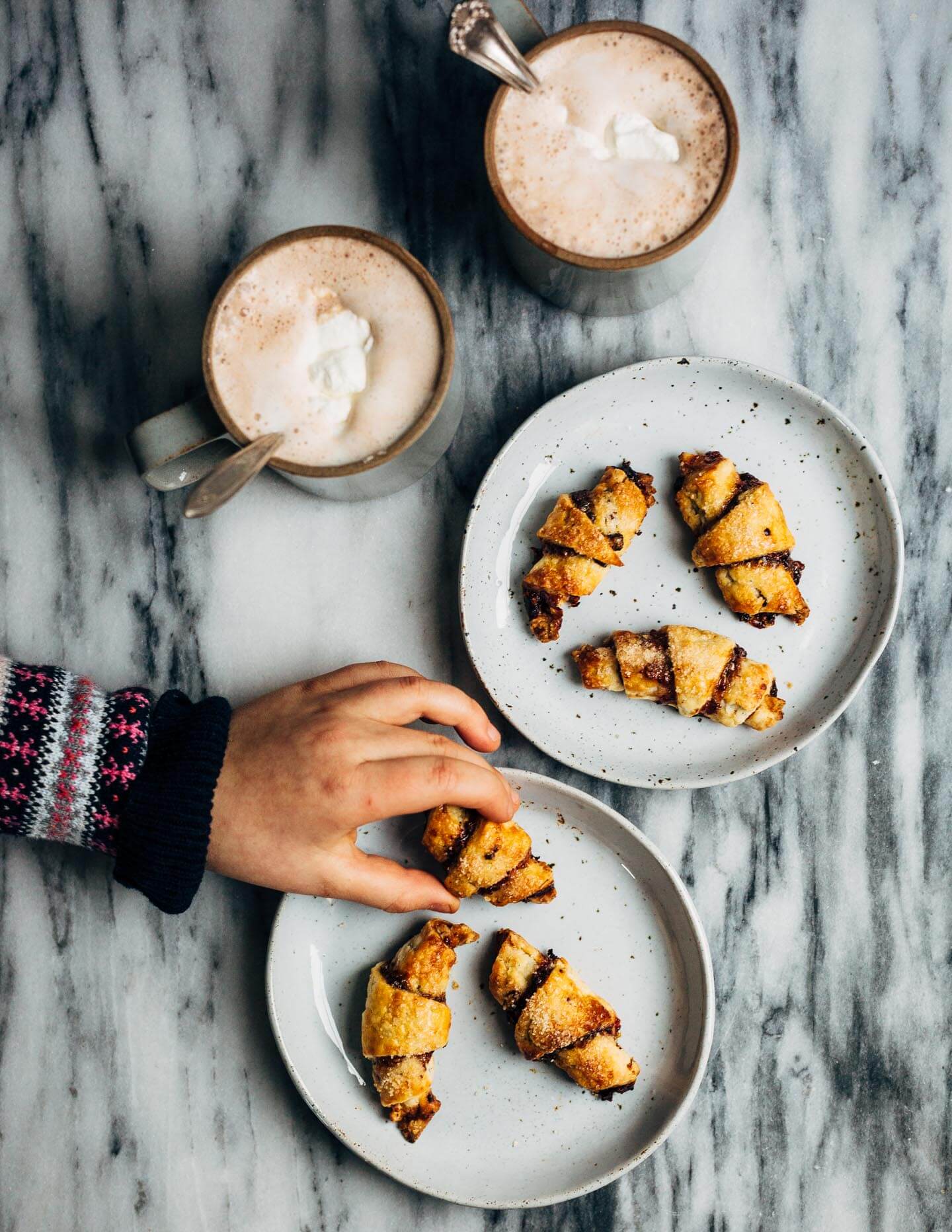 It's the time of year where those who are very organized, or at least very good at seeming to be very organized, roll out images of their picture perfect holiday on social media. Perfectly trimmed trees, well considered Hanukkah celebrations, holiday decorations, and endless cookies. If you, like me, are not quite so on top of things, these images can be anxiety-inducing. The holiday season shouldn't feel like it's slipping away on December 4.
So over the weekend, I set my phone down. On Friday, the girls and I played at the park and then came home for raspberry-chocolate rugelach cookies (made earlier in the week) and homemade hot chocolate. By Saturday, a cold I've been battling got the better of me and we spent an afternoon snuggled up watching a cheesy Christmas movie. It's small moments like these that make the season bright.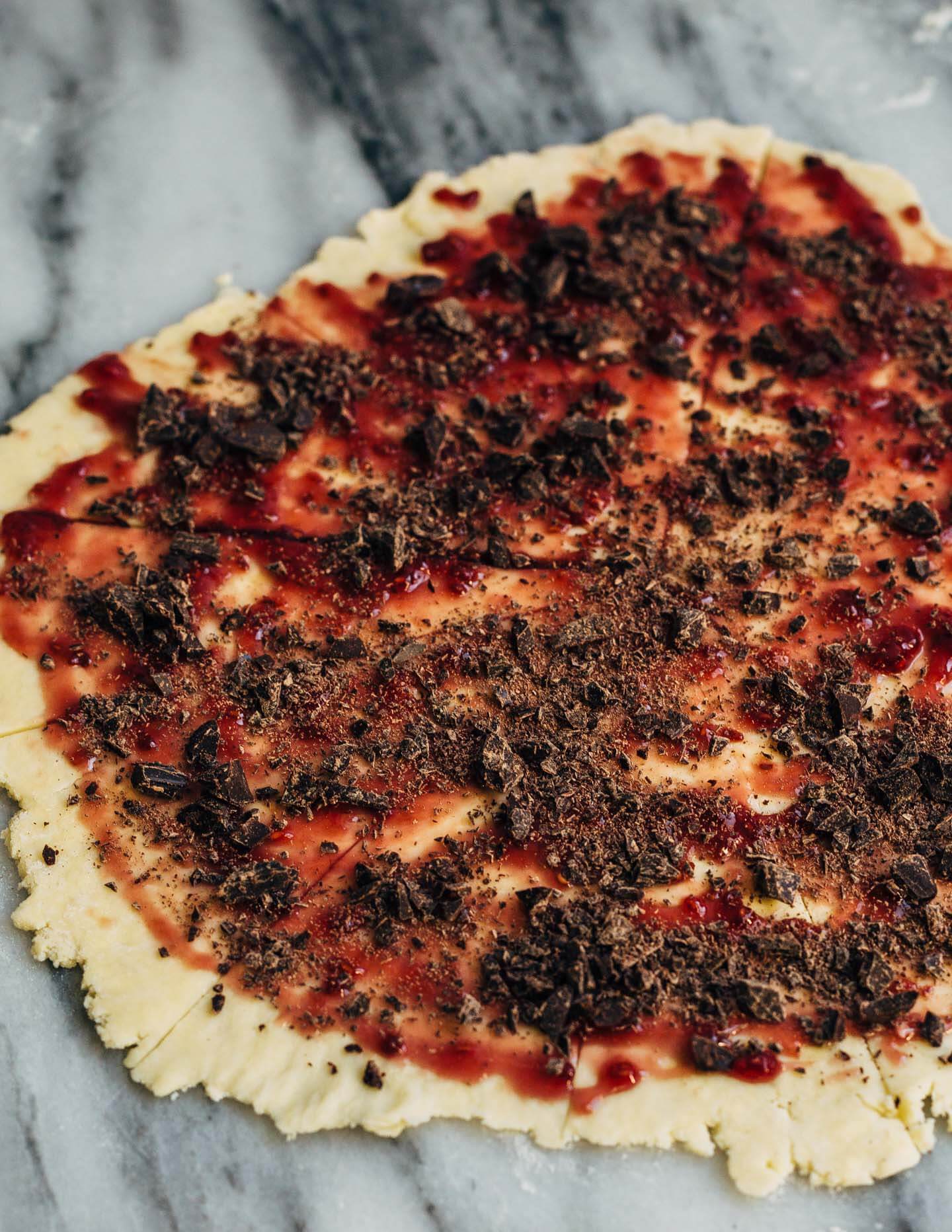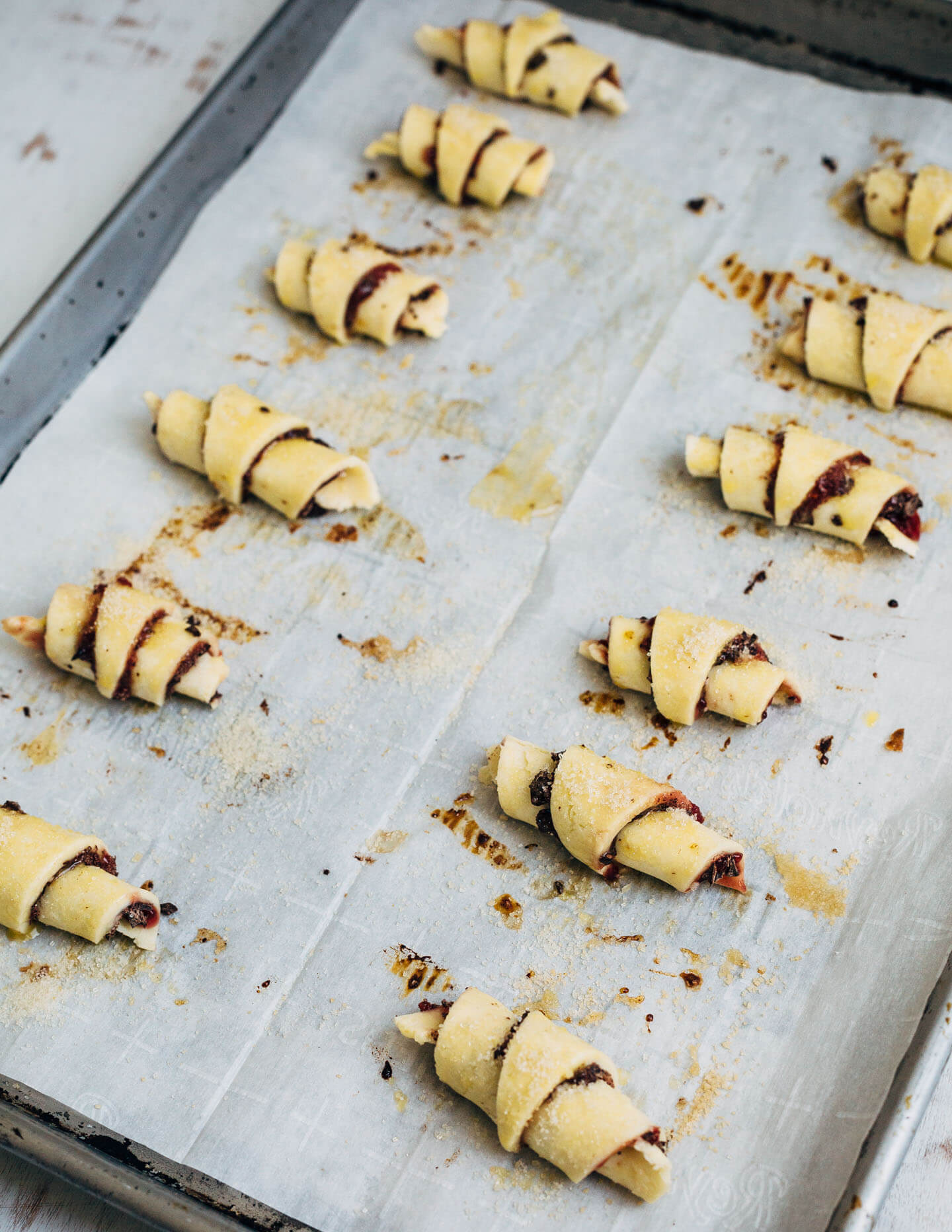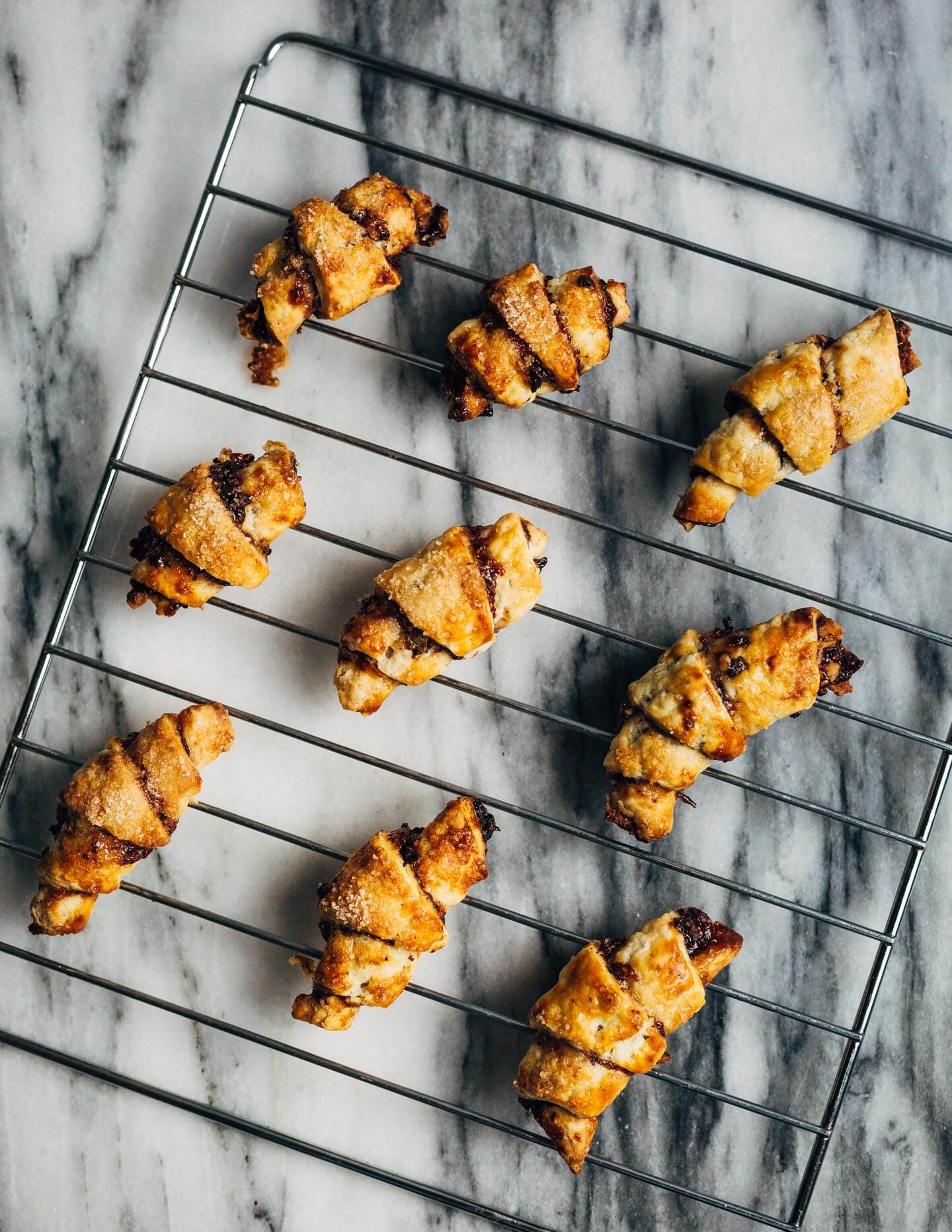 Rugelach: Simple and Adaptable
Of course, if you're inclined, cookies are always appreciated. And one of my very favorite cookies is rugelach, which has a lot to recommend it. The dough, made with equal parts cream cheese and butter, bakes up golden and flaky with a subtle tang. The filling is endlessly adaptable – here, I went with raspberry jam and bittersweet chocolate. And since, rugelach comes to us from the Jewish cuisine of Eastern Europe, it's an especially fitting seasonal treat now at the start of Hannukah, whether you celebrate the holiday or not.
Wherever the holiday season finds you this week, take care. I wish you a very happy, light-filled Hanukkah and a warm and cozy winter.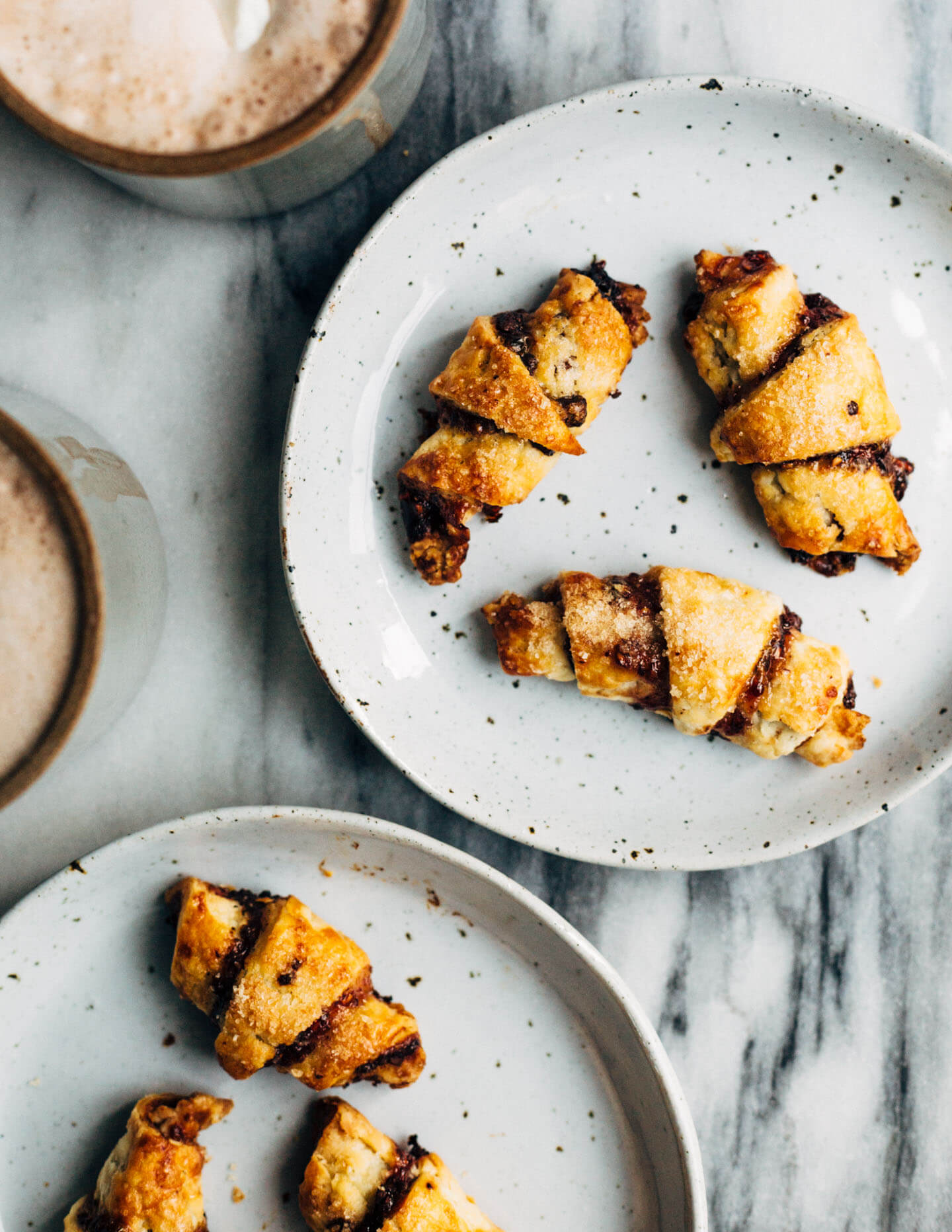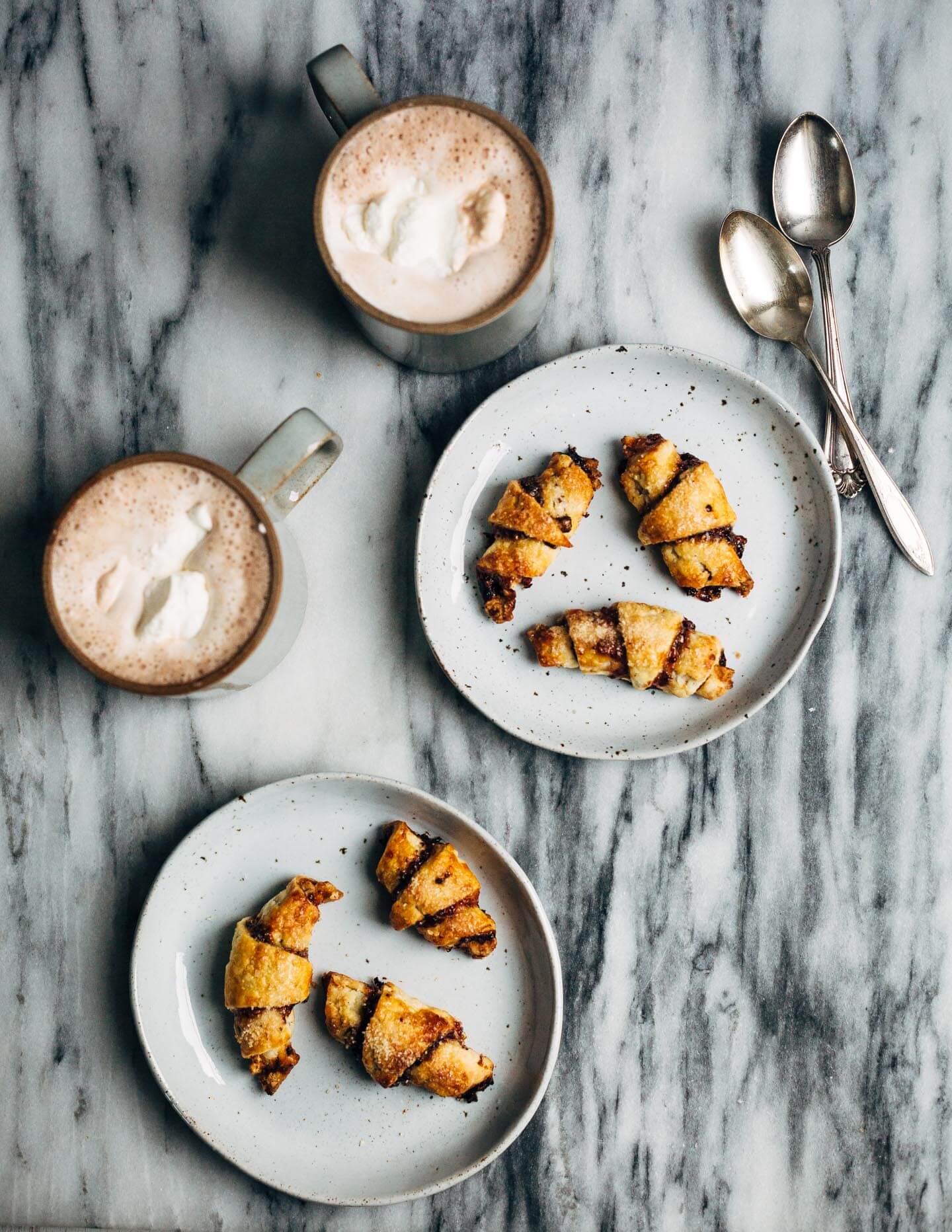 A few notes: When making these raspberry-chocolate rugelach cookies, avoid the temptation to overfill them, as it will ooze out and make a mess when you roll them up. I like these cookies best on the second day – at first the raspberry and chocolate are quite distinct, but after a day they meld and achieve maximum deliciousness.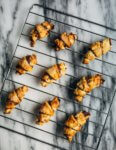 Raspberry-Chocolate Rugelach Cookies
Keyword:
chocolate rugelach
Ingredients
Dough
8

ounces

cream cheese

sliced

16

tablespoons

(1 cup or 2 sticks) unsalted butter, chopped

2

tablespoons

powdered sugar

1/4

teaspoon

sea salt

2

cups

all-purpose flour

1

egg,

beaten

1/4

cup

turbinado or cane sugar,

the kind with big, crunchy granules, divided
Filling
1/2

cup

raspberry jam

3

ounces

bittersweet chocolate,

finely chopped
Instructions
Working at least an hour ahead of time, make the dough. Set cream cheese, butter, powdered sugar, and sea salt in the bowl of a food processor and pulse 3 or 4 times to combine. Add flour and continue pulsing, about 5 times, just until dough is well mixed and looks like sandy crumbs.

Turn dough out onto a clean surface, gently press into a disc, and cut to divide into 4 equal pieces. Wrap each dough disc tightly with plastic wrap and set in the fridge. Chill at least 1 hour or up to 3 days.

To make cookies, move rack to the center of the oven and preheat to 350 degrees F. Line 1 - 2 baking sheets with parchment.

Prepare a lightly floured surface and roll one of the chilled discs of dough into a 10- or 11-inch round. Use a pastry scraper to make sure dough sits loosely of the rolling surface and isn't sticking. Next, spread 2 tablespoons jam over the round and scatter 2 - 3 tablespoons of chocolate – just a thin layer of each will do. Use a sharp knife to cut the round into 12 (mostly) equal triangles or wedges, like you would a pizza. Starting at the base of the triangle roll into a little crescent and set on prepared baking sheet.

When all rugelach have been formed, brush each with egg and sprinkle tops with 1 tablespoon turbinado or cane sugar.

Bake rugelach 1 or 2 trays at a time 25 - 30 minutes, or until they're a rich golden hue.

Cool on baking sheet 4 minutes, then set on a wire rack to cool completely. Repeat for additional 1 - 2 batches of cookies.

Cookies can be stored in an airtight container for up to 3 days.