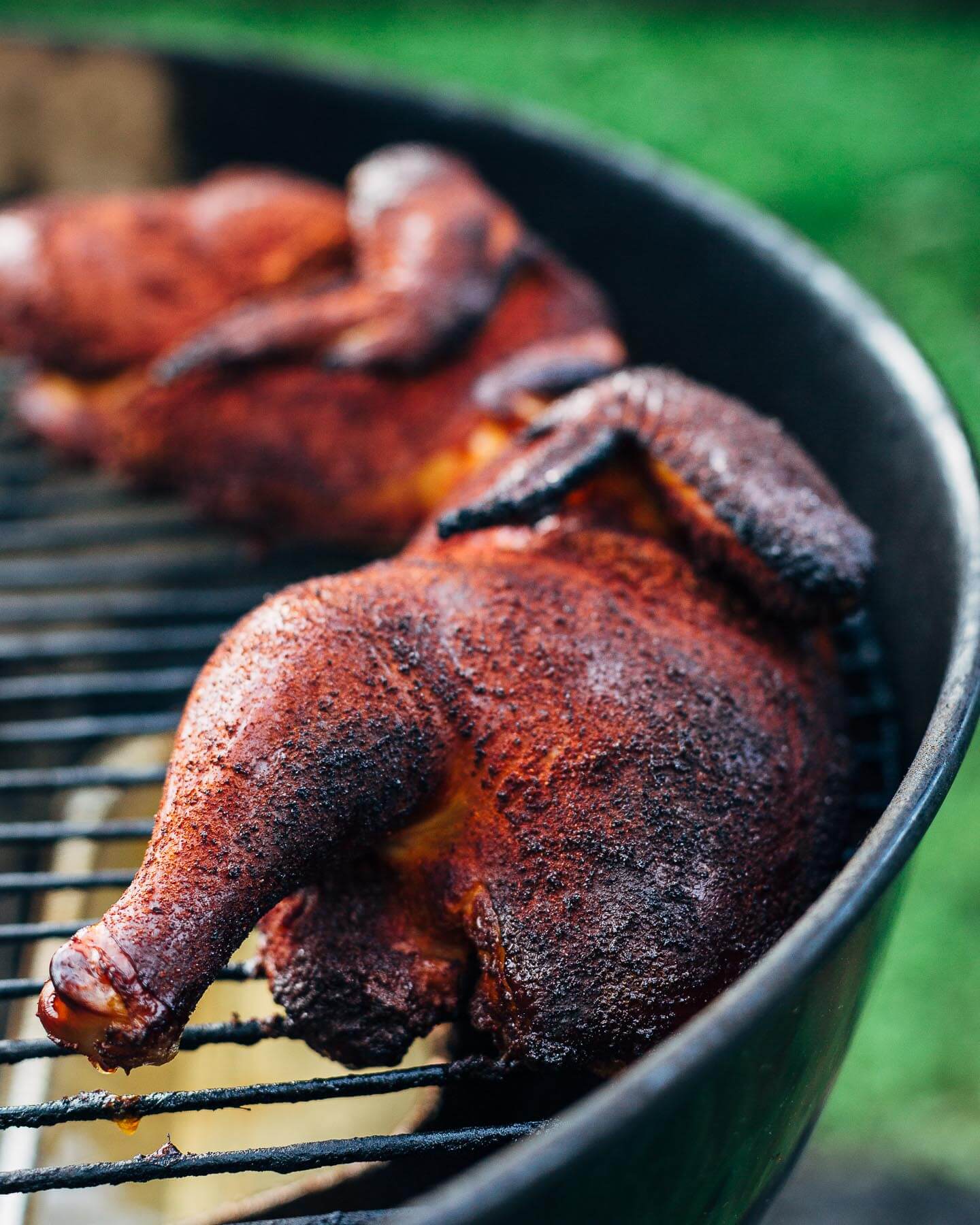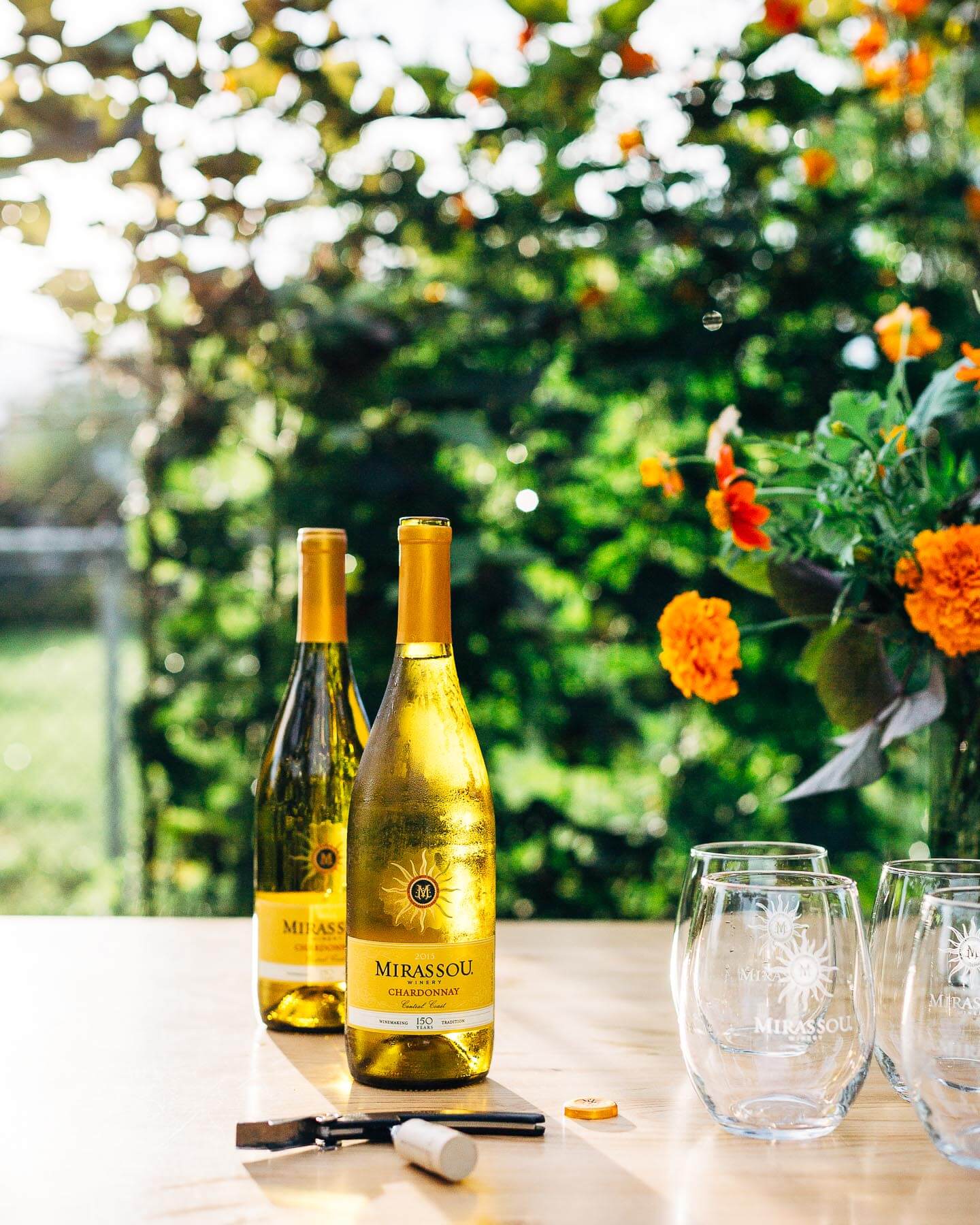 A classic recipe for wonderfully tender grill smoked barbecued chicken with a piquant dry rub. This post is sponsored by Mirassou Winery. Thanks for supporting the brands that make Brooklyn Supper possible. Jump to recipe. 
Late summer entertaining is tricky business. Storms and swelter threaten, while all manner of insects plot in the shadows. I keep at it, though, because most of the threats to a summer party also bring a little summer magic. A booming storm might roll through, but won't last long and leaves behind a rich aroma and a little respite from the sun. The searing heat of a hot summer day gives way to a sultry evening. Come winter, we'll cozy up in our little house with friends and family, but summer is the time to take in the flowers and the sky.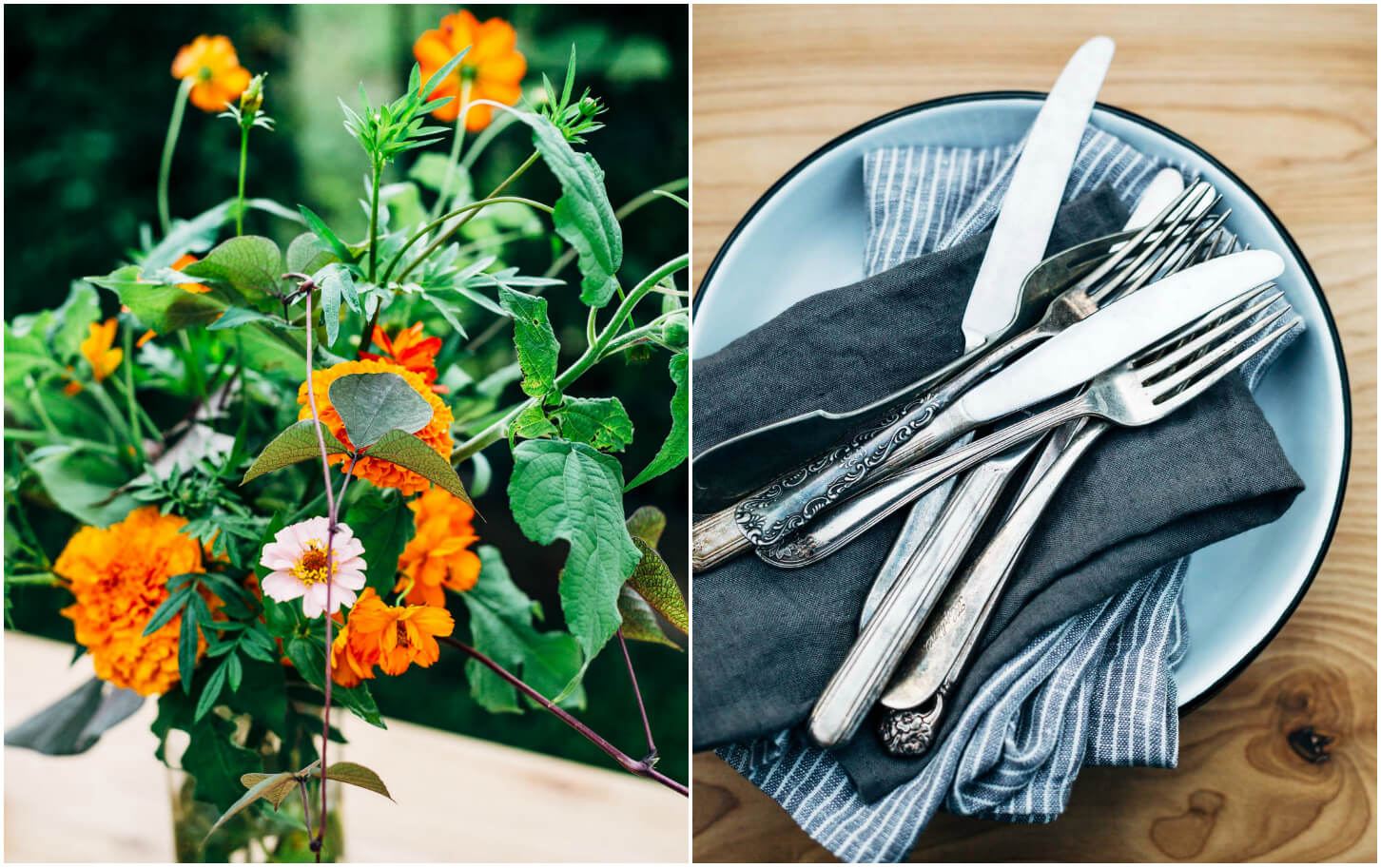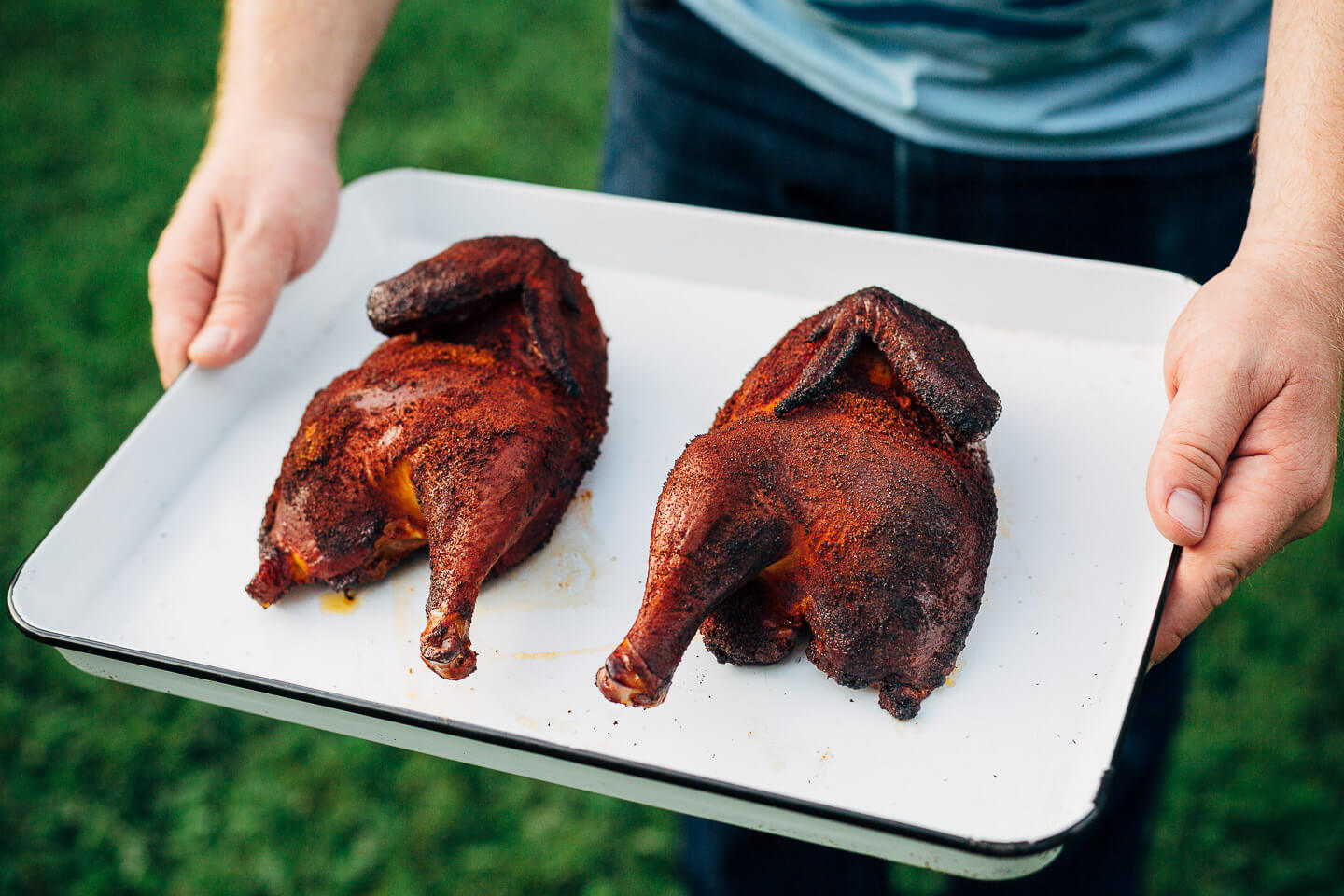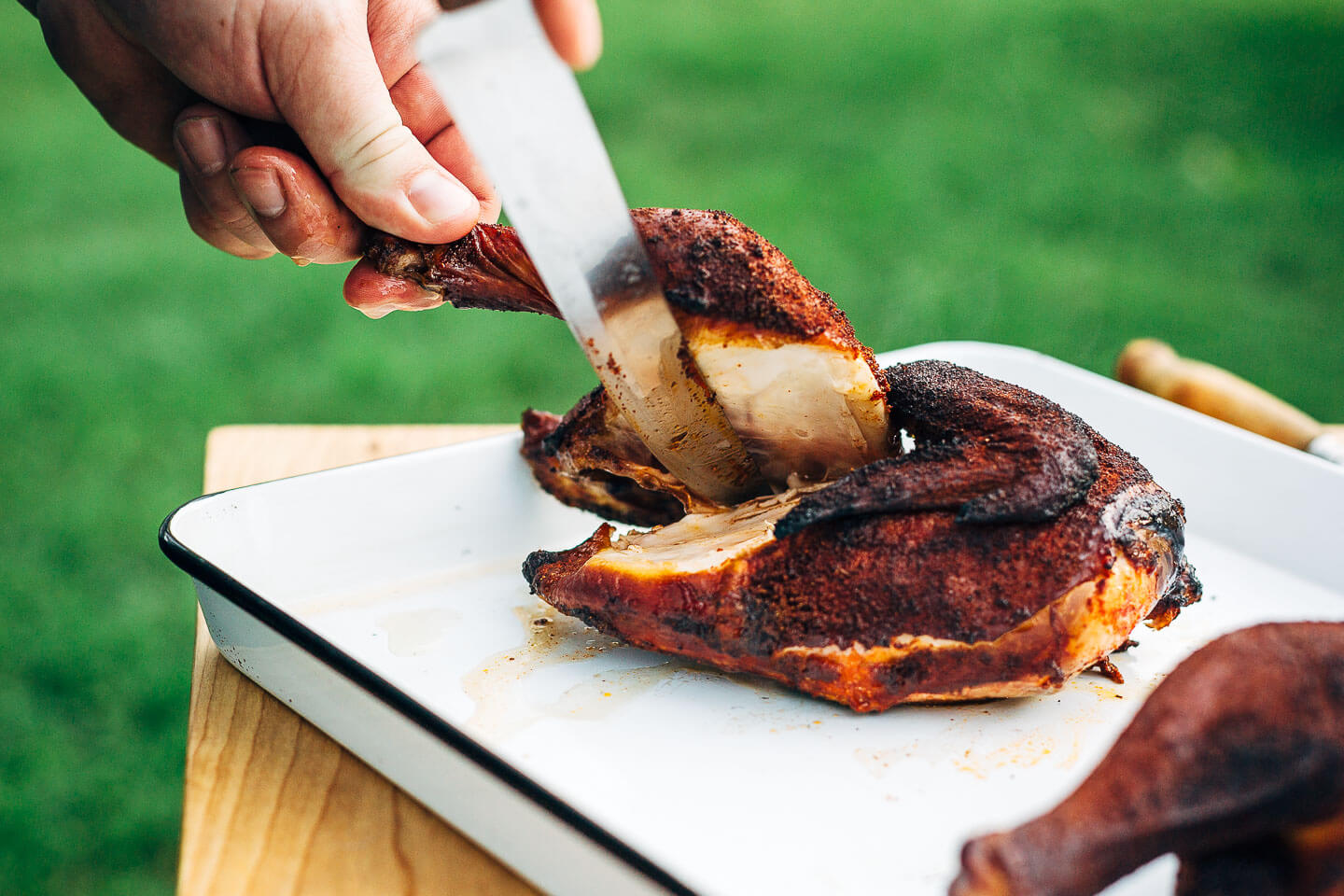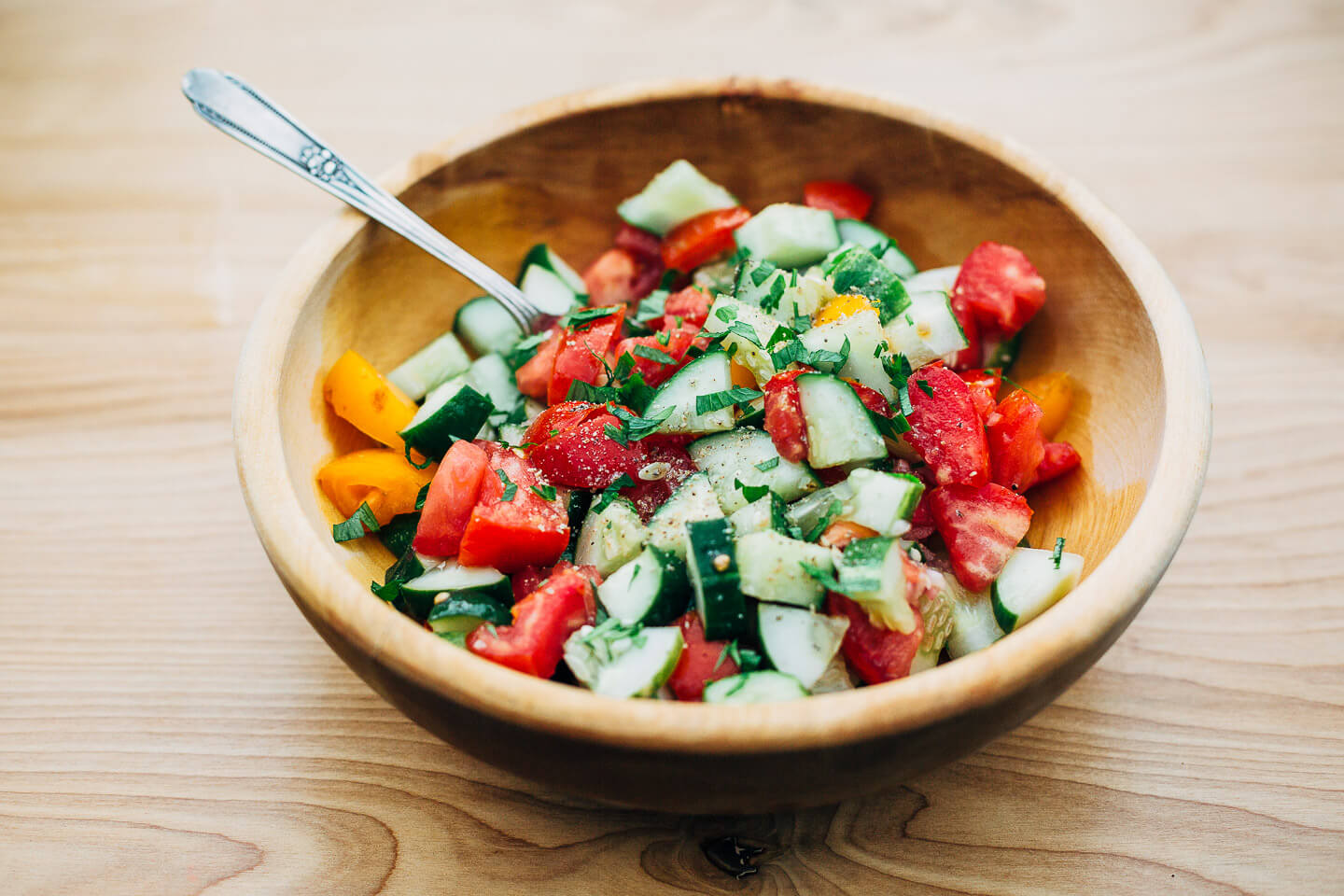 The best way to beat the challenges of summer is to keep things simple. After a few parties spent waiting out the rain or watching the buttercream frosting sliding off a cake, I've learned to focus on easy, reliable recipes that free me up to actually spend time with my guests while (mostly) averting unexpected kitchen disasters. For a recent barbecue with friends, I put together an easygoing menu featuring spicy grill smoked barbecued chicken and simple sides – long simmered collard greens, an effortless cucumber and tomato salad, and grilled corn on the cob with butter, herbs, and lots of pepper.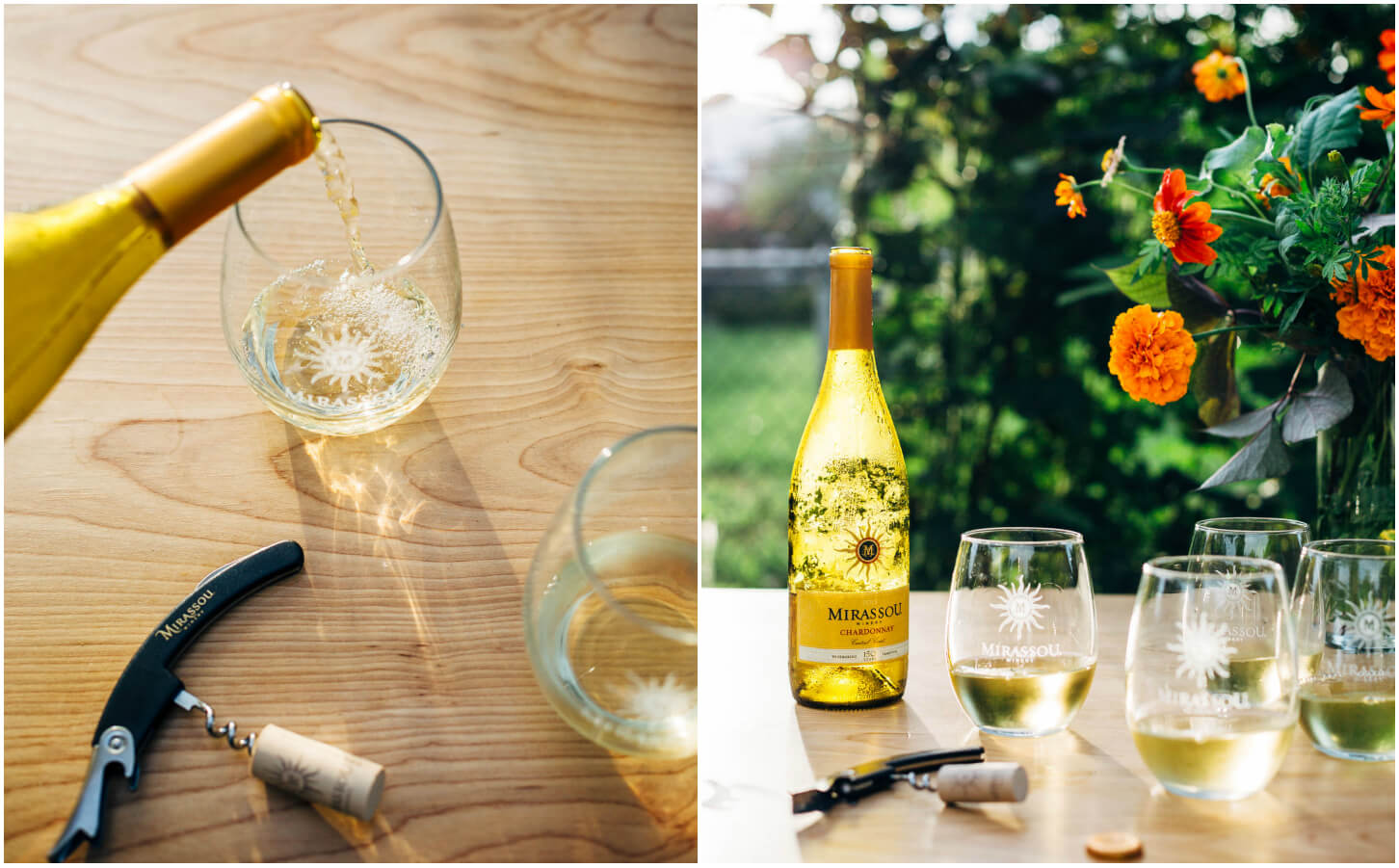 Another way I like to simplify when I entertain is by choosing one of Mirassou Winery's approachable varietals. Mirassou's distinctive sun label brings warmth to even the most relaxed tablescapes. To complement our Southern cookout menu, Brian and I chose Mirassou Chardonnay. We served it chilled, and our guests loved the full-bodied, fruity wine. Notes of peach and citrus paired perfectly with the piquant smoked chicken.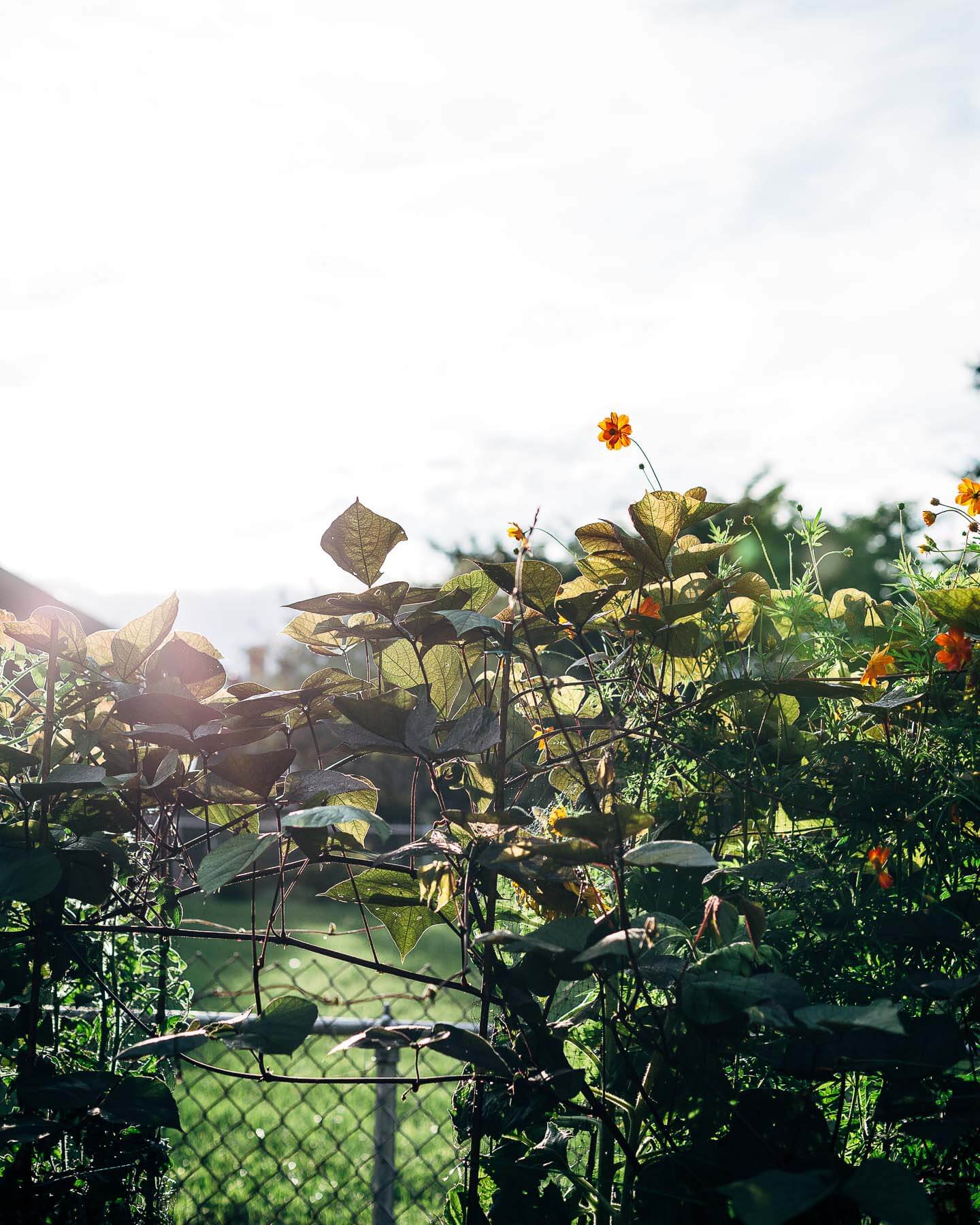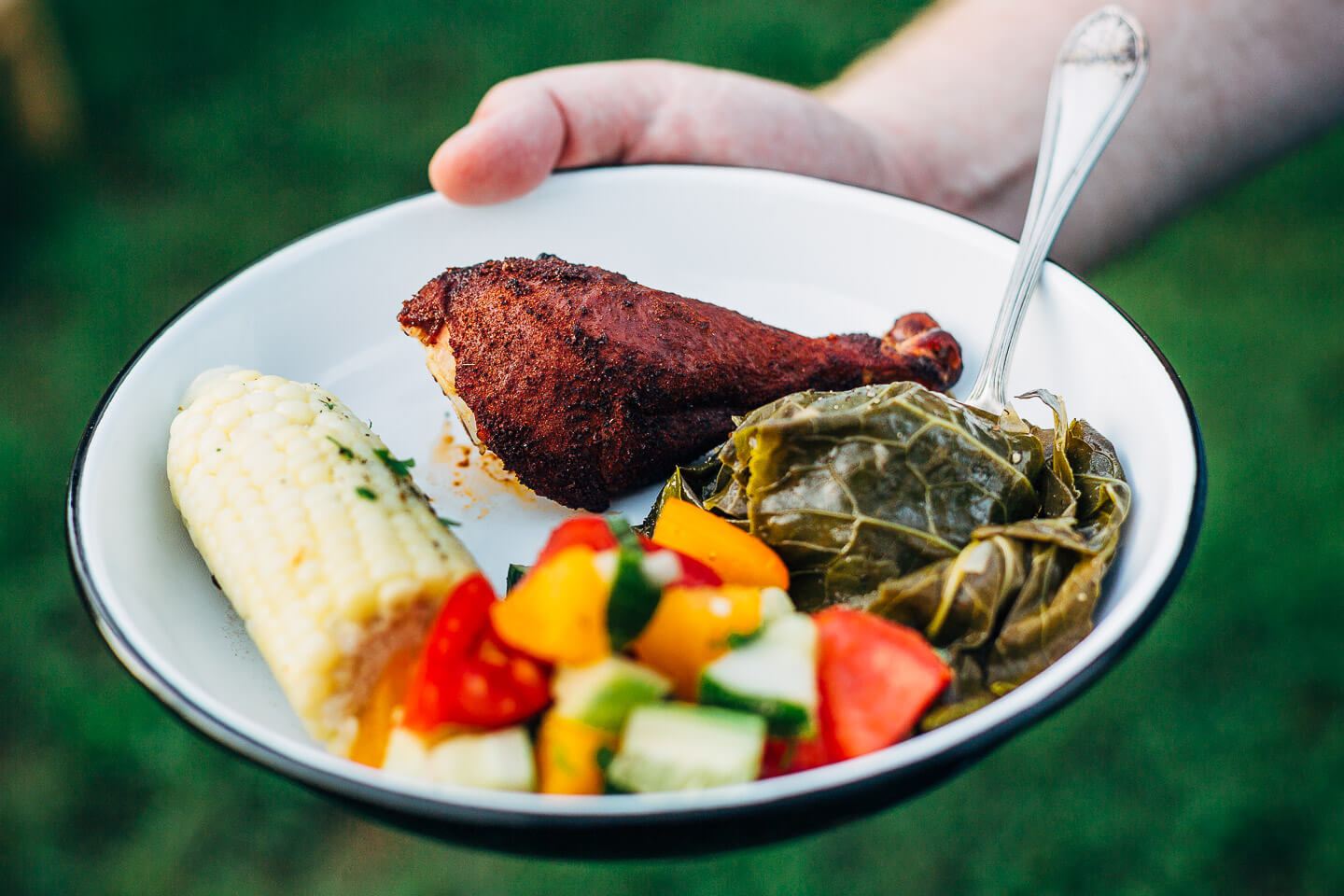 About that chicken: our recipe is designed for a standard kettle charcoal grill. If you have another kind of grill or a green egg, you'll want to cross reference the exact cook times and techniques for your grill. The recipe below is for a single chicken, but as long as grill space allows, the recipe can be doubled or tripled to feed a crowd.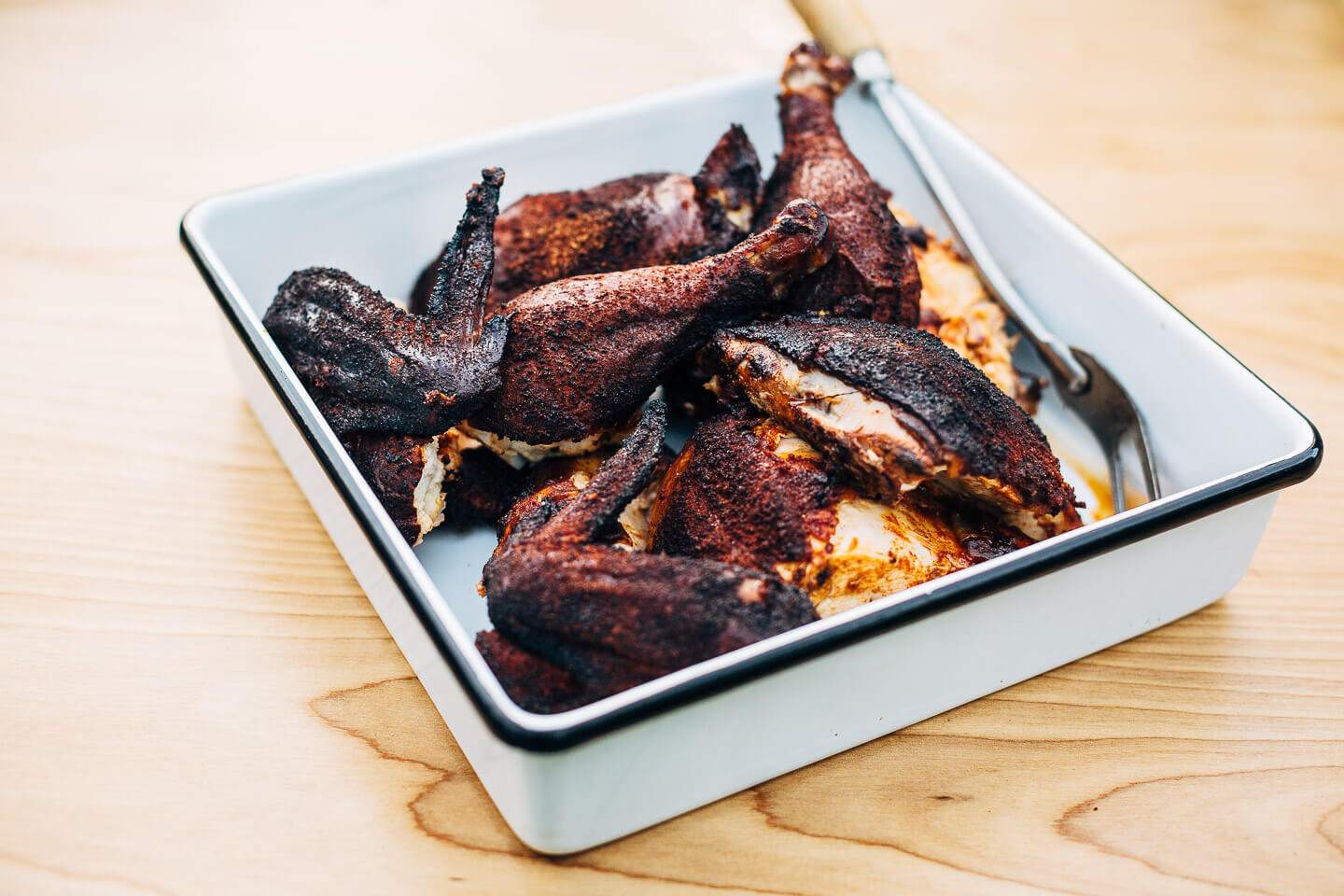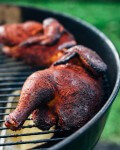 Grill Smoked Barbecued Chicken
A classic recipe for wonderfully tender grill smoked barbecued chicken with a piquant dry rub.
Ingredients
For the Chicken
2

tablespoons

sea salt

1

whole chicken

(3 - 4 pounds), halved along the spine

4

cups

hickory chips

disposable aluminum pan
For the Dry Rub
1/4

cup

packed brown sugar

1/4

cup

paprika

2

tablespoons

garlic powder

2

tablespoons

sea salt

or more to taste

1

teaspoon

fresh ground black pepper

1

teaspoon

fresh ground cumin seed

1

teaspoon

chili powder
Instructions
The night before or 8 or more hours ahead of time, rub chicken all over with sea salt. Cover loosely and set in fridge.

One hour before cooking, combine all dry rub ingredients. Set halved chicken skin side up on a tray and rub prepared dry rub into chicken skin (use just about all of the rub – you may have a few tablespoons leftover). Cover and set in fridge.

In a standard kettle charcoal grill, prepare hot coals in a charcoal chimney (or using your preferred method). While coals are heating, soak 2 handfuls of hickory chips in a bowl of water. Once coals are all gray and very hot, bank them to one side (this creates a zone of indirect heat). Set a small aluminum pan filled with water on the other side. Sprinkle soaked hickory chips on coals and set grill grate in place. Place chicken halves skin side-up on grill grate as far from coals as possible. Cover grill with lid vent half open. When smoke dies down, add a handful of dry hickory chips (likely 1 - 2 more times during cook time). Cook chicken 1 1/2 - 2 hours, checking temperature after 1 hour. To check temperature, insert thermometer into the space where the thigh meets the breast and pull when temp reaches 170 degrees F. Rest chicken a few minutes until it's cool enough to carve without burning yourself.

To serve, slice the thigh and leg away from the breast. Then slice the drumstick from the thigh at the joint. Cut wing from the breast, chop off wingtip, and discard. If you prefer, cut breasts in half to make each into two small pieces, though you can also leave breasts whole. Serve immediately.
Disclosure: This post was sponsored by Mirassou Winery. Thanks for supporting our sponsors!