Skip the powdered mix and make this delicious homemade onion dip. A mix of caramelized and raw onions make for a richly flavored homemade onion dip with a nice, punchy finish. Thick and creamy sour cream, lemon zest, and fresh herbs seal the deal.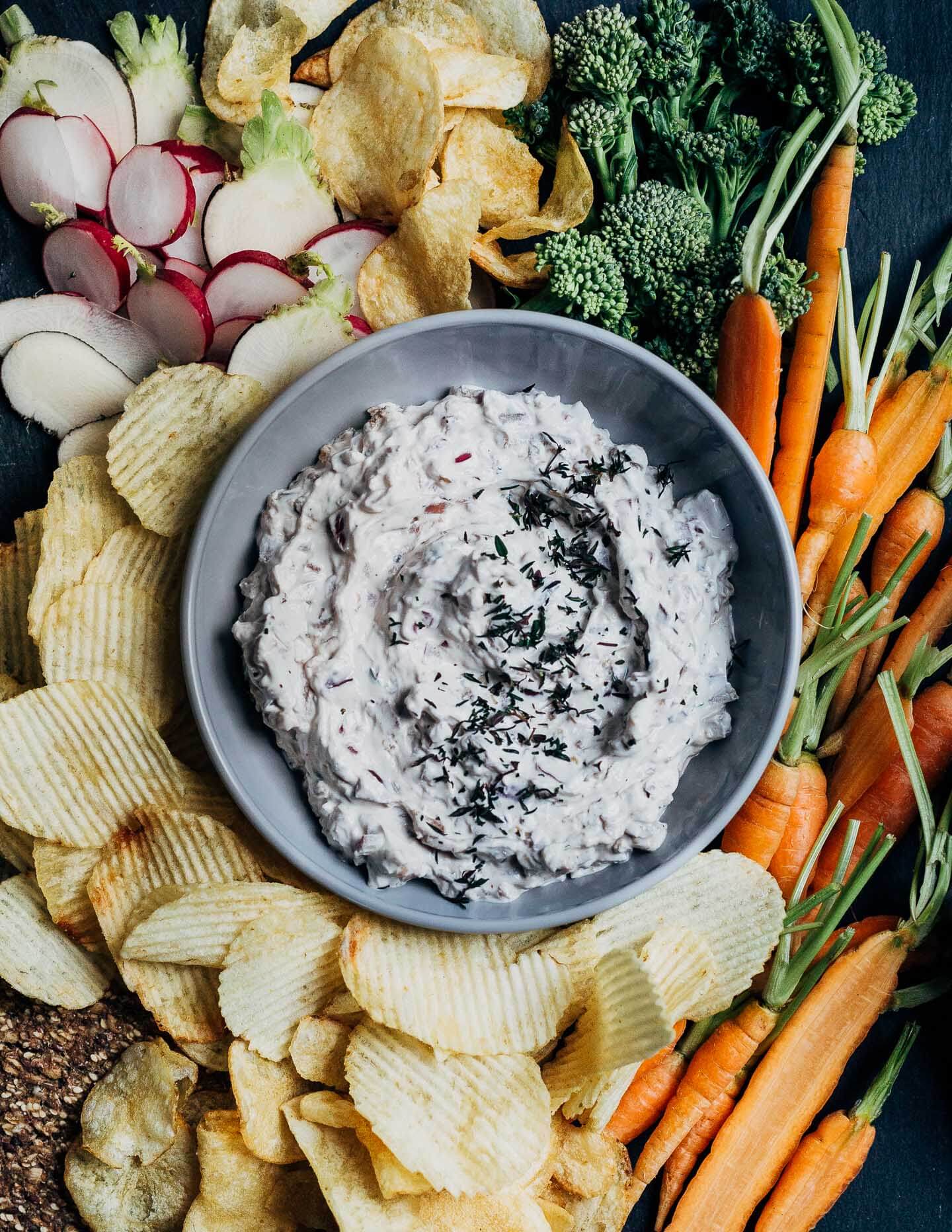 This post was originally published on New Year's Eve in 2009. On this, NYE 2021, it's been updated with new photos and just a couple recipe edits for clarity. Shout out to my friend Jesse, this dip's biggest fan.
Dip is kind of tied up in ideas of the past. First, we must reckon with the legacy of the chip'n'dip dish, a fun but hopelessly impractical single use serving dish. And then there's the foil packet. The idea that so much delicious flavor could be concentrated down to a powder you just stir into sour cream left me feeling like I needed that magical powder for great flavor. But over the years, I've learned that you don't need a mix at all! All it takes is thick sour cream, onions, lemon, and herbs.
This is an easy recipe for a classic homemade onion dip that is surprisingly sophisticated and really delicious. Creamy sour cream with real onions makes for a dip that is classic, festive, and easy. Just right for a New Year's celebration or watching a football game with friends. It is a slight variation on an onion dip recipe I posted last year. I guess I just love onion dip during the holidays.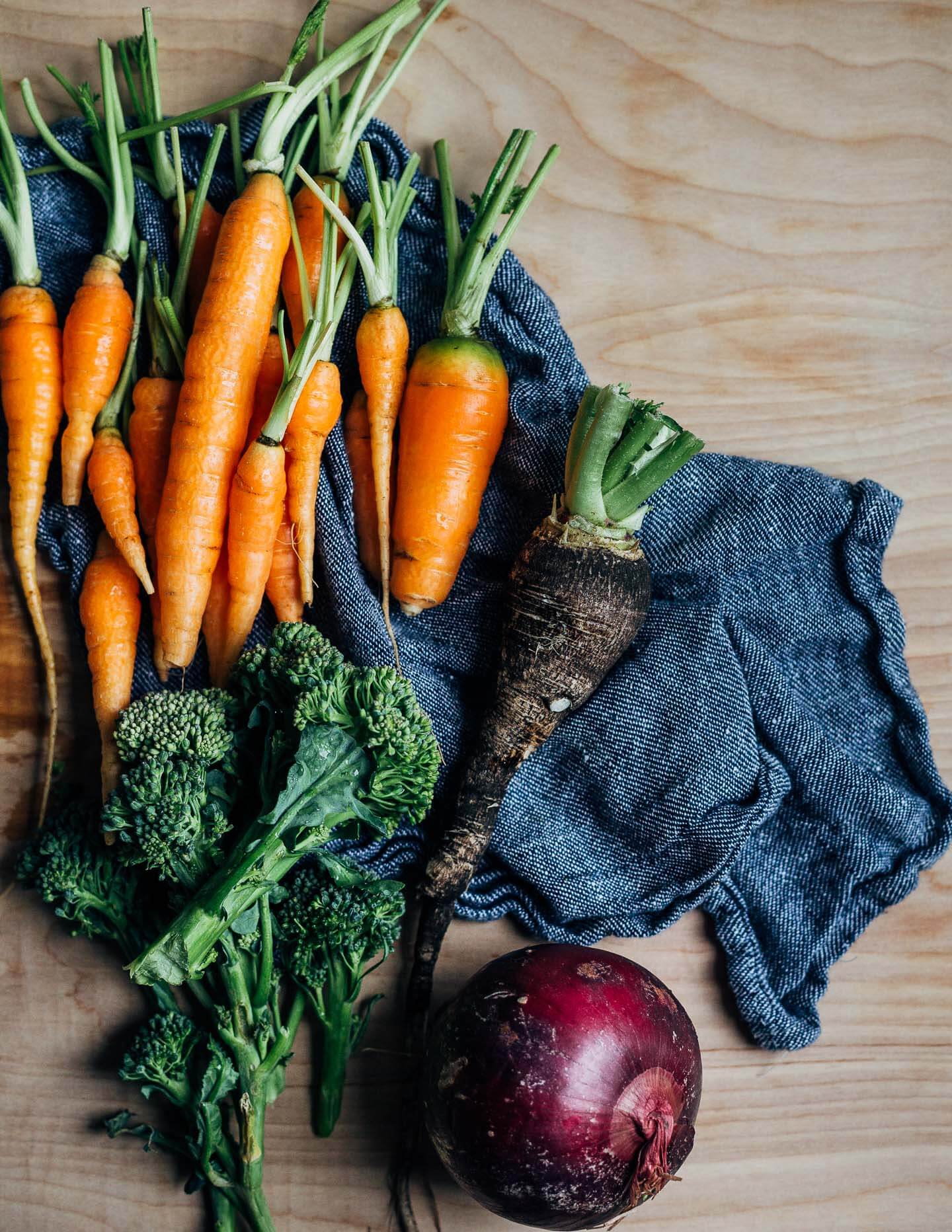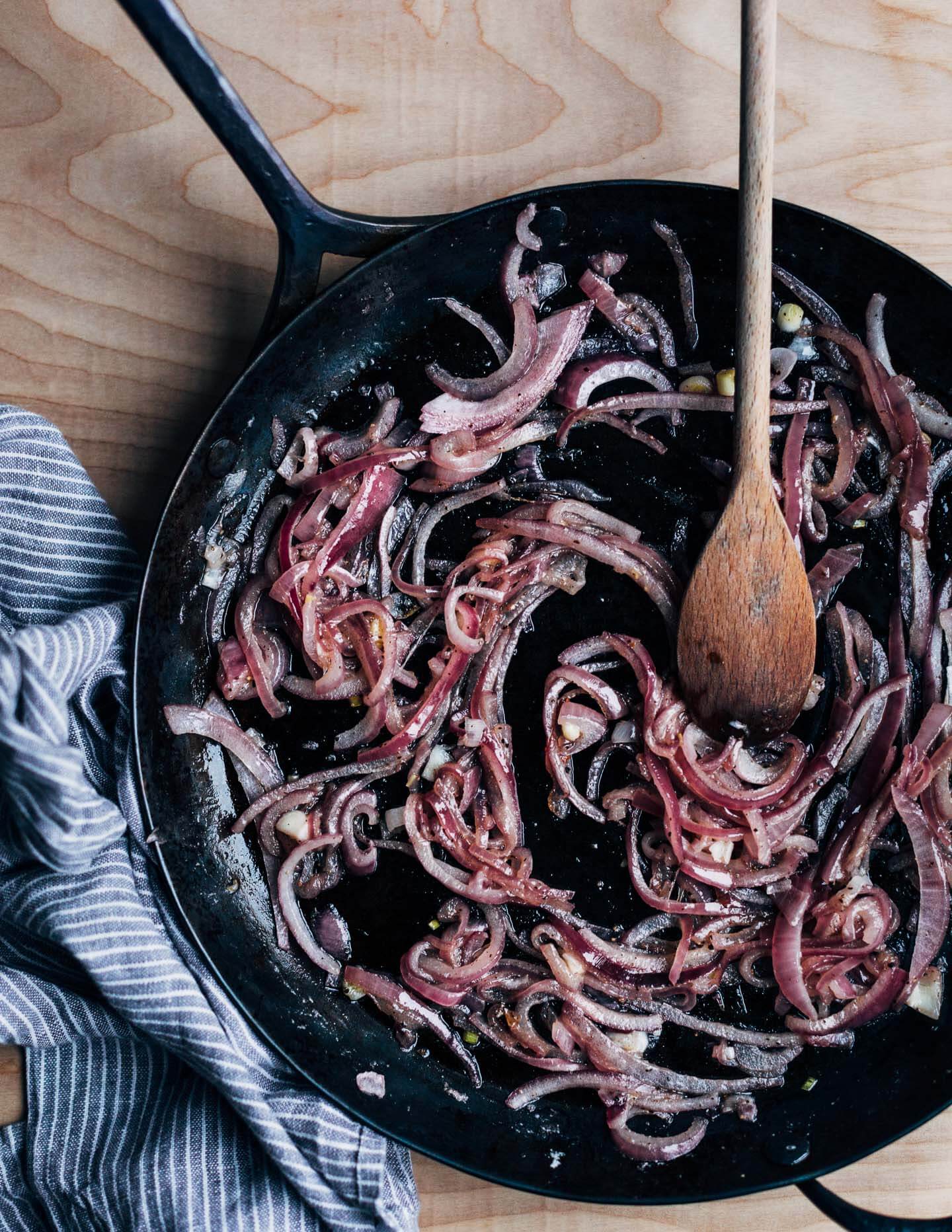 Getting Homemade Onion Dip Right: A Mix of Cooked and Raw Onions
I like to mix a blend of caramelized onions, slow cooked for almost an hour, and finely diced raw onions. The two types of onion preparation combine for a richer onion flavor. I also add a bit of lemon zest, grated for flavor, and thin strips for garnish. Use preserved lemon if you have it. The other ingredients are salt, pepper, sherry or madeira, herbs (in this case a bit of rosemary, sage and parsley), and a squeeze or two of lemon juice.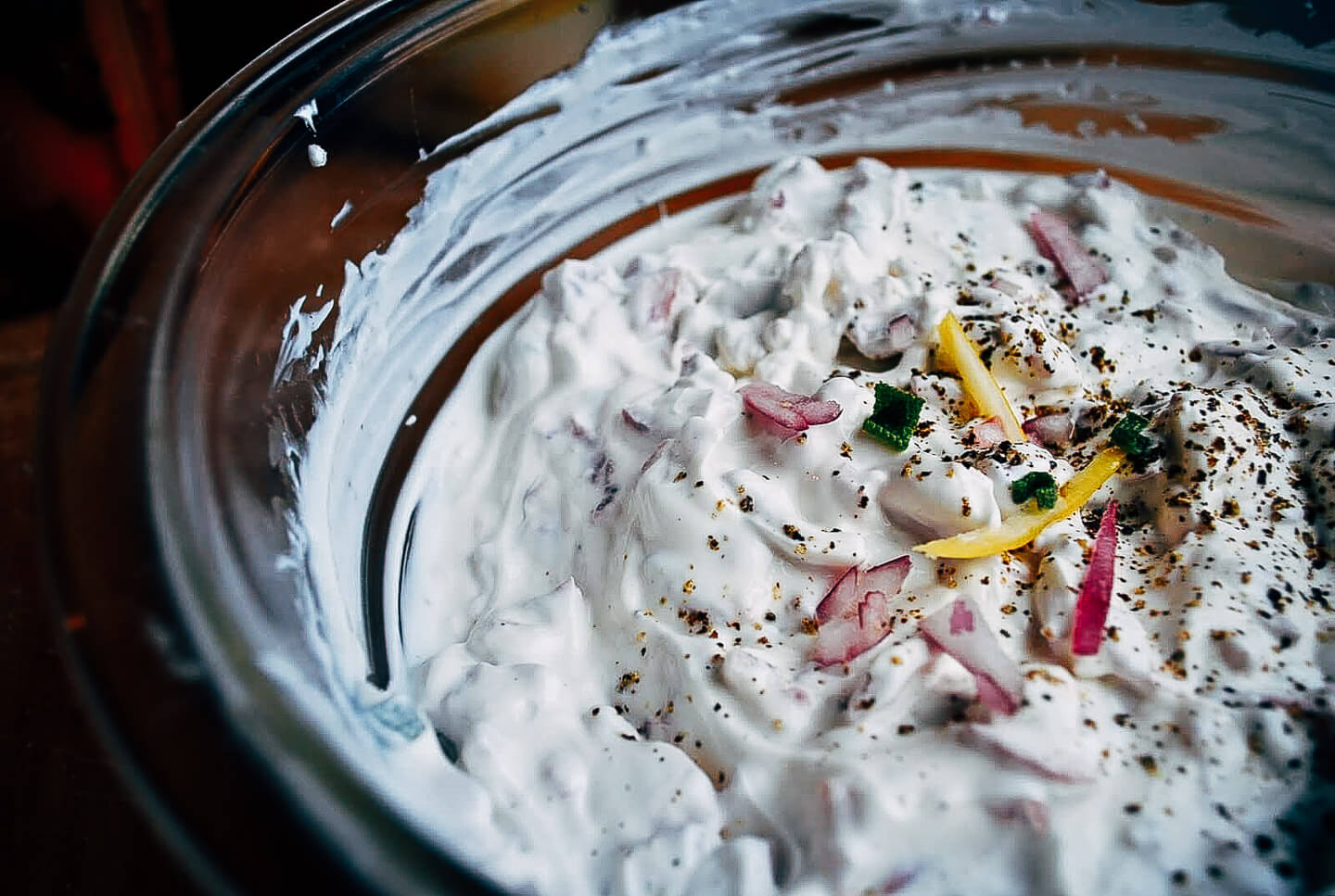 Because sour cream is the base for your dip, you want a high quality, full fat variety. I almost always opt for local or organic dairy products, but in this case I go with Axlerod brand sour cream. It is super thick and has a mild, creamy flavor. It's totally my favorite sour cream.
Finally, a note about the timing. I like to prepare the cooked onions well ahead of time, then cool completely, and drain off any liquids from the cooking process.
If you need to speed things up, simply sauté the onions until they are translucent and put in the refrigerator for a while. If you are hurrying, the dip could be put together and served right away; it will still be great.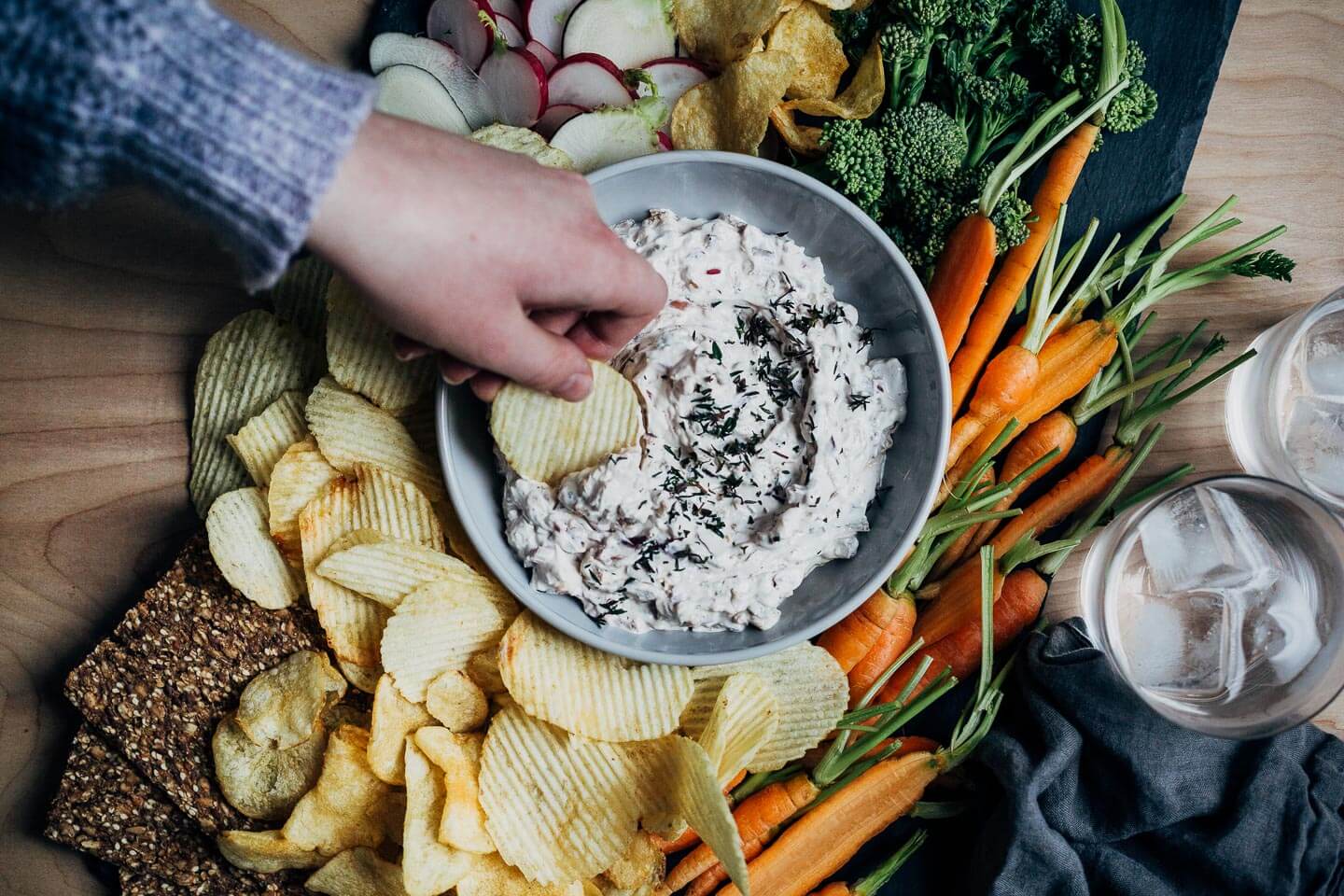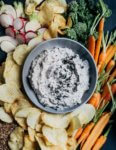 Real Onion Dip
Powdered mixes have nothing on this real deal homemade onion dip. A mix of caramelized and raw onions make for a dip that's richly flavored with a nice, punchy finish. Thick and creamy sour cream, lemon zest, and fresh herbs seal the deal. Recipe adapted from How to Cook Everything by Mark Bittman.
Ingredients
2

tablespoons

unsalted butter

2

medium red onions,

divided

1

teaspoon

sherry

Sea salt, to taste

Black pepper, to taste

1

pint

full fat Axlerod brand sour cream

(or the creamy sour cream of your choice)

1

teaspoon

, plus several thin strips, lemon zest

2

tablespoons

lemon juice

2

tablespoons

minced herbs (such as parsley. thyme, sage, rosemary, or a mix),

plus some whole leaves for garnish
Instructions
Slice one of the onions into paper thin half moons. Set a medium skillet over medium heat. Add butter and when it's foamy and fragrant, add onions. Allow them to sizzle for 30 seconds, add sherry and a big pinch each sea salt and pblack pepper, and then turn heat to the lowest setting. Stirring occasionally, cook 45 minutes. At first it will seem like nothing is happening, but the onions will slowly develop a deep color and caramel-y rich flavor. Set aside to cool.

Meanwhile, mince the reamining onion and measure 1 heaping cup. Prepare the zest and herbs. Once cooked onions are cool, combine the caramelized onions, 1 cup of raw diced onion, lemon zest, and fresh herbs. Add the lemon juice. Add additional raw minced onions, sea salt, and black pepper to taste. Cover dip and setin the refrigerator for 3 - 6 hours, or overnight.

Check flavors just before serving and add lemon juice, sea salt, and pepper as needed. Top dip with reserved lemon zest and fresh herbs. Serve with high quality or homemade potato chips, carrot sticks, radishes, and broccoli.