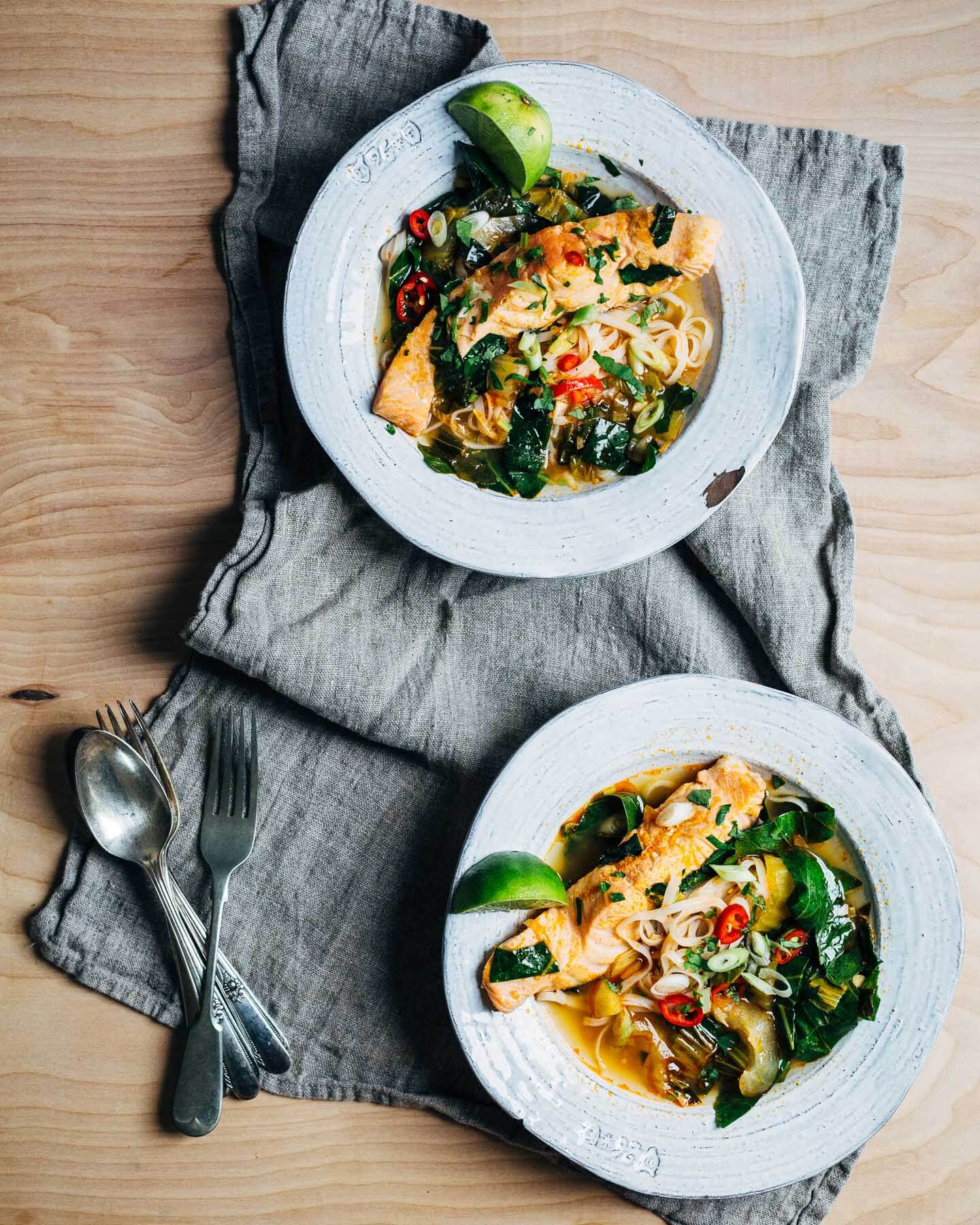 We've partnered with ZICO Natural Coconut Water to bring you a nourishing red curry soup with winter greens and delicate poached salmon. 
Post-holiday, I'm feeling my way back into the kitchen, relieved to be grabbing vegetables as opposed to butter and sugar. Winter cooking, and its tough leaves and hard roots, is always challenging, but I've found that simple additions like fresh herbs, bracing ginger, or sweet and sour citrus can lend enough punch to make winter dishes nearly as exciting as a tender stalk of asparagus or a sun-warmed summer tomato.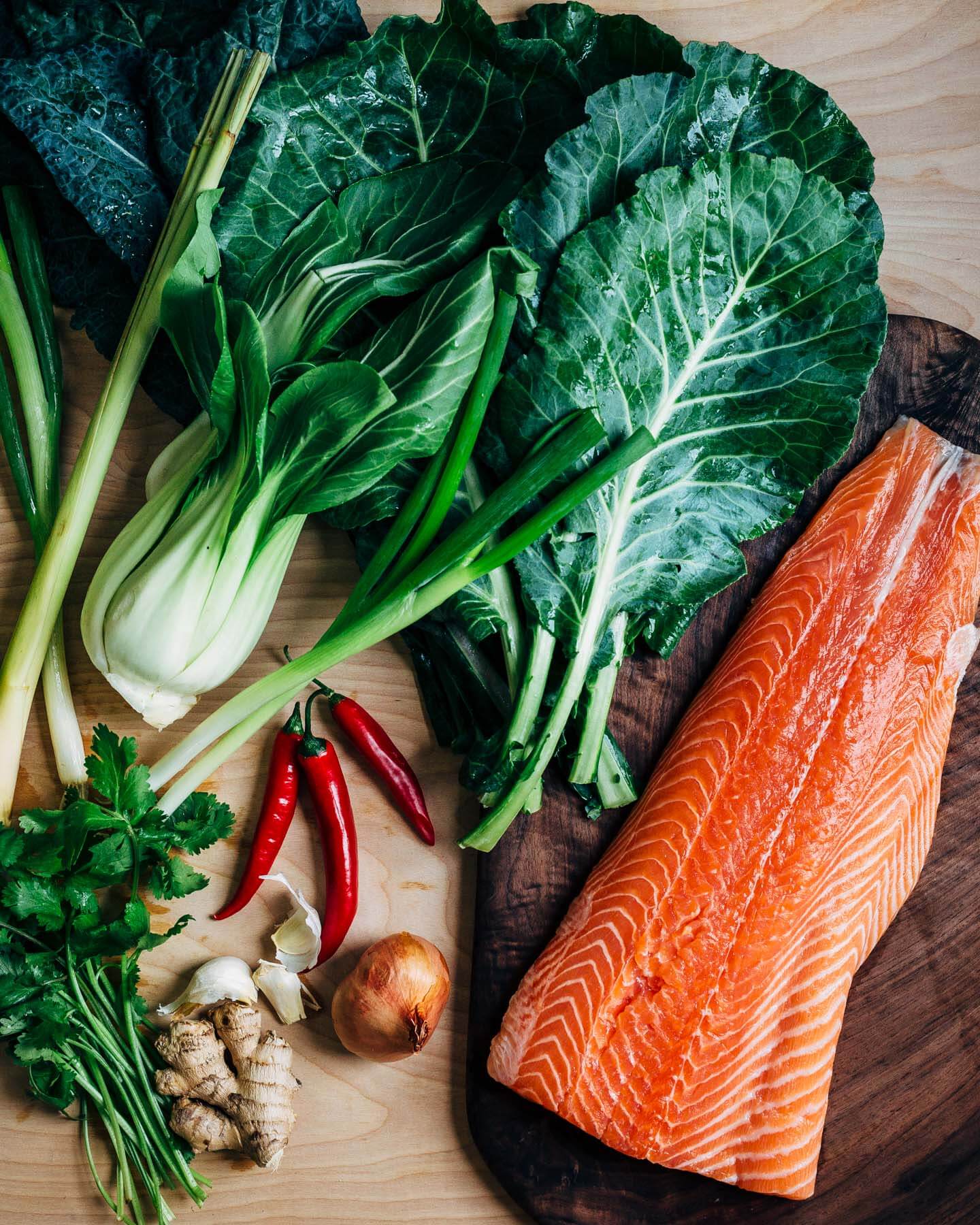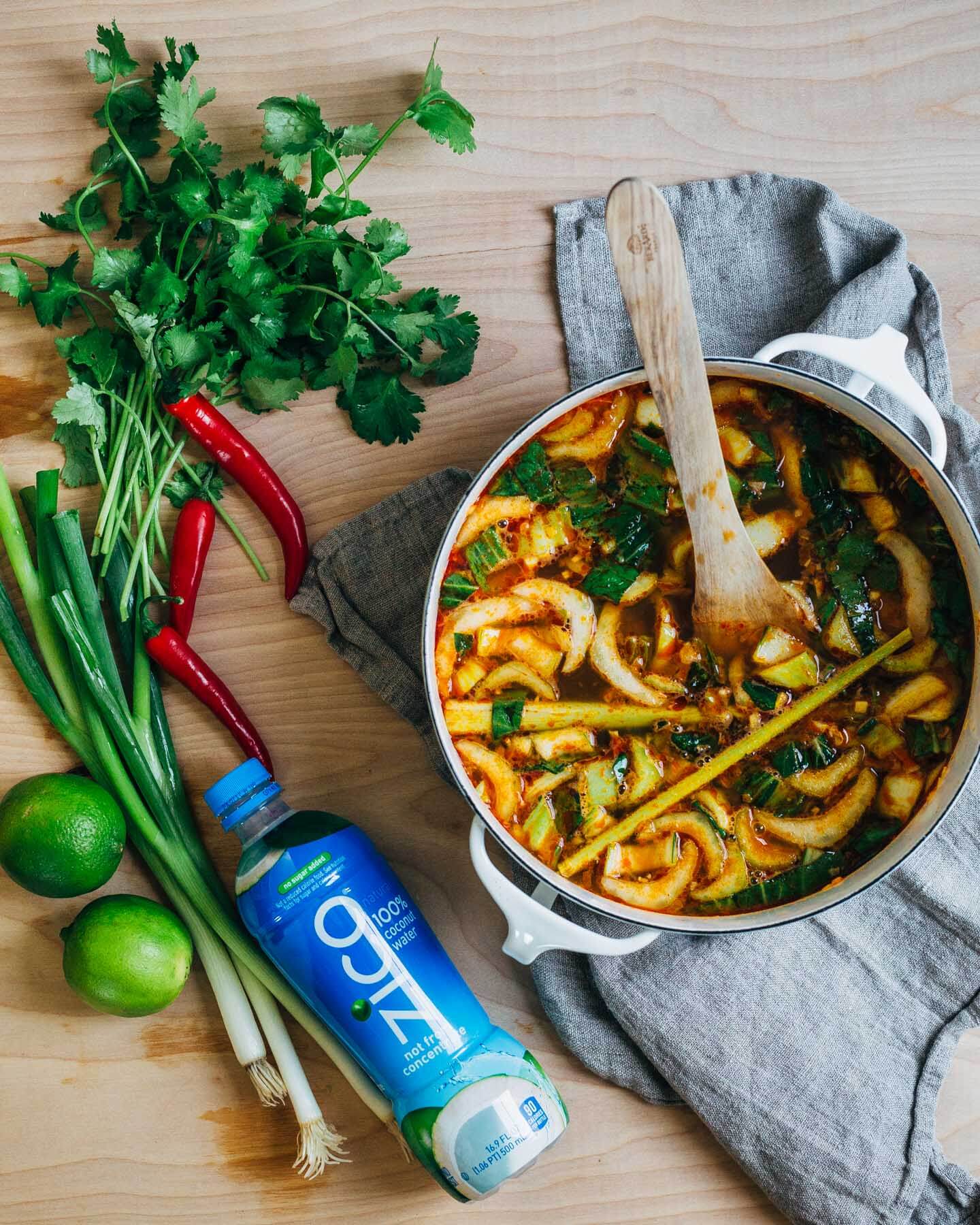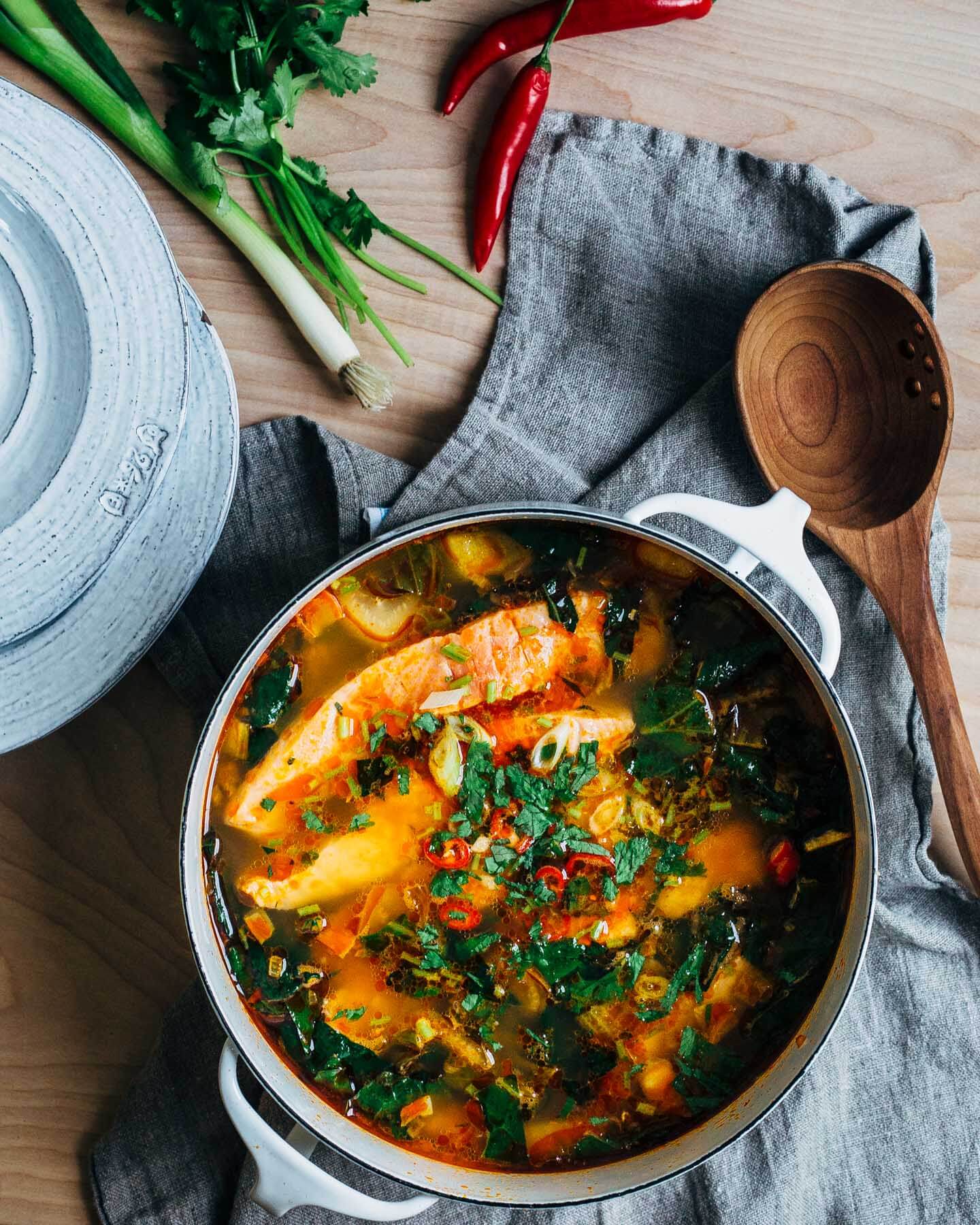 This wintry soup strikes just the balance I strive for. Hardy (and healthy!) winter greens float in a red curry broth suffused with ginger, lemongrass, and red chilis. The dish is topped with simple but impossibly tender poached salmon and is served over rice noddles. The broth is made with a mix of ZICO Natural Coconut Water and chicken stock, plus lots of aromatics and herbs. Coconut water lends just a hint of sweetness and a depth that carries the spicy, bright flavors beautifully, while the broth mellows everything and ties the soup together.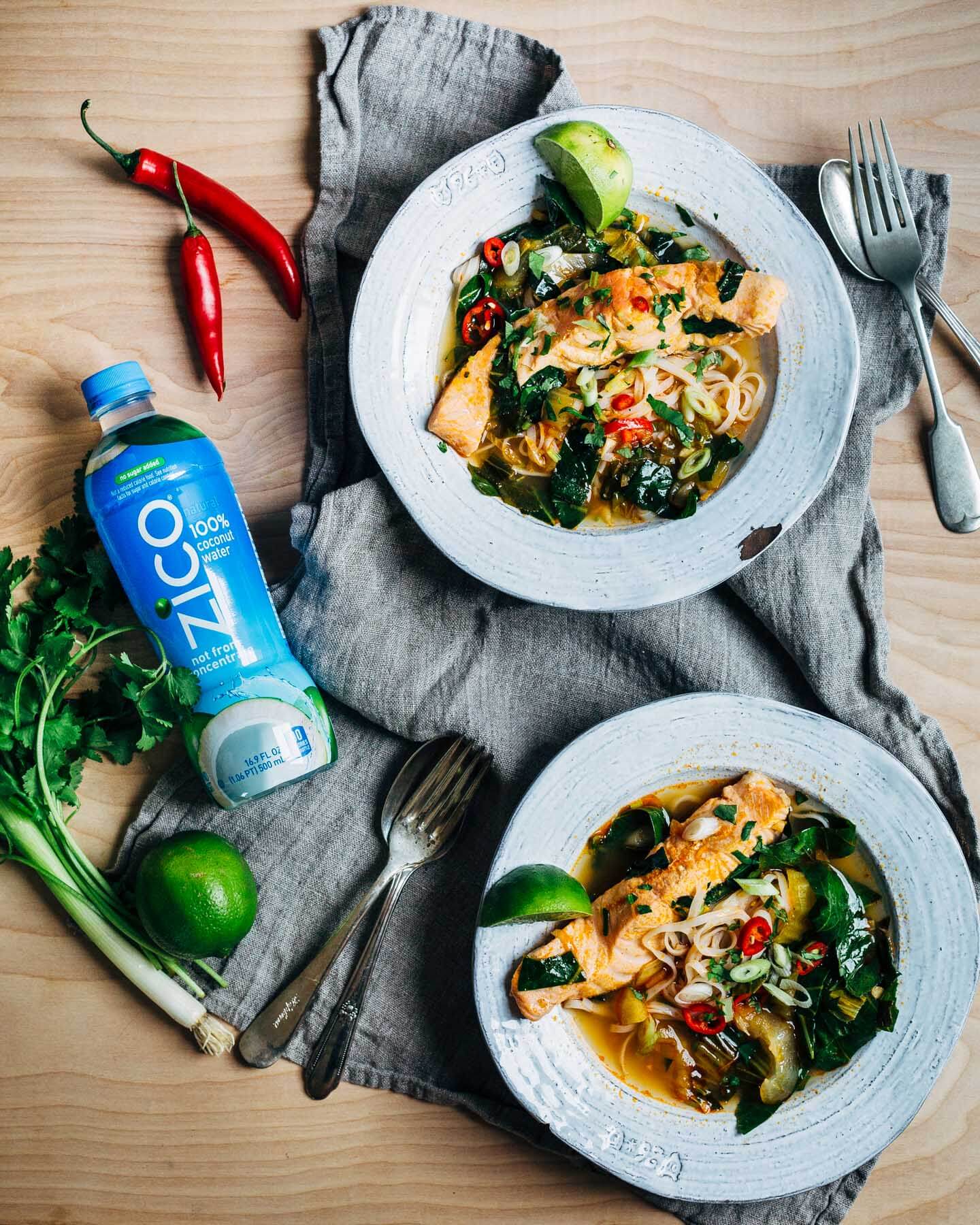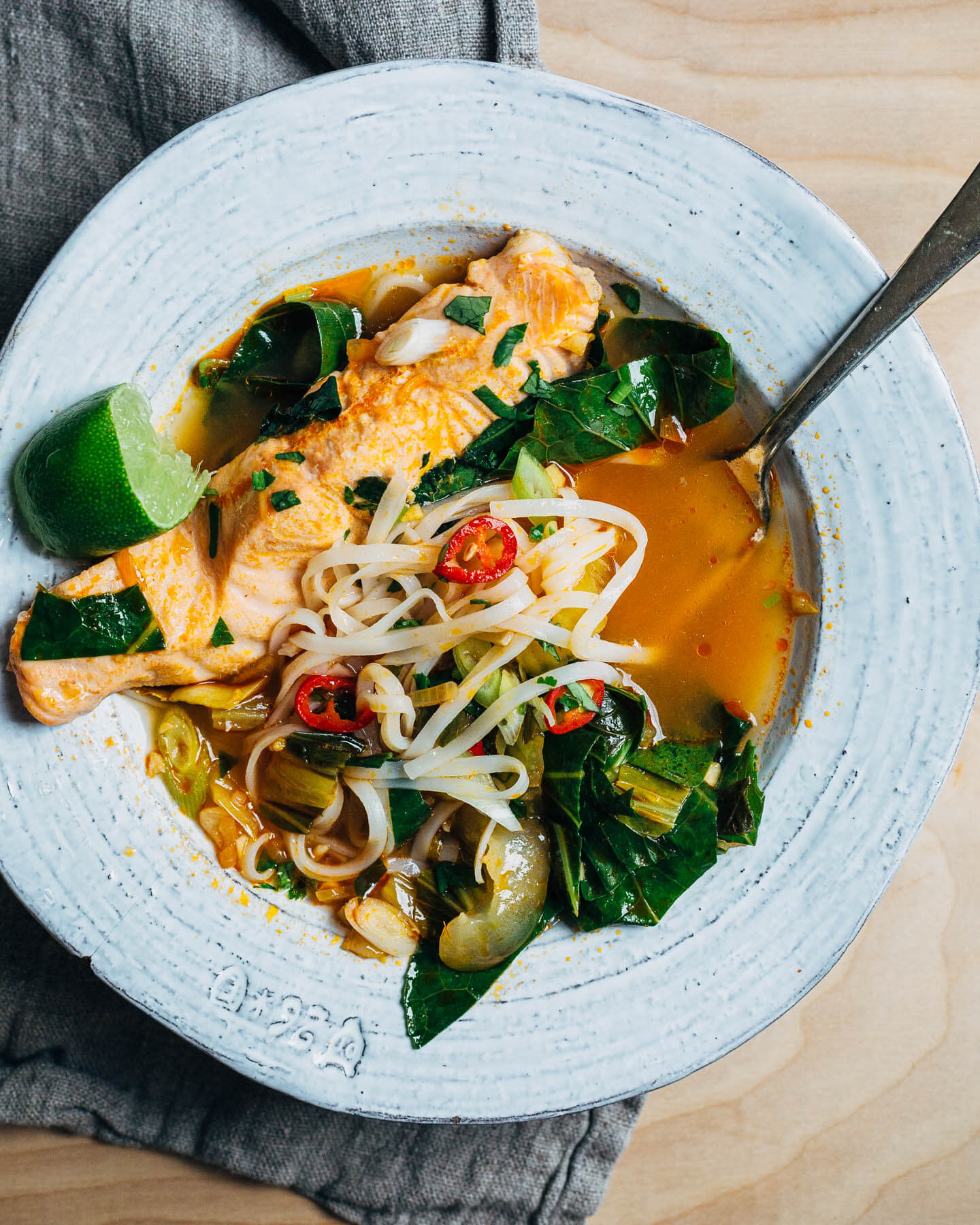 Because it's all-natural coconut water with no sugar added, I've always opted for ZICO Natural Coconut Water when I need to hydrate or make a knockout smoothie, but I've discovered that it's a great option for cooking as well. Much lighter than coconut milk, ZICO Natural Coconut Water is brimming with flavor – even in a savory dish like this one.
Poached salmon can be a delicate process. Look for the fish to firm up slightly and the flesh to turn opaque. The flesh should flake off in big chunks and look quite moist. Check frequently after 4 minutes so as not to overcook.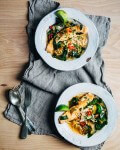 Red Curry Soup with Poached Salmon
A nourishing red curry soup with winter greens and delicate poached salmon.
Ingredients
2

tablespoons

coconut oil or a neutral oil like safflower

4

cloves

garlic,

smashed, peeled, and minced

2

small shallots,

minced

2-

inch

segment of ginger,

peeled and minced

sea salt

3

tablespoons

prepared red curry paste

1

small bok choy

chopped

2

cups

chopped greens such a kale or collards

with any tough stems removed

1

16.9 oz bottle of ZICO Natural 100% Coconut Water

3

cups

chicken or vegetable stock

1

stalk lemongrass

1

pound

salmon fillet,

pin bones and skin removed, cut into 1-inch thick strips, s

cooked rice noodles for serving

1

red chili,

sliced paper thin

1

green onion,

sliced

2

tablespoons

minced cilantro

lime wedges
Instructions
Set a medium-sized pot or Dutch oven over medium heat. Add the oil, followed by the garlic, shallot, and ginger. Sprinkle with sea salt. Cook, stirring often, 3 minutes. Add curry paste and cook 3 minutes more. Toss in bok choy, sauté 1 minute. Pour in coconut water and broth, and add lemongrass. Bring soup to a boil then turn heat down to a gentle simmer. Cook 15 - 20 minutes. Taste, and add sea salt as needed.

Stir greens into soup. Sprinkle salmon with a pinch of sea salt; gently place strips of salmon into the top of the soup, cover, and cook 4 - 7 minutes or until salmon has just cooked through. (It should be very moist and tender.)

Ladle broth and greens into bowls over rice noodles and top with salmon. Garnish with sliced chili, green onion, cilantro, and a wedge of lime. Serve immediately.