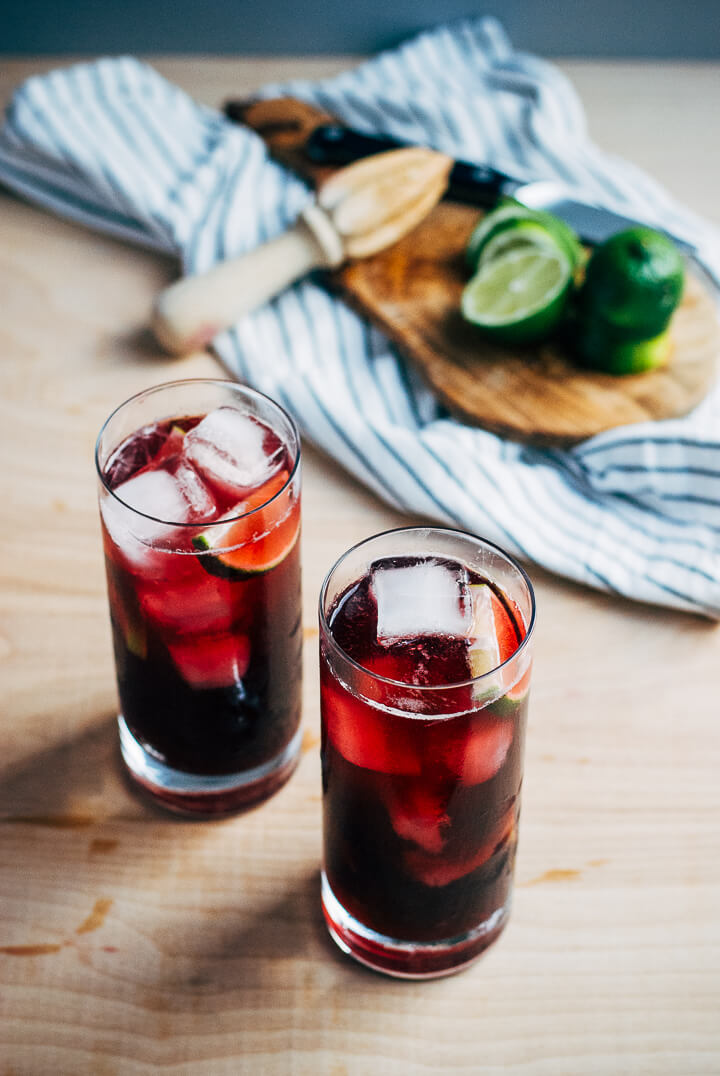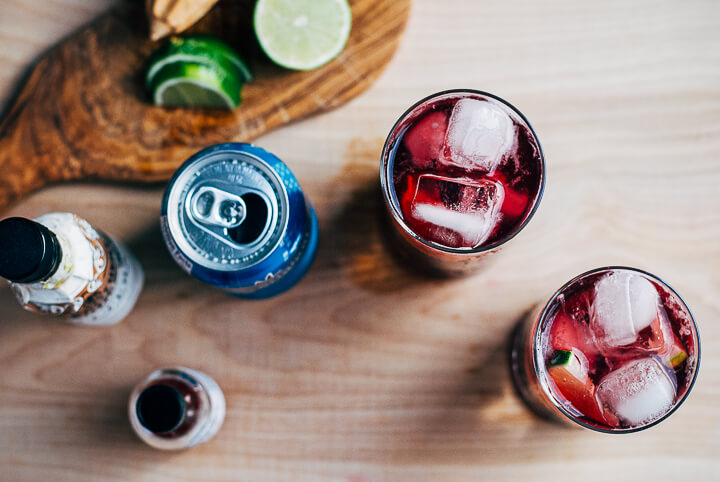 We're celebrating seven years of Brooklyn Supper with classic red wine spritzers made with fresh lime and bitters. Jump to recipe. 
I used to teach drawing at a small Staten Island college. Like all drawing teachers, I knew the funny truth that if you ask the class to make the best possible drawings followed by the worst possible ones, the so-called worst drawings will be superior every time. The lesson, which I've somehow failed to take to heart, is that our creative minds don't respond well to pressure. The idea that we need to make something good opens the door for our analytic minds to jump in and make really terrible decisions.
Brooklyn Supper is now seven years old. Sitting down to write this post, I thought "let me sum up what writing this blog for seven years has meant. Let me tell everyone how it's all culminated in this really great year. Let me write something brilliant and moving." But like my students trying to make the best-ever drawing, my urge to make this the best possible marker of a milestone was turning it into a terrible one.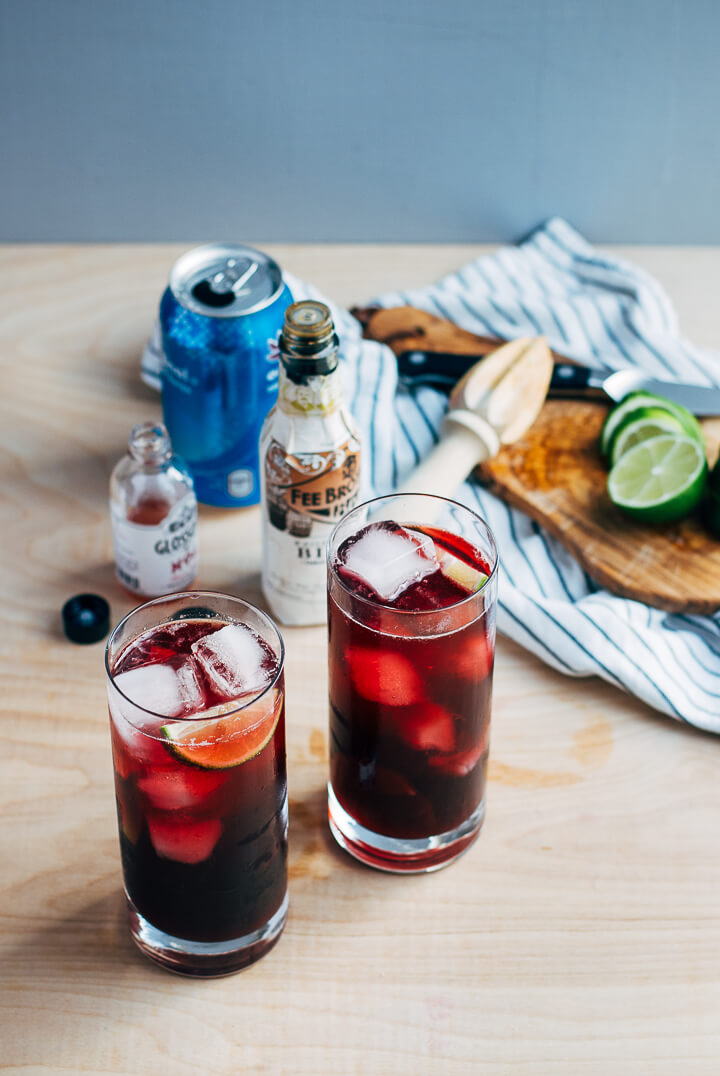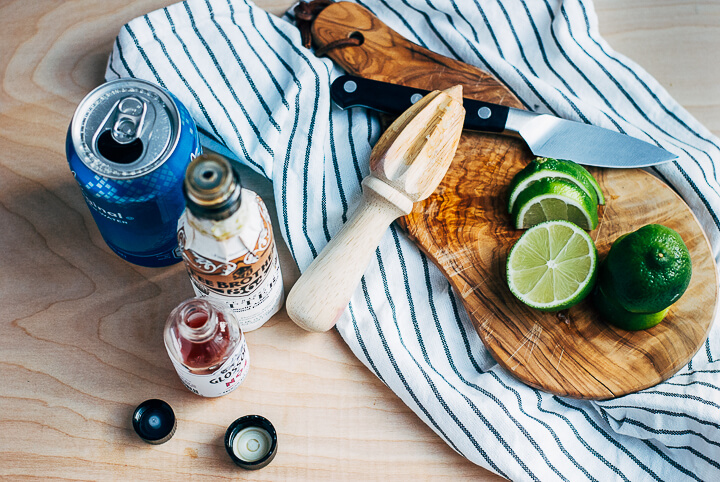 So I'm stepping back from all that to simply say thank you to everyone who reads. I've been gushing a little bit lately, but it's because I'm just really thankful that you're here. It wasn't necessarily clear from the first poorly photographed, rambling post that this blog would go anywhere (though Brian's post on chicken and Just the Ten of Us is promising.). Even for the first few years, we never knew that this blog would go anywhere. But in writing Brooklyn Supper, Brian and I stumbled in to something we're passionate about; along the way, you've joined us in this world of seasons and weather and life and simple, fresh food.
Your feedback, your kind, thoughtful comments, and support are everything to us. Few things make my day like getting a message that you loved something of ours that you made. I'm grateful that you trust us enough to invite us into your kitchen, buy ingredients, and follow these recipes. I'm also grateful for the community of bloggers and kindred spirits – it's thrilling to be part of such a vibrant group, brimming with talent and ideas and really good food.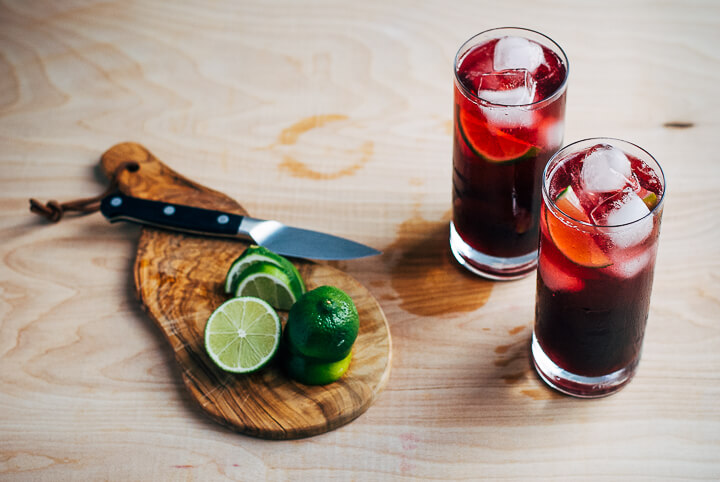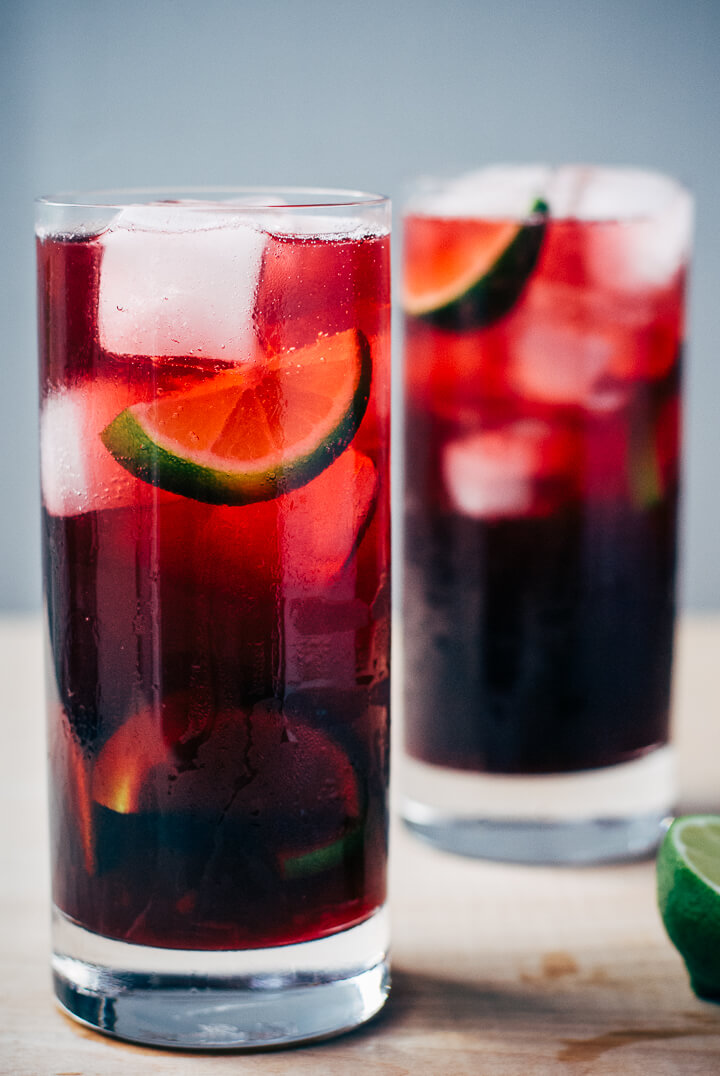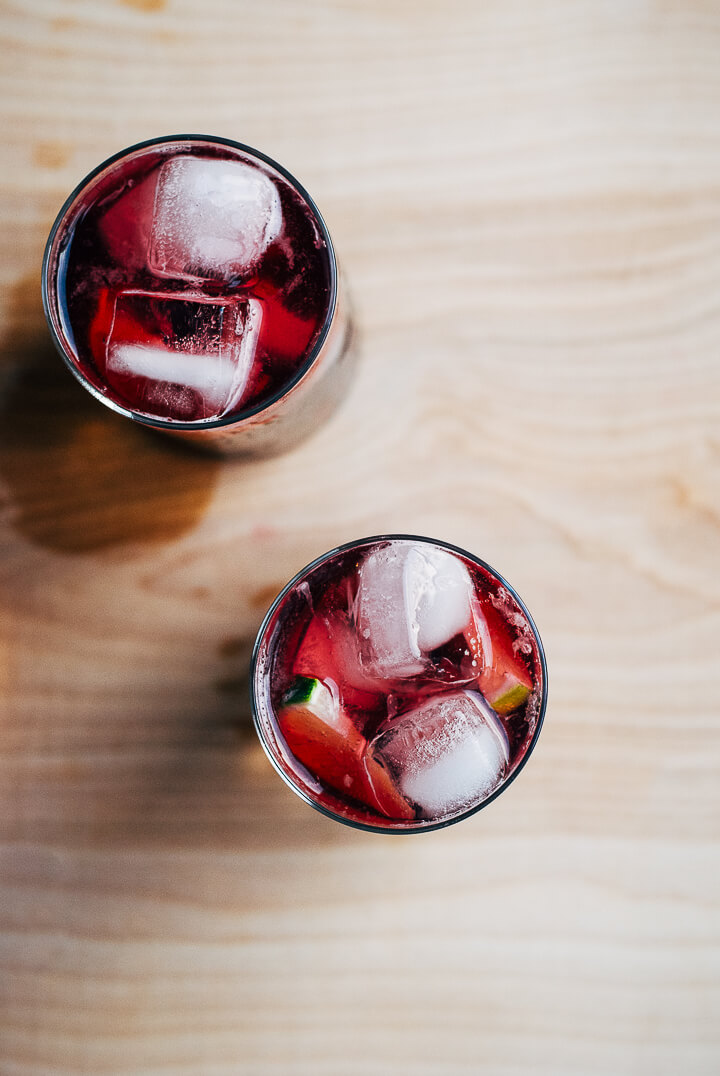 Now, let's celebrate with a drink. In our house, Brian was the first to embrace the red wine spritzer. I was doubtful (and pretty snooty about it), but then it got, like, really hot out, and the idea of a refreshing, icy, wine-based sip seemed like a really good one. It was. A red wine spritzer can be made simply by combining a sweet, fizzy soda and wine over ice, but ours has a little more finesse. Fresh lime, simple syrup, and Fee Brothers Bitters make for a balanced, not-too-sweet beverage. Keep things cool with plenty of ice and make sure your seltzer is really fizzy – cans are an ideal solution. As for the wine, go with whatever red makes you happy.
For the completists out there (and hope for beginning photographers everywhere), here our posts from our first, second, there's no third – we did this instead, fourth, fifth, and sixth anniversaries.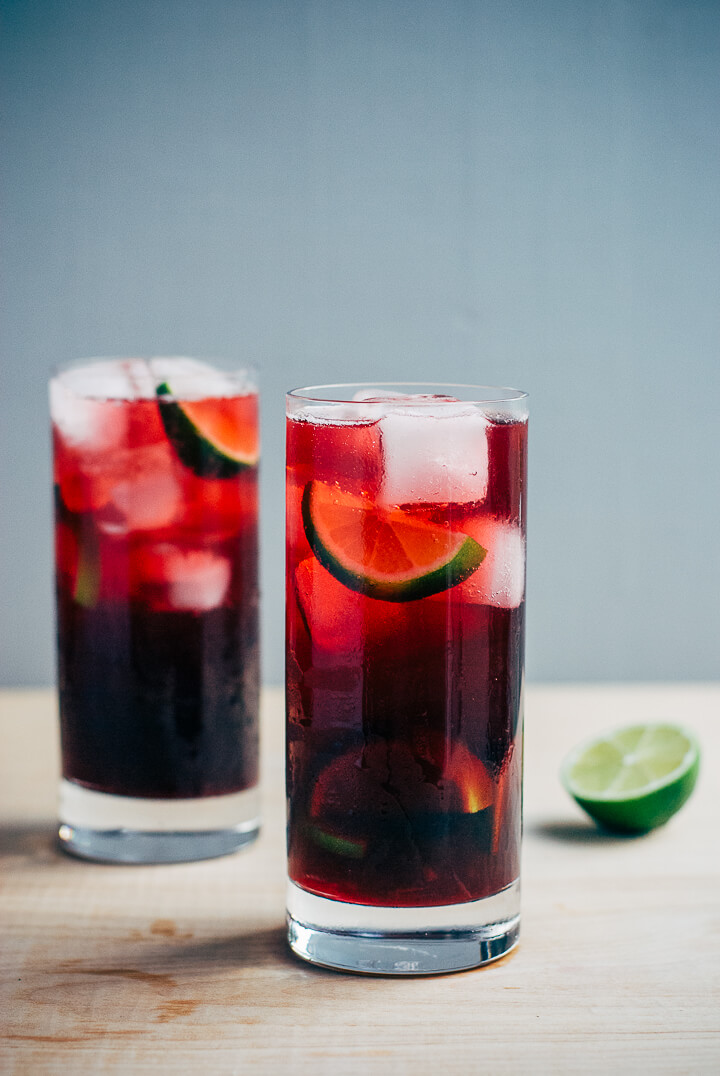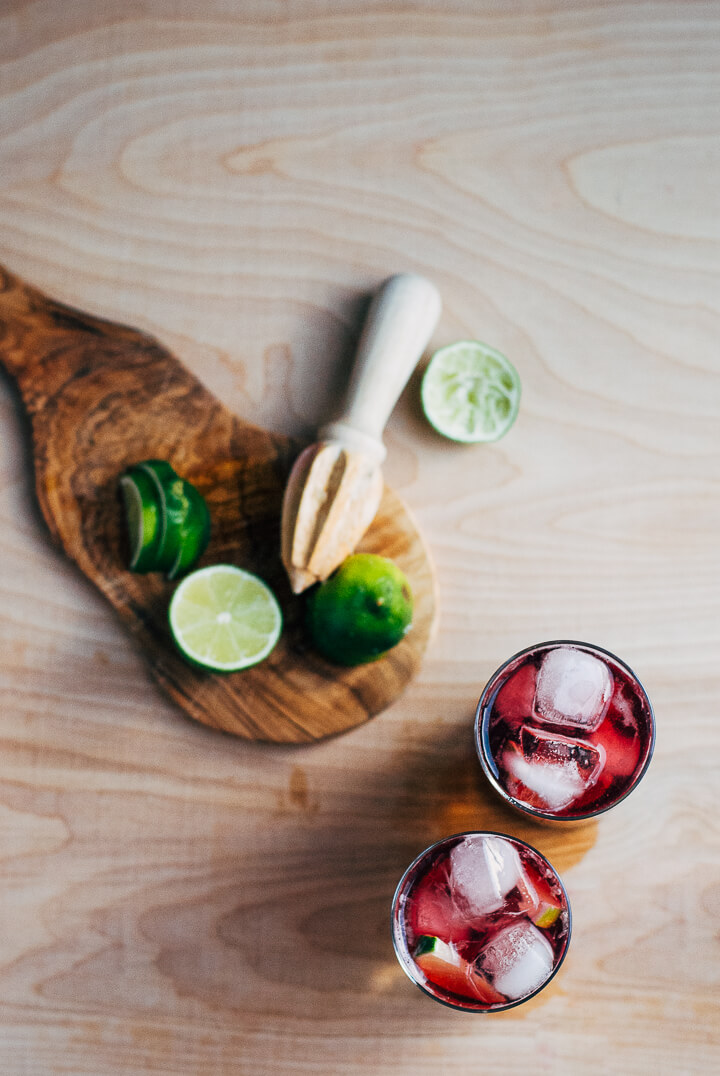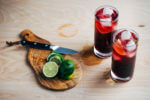 Red Wine Spritzers with Lime and Bitters
Celebrating seven years of Brooklyn Supper with a recipe for red wine spritzers made with lime and bitters.
Ingredients
4

ounces

red wine

1/2

ounce

freshly squeezed lime juice

, plus several lime wedges

1/2

ounce

simple syrup

(any 1 to 1 syrup will do; here, we used Glossop's Hibiscus Ginger Syrup or you could make your own)

2

ounces

seltzer

several dashes bitters

(we used Fee Brothers Old Fashioned Aromatic)
Instructions
Fill a hi-ball with ice. Add wine, lime juice, and syrup. Stir. Top of with seltzer and bitters, and garnish with 2 lime wedges. Serve immediately.