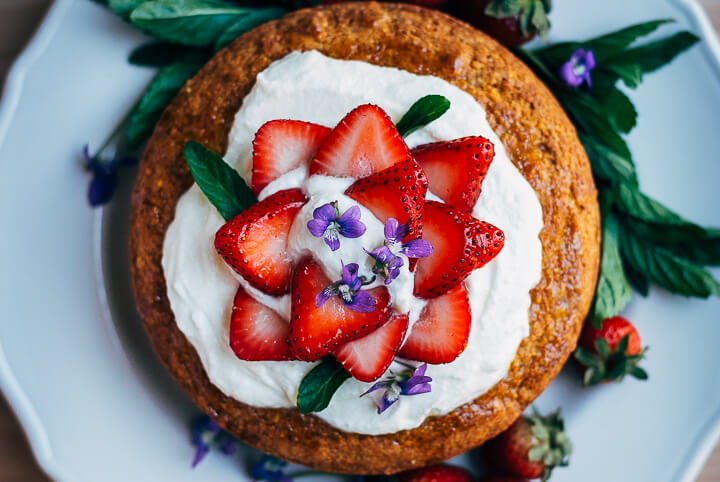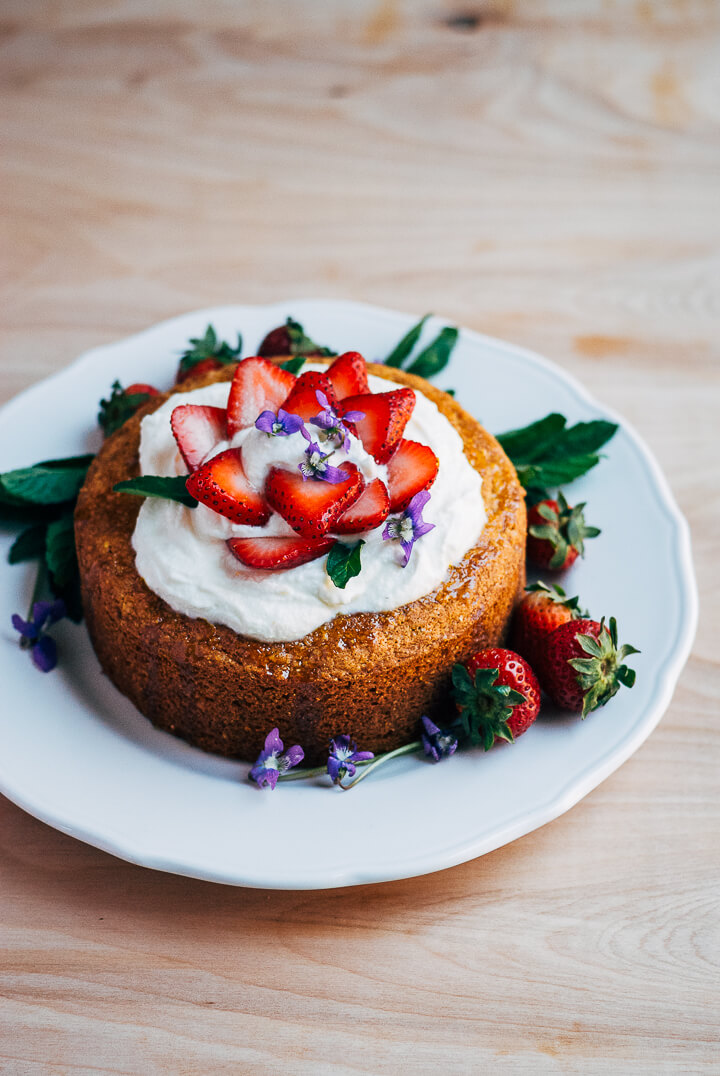 A rustic ricotta strawberry cake recipe with a cornmeal-flecked crumb, a creamy ricotta topping, and fresh strawberries. Jump to recipe.
Tomorrow is the last day to vote in the Saveur Blog Awards. It's been an incredible month, but I'm starting to feel like Cinderella at 11:55, afraid it's all about to disappear in a poof. In two days, I may find myself alone with a pumpkin and some mice, so I'm having one last celebration. Being a finalist (for Most Delicious Food, no less) is a dream come true. Seriously. It's been a long road – learning to take a decent picture, to write like "myself," and to come up with recipes I think you'll love week in and week out. Each time I hit publish and your thoughtful comments, likes, and shares start rolling in, I feel so lucky to have you here, reading and appreciating my work.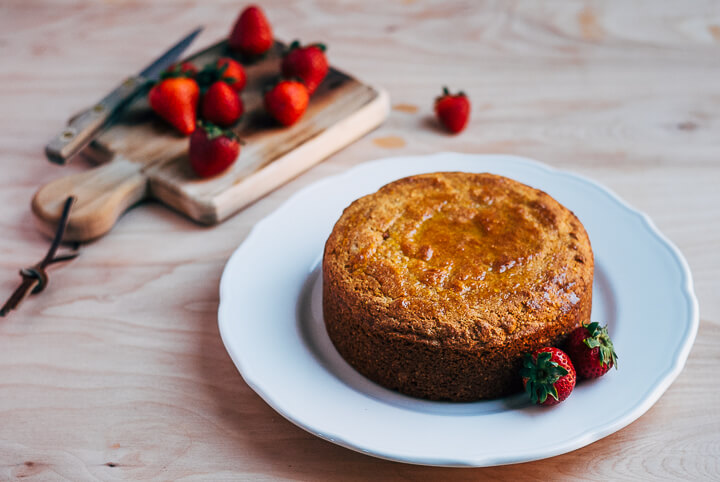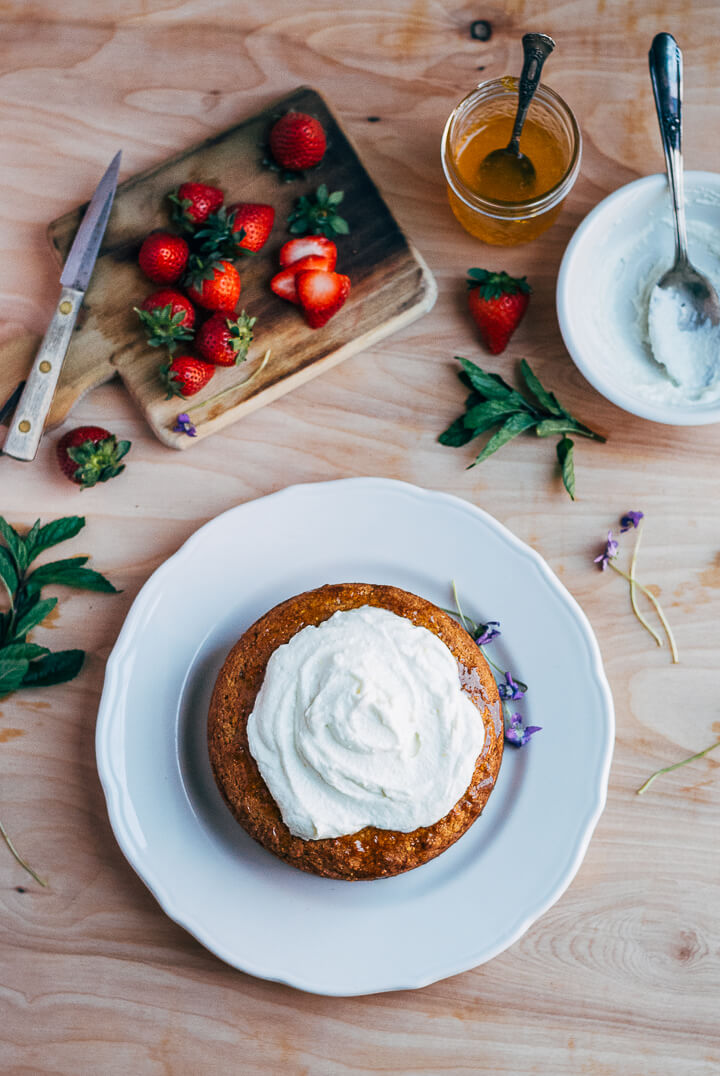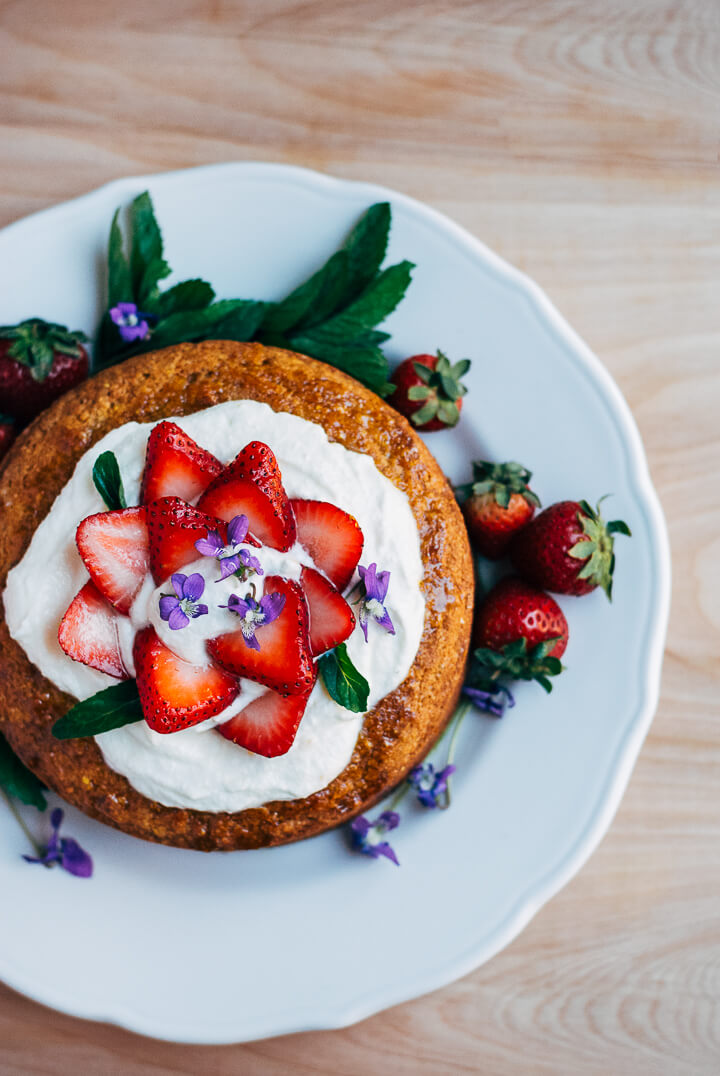 To say thank you, I made a cake – an easy cake, even. Cornmeal, olive oil, and ricotta make for a rustic, crazy flavorful crumb. It's got a nice golden brown crust and is saturated with a simple orange glaze. On top, a big dollop of sweet and savory ricotta, plus fresh strawberries and a few wild violets too. Simple and rustic and celebratory, because it's spring and I'm so glad you're here.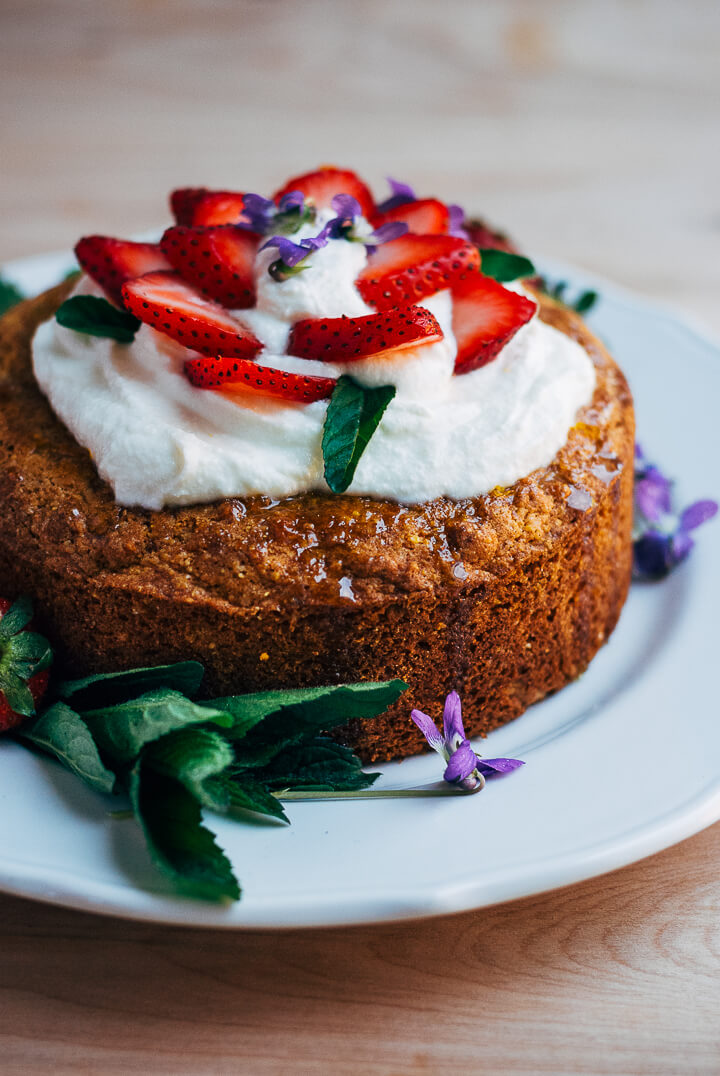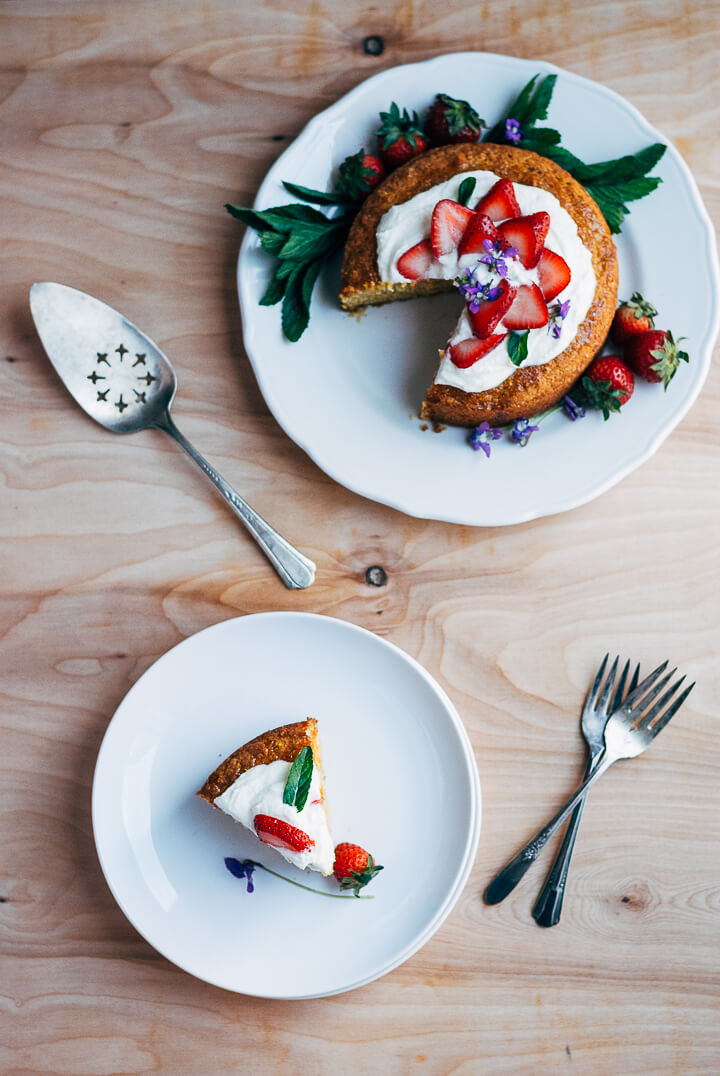 Before we get to the recipe, I have one last request for you to head over to Saveur and cast a vote for us. This year's list includes so many stunning blogs and the competition is stiff. Brian and I would be so very grateful if you could take a moment to vote. You'll need to register with a name and email address, and then scroll all the way down to find our category, Most Delicious Food. Once you're done, crank the oven and get ready to make some cake.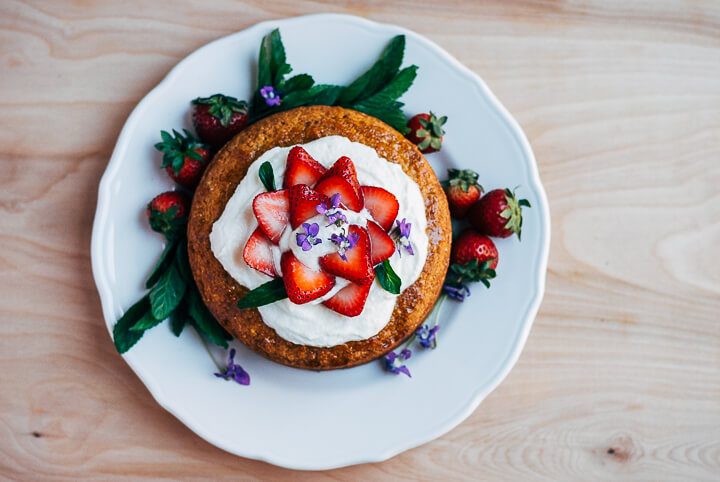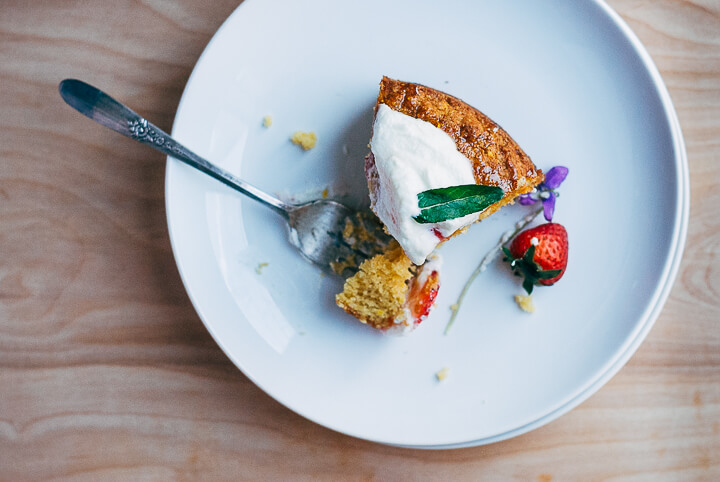 Ricotta Strawberry Cake
A rustic ricotta strawberry cake recipe with a cornmeal-flecked crumb, a creamy ricotta topping, and fresh strawberries.
Ingredients
For the Cake
3/4

cup

whole wheat pastry flour

1/4

cup

finely ground cornmeal

1

teaspoon

baking powder

1/4

teaspoon

baking soda

1/2

teaspoon

sea salt

1/2

cup

sugar

1

large egg

1/2

cup

ricotta

1

teaspoon

grated orange zest

1

teaspoon

vanilla extract

1/4

cup

extra virgin olive oil
For the Orange Glaze
1

tablespoon

grated orange zest

1/3

cup

freshly squeezed orange juice

1/2

cup

sugar
For the Ricotta Topping
1/2

cup

ricotta

1

teaspoon

extra virgin olive oil

tiny pinch sea salt

6

strawberries

, hulled and thickly sliced

edible flowers

, mint leaves, and whole strawberries for garnish
Instructions
Preheat oven to 350 degrees F. Liberally butter a 6 x 2-inch round cake pan.*

In a large bowl, combine the flour, cornmeal, baking powder, baking soda, sea salt, and sugar. In a small bowl, lightly beat the egg, and then stir in the ricotta, orange zest, and vanilla. Mix the wet ingredients into the dry. Finally, fold in the olive oil.

Spoon batter into the prepared cake pan. Slide into the oven, and bake for 35 minutes, or until the top is a rich golden brown and a toothpick inserted in the center comes out with just a few crumbs attached.

Cool cake for 15 minutes, then carefully flip out onto a plate.

Meanwhile, make the glaze. In a small saucepan, stir to combine 1 tablespoon orange zest, 1/3 cup orange juice, and 1/2 cup sugar over medium-low heat. Spoon 2 - 3 tablespoons over the cake.

For the ricotta topping, stir to combine the ricotta, 1 tablespoon orange glaze, 1 teaspoon olive oil, and a tiny pinch of sea salt.

Toss sliced strawberries with a tablespoon of orange glaze.

Spoon ricotta onto the cake, top with strawberries, and garnish with whole strawberries, violets, and fresh mint.

To make ahead, cook cake, cool, flip, drizzle with glaze, and loosely cover. Just be serving, add ricotta and fresh berries.
Recipe Notes
*Note: this recipe was tested with a 6-inch diameter x 2-inch deep cake pan. For an 8- or 9-inch round cake, double the recipe or refer to this guide to cake pan conversions.