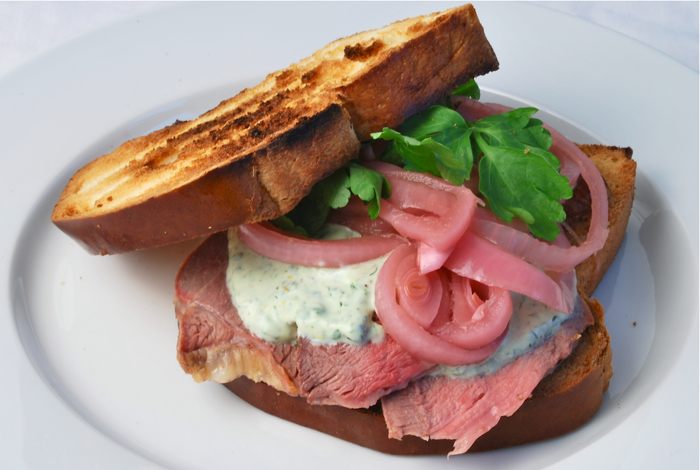 One of the best things about roasting a leg of lamb is the leftovers. Thanksgiving has a reputation for being the holiday for leftovers, but that's just based on volume. Based on quality, it's pretty hard to compete with a post-Easter lamb sandwich. For an especially incredible lamb sandwich, we made this mint yogurt sauce, and we recommend you do the same.
Yogurt and lamb are both staples of Mediterranean cooking and besides going together well geographically, they also complement each other's flavors well. Lamb is a pretty rich meat, which is offset nicely by the coolness of the yogurt and mint. Ours also had pickled red onions, which I highly recommend if you have them (and really, they're easy to make). Overall, the entire dish brings the freshness of spring, which it a pretty big accomplishment for a sandwich.

Mint Yogurt Sauce

1/2 cup fresh mint leaves
1 ramp, or 4 scallions and 1 clove garlic
1/4 cup parsley
1 tablespoon olive oil
1 tablespoon lemon juice
1 teaspoon lemon zest
1 teaspoon salt
1/2 teaspoon fresh ground white (or black) pepper
1/2 teaspoon cumin
1 cup thick Greek yogurt
In the bowl of a food processor, combine all of the ingredients but the yogurt. Pulse several times, scrape the sides down, and pulse a few times more. Scrape the herb mixture into a bowl, and then fold in the yogurt. If you have time, allow the mixture to chill covered in the refrigerator for a bit, and then serve.