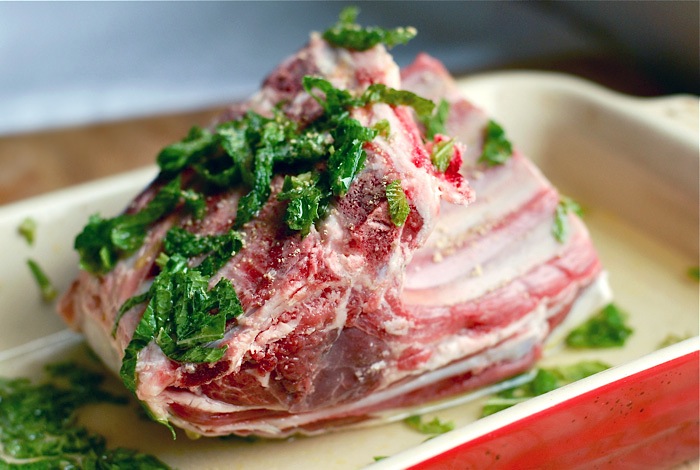 Spring lamb roasts must have really been something special in the olden days. You didn't run out of potatoes and beets and starve during the winter. You didn't have to kill your breeding livestock to survive. Your flock has started to lamb and for the first time in a few months you're actually looking at the prospect of having plenty of food to eat. Putting that first lamb on the table must have felt like a combination of Thanksgiving, getting a raise at work, and when the character you hate the most gets kicked off a reality show.
While it doesn't carry quite the same emotional weight now, a spring lamb roast still feels pretty good, like the first step on the road that leads to summer eating. Spring lamb is so tender and the mint tastes so fresh and grassy, you'll forget all those months of nothing but potatoes and turnips at the farmer's market.
I used lamb shoulder for this because my butcher only sells leg of lamb whole and that's more lamb than we really need. Flavor-wise, shoulder is a fine substitute, it just doesn't carve up as attractively. I used white wine for the marinade even though I think most people would use red, because we had a little bit of leftover gruner veltliner we needed to use, and I was really pleased with the results. I think that's one of the nice things about lamb — with such strong flavor, it can work well with a lot of tastes since its lamb-ness will be front and center no matter what you do.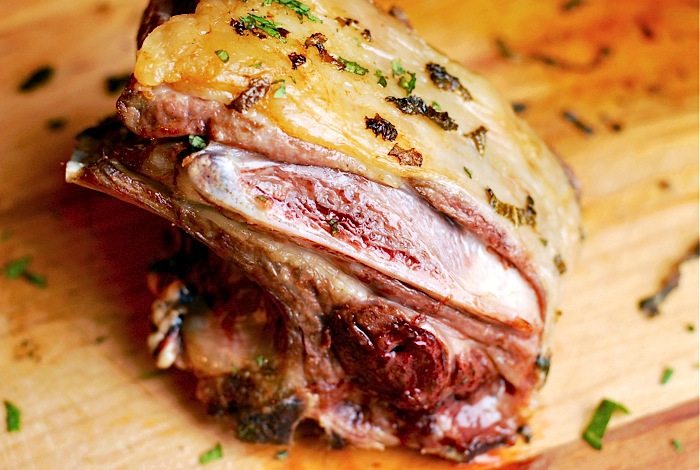 Roast Lamb Shoulder with Mint
for the marinade
1/2 cup white wine
1/2 cup olive oil
5-6 sprigs fresh mint, finely chopped
2-3 cloves garlic, diced
1 tablespoon rice wine vinegar (or whatever mild vinegar you have)
1 teaspoon finely chopped rosemary (optional, I was out, but it would have been nice)
1 teaspoon paprika
for the roast
2-3 lbs. lamb shoulder roast
4-5 more sprigs fresh mint, finely chopped
salt to taste
In the smallest baking pan you have that will accommodate your roast, combine the marinade ingredients the night before if you are able, or as far in advance as you can on the day of. Place the roast in the pan with the marinade and spoon some of it over the lamb. Cover and refrigerate until it's time to cook it.
Preheat the oven to 375 degrees and remove the roast from the fridge. When the oven is up to temperature, sprinkle it with salt and chopped mint and place the baking pan with the roast and marinade in the oven. Cook 30 minutes and flip the roast, cook 20 more and check the temperature. 135 degrees is medium rare for a lamb and 140 is medium. I got distracted and ended up somewhere in the medium well range and this still turned out well, so I got lucky. Let stand for 5-10 minutes, carve and serve.