A super simple roasted turkey breast recipe that's perfect for smaller Thanksgiving gatherings. Dry-brined and butter-basted, this turkey breast is a great one for novice turkey cooks.
Jump to Recipe Roasted Turkey Breast: A Simpler Alternative
The great challenge in roasting a whole turkey–the challenge that leads people to fashion aluminum foil shields for cooking their turkeys, that leads to a spate of tedious posts and articles every November about the best way to brine a turkey, that leads people to burn down their houses using turkey fryers, that leads me to nearly scald or actually scald myself with hot turkey juices as I flip it mid-roast with dish towels every Thanksgiving – is the challenge of fully cooking the dark meat without drying out the breast. The simple solution to this problem is to cook them separately. Apart from that brief interlude between roasting and carving when everyone can admire what a beautiful bird you have, there's no real advantage to cooking a turkey in one piece. You're going to serve it in many pieces. And by separating the dark meat from the white, you can give each part the time it needs.
Of course, if you're not cooking for a huge crowd, you might dispense with the dark meat altogether. As scientists have proven (probably), most people prefer white meat to dark when it comes to poultry. And with turkey, which is often viewed primarily as a means of delivering gravy to the mouth, this preference is even more pronounced. If you're worried that going with the breast alone will compromise the aesthetics of your feast, please direct your attention again to the picture sitting atop this post.
A roasted turkey breast alone can serve as a perfectly beautiful focal point for your meal and freed from the needs of the slow-to-cook dark meat, it can be as moist and flavorful as you've always dreamed without the need to resort to risky contraptions and strategies.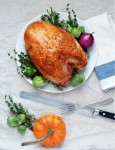 Roasted Turkey Breast
A super simple roasted turkey breast recipe that's perfect for smaller Thanksgiving gatherings. Recipe adapted from How to Cook Everything by Mark Bittman.
Keyword:
roasted turkey breast
Ingredients
5

pound

bone-in turkey breast

3

tablespoons

course sea salt

3

– 4 tablespoons butter,

melted
Instructions
The night before, or morning of, set the turkey breast on roasting pan (preferably one with a rack) or rimmed baking sheet and pat dry all over with paper towels. Next, rub the turkey breast all over with sea salt. If using table salt, reduce amount to 2 tablespoons. Place in the fridge uncovered.

When ready to cook, preheat the over to 450 degrees F. Set the turkey out to come to room temperature for 30 minutes.

When turkey is at room temperature, brush all over with the melted butter. Place in the oven. Roast 45 - 50 minutes (add or subtract time depending on the size). Baste the breast 2 or 3 times while it's in the oven. Toward the end of the cook time, check the temperature with an instant read thermometer. When the temp reaches 160 degrees at the thickest part of the breast, pull it. Rest the bird for at least 15 minutes (the temp will increase as it rests). Carve and serve.