A simple roasted asparagus and spring onion soup.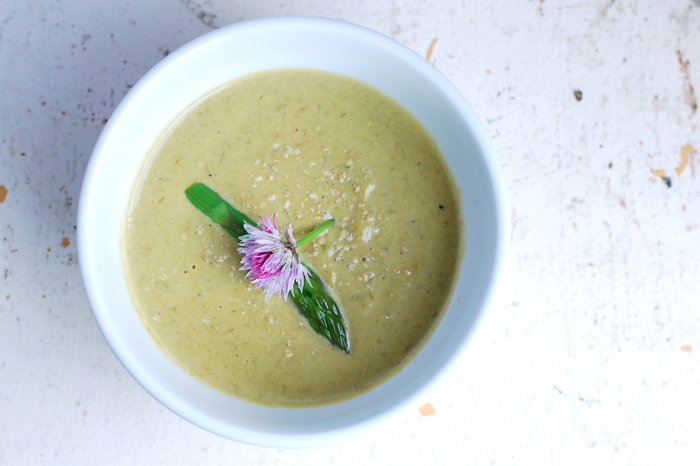 I've been whiling away the morning trying to decide what to say here, as though soup alone isn't compelling enough. But, in cooking, a simple approach doesn't always make for simple flavors. For this velvety asparagus soup I roasted the onions, garlic, and asparagus, and then pureed them with broth. Roasting brought out a caramelized smokiness that was perfect for the pungent/creamy spring vegetables. And though I recommend this soup just as it is, it's incredibly flexible and would be delicious with countless variations (especially ones involving ramps, leeks, and other spring delicacies).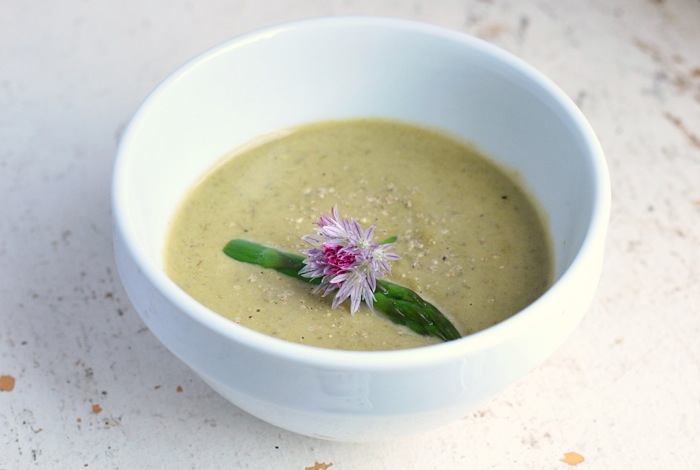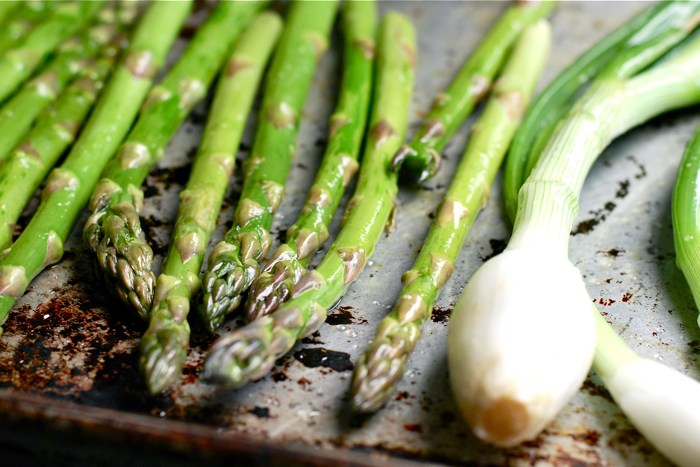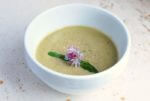 Roasted Asparagus and Spring Onion Soup
A simple roasted asparagus and spring onion soup.
Ingredients
1

bunch asparagus (1 pound)

3 - 4

smallish spring onions

1

head garlic

3

teaspoons

olive oil

3/4

teaspoon

sea salt

1

quart

chicken or vegetable broth

1

teaspoon

fresh ground white pepper

3/4

cup

half and half

or heavy cream if you're gutsy
Instructions
Preheat the oven to 400 degrees.

Wash asparagus and break off woody ends. If it's very thick, or the skin is tough, peel it. Rinse the spring onions and pat dry. Cut off the base of a head of garlic (exposing each clove on the bottom), and place in a square of aluminum foil, add 1 teaspoon olive oil and a pinch of salt. Fold up the sides tightly so the oil can't leak out.

Spread the asparagus and onions out on a large rimmed baking sheet, drizzle with 1 - 2 teaspoons olive oil and a generous pinch of sea salt. Give everything a good shake to spread the oil and saltiness around. Place the packet of garlic somewhere on the baking sheet, and stick in the oven. Roast for 20 - 30 minutes, until the asparagus is soft and browned a bit on the outside.

Remove from oven, trim the root ends off of the onions, and (carefully) open up the garlic packet to cool. Push the roast garlic out of the papery skin. Add everything to a deep stock pot. Pour in the broth, add a big pinch of salt, fresh pepper, and bring to a boil. Turn heat to low and simmer for 20 minutes. Using either an immersion blender or a regular one, carefully puree the soup.

Check salt and pepper levels, and adjust if necessary. With heat on low, stir in the half and half, and warm.

Serve the soup with blanched asparagus tips, a twist of white pepper, and maybe a chive blossom.