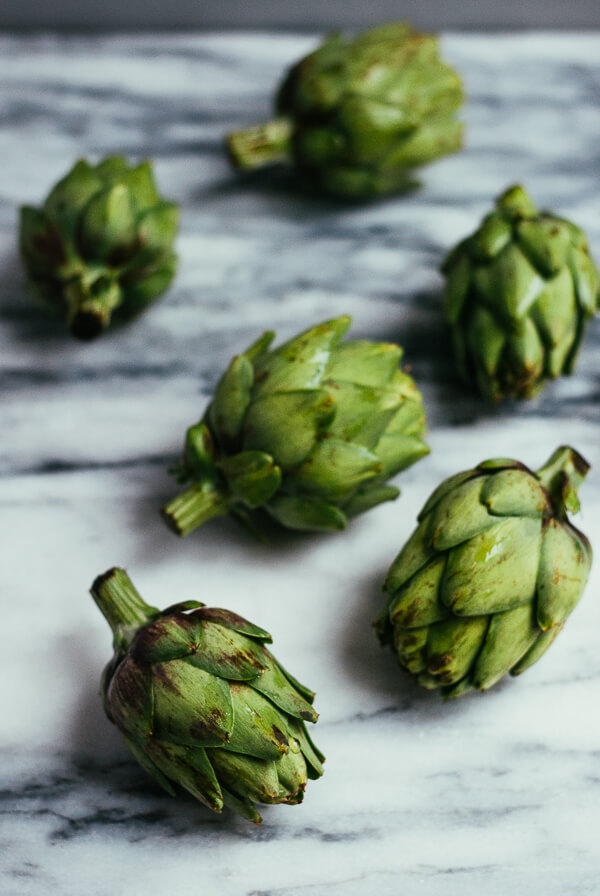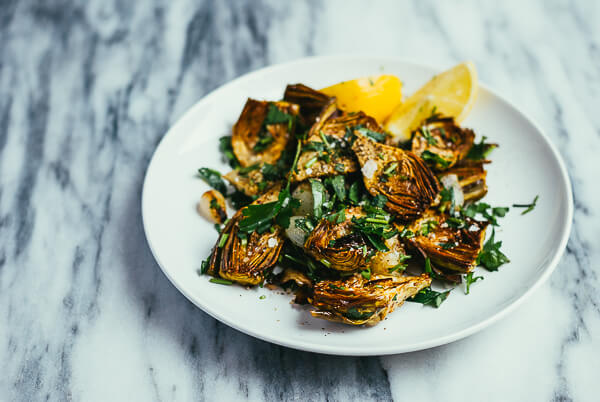 Embracing the emerging springtime with roasted baby artichokes and pearl onions served simply. Jump to recipe.
Less than a week ago, things were completely frozen. Then suddenly, the natural world began to stir. All but the most stubborn mounds of snow melted, a few adventurous crocuses pushed up thorough the ground, and even the very first bugs careened drunkenly through the air. Small talk in town centers solely on plants – which trees have buds, which flowers have sprouted, which plants survived the winter. The magic of spring is deep and undeniable.
And we need it. This winter seems to have had more ups and downs than usual. I'm entering my fourth year of freelancing full time, and the constant hustle and uncertainty are draining. It feels like treading water – forever. But exciting opportunities can come from the hustle, too. My world was recently shaken when one of my steadiest gigs made changes. After weeks of mild panic, things have actually resolved for the best. Onward!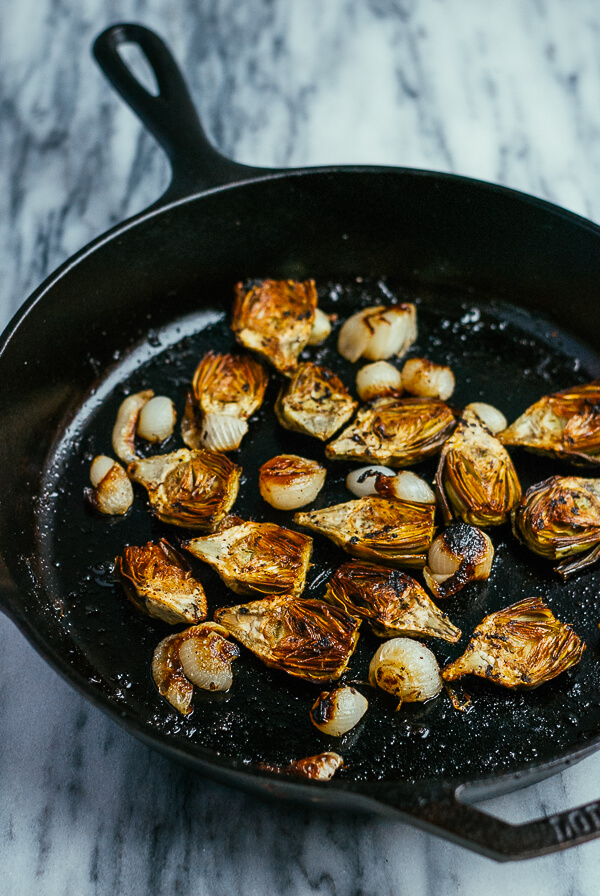 From here on out, the only uncertainty I'm into is the spring weather. And, as always, I'm waiting for each new ingredient to come on the scene as the growing season begins. In the meantime, I'm thankful for the California spring time, and the cute baby artichokes that appeared recently at my grocer. Artichokes are intimidating, and not just because they have actual thorns – the how and why of prepping them can be daunting, too. But it's all pretty simple, especially once you have the hang of it. This tutorial from Saveur makes things crystal clear. To their advice, I'd add the following: artichokes turn brown immediately, so besides a lemony water bath, I recommend keeping a lemon half on the cutting board so you can rub each fresh cut right away. Also, it can be painful to buy pretty vegetables and feel like you're throwing most of them away, but go ahead and remove all but the palest leaves – it will save you the pain of a chewy, fibrous bite down the line.
P.S. At long last, I've spruced things up around here. I still have a way to go on the redesign, but for now, it's good to have a fresh space for my stuff. Thanks for all the nice feedback!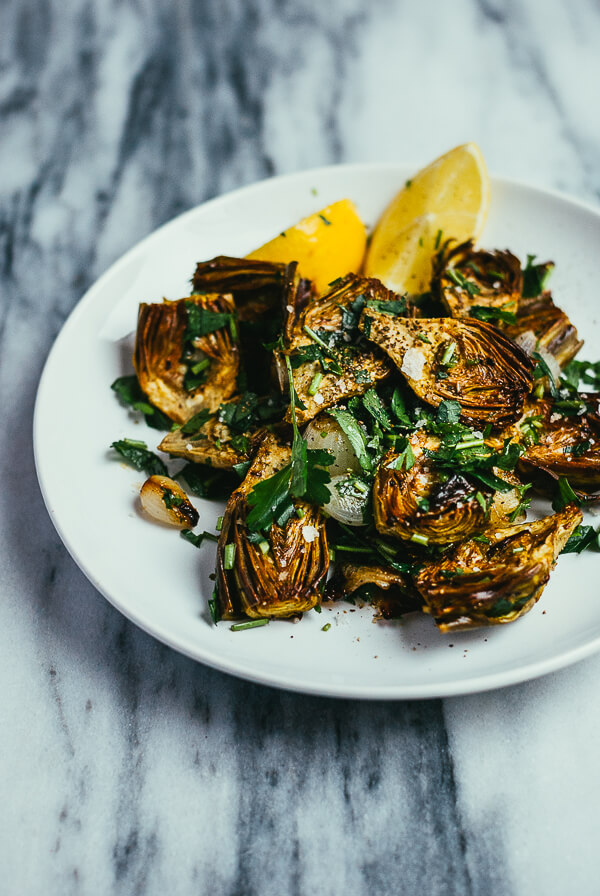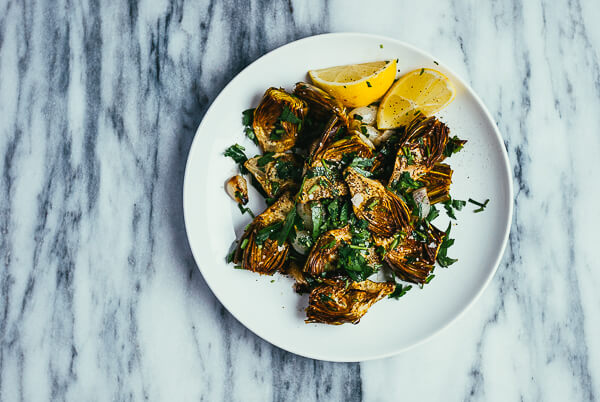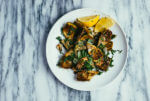 Roasted Baby Artichokes and Pearl Onions
Embracing the emerging springtime with roasted baby artichokes and pearl onions served simply.
Ingredients
4

lemons

, divided (3 for juice and zest, 1 for finishing)

water

3

tablespoons

extra virgin olive oil

10

white pearl onions

, trimmed and peeled

8

baby artichokes

sea salt

pepper

3

tablespoons

minced parsley
Instructions
Preheat oven to 425 degrees F.

Zest one of the lemons. Whisk zest with olive oil, and set aside.

In a large bowl, combine the juice of 2 1/2 lemons with 4 cups cold water and set it next to your cutting board. Set a half lemon on your cutting board. Rinse artichokes well. Working quickly, slice off the top third of the artichoke, swipe with lemon; peel off all the thick, green leaves so that only the palest ones are left, trim any green bumps, and swipe with lemon; cut off bottom 1/4-inch of stem and peel. Immerse artichokes in prepared lemon mixture.

When all artichokes are prepped, cut each in half. In a mixing bowl, toss halved artichokes with pearl onions, olive oil and zest mixture, plus a generous pinch each sea salt and pepper.

Spread out in a cast iron skillet or on a rimmed baking sheet. Roast 25 – 30 minutes; use a spatula to flip vegetables halfway through.

Toss roasted artichokes and pearl onions with parsley, a big squeeze of lemon, and a pinch of sea salt. Serve immediately.