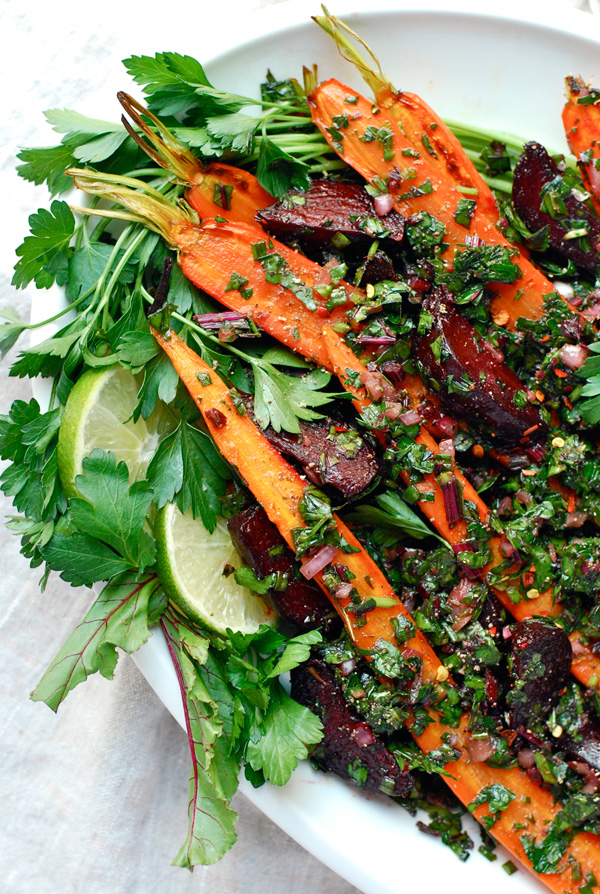 After returning from my morning rounds today, I cranked the oven to full blast, threw a big pot of water on the stove, and set about making this roasted carrot and beet salad. While I washed and peeled and chopped, I watched the birds (now out in force and doing their bird thing with no mind for the human world) and went over my to-do list, the top of which is getting signed up for a CSA (Community Supported Agriculture). Last year, we moved here right at the tail end of sign-ups, and just let it slip. But as the growing season progressed, Brian and I realized we'd made a huge mistake. Not only do CSAs do much to support local farmers as they begin their seasons by providing financial security no matter what the summer brings, CSAs benefit members too.
New York has an incredibly robust Greenmarket system. Vendors are vetted by the organization for proximity and quality, and there are neighborhood markets throughout the city year-round and almost any day of the week. By contrast, there are seasonal, twice-weekly markets here in Charlottesville. But the emphasis isn't wholly on farm-fresh food. There are craft vendors and tents selling tacos and donuts and pupusas. And all of that can be a lot of fun, but it makes getting down to shopping for our weekly produce kind of a nightmare. Loitering, meandering, explaining one more time why we cannot get that felt princess crown, all erode the magic.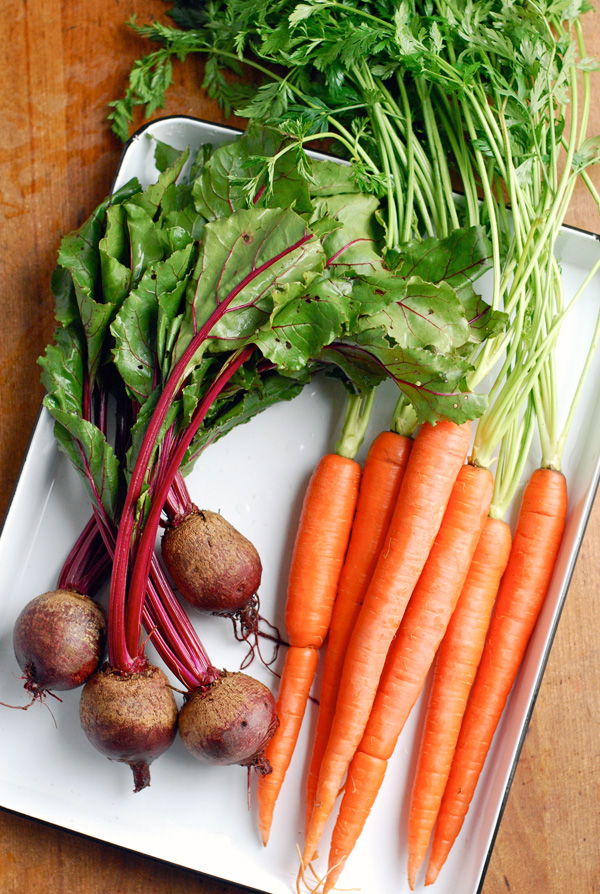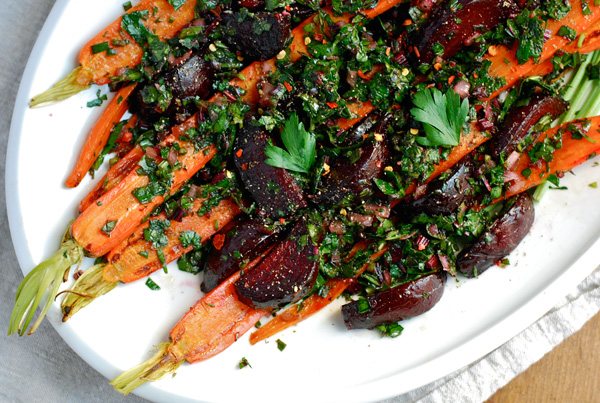 Brian and I were also surprised at the difference in the growing season and offerings on hand. The summer here in Virginia is hot, so greens (leafy or otherwise) and brassicas disappear for a month or so. We also found that the markets seemed to gravitate toward the greatest hits of summer, with plenty of tomatoes, peaches, and corn, but little in the way of alliums, and less common fruits and vegetables.
So this year, we're signing up for a CSA. And I really hope you will too. If the prospect of so many vegetables conjures a bit of preliminary CSA-stress, consider sharing your box with a friend. CSA membership gets you in the kitchen cooking the healthiest, freshest food available, gets you in touch with local farmers, gives you a stake in community agriculture, and stimulates your local economy. Do some good and sign up today. Within NYC, check out Just Food for a CSA near you (we were longtime members of Paisley Farm CSA and LOVED them, so much), outside NYC, check out Local Harvest for a comprehensive listing of producers in your area.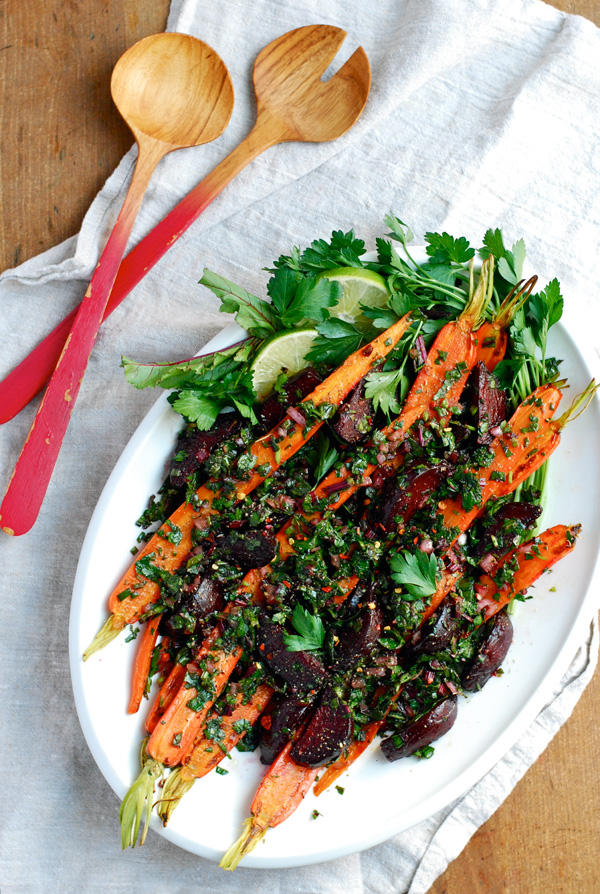 With that out of the way, let's turn back to the recipe. Made with colorful beets and carrots, and topped with a spring-inspired Italian-style salsa verde with beets greens, parsley, chives, and shallots, it's bright and savory and satisfying. Just a little bit of happy to inoculate us against whatever the fickle late winter weather has in store.
Roasted Beet and Carrot Salad with Beet Green Salsa Verde
serves 2 – 4
1 3/4 teaspoons sea salt, divided
1 bunch beets with greens
1 bunch carrots (greens preferred, but not essential)
4 tablespoons olive oil, divided
1/2 cup minced parsley
1/4 cup minced chives
1/4 cup minced shallot (about 1 medium)
2 tablespoons balsamic vinegar
1 teaspoon lime zest + 1 tablespoon lime juice
1 teaspoon ground black pepper
1 teaspoon freshly ground cumin seed (use a mortar and pestle if you have one)
Preheat the oven to 450 degrees F.
Trim the greens from the beets, and set aside. Wash the beets well. Set beets in a large stock pot and fill with cold water. Set on a burner over high heat and bring to a boil; add 1 teaspoon sea salt.
Meanwhile, trim carrot greens, leaving 1/2 inch in place at the base. Discard remaining greens. Peel carrots.
When water comes to a boil, start a timer for 7 minutes. Add the carrots to the pot and blanche for 1 minute. Remove carrots, and set under cold water. Set aside. After 7 minutes, pierce beets with a fork to ensure they are tender, then remove from water. Cool beets under water; remove peel with fingers.
Halve the carrots. Trim tops off beets and cut into sixths. Toss carrots with 1/2 tablespoon olive oil and set on one side of a rimmed baking sheet. Toss beets with 1/2 tablespoon olive oil and set on the other side of the baking sheet (cake pans are perfect for this). Sprinkle 1/4 teaspoon sea salt over both, slide into the oven, and roast 15 – 20 minutes, or until carrot edges have browned slightly. Flip vegetables halfway through.
Set aside to cool.
To make the beet green salsa verde, finely chop the beet greens, parsley, and chives. Set in a medium-sized bowl and set aside. In a small bowl, combine the shallots, balsamic vinegar, lime zest and juice, and 1/2 teaspoon sea salt, stirring with a fork. Whisk in 3 tablespoons olive oil. Drizzle over minced greens, and stir well.
Toss salsa verde with roasted vegetables, garnish with parsley and lime slices. Finish with a squeeze of lime and several twists black pepper.