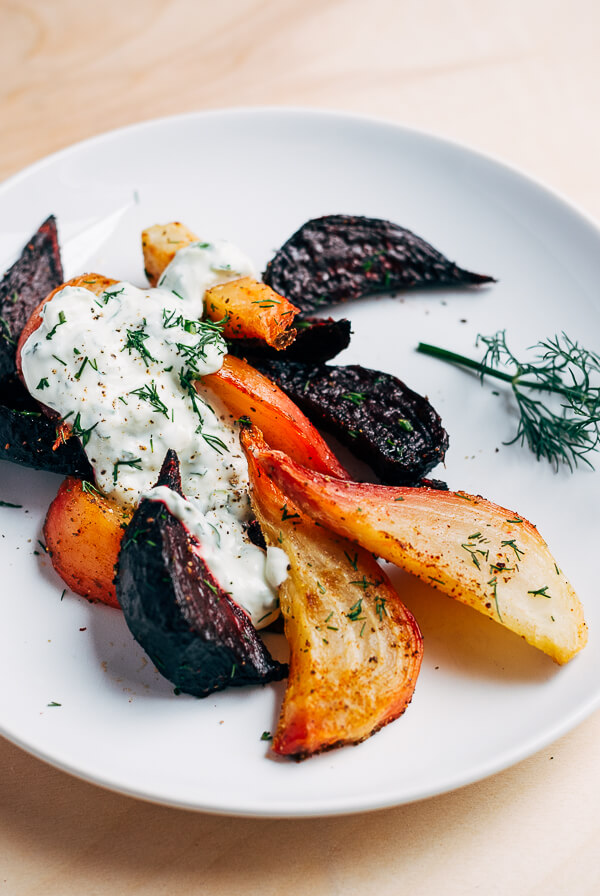 A salad for the in-between season with roasted beets and a creamy herbed tzatziki. Jump to recipe.
Blogging can really ruin your desire to cook. February, too. During the past few weeks, I've had a string of recipe fails – both the blogging kind and the oh-shit-dinner's-disgusting kind. (The former is my job, so fails are part of the process, but a ruined dinner is just heartbreaking.) No matter what I'm making, the blog looms large. I'm constantly taking notes and snapping pics, just in case the recipe I'm winging turns into something I want to develop for this space. But after so many painful fails, I needed to give the blog less mental space when I was in the kitchen.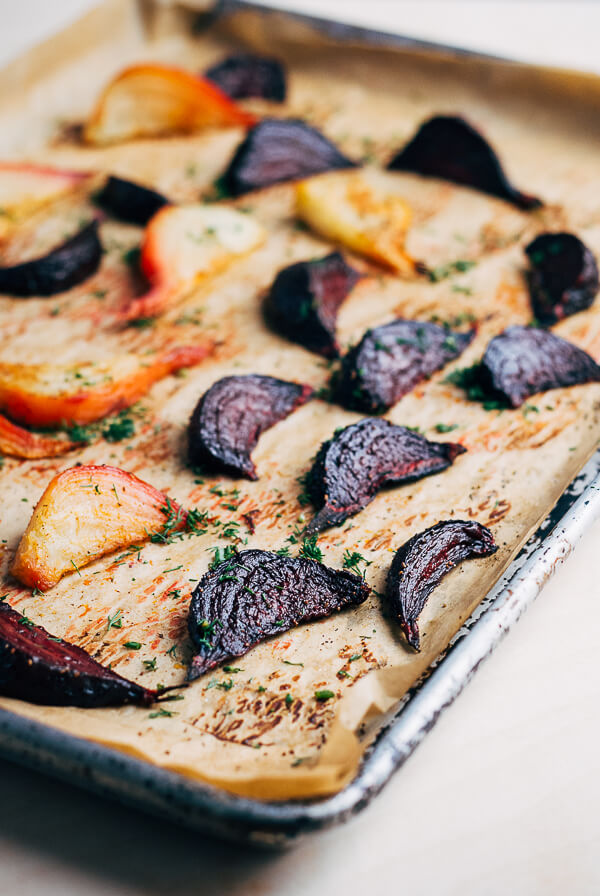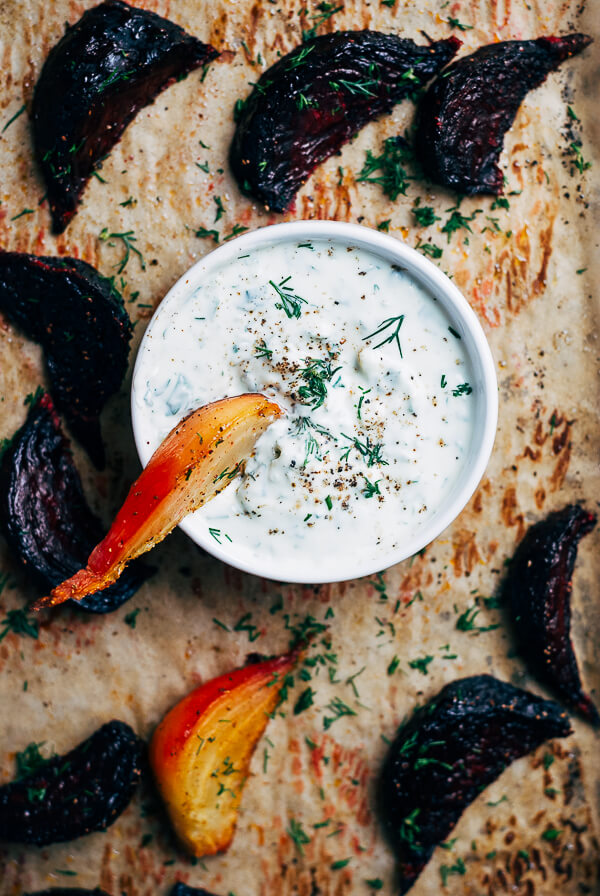 I went back to cooking for cooking's sake, or least for eating's sake, making recipes measured in handfuls and pinches and tastes. Predictably, my food improved. Triumphs included the best-ever braised beef tacos and a great run of salads thrown together with whatever was in the fridge. But besides the improved eats, I loved the exercise because it reminded me why I like doing this so much. I'm adding recipe improvisation to my list of things to do when I feel stuck (or when it's February).
Some of my favorite recipes on this blog have come from those moments when I'm thinking of little else besides the season and that flavors I most crave. This recipe came about in a similar fashion, with the added caveat that due to some comical grocery list miscommunication, I had an entire refrigerator drawer filled with red beets (and no one else in the family likes them, so those 6 pounds of beets were alllll mine.). I decided to boil up a mix of red and chioggia beets ahead of time, and then roasted them with generous amounts of celery seed, paprika, and garlic powder until the edges were golden and crispy. Next, I topped the warm roasted beets with a wintery take on tzatziki that subbed traditional cucumber for piles of green onions and parsley. It's such a delicious little dish, contrasting the sweetness of the red beets with the earthiness of the chioggias, not to mention the garlicky, herbaceous tzatziki.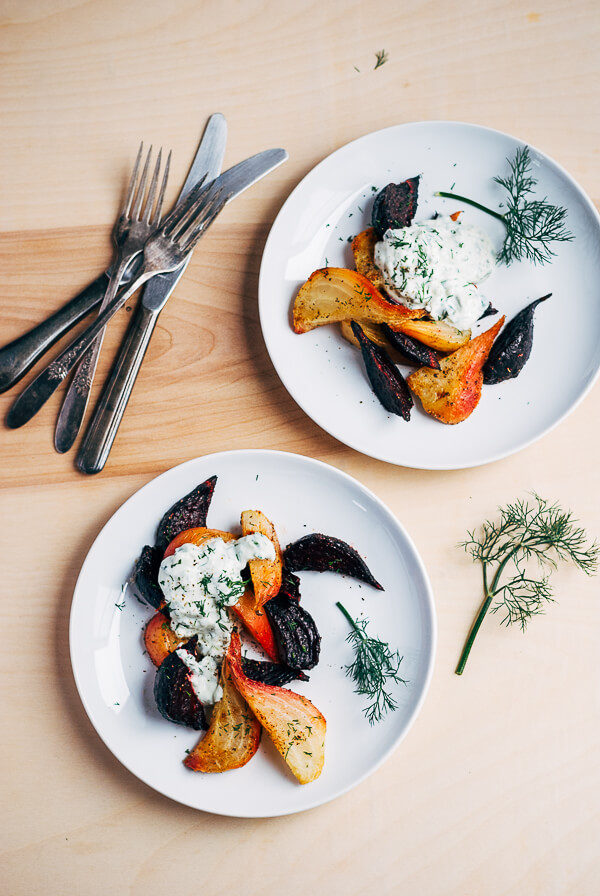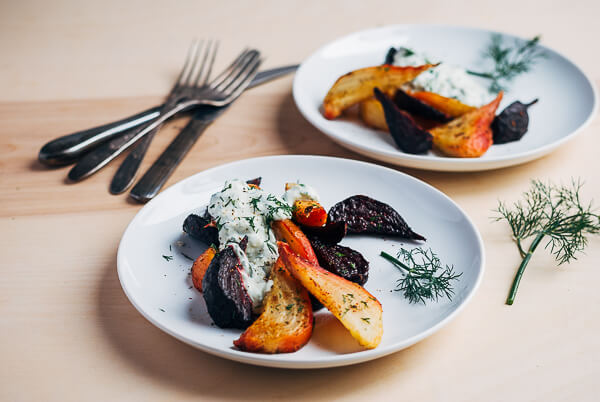 I find beets have the best texture when they're boiled and roasted. It ensures a tender center, and a nicely caramelized exterior. For optimal flavor, the tzatziki should be made the night before. The beets can be boiled ahead of time, too, and kept covered in the fridge until needed.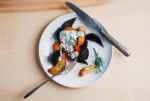 Roasted Beet Wedges with Herbed Green Onion Tzatziki
A salad for the in-between season with roasted beets and a creamy herbed tzatziki.
Ingredients
1

cup

Greek yogurt

2

tablespoons

plus 2 teaspoons extra virgin olive oil

, divided

1/2

cup

minced green onions

1/4

cup

minced parsley

2

tablespoons

minced dill

, divided

4

cloves

garlic

, smashed and minced

2

teaspoons

fresh squeezed lime juice

1

teaspoon

sherry vinegar

sea salt

black pepper

3 - 4

large red beets

, scrubbed with greens trimmed

2

large chioggia beets

, scrubbed with greens trimmed

1/2

teaspoon

celery seed

1/2

teaspoon

paprika

1/2

teaspoon

garlic powder
Instructions
To make tzatziki, whisk together in a medium bowl the yogurt, 2 tablespoons olive oil, green onions, parsley, 1 tablespoon dill, garlic, lime juice, and sherry vinegar. Add a generous sprinkle of sea salt and black pepper. Taste, and add more sea salt or pepper as needed. Cover and refrigerate for several hours, or preferably overnight. Add a pinch of sea salt and/or a squeeze of lime just before serving.

Preheat oven to 450 degrees F. Line two baking sheets with parchment paper.

Set scrubbed beets in a large pot of cold water and set over high heat. Once water begins to boil, set a timer for 10 minutes. Cook beets for 10 – 12 minutes, or until beets are just fork tender (exact cook time will vary depending on the size of the beets). Run cooked beets under cold water, and either with fingers or a peeler, remove the skins. Trim tops and cut beets into 1/2-inch thick wedges.

In a small bowl, combine the celery seed, paprika, garlic powder, and 1/4 teaspoon each sea salt and pepper.

Toss the chioggia beets with 1 teaspoon olive oil and half of the spice mixture, and spread on one of the baking sheets. Do the same for the red beets. Slide both baking sheets into the oven and roast for 15 minutes. Flip each wedge, and contine roasting for another 10 – 15 minutes, or until edges are crisp but not at all burnt. I found the red beets cooked more quickly than the chioggias, so keep a close eye.

Toss warm roasted beets with remaining tablespoon dill, and serve immediately with a big dollop of tzatziki.