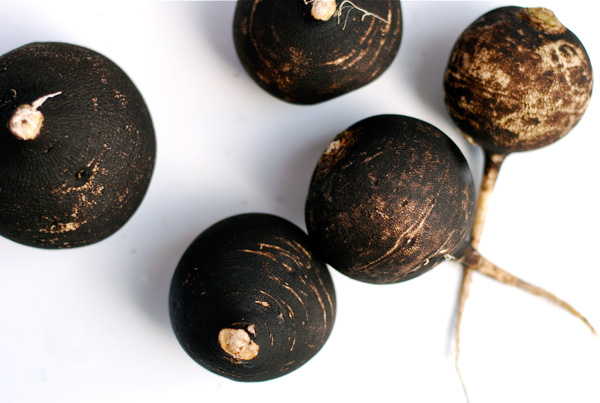 Sometimes seasonal food writing, here on the east coast especially, feels like a tour of the very homeliest food stuffs; and among the rutabagas, parsnips, jerusalem artichokes, celery roots, cabbages, and all the other misshapen, sun-starved vegetables that tide us over until the sun comes back for real, the black radish feels forgotten.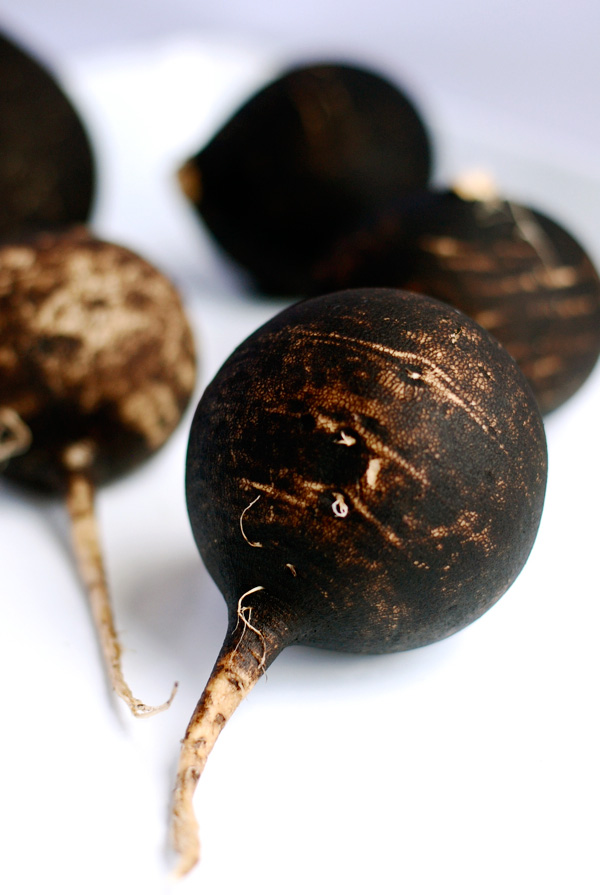 At the market on a sunny spring day, I found the matte black exterior of the black radish enchanting, and so I bought a few. Ever-resilient, they stayed in the fridge for a while. Because, truth be told, I loved the outside of the radishes, but had very little interest in whatever was inside. But yesterday, needing a real meal and having a little time, I pulled them out, scrubbed them down, and cut one open. I was expecting the flavor to land somewhere between dirt and dirty horseradish, but was instead pleasantly surprised. The black radish tastes good! Really good even! The flesh is sweeter and more opaque than a typical radish, similar to hakurei turnips, with a slightly creamy, less crisp interior. It has undertones of horseradish, which, after a stint in the oven made for tender half moons with just a hint of bite under all that smoky goodness.
So, I'm giving you your marching orders. Go to the market, search high and low (but probably low) and find these striated beauties. Take them home, roast them up, and toast once more to the triumph of homely food.
Over on Not Eating Out in New York, Cathy makes some great points about the usefulness of extremely hearty vegetables, and details three ways to enjoy black radishes. I really liked her take, so I hope you'll check it out.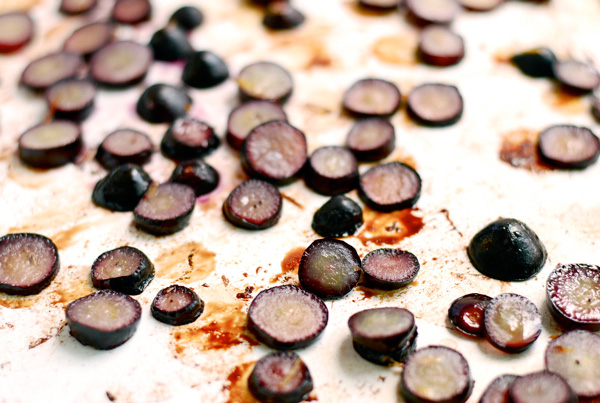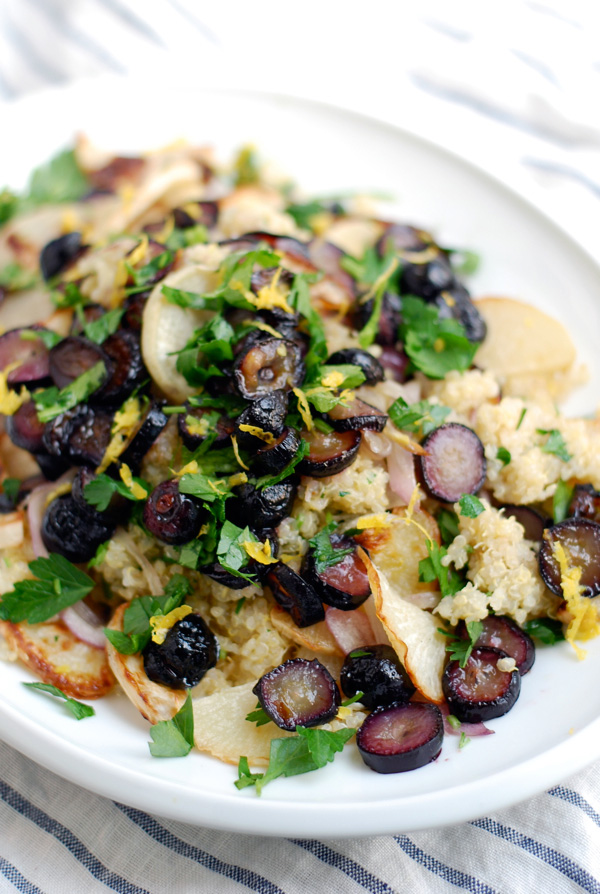 This recipe features black radishes, yes, but also roasted grapes. They lend wonderful bursts of sweetness throughout and provide a nice contrast to the bite of the radishes.
Lastly, our blogging here is inherently personal, and while we are deeply heartbroken about the attacks in Boston, we've struggled to find an appropriate way to talk about Monday's tragic events in this space. However, we do want our readers to know that our hearts are with the victims, those who know them, and the city of Boston.
Roasted Black Radish and Grape Quinoa
1 cup dried quinoa
1 large shallot, sliced
4 large black radishes, trimmed and peeled
2 cups sliced black globe grapes
5+ tablespoons olive oil, divided
1 1/2 teaspoons sea salt, divided
zest of 1 lemon, divided
2 tablespoons lemon juice
1 teaspoon Dijon mustard
1/4 cup flat leaf parsley, minced
Preheat the oven to 400 degrees.
Prepare rinsed quinoa in salted water according to instructions.
Add a generous drizzle olive oil to a small skillet and heat over medium heat. Add the sliced shallot and a pinch of salt and cook for 2 minutes. Turn heat to low and allow the shallots to caramelize while you prepare the other components. Stir occasionally.
Trim the radishes, halve, and cut into approximately 1/4 inch thick half moon slices. Place in a bowl and coat with 3 tablespoon olive oil and 1 teaspoon sea salt. Divide slices between two rimmed baking sheets, and roast. After 15 minutes, remove from oven and flip the slices. Roast for another 10 – 15 minutes or until the edges have crisped and the radish flesh is tender.
Meanwhile, toss the grapes with a drizzle of olive oil and a teaspoon of lemon zest, and spread on a smaller rimmed baking sheet. Roast grapes for 10 minutes.
Whisk together the lemon juice, remaining zest, Dijon, and a pinch of sea salt. Whisk in 3 tablespoons olive oil until emulsified.
Toss two-thirds of the dressing with the quinoa, shallots, and parsley. Fold in the roasted black radishes and grapes. Taste, adjust dressing or salt levels as needed, and serve.