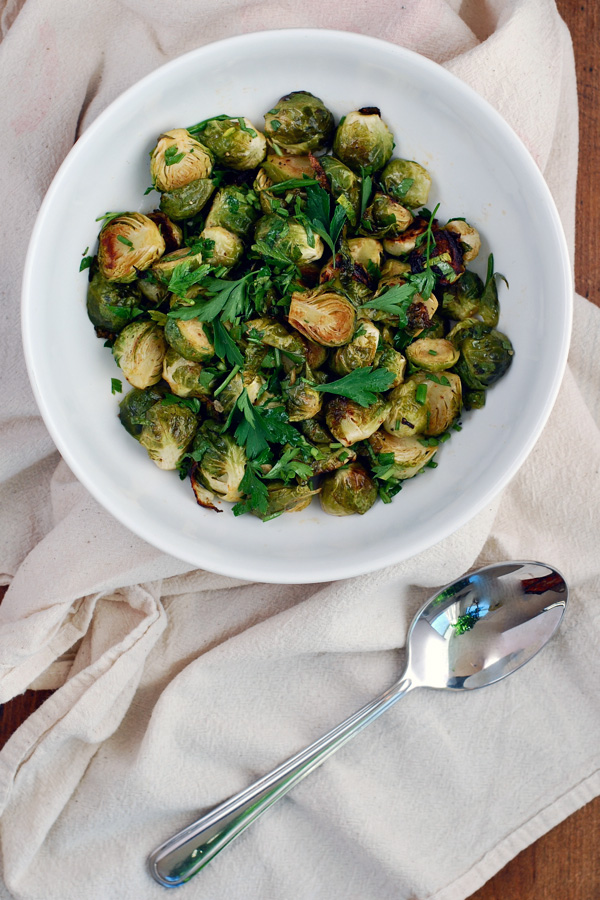 The other day, Brian got off work early and we took a trip to park with the girls, including a pretty magical hike. We meandered according to the whims of our toddler, spotted lots of deer, and took in the just-changing season. I learned on a recent trip to Vermont that they call it stick season –– the time after the leaves are gone but before the first snow falls. Up there, stick season is a time to prepare for the winter ski season and take care of things at home. Here in the Mid-Atlantic, with only occasional snow, stick season just means winter. Happily, we're still enjoying mild, completely gorgeous weather, making it a pleasure to be outside, leaves or no.
But I'm also ready to head inside. Reflection, cooking, and quieter times all sound pretty great. In the kitchen, I've been doing a better job of digging into the fall produce. Today's project: Brussels Sprouts. These particular specimens were inspired by some Old Bay fries I had recently at a local diner. Few spice blends are as instantly addictive as Old Bay, and once I had a little, I knew I need more. I kept things simple to highlight the Old Bay, and added a generous amount of black pepper and fresh parsley to the mix. These sprouts are an excellent side dish, but could be instantly meal-worthy with a runny egg or two.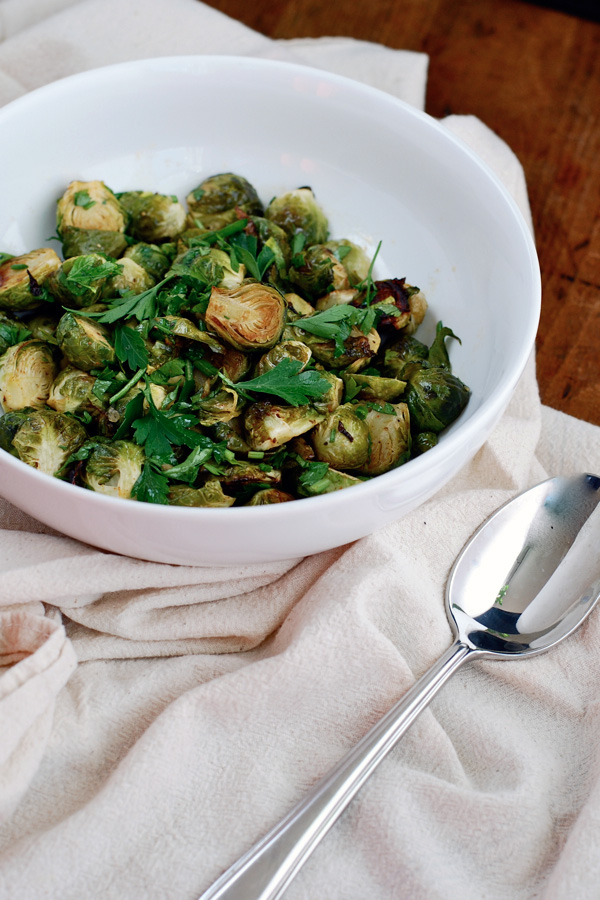 Roasted Brussels Sprouts with Old Bay and Parsley
serves two to three as a side
This recipe is great right out of the oven, but also excellent at room temperature (think Thanksgiving). If you're salt-averse, cut the sea salt back to 1/2 teaspoon.
3 cups Brussels sprouts (roughly 1 inch sprouts)
1 teaspoon sea salt
1 teaspoon Old Bay seasoning mix
1/2 teaspoon ground black pepper
1/2 cup parsley, minced
3 tablespoons olive oil, divided
1 tablespoon rice wine vinegar
Preheat the oven to 425 degrees F.
Trim just the tip off the sprouts, leaving some of the core intact, and cut in half. Toss in a small bowl with the sea salt, Old Bay, black pepper, and 2 tablespoons olive oil. Allow sprouts to sit while the oven comes to temperature.
Spread sprouts out on a rimmed baking sheet. Bake for 17 – 20 minutes, or until the edges have browned and the sprouts are tender.
Use a spatula to scoop sprouts back into the same small bowl used in prep; add the parley. Use a fork to mix together 1 tablespoon olive oil and 1 tablespoon rice wine vinegar. Drizzle over the sprouts and toss.