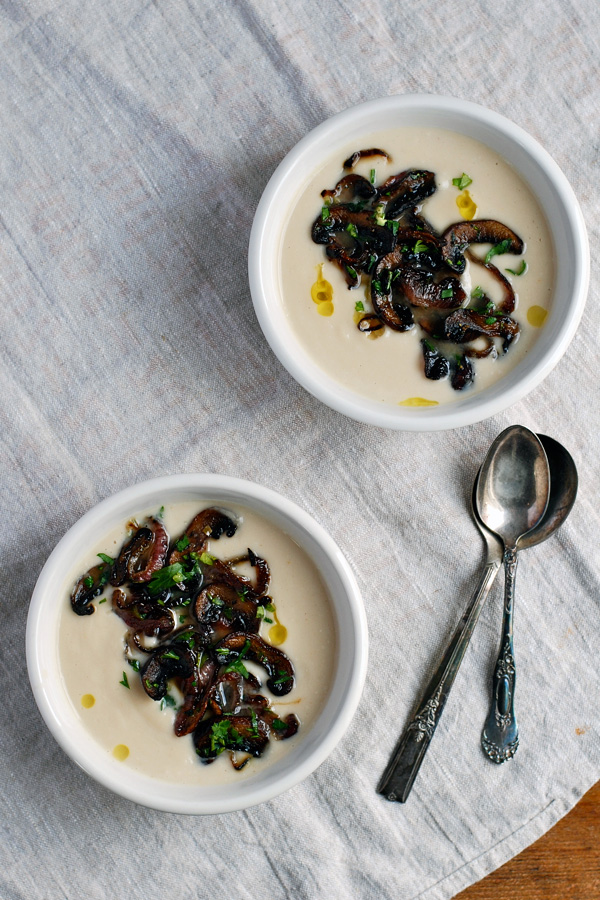 As the days and weeks add up, as the fall seems to have gone from just beginning to full-on, I'm feeling a little stunned. I've loved every minute of the mild early fall weather. Now that things have edged colder, and I find myself a little bewildered even thinking of coats. But, the occasional blast from the heater, my withered garden, and all these pumpkins seem to point to the inevitable. Soup weather, we meet again.
Food bloggers are supposed to give concise instructions for easy recipes, but, even with a totally hectic schedule that could really benefit from a few easy recipes, efficiency has never been my forte. I love the details of cooking, the textures, colors, and time. And so, this is a rather slow and meandering recipe for roasted cauliflower and garlic soup. It starts with a homemade vegetable broth, filled with remnants of a neglected refrigerator. The recipe stumbles toward completion only to be halted by irresistibly crisp caramelized onions that cook, ever so slowly, in a pan for two and a half hours. Though this kind of time is hard to come by, I promise you that on the right cold day, the hours spent, the creaking of the hot oven and stove, will be kind of perfect, and in exchange for your efforts, you'll have a bowl of velvety cauliflower soup, with hints of smoke and garlic topped with crunchy, sweet onions, and nutty mushrooms.
Since preciousness isn't really my thing, please feel free to spite me and keep things simple by just roasting the vegetables, pureeing them with a box of stock, and then topping the soup with a twenty minute version of caramelized onions.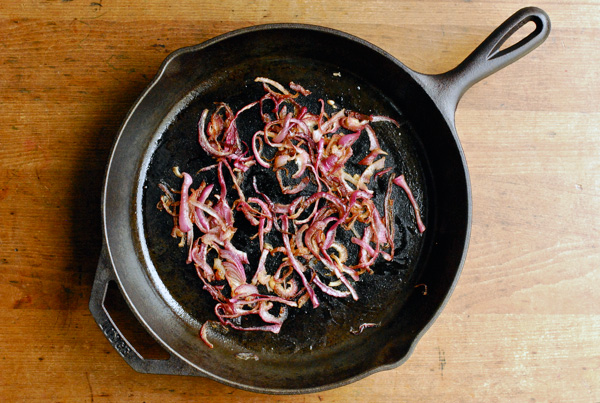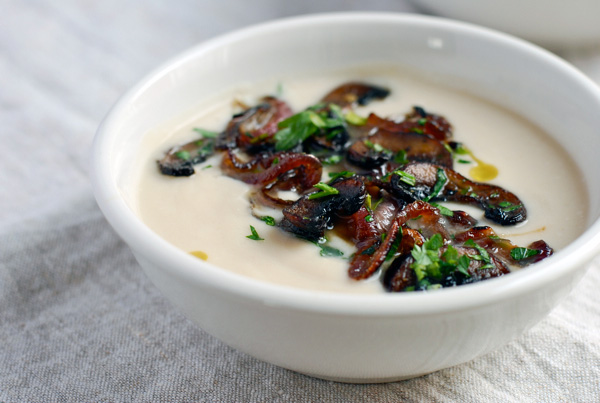 Before we head to the recipe, I wanted to share a few fall-themed recipes we've been working on for a sponsored campaign for Target over on Babble Food. For your fall food enjoyment, we've got a roasted carrot hummus, seasonal flatbread pizzas, and jack-o-lantern oatmeal raisin cookies with cacao nibs and citrus zest.
Roasted Garlic and Cauliflower Soup with Mushrooms and Caramelized Onions
serves four to six
Though this recipes takes some time, there's very little actual work involved, so try to think of it less like cooking and more like minding. I give my rich vegetable broth recipe below, but please feel free to make something easier or go with the boxed stuff if you need to.
for the broth (optional)
4 tablespoons olive oil
1 large red onion, quartered
4 carrots, washed, trimmed, and cut in half
6 stalks celery, trimmed and halved
1 bunch kale stems
1 bunch parsley stems
6 cloves garlic, smashed and peeled
4 teaspoons sea salt, or to taste
20 peppercorns
4 bay leaves
4 quarts water, plus more as needed
In a big stock pot, heat the olive oil over medium-high heat. Add the onion and sear. Next, add the carrots and celery and cook for a few minutes more. Add the stems, garlic, and spices. Pour in 4 quarts water. Bring to a boil, and then turn heat to a simmer. Cook, so broth is gently bubbling, for 3 – 5 hours. Strain, pour into jars, seal, and refrigerate.
(Aimee from Simple Bites has some great tips for freezing stock and broth in glass here.)
for the soup
1 large head cauliflower, cored and cut into 1/2 inch thick slices
1 head garlic, broken into cloves, ends trimmed and smashed, with the papery skin left on
3 tablespoons olive oil
2 tablespoons lemon zest
2 teaspoons sea salt
1 teaspoon ground black pepper
1 teaspoon ground cumin
1 teaspoon ground coriander
4 – 5 cups vegetable broth (see above)
Preheat oven to 400 degrees F.
Toss the cauliflower and garlic with the olive oil, zest, salt, and spices, and turn out onto a rimmed baking sheet. Roast for 25 minutes, or until the cauliflower is tender and the edges are lightly browned.
When it's cool enough to handle, peel the papery skin from the garlic.
Using your blender of choice, puree the roasted vegetables with the broth until smooth. Check salt levels and adjust as needed. To serve, heat over medium-low heat, stirring often, for 20 minutes.
for the topping
1 red onion, sliced thin
4 tablespoons olive oil, divided
1/2 teaspoon sea salt, plus a pinch
8 crimini mushrooms, stems removed and sliced 1/4 inch thick
pinch of black pepper
3 tablespoons parsley, minced
Heat a medium-sized skillet over medium-high heat. Add 3 tablespoons olive oil, and then the onion slices and sea salt. Cook for 5 minutes, stirring often. Turn heat to low and cook, stirring occasionally, for 2 1/2 hours. After 1 hour they'll be sweet but limp; after 2, delicious; but after 2 1/2 hours will they be crisp and sweet and perfect. Remove to a bowl.
Just before serving the soup, heat the remaining tablespoon of olive oil in the same skillet. Add the mushrooms, salt, and pepper, and cook for about 7 minutes, or until the mushrooms have given up their water and are crispy on the edges. Fold in the onions and parsley. Off the heat and set aside.
Ladle the soup into bowls, add the topping, and drizzle with olive oil.
The End.