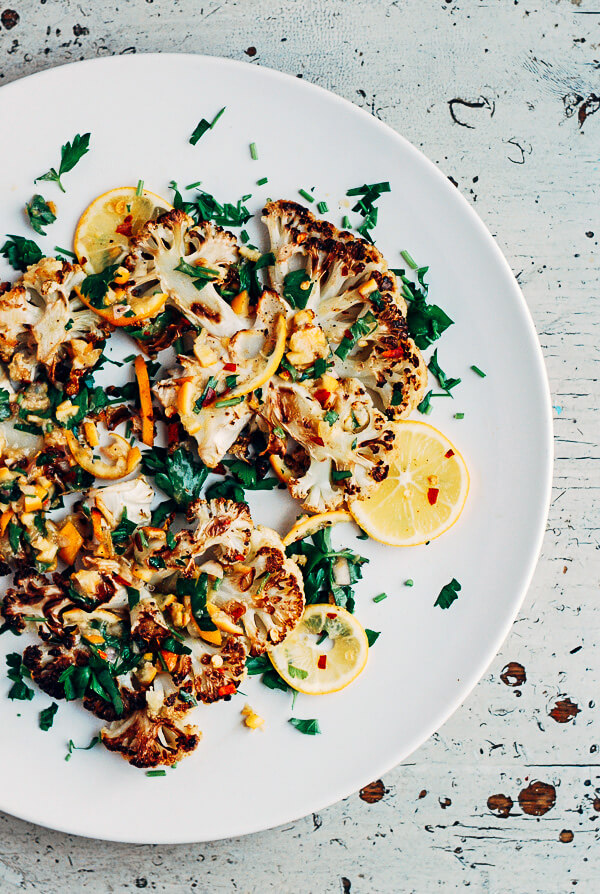 Hearty roasted cauliflower steaks served with a piquant Meyer lemon relish made with shallots and fresh herbs. Jump to recipe.
Oh, January.
Brian contends that this blog is as much about the weather as it is about food. I could talk about weather for days, but I try not to indulge too often for fear I'll bore you. These days though, the chill of winter is inescapable. (Except on the west coast, where it's apparently summer?) But out here in the east, this winter weather feels right. I want to earn the spring and summer, to make the most of the contrasts and changing seasons. And earning it we are, with highs in the teens and lows in the single digits, we are all getting an education in cold.
All in all, it's a very good time to have the oven on; twisting the knob is the first essential step for just about everything we make lately. But these cauliflower steaks are more than an excuse to warm things up, they're also part of a plan.
For better or worse, healthy winter eating requires forethought. Tough winter squash, brassicas, and root vegetables must all be roasted or boiled or massaged into life. With this in mind, I'm doing my best to accomplish some of this work ahead of time, so that when hunger strikes I have something besides handfuls of chocolate chips to eat.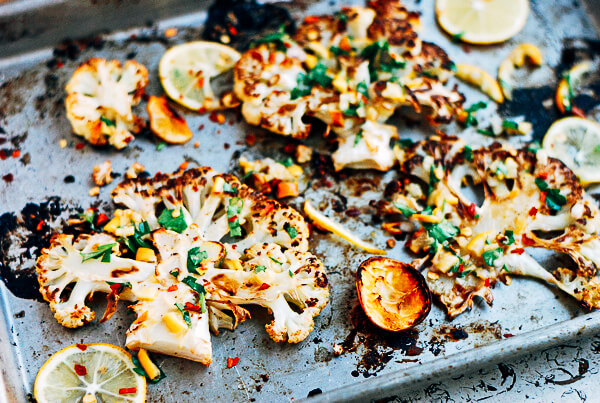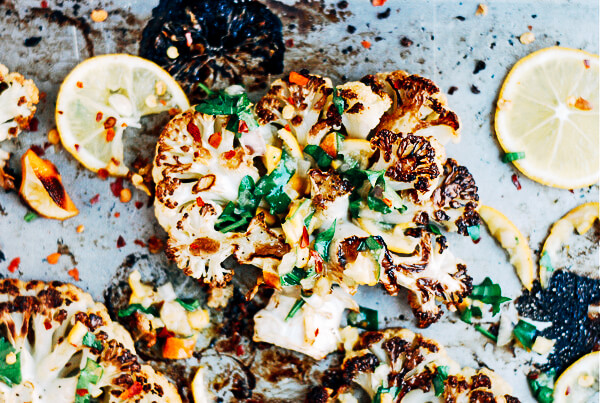 Cauliflower steaks are a funny thing, because, truth be told, even the largest head of cauliflower only yields three or four. Even so, it's nice to have a big hunk of perfectly roasted cauliflower on your plate. I've made this recipe twice – first with a bright and delicious Meyer lemon relish, which kind of stole my heart. And second, as the base for a rich tomato sauce with pork shoulder and olives. It was pretty fantastic both ways, so do whatever best suits your tastes. I'd also put a vote in for pesto.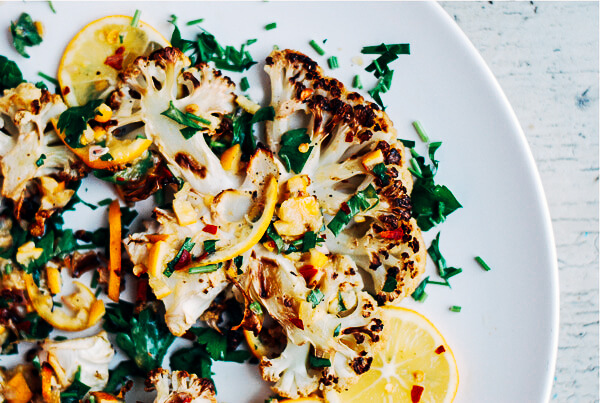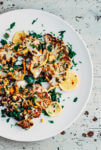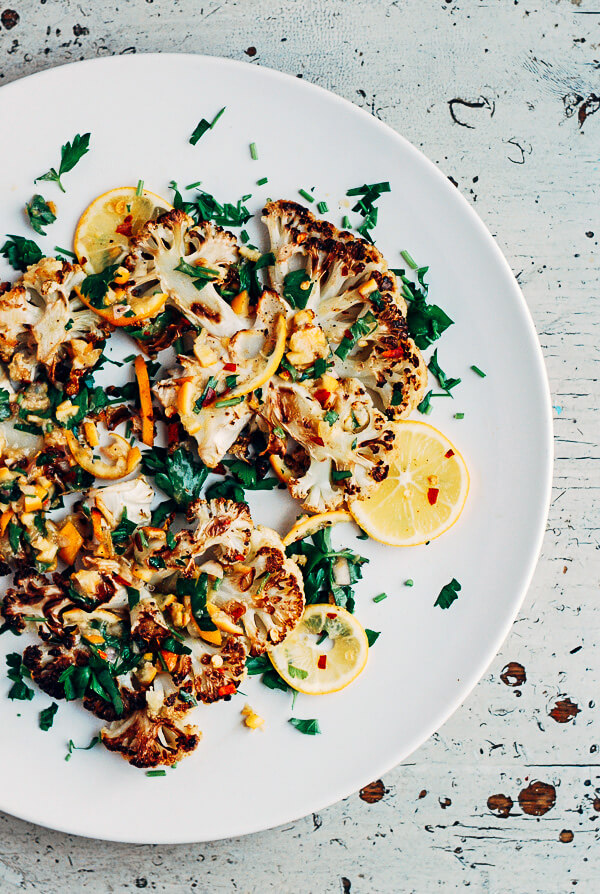 Roasted Cauliflower Steaks with Meyer Lemon Relish
Hearty roasted cauliflower steaks served with a piquant Meyer lemon relish made with shallots and fresh herbs.
Ingredients
Roasted Cauliflower Steaks
2

tablespoons

olive oil

1

large-ish head of cauliflower

1/2

teaspoon

sea salt

ground black pepper to taste

1

Meyer lemon

, sliced into 1/4-inch rounds
Meyer Lemon Relish
1

Meyer lemon

, minced (peel and all)

1/4

cup

minced parsley

2

tablespoons

minced shallot

2

tablespoons

extra virgin olive oil

1

tablespoon

rice wine vinegar

1/2

teaspoon

sea salt

1/4

teaspoon

red pepper flakes
Instructions
Preheat oven to 450 degrees F.

Trim the very base of the cauliflower, leaving stem intact. Trim any leaves as well. Using a long, sharp chef's knife, cut cauliflower into 1/2-inch thick slices.

Drizzle a rimmed baking sheet with olive oil. Set cauliflower slices in oil, and carefully turn to coat. Sprinkle each side with sea salt and pepper. Toss in Meyer lemon slices.

Roast 20 minutes. Use a large spatula to turn cauliflower steaks, and then roast another 10 - 15 minutes, or until cauliflower is tender and edges have browned nicely.

Meanwhile, make Meyer lemon relish by using a fork to combine all of the ingredients in a small bowl.

Toss warm cauliflower with relish and serve. As is, this is a great side or light lunch. Add a little goat cheese or crusty bread for something main dish-worthy.
SaveSave