Smoky, sweet, and savory roasted chicken legs slathered in a Caribbean-style barbecue sauce.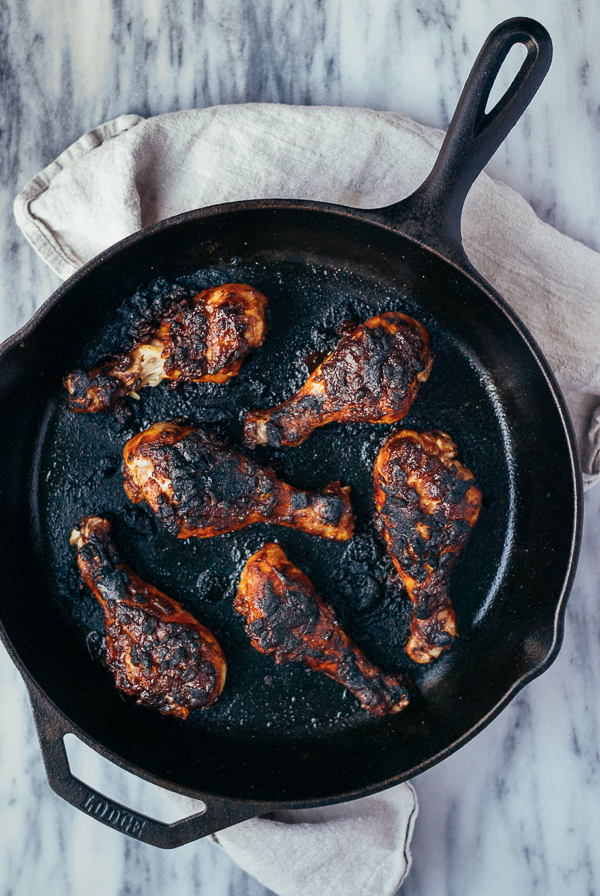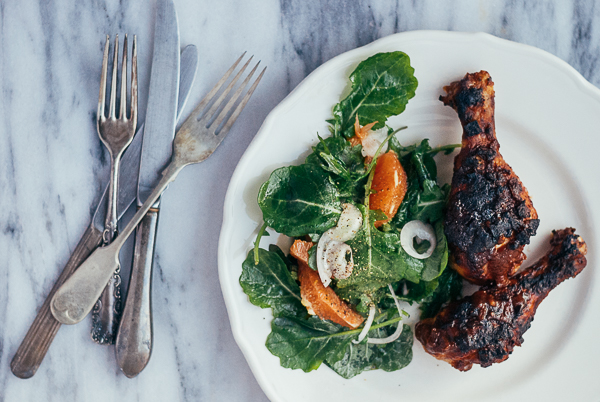 Brian and I had our first daughter almost exactly 10 months after our wedding. We both knew we wanted kids and people kept telling us that it took a lot of trying. So as soon as we were married, we figured we'd better start trying. But in our case, there wasn't really much trying involved. We were blessed with a honeymoon baby. Except that we took our honeymoon two months after the wedding and four weeks into my pregnancy, so Brian drank wine for two, bought great breakfasts, and wandered around Paris alone while I finished sleeping for 12 hours each day.
At the one year mark, we managed to celebrate our wedding anniversary at home with a lovely meal of steak, vegetables, cake, and wine. Only, after a half hour of trying to eat together, we had to eat the now-cold food separately while the other tended to our fussy two month old. Around this same time, we went out to meet friends at a bar with our little one nestled in a baby carrier. The couple in question were loving and affectionate towards each other and I remember thinking, "Ahhh, newlyweds." Only later did I realize that they had gotten married around the same time we did. We were newlyweds, too, but in the midst all the chaos and mild terror that comes with a first baby, we'd kind of forgotten.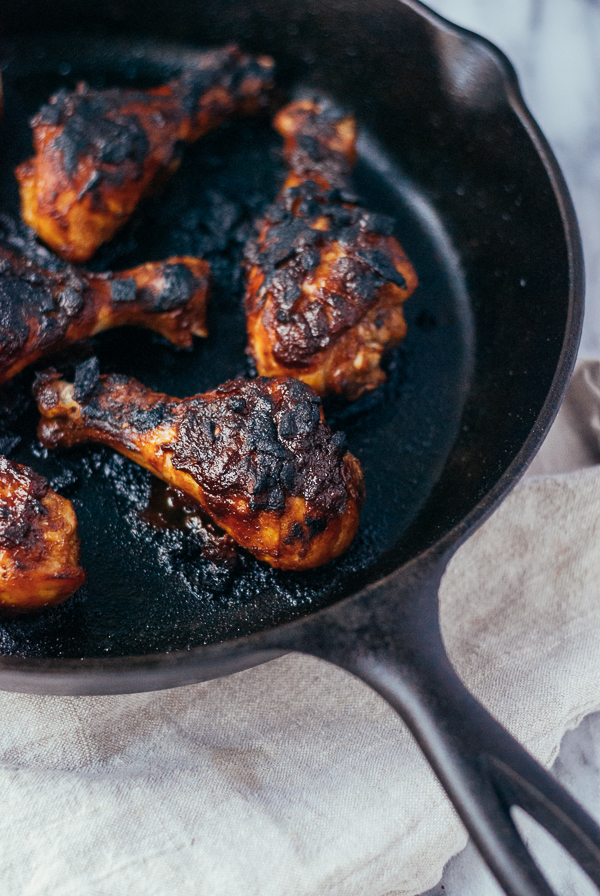 Brian and I have talked a lot about how we really jumped into the whole parenting thing fast. The thing is that once you have two beautiful children, it's a really lucky thing – you can't do anything but love whatever circumstances brought these exact beings into your life and so we'll always love that we had our first daughter so quickly. But, other times, we wish that somehow we could still have had these lovely girls and maybe also just a couple more adventures before we became parents.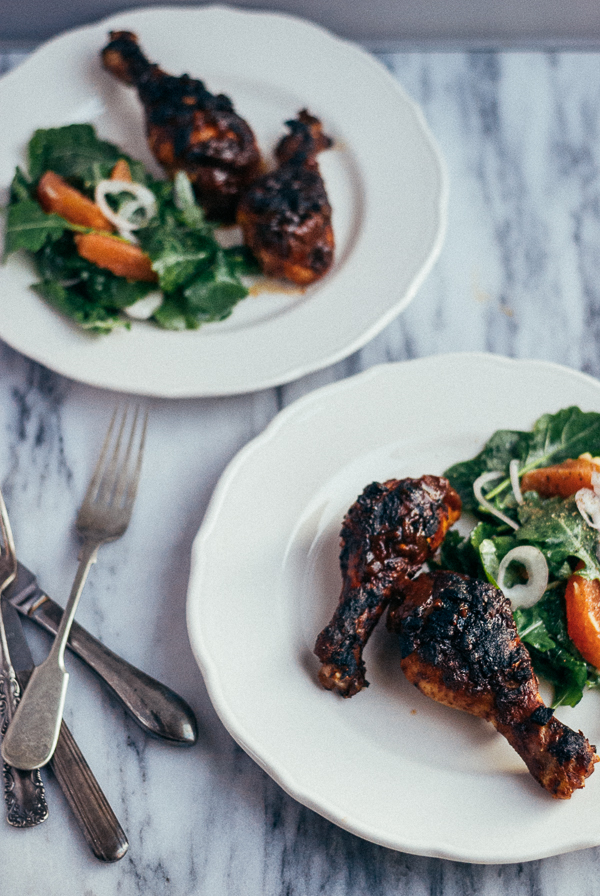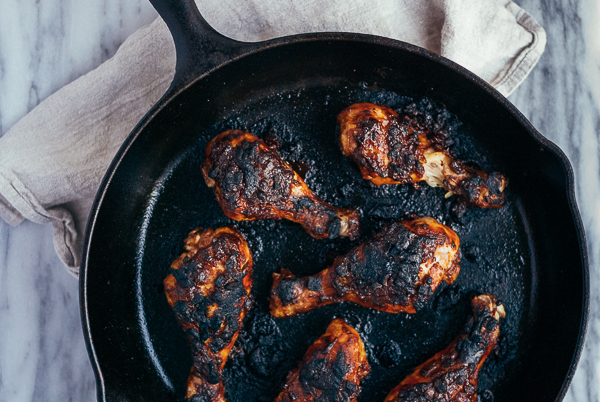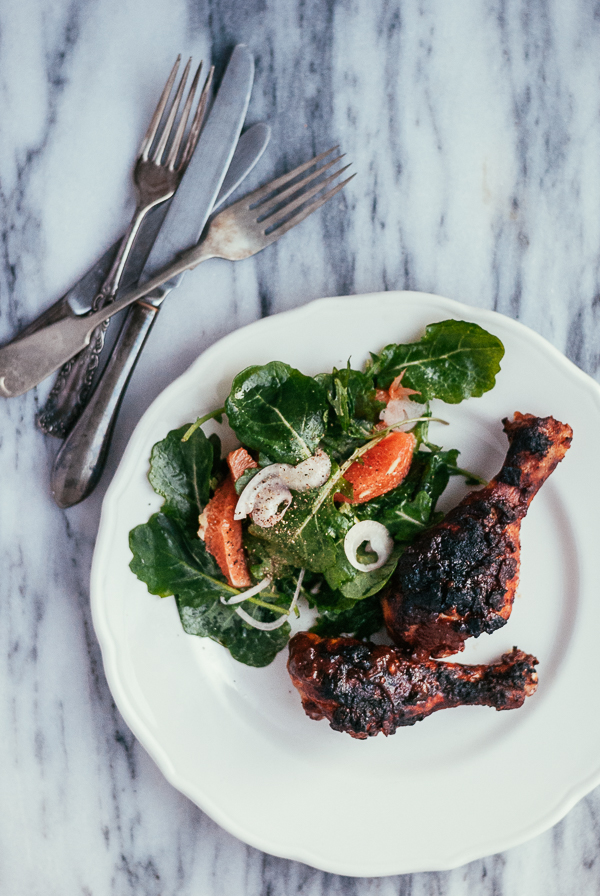 With all this in mind, Ashley Rodriguez's new cookbook, Date Night In really spoke to me. I've long admired her site Not Without Salt and its mix of seasonal, comforting food made with wonderfully fresh, big flavors. As part of a couple that by necessity and personality has a lot of dates at home, I was really enthused for her fun seasonal menus for two. Some of the best occasions Brian and I have had were marked by a special dinner at home and I'm really looking forward to working Ashley's recipes into our rotation. Date Night In is filled with wholesome, delicious recipes and inspired dishes that are still easy to follow. At once playful and classic, there's tons of party inspiration with great cocktail recipes and simple desserts.
Of all the recipes, on a recent chilly day, it was her roasted chicken legs with a Caribbean-style barbecue sauce that caught my attention. I loved how the chicken was brightly flavored but still warm and cozy enough for the season. The sauce, made with jalapeños, ginger, coriander, and allspice, plus lime and a solid hit of rum, is grown-up – faintly sweet and piquant, but not at all cloying. The roasted chicken legs cooked up perfectly and my recipe turned out exactly the way I'd hoped. Ashley serves the chicken with thyme and Parmesan roasted sweet potatoes and mango miso slaw, but due to time constraints, I went with buttered saffron rice and a quick kale salad instead.
Two recipe notes: the sauce is divine. Maybe make a double recipe and freeze it up for a rainy day. Date Night In calls for red jalapeños but here I went with green. Do whatever feels right.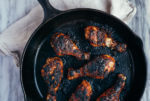 Roasted Chicken Legs with Caribbean-Style Barbecue Sauce
Smoky, sweet, and savory roasted chicken legs slathered in a Caribbean-style barbecue sauce.
Ingredients
For the Chicken
3

teaspoons

sea salt

1

teaspoon

freshly ground black pepper

1 1/2

pounds

chicken legs

(about 6 legs)

2

tablespoons

grapeseed oil or heat-tolerant vegetable oil
For the Barbecue Sauce
2

tablespoons

olive oil

1

small yellow onion

, diced

2

large cloves garlic

, smashed and chopped

1/4

teaspoon

sea salt

1

jalapeño

(or a red jalapeño, if you have one), seeded and diced

1/4

cup

white rum

1 6-

ounce

can tomato paste

1/2

cup

apple cider vinegar

1/4

soy sauce

1/4

cup

molasses

3

tablespoons

honey

2

tablespoons

minced fresh ginger

1

teaspoon

ground cumin

1/2

teaspoon

ground coriander

1/2

teaspoon

ground allspice

1/2

teaspoon

freshly grated nutmeg

1/4

cup

water

1

teaspoon

grated lime zest plus 1 tablespoon juice
Instructions
One day ahead of time, rub chicken legs all over with sea salt and pepper. Cover and refrigerate.

To make the sauce, heat the olive oil over medium heat. Add onions and garlic, sear for 2 minutes, and then turn heat to medium-low. Cook, stirring occasionally, for another 10 – 15 minutes or until onions begin to caramelize. Add jalapeño and cook for 2 minutes more. Add rum, scraping up any browned bits from the bottom; simmer for 1 – 2 minutes. Stir in tomato paste, cider vinegar, soy sauce, molasses, honey, ginger, spices, sea salt, and water, and simmer for 15 minutes. Finally, stir in lime zest and juice. Cool and pour into a jar. Cover and refrigerate for up to one week.

To make the chicken, preheat the oven to 400 degrees F.

Heat a cast iron skillet over high to medium-high heat and add the grapeseed oil. Pan should be hot, but not so hot that the oil smokes. Sear the chicken legs for 2 minutes on each side, for a total of 4 minutes. Remove pan from heat.

Spoon 1/2 cup barbecue sauce into a medium bowl. Turn to coat each leg in the sauce. Set legs back in the skillet, spoon any remaining sauce on top, and slide skillet into the oven. Cook for 20 minutes.

Turn broiler to high. Set chicken under broiler for 3 – 5 minutes, cooking until top just begins to blacken.

Rest chicken for 10 minutes. Serve with extra barbecue sauce and the sides of your choice.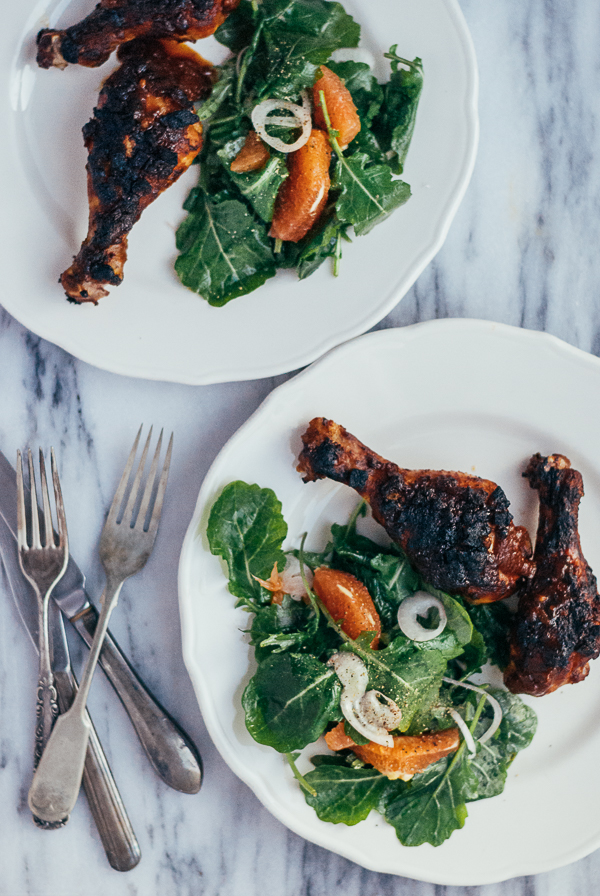 Disclosure: A copy of Date Night In was given to me by the publisher. As always, all opinions are my own.