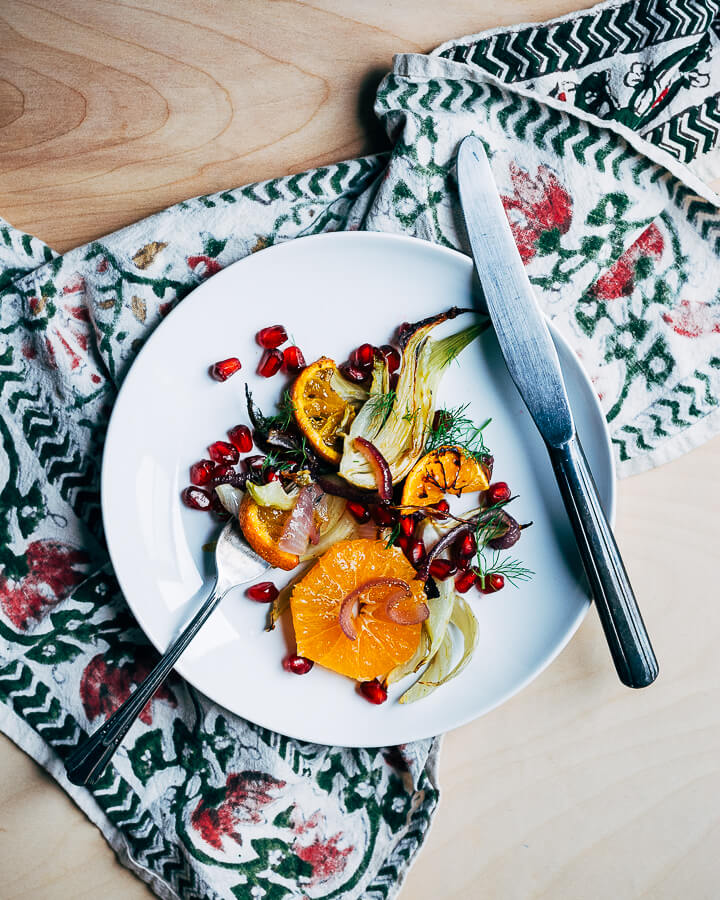 A festive roasted fennel and orange salad recipe that's perfect for the holidays. Jump to recipe. 
This recipe began on a cold, rainy morning. A scratchy old records and black coffee kind of day. As the rain fell, things inside were cozy and fragrant with the scent of roasting satsuma oranges. The rich jewel tones on the plate vibrated against gray skies and the golds and russets of the water-soaked landscape.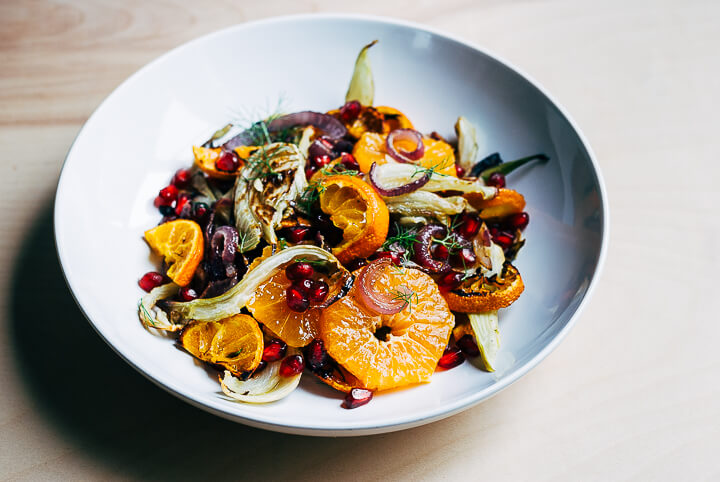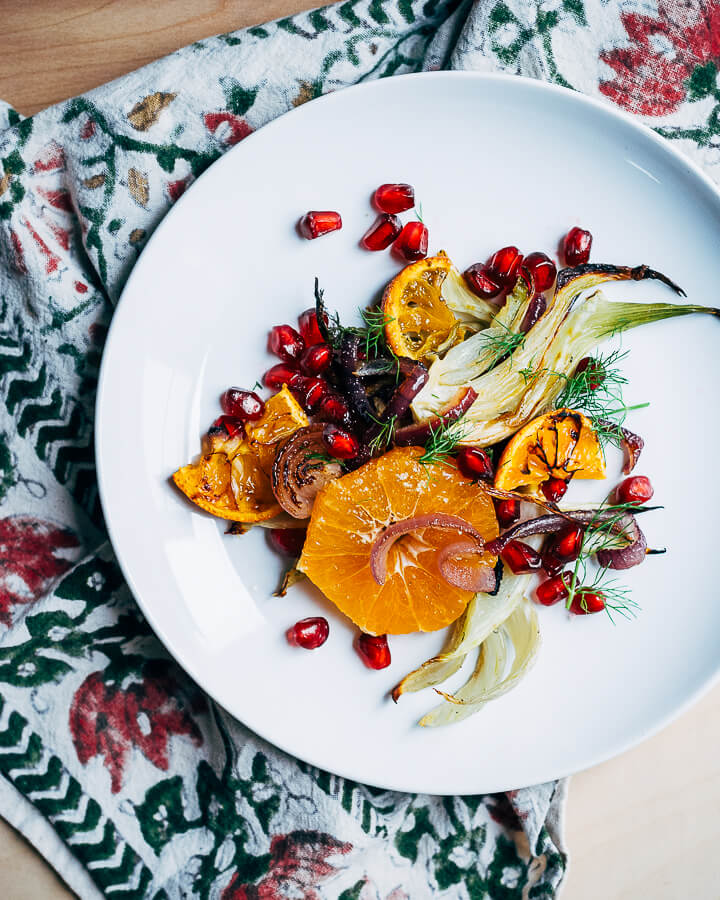 No matter the weather, this is a happy salad. Sliced fennel turns supple and tender in the oven, just as you'd expect. The satsuma mandarin segments, though, transform entirely. The peel and pith get crunchy, their faintly bitter tang matures to something far more complex. Meanwhile the citrus flesh caramelizes, becoming all sweet and smoky. For contrast, I tossed the roasted satsumas with fresh ones and a handful of pomegranate arils. Finally, everything is drizzled with a simple vinaigrette made with satsuma orange juice, sherry vinegar, and olive oil. (If you have a really nice olive oil hiding in the cupboard, this is the time to break it out.)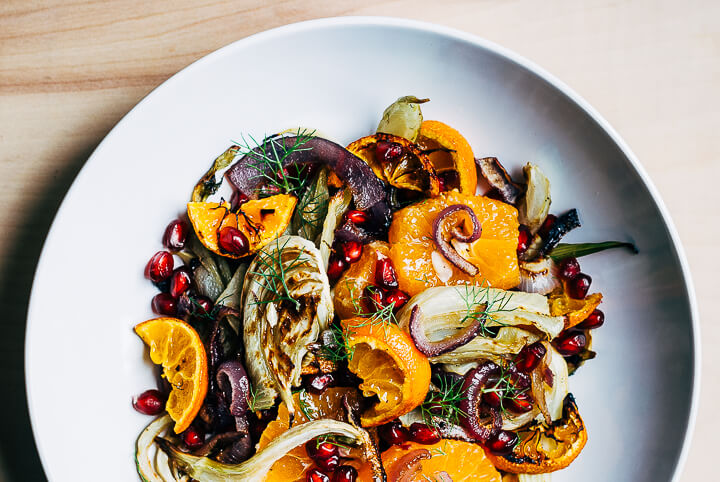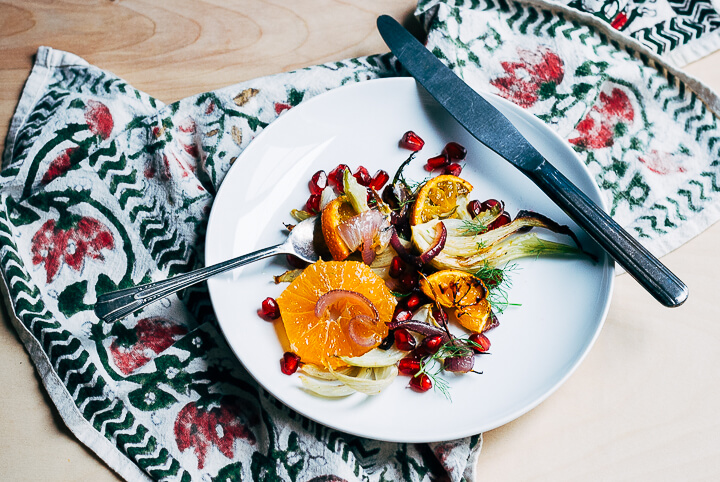 I like this salad best just out of the oven, but it can easily be prepped ahead and roasted in the minutes right before dinner. If you can't find satsuma oranges, sub in a flavorful variety with a thin peel like tangerines or clementines. Since you'll be eating the peel and all, it's also a good idea to opt for organic.
Lastly, I have good news – after years and years, I finally have a comprehensive visual recipe index! Check it out and let me know what you think. If there's something you'd like to see there, let me know!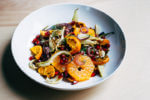 Roasted Fennel and Satsuma Orange Salad
Makes
:
2
generous servings or four as a side
Ingredients
1

fennel bulb

, core removed and cut into 1/4-inch thick slices

4

satsuma oranges

, divided

1

red onion

, ends trimmed, peeled, and cut into 1/4-inch thick slices

4

tablespoons

extra virgin olive oil

, divided

sea salt

freshly ground white pepper

1

teaspoon

sherry vinegar

1/2

cup

pomegranate arils

fennel fronds for garnish
Instructions
Preheat oven to 425 degrees F. Set out 2 rimmed baking sheets – I use a half sheet pan and a quarter sheet pan since both fit nicely on a single rack in my oven.

Halve two satsumas and slice into 1/4-inch thick half moons.

Toss sliced fennel with 1 tablespoon olive oil, and a generous pinch each sea salt and pepper. Spread on the largest baking sheet. Next, toss satsuma slices and red onion with 1 tablespoon olive oil, and a generous pinch each sea salt and pepper. Spread out on second baking sheet.

Roast for 15 minutes, carefully flip everything, and then roast for 7 - 10 minutes more or until fennel is tender with crisp edges and the edges of the satsumas are golden brown. During the last few minutes, keep a watchful eye and pull any vegetable or citrus that's about to burn.

Meanwhile, slice top and bottom from two of the remaining satsumas; use vertical strokes to cut off peel. Slice peeled oranges into thick rounds.

To make vinaigrette, squeeze any juice you can from discarded satsuma peels and squeeze enough juice from the remaining orange to make 1 tablespoon. Whisk juice together with sherry vinegar and a pinch of sea salt and then slowly whisk in 2 tablespoons olive oil.

Toss roasted vegetables with a drizzle of dressing, and then add fresh fruit and another drizzle dressing. Finish with a pinch of sea salt, a few twists of white pepper, and a few fennel fronds. Serve immediately.
SaveSave