A beautiful roasted golden beet and carrot dip recipe and thoughts on simplifying dinner. This post is sponsored by Wolf. Jump to recipe.
The home-cooked meal is tricky business. Brian and I strive for the domestic ideal of a meal made with care and skill shared with those we love. But in our lived experiences, there are nights when any number of ordinary calamities can trip us up, and we end up calling out for pizza.
When we were first dating and had our first real paychecks from our first real jobs and nothing but time every night, we were happy to lazily browse cookbooks for new challenges, no matter how much we needed to shell out for lamb chops, morels, or whatever else our hearts desired. Two kids, and what seems like a lifetime later, the challenges of feeding a family are ever present, even for a couple whose life largely revolves around food. All it takes, seemingly, is one little glitch to set off a cascade effect that ends up ruining dinner.
The weeks when we do the best are those when we focus on planning our meals, prepping ahead, and batch cooking ingredients to be used throughout the week. That takes some of the pressure off in the immediate lead up to dinner and helps to hone our nightly cooking mission.
Because we really understand both the importance and the challenge of the nightly family meal, we're thrilled to be partnering with Wolf to announce their Reclaim the Kitchen campaign, a project that shares our values of making great home cooking approachable and fun. The video below puts things in perspective –– how we used to mostly cook at home before processed foods and our current busy syndrome interrupted things. At its core, the campaign is encouraging all of us to cook more –– for health, bonding, and better families. Head over to ReclaimtheKitchen.com for tips on prepping meals, wholesome recipes, and recipe planning resources.
In the spirit of simple, seasonal food, I've got a beautiful roasted golden beet and carrot dip to share. It's a nod to the best kinds of summer dinners –– sliced tomatoes, mozzarella, herbs, and bread –– but winterizes things with roasted golden beets, carrots, and garlic, plus lots of herbs, smoked paprika, and goat's milk feta. Serve with flatbread, pita, or naan, olives, and a salad for a wholesome and delicious make-ahead dinner.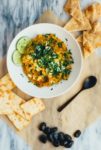 Roasted Golden Beet and Carrot Dip
A beautiful roasted golden beet and carrot dip recipe and thoughts on simplifying dinner.
Ingredients
3

medium-sized golden beets

, trimmed and peeled

6

carrots

, trimmed and peeled

1

medium-sized head of garlic with end cut off

3

tablespoons

plus 1/2 cup extra virgin olive oil

sea salt

1

tablespoon

honey

1/2

teaspoon

ground cumin

1/2

teaspoon

ground coriander

1/8

teaspoon

smoked paprika

2

tablespoons

fresh squeezed lime juice

1/4

cup

crumbled feta cheese

2

tablespoons

minced parsley

1

tablespoon

minced chives

pita

, naan, or flatbreads for serving
Instructions
Preheat the oven to 400 degrees F.

Quarter the beets, halve the carrots, toss with 2 tablespoons olive oil, and sprinkle with sea salt. Arrange on a rimmed baking sheet, and slide into the oven. Roast 25 – 30 minutes or until vegetables are tender and edges are a light golden brown, flipping vegetables halfway through.

Meanwhile, set out a 10-inch rectangle of foil. Set the head of garlic in the center, and drizzle with 1 tablespoon olive oil. Wrap the foil packet tightly around the garlic, set in a small ovenproof baking dish, and roast for about 15 minutes, or until cloves are soft and cooked through. Carefully open the foil packet, and set garlic aside until cool enough to handle. Squeeze the soft cloves out of the papery skin and set aside.

Place the roasted beets, carrots, and garlic in the bowl of a food processor. Pulse until broken down a bit. Then, with food processor running, drizzle in 1/2 cup olive oil, honey, 1/4 teaspoon sea salt, cumin, coriander, and paprika. Spoon into a serving bowl, stir in lime juice, and adjust salt levels as needed.

Top dip with minced herbs and crumbled feta. Serve with pita or naan triangles, or flatbreads.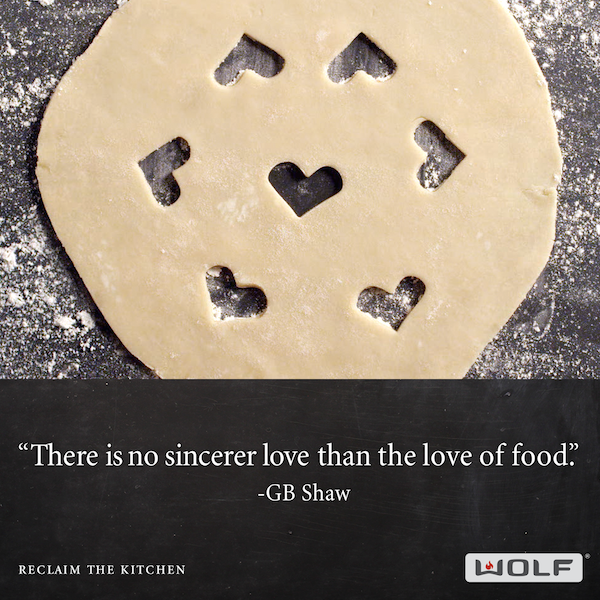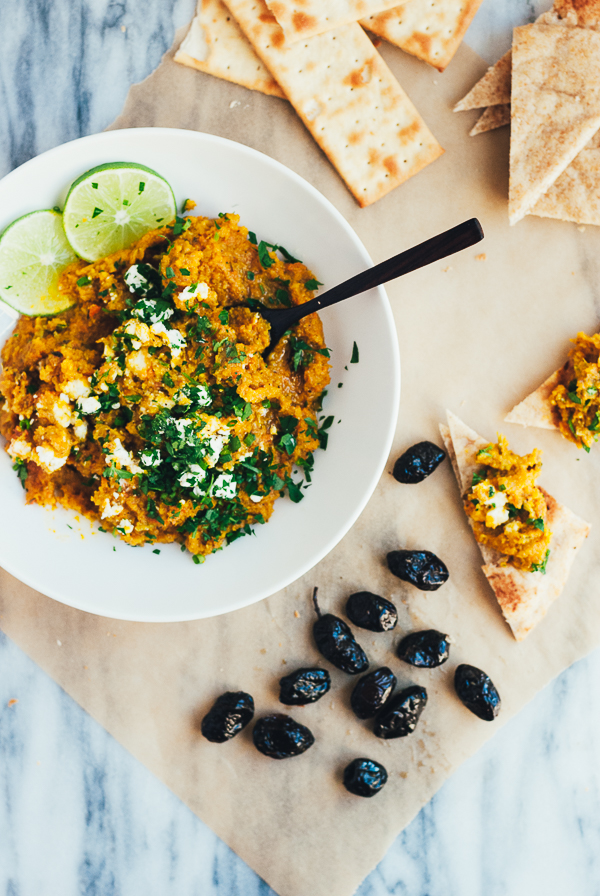 Disclosure: This is a sponsored post written in partnership with Wolf.