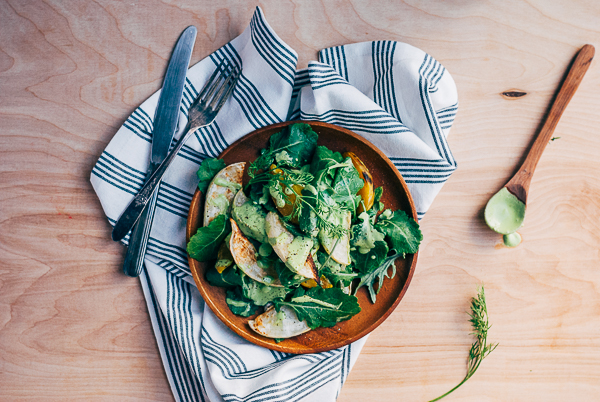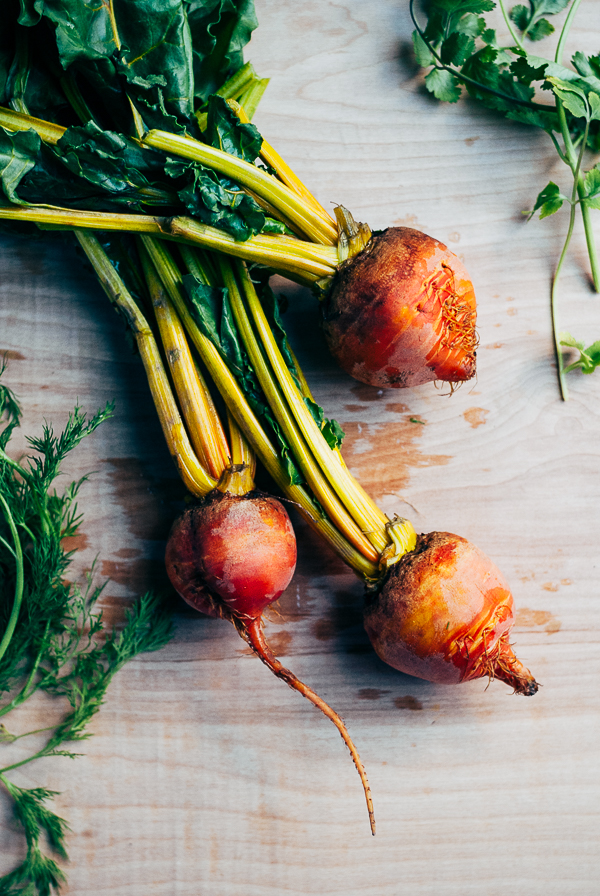 Certain winter vegetables feel like they are only for the most devoted seasonal eaters, with turnips and rutabagas at the top of the list. Ugly, with radish-y undertones, it's not surprising these homely roots don't make their way onto a lot of home menus. But, by this time of year, seasonal vegetables come down to a choice between bracing brassicas and sweeter vegetables like beets and sweet potatoes, or winter squash. And after all the sweets and rich foods of the holidays, the slight bitterness of brassicas make for a welcome change of pace. The humble turnip, for example, doesn't just have to be buried in a stew. It can be a delicious base for a fresh salad.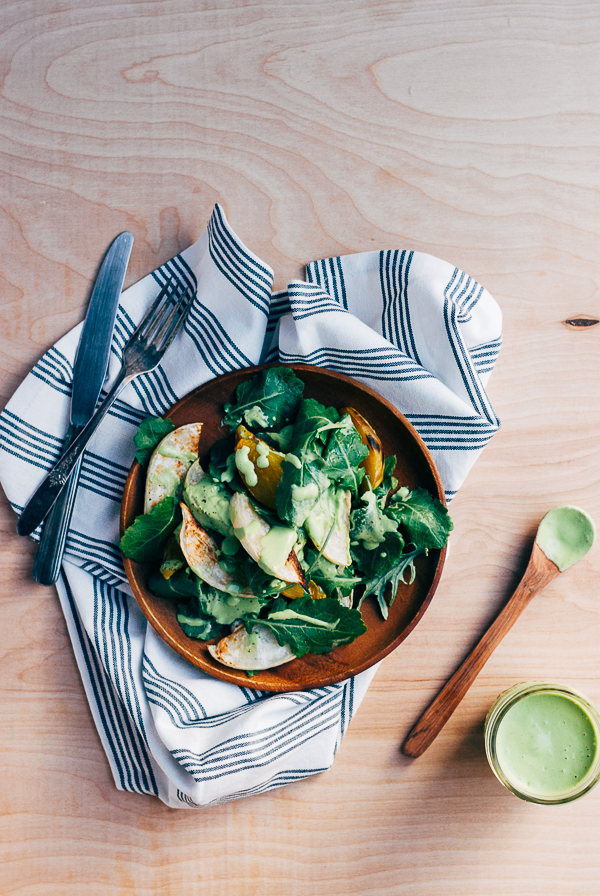 With that in mind, I set about making a perfect-for-the-moment salad over the weekend. It started with crisp roasted turnip and golden beet wedges. While the vegetables were still warm, I tossed them with young kale leaves and chopped beet greens, and topped the salad with a healthier vegetarian variation on green goddess dressing made with Greek yogurt, green onions, garlic, dill, cilantro, and beet greens. A plate of good, fresh food with a big hit of greenness to help us all muddle through the rest of January.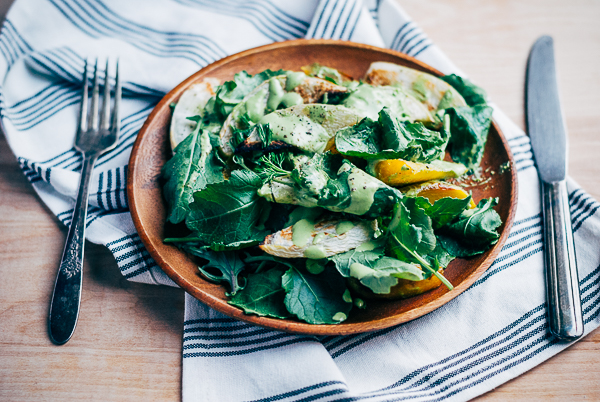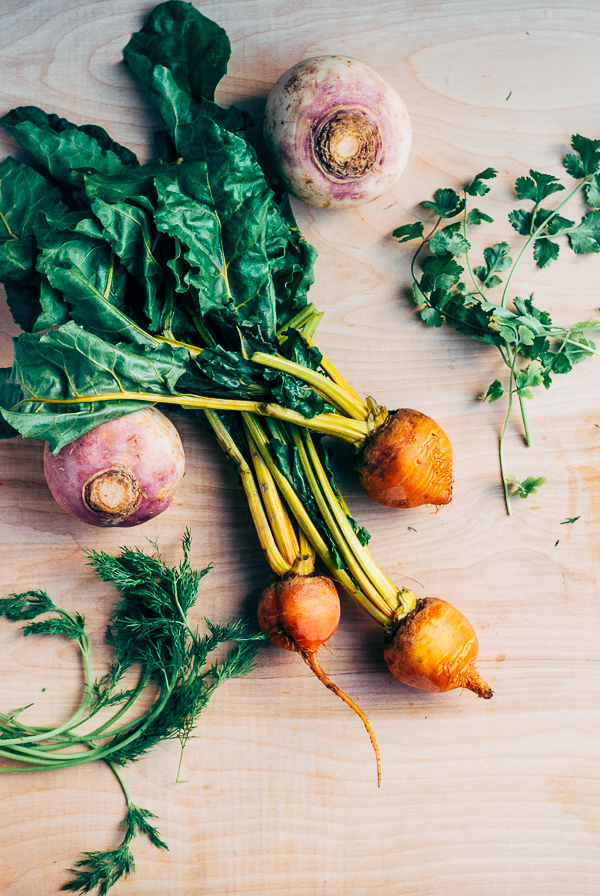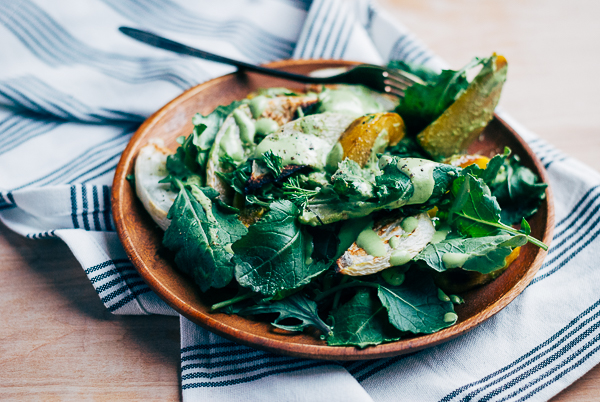 A few notes on the recipe: I used turnips here, but rutabagas would also work well. For the beets, I like the mild earthiness of golden beets and their greens, which have a nice, almost briny flavor. Red beets are generally sweeter, and tend to pink everything up, so proceed with caution if making the dressing with red beets.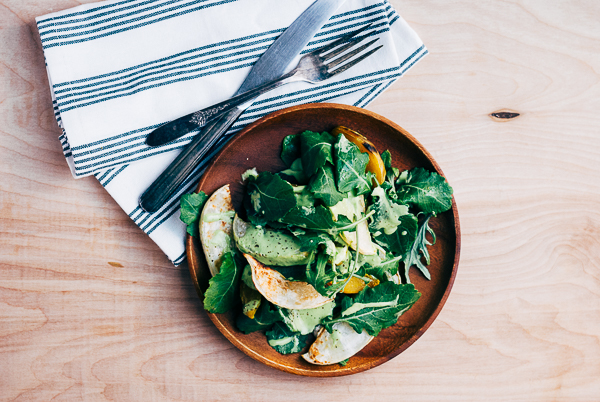 Roasted Golden Beet and Turnip Salad with Green Dressing
serves two as a light meal or four as a side
3 medium golden beets with greens
3 large turnips
2 teaspoons grapeseed oil (or another neutral oil that can stand up to high heat)
sea salt
ground black pepper
2 cups young kale leaves
3/4 cup Greek yogurt (preferably full-fat or 2 percent)
4 green onions, trimmed and chopped
1/2 cup cilantro, chopped, plus a few sprigs for garnish
1/4 cup dill, chopped, plus a few sprigs for garnish
3 tablespoons lemon juice
2 large cloves garlic, smashed and peeled
1/4 teaspoon ground cumin
1/4 teaspoon ground coriander
1/2 cup extra virgin olive oil
Preheat oven to 425 degrees F.
Trim and peel beets, reserving greens. Trim and peel turnips. Cut beets and turnips into 1/2-inch thick wedges. Set in a medium-sized bowl. Drizzle with oil and a generous pinch each of sea salt and black pepper. Turn vegetables to coat. Arrange wedges on two rimmed baking sheets so that they're not too crowded. Slide into oven and roast for 25 – 30 minutes. At the 15 minute mark, flip each wedge.
Meanwhile, prepare the dressing. In the pitcher of a blender, combine the yogurt, green onions, 1/2 cup chopped beet greens, herbs, lemon juice, garlic, spices, and a generous pinch each sea salt and ground black pepper; pulse to blend, scraping down sides as needed. With blender on low, drizzle in olive oil through the feeder hole. Increase blender speed and blend until mixture is creamy. Adjust salt and acid levels as needed.
Chop remaining beet greens into bite-sized pieces, and toss greens and kale with several tablespoons dressing. Divide between plates and tuck warm vegetables throughout the salad. Finish with a generous drizzle of dressing, several twists of black pepper, and reserved herbs.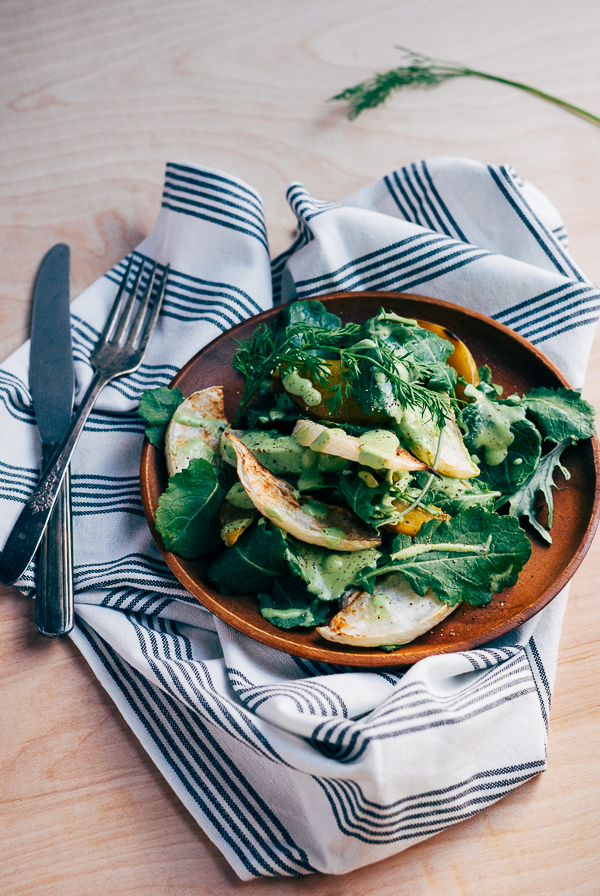 SaveSave