Simple yet incredibly delicious grilled pizza topped with grill-roasted sweet peppers, sliced nectarines, ricotta cheese, and garden herbs. Jump to recipe. 
The first time we grilled pizza, it didn't go well. I may not have totally been paying to attention to the recipe or I may not have been following a recipe at all. Either way, we loaded a big pizza up with delicious toppings like seared sausage and broccoli rabe, set it right in the middle of the grill, and watched as the pizza literally went up in flames. Once Brian and I realized our pizza was doomed, quick hands dodged the flames, salvaging bits of sausage and broccoli rabe. That night, we dined on a lovely charred sausage and broccoli rabe pasta and swore off grilled pizza for a while.
This summer, we decided to give it another go, and I'm so glad we did. Hundreds of internet pages are dedicated to describing the incredible deliciousness of grilled pizzas. To this chorus, I'll add: BEST PIZZA EVER. Seriously, this stuff is divine. A crisp on the outside, doughy on the inside crust suffused with smoke and edged with char.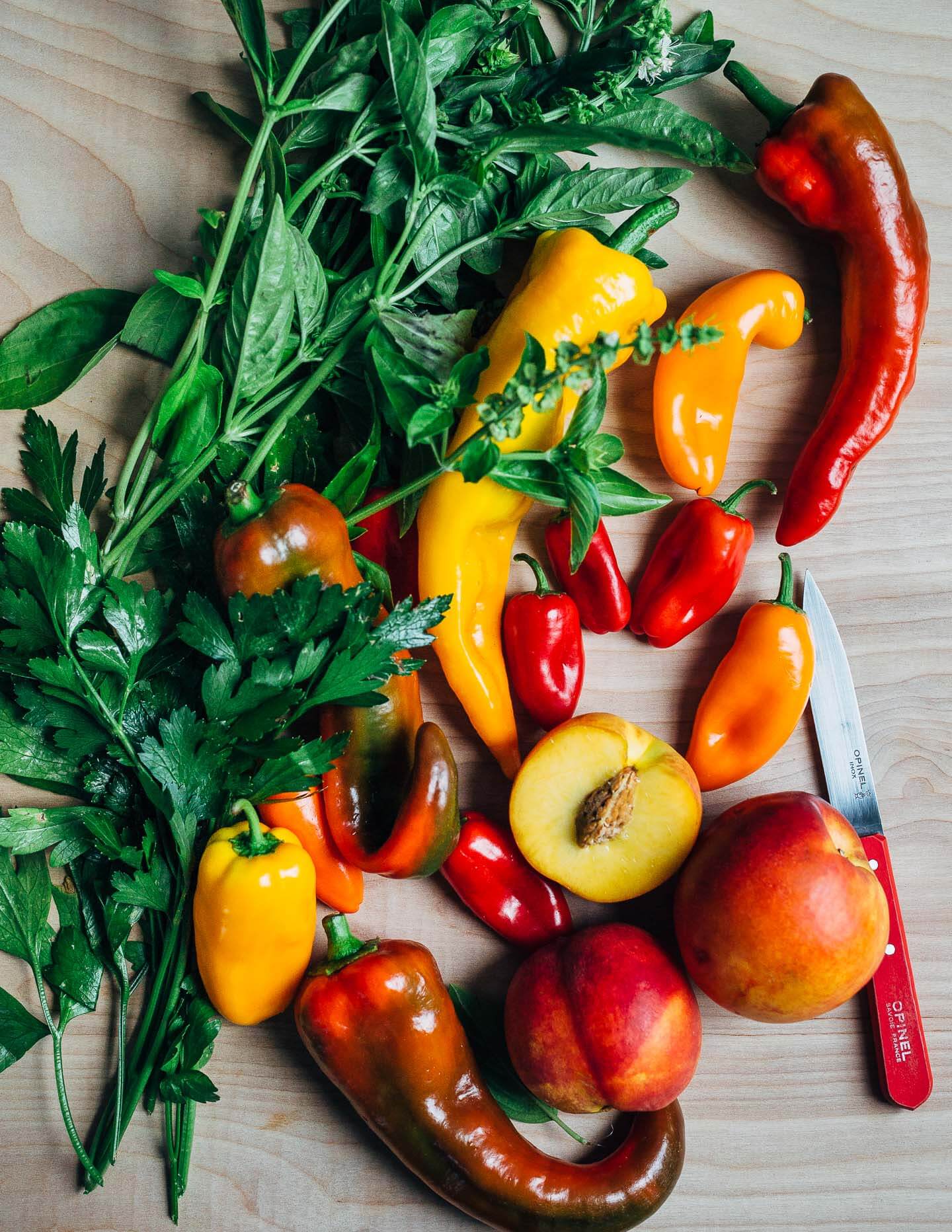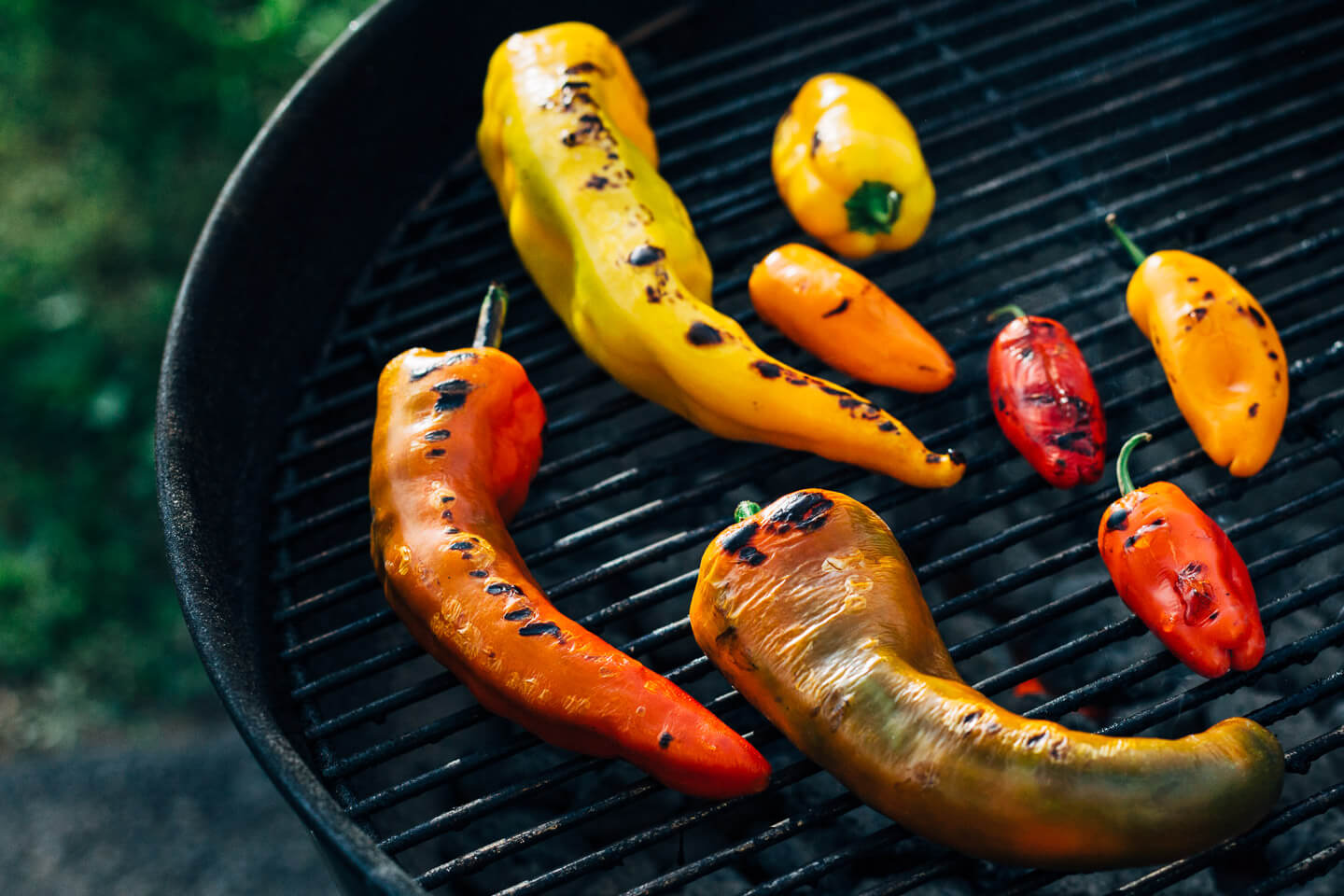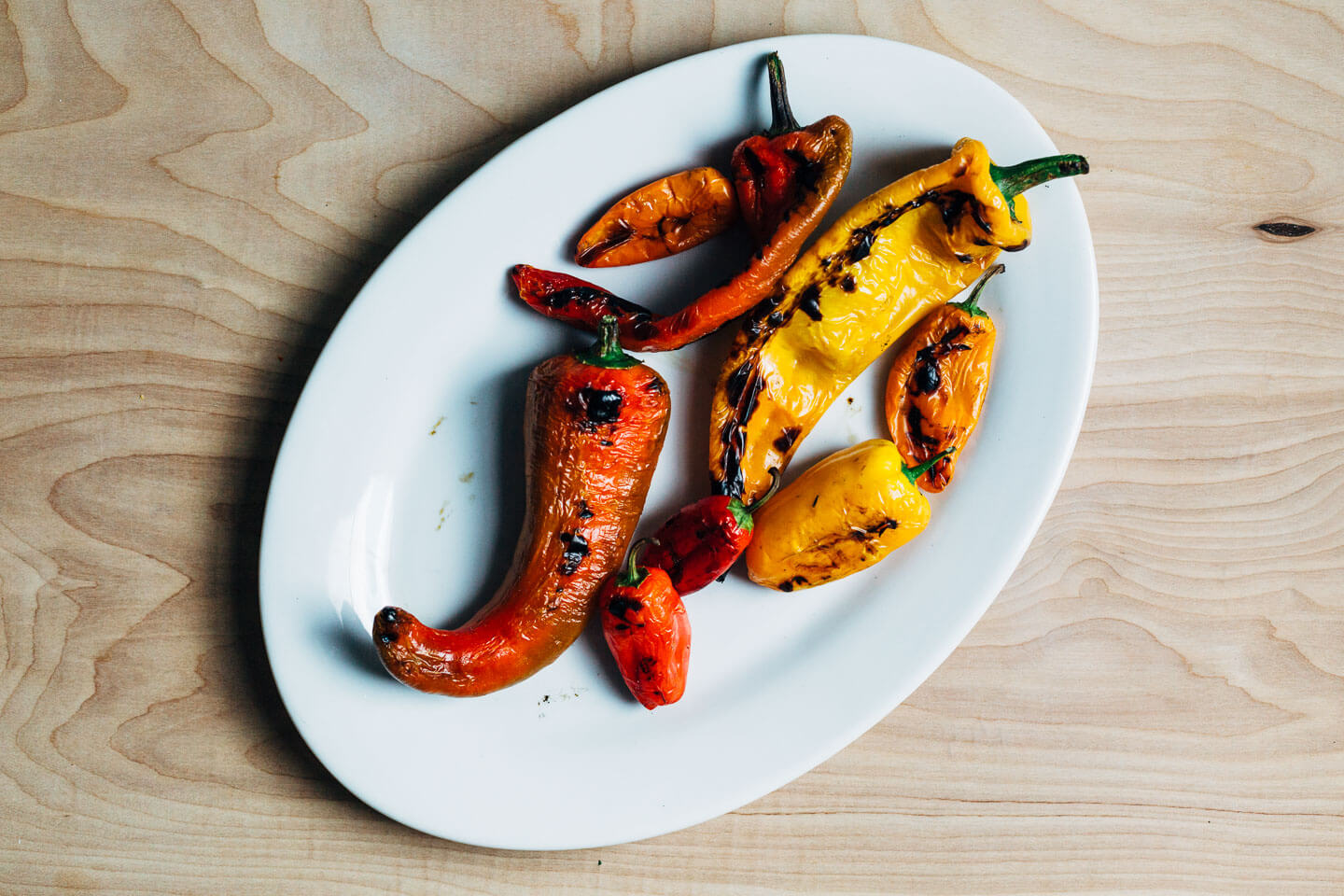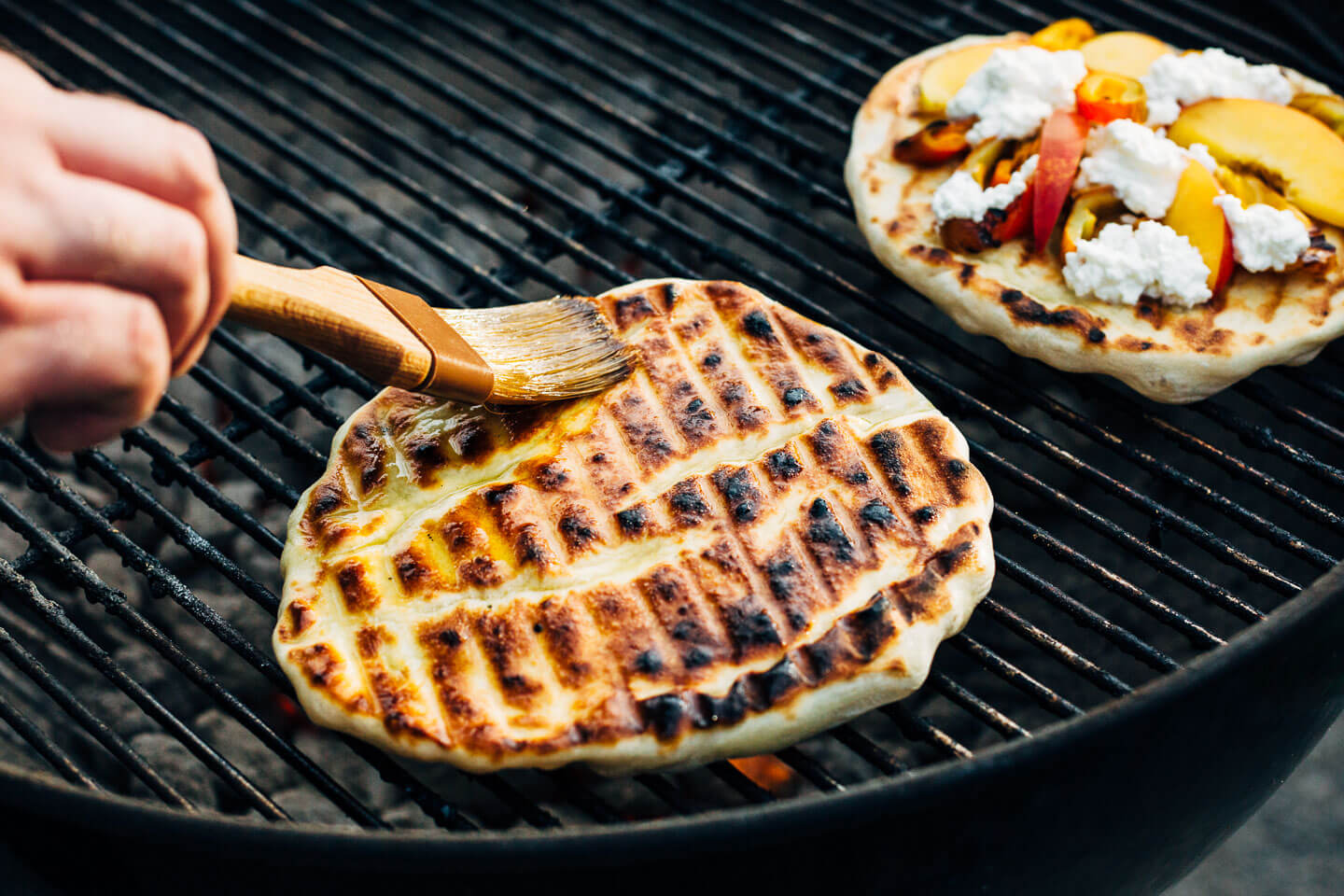 As for the toppings, I opted for a combination of grill-roasted sweet peppers, juicy nectarines, a few dollops of goat and sheeps' milk ricotta from my friends at TwentyPaces, and a sprinkle of basil and parsley from the garden. Though the combination may seem a little odd, the sweet peppers and fruit mingle deliciously and the creamy ricotta cuts a striking contrast with the char of the dough. I opted to keep these pizzas vegetarian, though I'm sure that a bit of prosciutto, speck, or very good ham would be a sublime addition.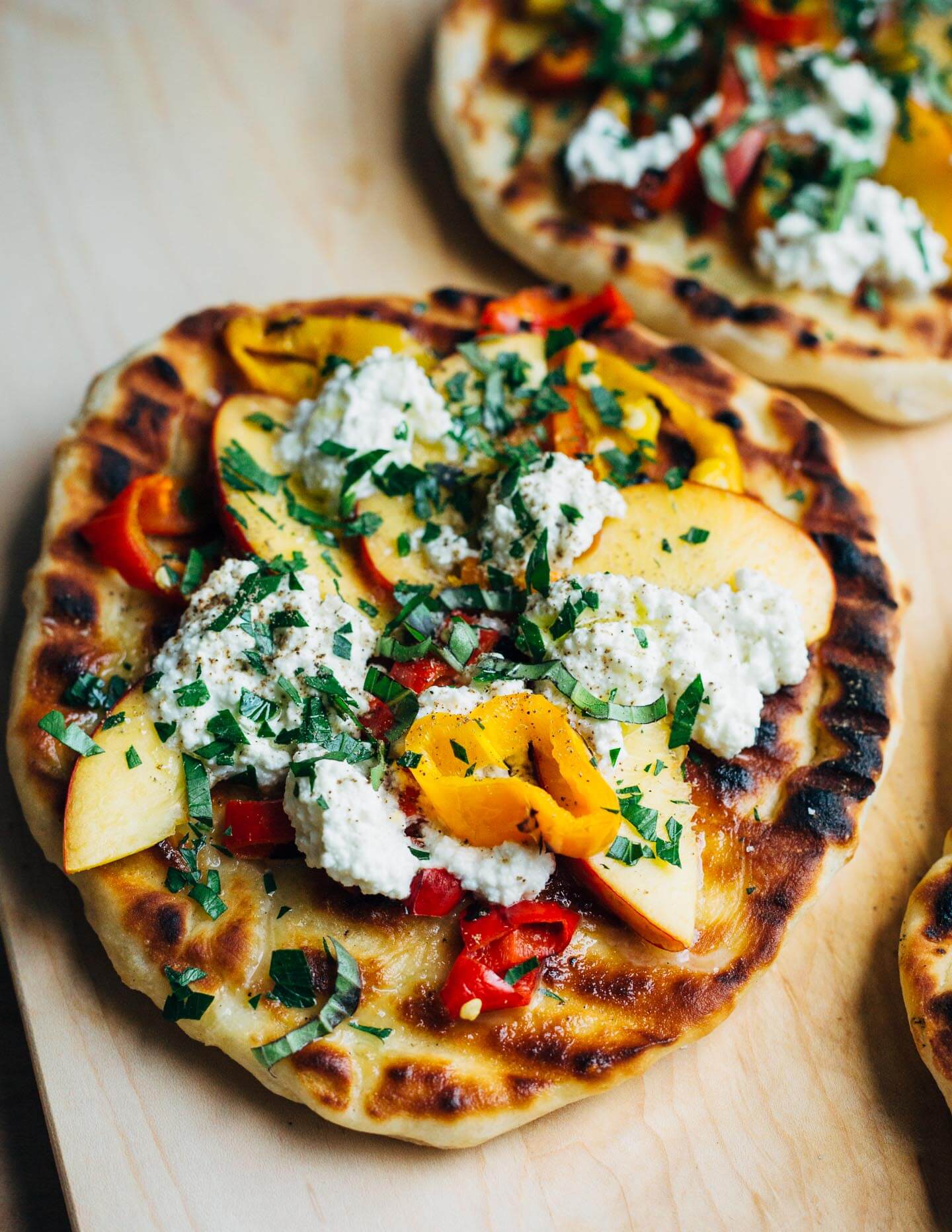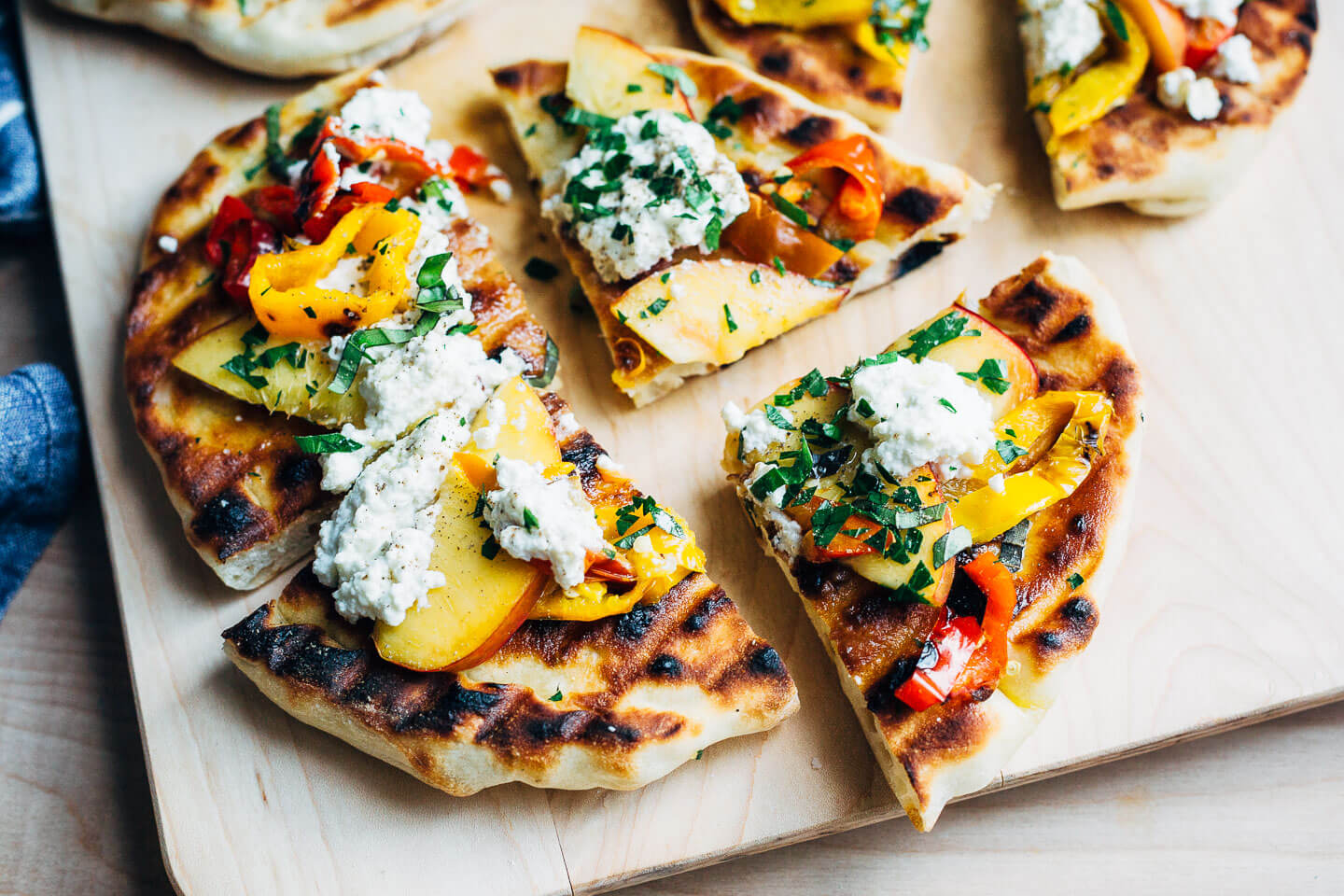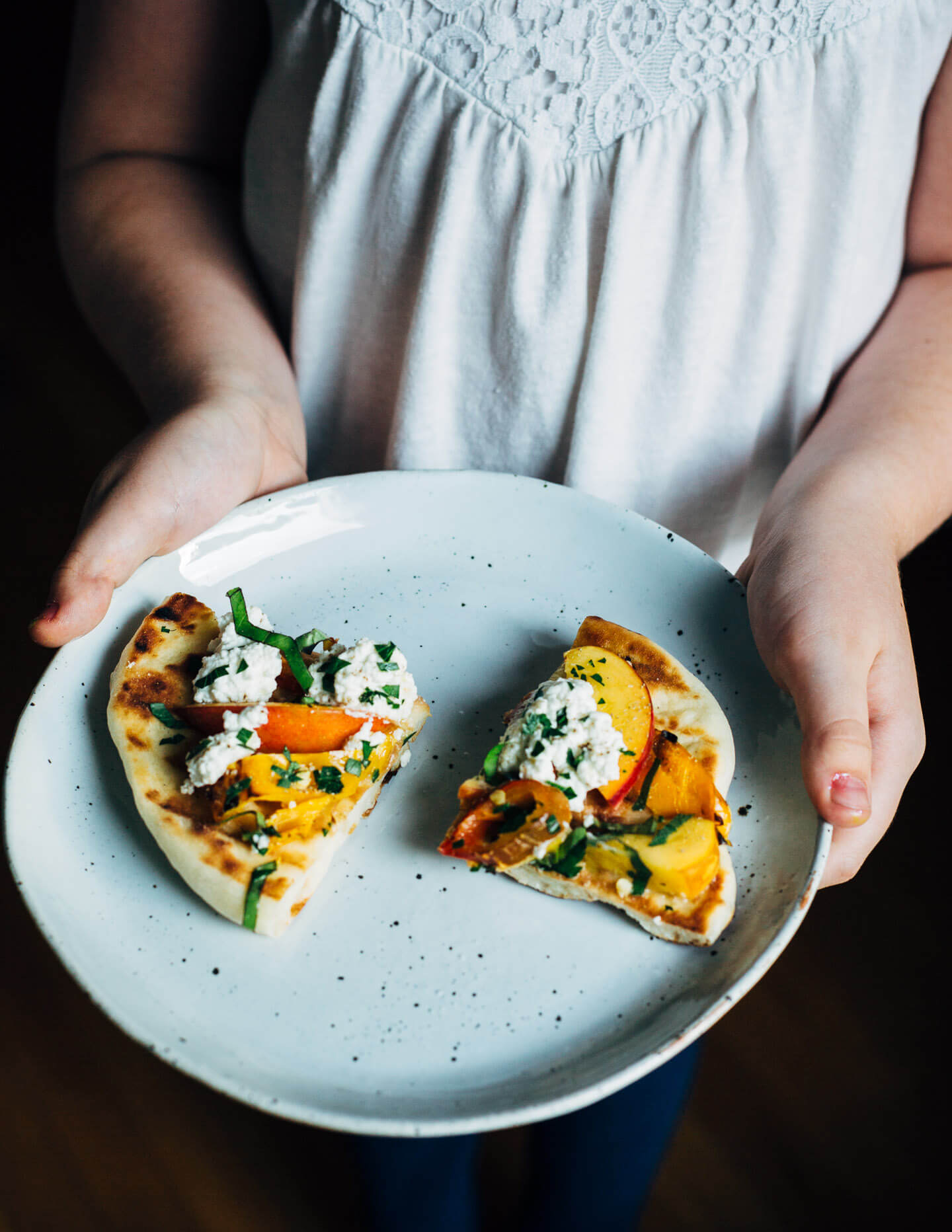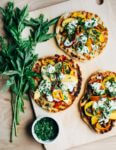 Grilled Pizza with Roasted Sweet Peppers, Nectarines, and Ricotta
Simple yet incredibly delicious grilled pizza topped with grill-roasted sweet peppers, sliced nectarines, ricotta cheese, and garden herbs.
Grilling notes: You'll want to cook the pizza dough over high heat first, then move them to a cooler zone. If you're using charcoal, this means getting your coals hot and then banking them to one side. For gas, set one side to high (or medium high, depending on your grill) and one side to low. Since each pizza moves from the hot side to the cool side, a good work flow is to start one pizza, flip it to the other side and add toppings, and then start another pizza on the now-empty side. I've found that smaller pizzas are much easier to work with and fit best on our standard charcoal kettle grill; as such, I've written this recipe to make 8 small 4-slice pizzas.

Ingredients
1

recipe pizza dough*

(I used the linked NY Times recipe, dividing the dough into 8 4-ounce balls of dough)

assorted sweet peppers

, about 5 large, 10 small, or a mix

1/3

cup

extra virgin olive oil

, plus more for drizzling

3

nectarines

, sliced 1/4-inch thick

16

ounces

fresh ricotta cheese

3

tablespoons

basil chiffonade

3

tablespoons

minced parsley leaves

sea salt

fresh ground black pepper
Instructions
To prepare dough, roll each dough ball out into a 10-inch circle on a lightly floured sheet of parchment. Trim parchment into a neat square around dough and arrange on a tray so dough can be easily grabbed for grilling. Cover loosely with damp towel and set dough in a warm place to rise for 30 minutes.

Meanwhile, prepare a hot grill. When coals are completely gray and very hot, bank to one side of the grill to create zones of high and indirect heat.

When grill's ready, set peppers over the hottest part of the grill. Grill each side 1 - 2 minutes, turning until peppers are charred on all sides. Remove to a plate and allow peppers to cool. When cool enough to handle, cut into 1/4-inch thick round slices, discarding seeds.

Arrange brush and olive oil, sliced peppers and nectarines, and ricotta so that they can be easily accessed from the grill. A timer that indicates minutes and seconds is also great to have on hand.

Select one of the prepared dough rounds and lightly brush top with olive oil. Hold pizza dough backed with parchment in the palm of your hand and flip over onto the hot part of the grill. Do this quickly so the crust keeps its shape (but don't worry if it doesn't – the pizza will still be delicious). Peel parchment paper off the back gently, using a spatula to help separate them if you need to.

After 90 seconds, lift an edge of the crust and peek to see if it's nicely browned. If it's not ready, give it another 30 seconds and peek again. When ready, use a spatula to flip pizza and move to the cool side of the grill.

Working quickly, and with pizza still on the grill, brush crust with olive oil, add sliced peppers and nectarines, and dot with 4 tablespoons ricotta. Cover grill and cook pizza another 2 - 3 minutes. Remove from grill, top with a big pinch each of basil and parsley, a pinch of sea salt, several grinds of black pepper, and a drizzle of olive oil.

Slice and serve pizzas immediately, or keep cooked pizzas warm in a 200 degree F oven.

Repeat process until all pizzas have been assembled and cooked.
SaveSave
SaveSave
SaveSave
SaveSave
SaveSave