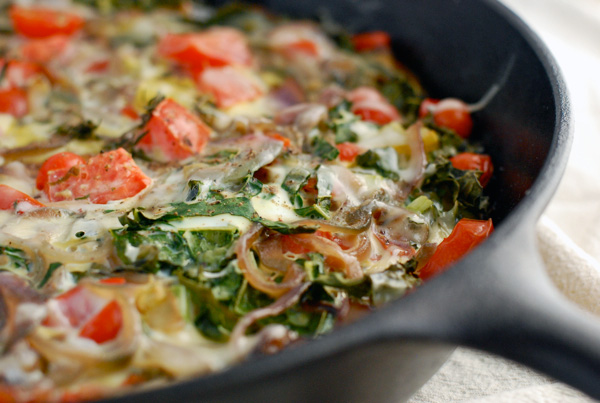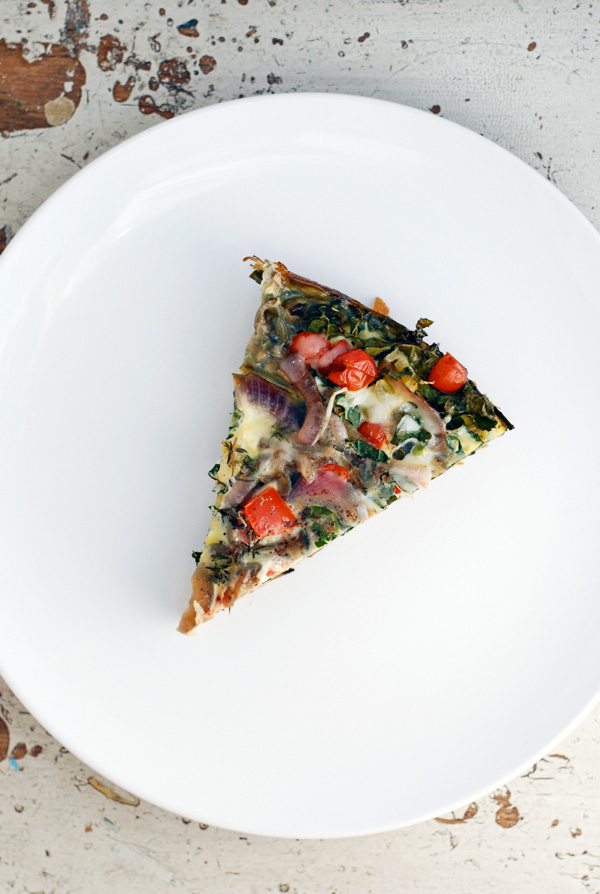 This post is sponsored by Klondike Brand Potatoes. Thank you for supporting the sponsors that make Brooklyn Supper possible!
Let's get this out of the way for the vocabulary sticklers, this isn't exactly what the Accademia della Crusca would define as a "frittata" because it's an egg dish prepared over potatoes, which are not a frittata ingredient. Many of you are probably taking off your glasses and saying, "it sounds more like a tortilla de patatas to me," but we included vegetables in the eggs which is not traditional in the Spanish dish. In the end, we went with "frittata" because in the US, "tortilla" usually refers to the thing on the outside of a taco, so it's confusing to talk about the other kind.
Whatever it's called, it made for a hearty, comforting, and just really good dinner last week. With yellow centers and thin red skins, the Klondike Brand rose potatoes we used provided a smooth and buttery flavor, while the tomatoes and thyme gave the eggs a wonderful summery feel. The kale lent earthiness and made the frittata substantial enough to be a meal on its own. Finally, onion and parmesan create a sophisticated, complex taste. And because it's all made in one skillet (plus a baking sheet),  it doesn't require much in the way of prep time or dishwashing, making it perfect for a weeknight.
Flavor and ease of cooking aside, though, we also love this dish because it's so healthy, with starches, proteins, and vegetables all there in just one dish. We're into using potatoes as a starch these days. They're great when you're having gluten-free guests and while they've gotten a little bit of a bad rap lately, a lot of that has to do with the fact that the main way we eat them involves lots of deep frying (french fries and potato chips, I'm looking at you). But prepared in healthy ways and paired with good ingredients, high-quality potatoes are a great staple that contain almost all the essential nutrients. By complementing them with kale (which has the vitamins A and C, two of the few nutrients that potatoes lack) and eggs which provide an affordable source of protein, this dish showcase's the potato's healthy side.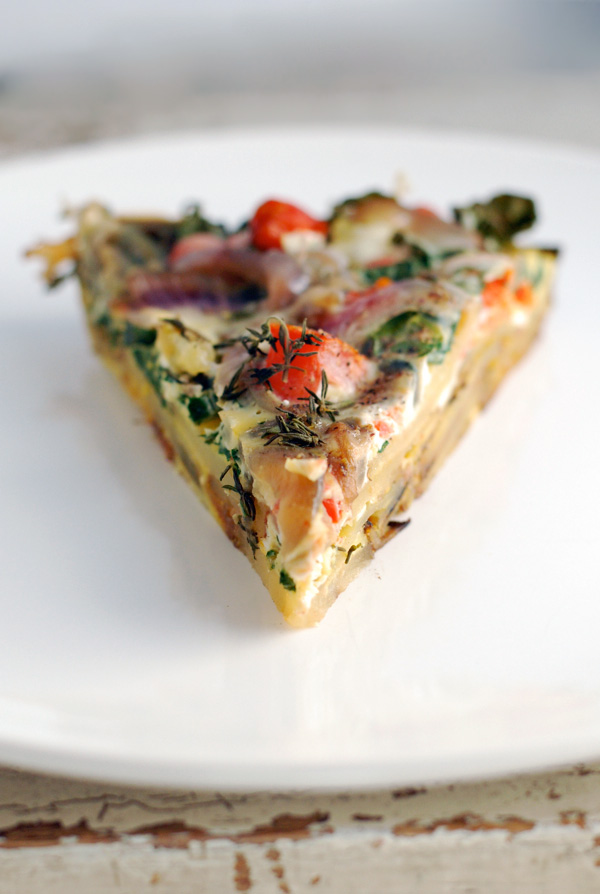 We've especially come to love the Klondike rose potatoes we tried –– they had a delicate texture, and took on all kinds of flavors beautifully. In case you've been eating fewer potatoes recently, we hope you'll pick up a flavorful variety like red, gold, rose, or purple potatoes and add them to some of your favorite healthy dinner recipes. If you'd like to try Klondike Brands potatoes for yourself, click here for a coupon (registration is required). You can also keep an eye out for Klondike's 'Pile on the Produce' campaign at your local store, or follow Klondike Brands on Facebook or Twitter.
To get our readers in on all this healthy potato deliciousness, Klondike Brands is offering four Brooklyn Supper readers a chance to sample their great potatoes along with a potato prize pack. To enter, simply fill out the entry form here and like Brooklyn Supper on Facebook. You must be 18 years or older and a US resident to register. Four winners will be randomly selected when the giveaway ends at midnight on Monday, September 16.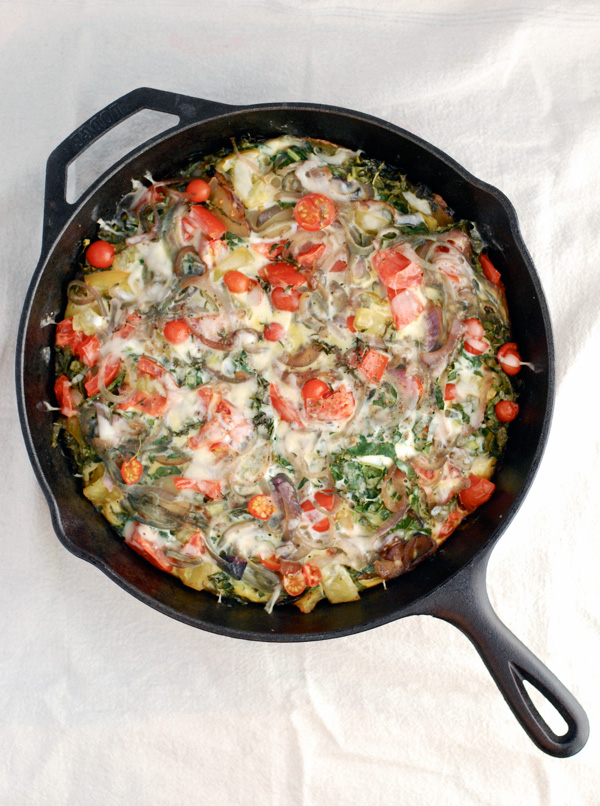 Roasted Red Potato, Kale and Tomato Frittata
serves 6
3 large, or 5 small, Klondike rose, red, or yukon gold potatoes, scrubbed and cut into even 1/8 inch slices
4 tablespoons olive oil
2 tablespoons sea salt, divided, plus a few pinches more
1/2 teaspoon fresh ground black pepper
2 tablespoons fresh thyme leaves, divided
1 red onion, trimmed and cut into thin slices
1 cup small heirloom tomatoes, diced (if using larger tomatoes, remove the seeds first)
1 cup kale, cut into ribbons and rubbed with a pinch or two of sea salt
8 eggs, lightly beaten
1/4 cup Parmesan cheese, shaved
Preheat the oven to 450 degrees.
Toss the potato slices to coat with the oil, and then fan slices on a large rimmed baking sheet. Sprinkle with 1 tablespoon sea salt, the pepper, and 1 tablespoon thyme leaves. Bake for 25 – 30 minutes, or until the edges of the potatoes have just started to brown and curl a bit.
Meanwhile, heat 2 tablespoons olive oil in a 10 inch cast iron, or other oven-proof skillet over medium-high heat. Add the onions and cook for 10 minutes, until the onions are translucent and the edges have browned. Remove from skillet and set aside.
In the same skillet, layer the roasted potato slices in concentric circles on the bottom. Next, layer the kale, tomatoes, and cooked onion, and then gently pour the eggs over the mixture. As you add each layer, sprinkle generously with part of the remaining tablespoon of salt. Sprinkle the top with the remaining salt and several twists of pepper.
Cover the skillet, either with a lid or foil, and slide into the oven. Turn heat down to 350 degrees. Bake for 30 minutes. Then uncover the skillet, add the Parmesan and remaining tablespoon of thyme leaves, and bake for 5 – 10 minutes more.
Serve warm or at room temperature with a lightly dressed salad.