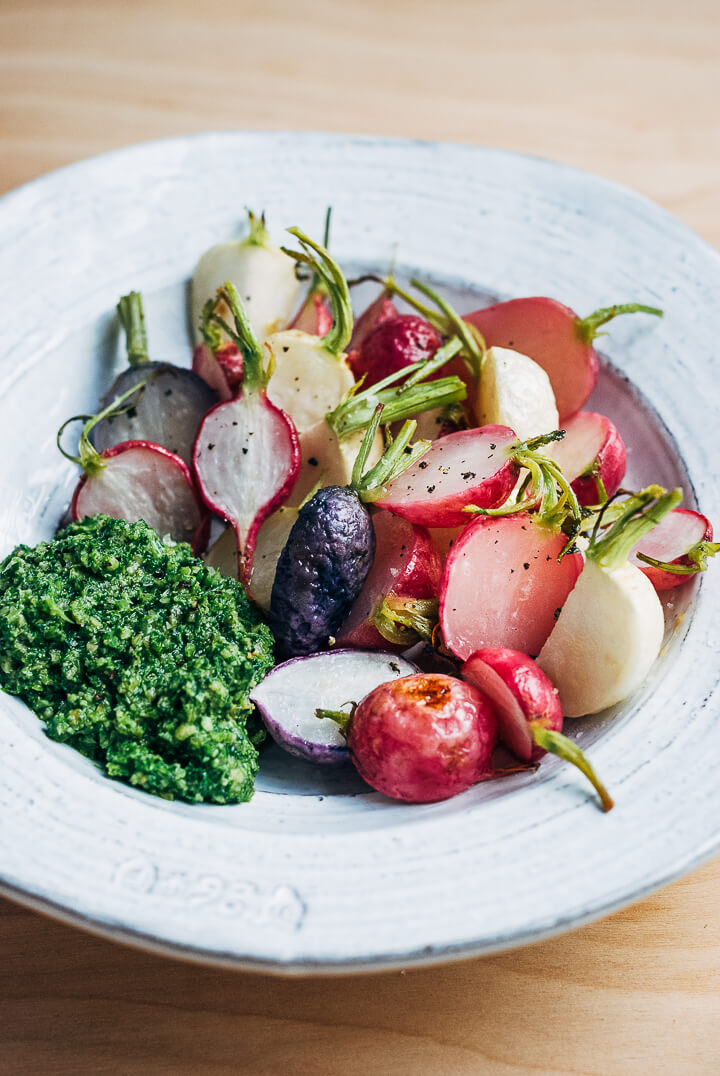 Though simply prepared, these roasted radishes and salad turnips with a greens and toasted pepita pesto are incredibly delicious. Jump to recipe. 
All weekend, I ignored work. My normal work anyway. Instead of the usual internet this and that, I went with Brian and the girls to a Friday night cookout, then a Saturday dinner with friends. I enjoyed a leisurely ramble at the park. In between, we cleaned. Cabinets, books, toys – we sorted and organized it all. By Tuesday, our house was fresh and orderly. Even the office is clean. I have houseplants and a very tiny tree growing in the backyard.
Then, back on Earth, I realized the fridge escaped our organizational zeal. Inside were all the makings of an intense CSA food wasting freakout, mostly in the form of radishes. I was so dedicated for a couple weeks there, but this week, things have gone out of control. Once I came to terms with my radish and salad turnip stores (seriously – like eight bunches), I knew what I needed to do.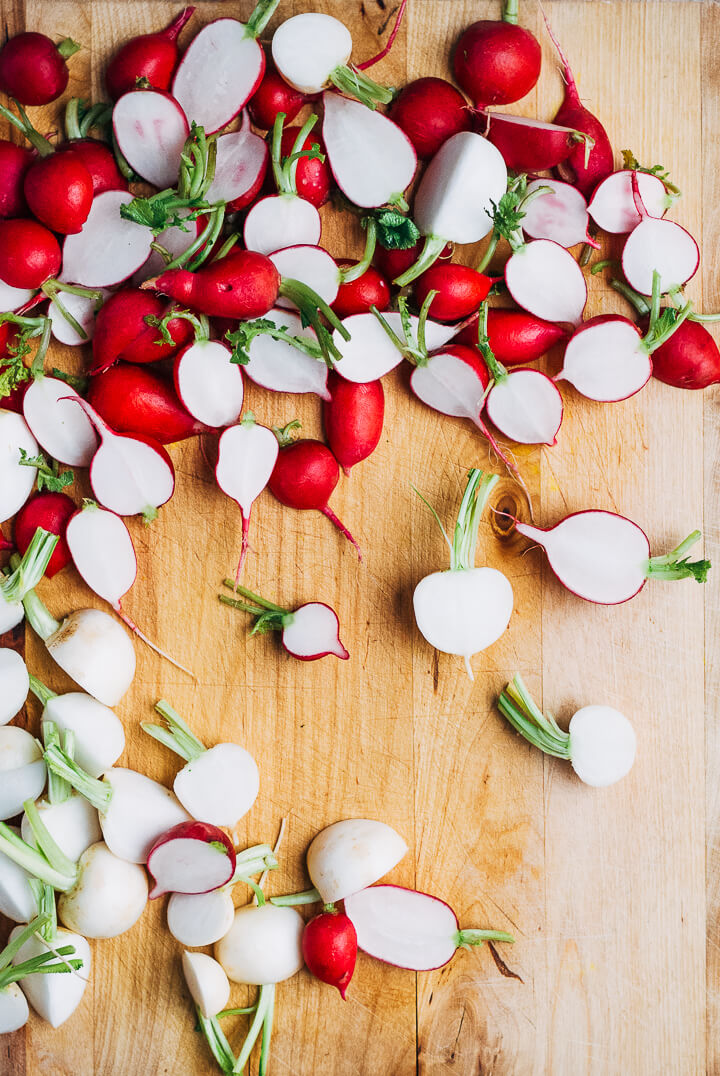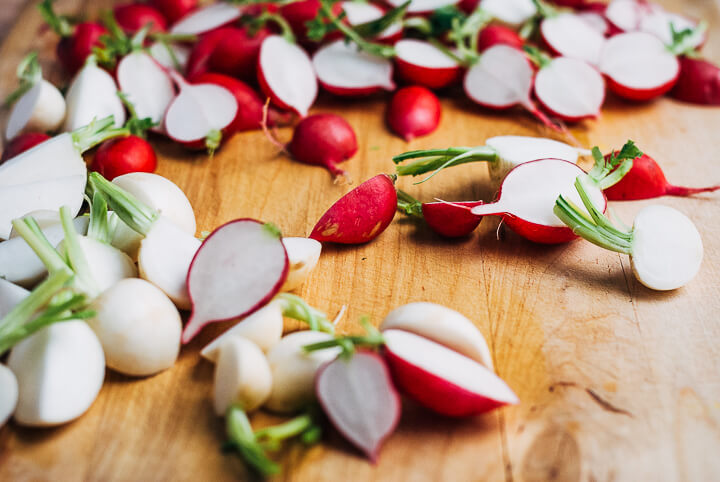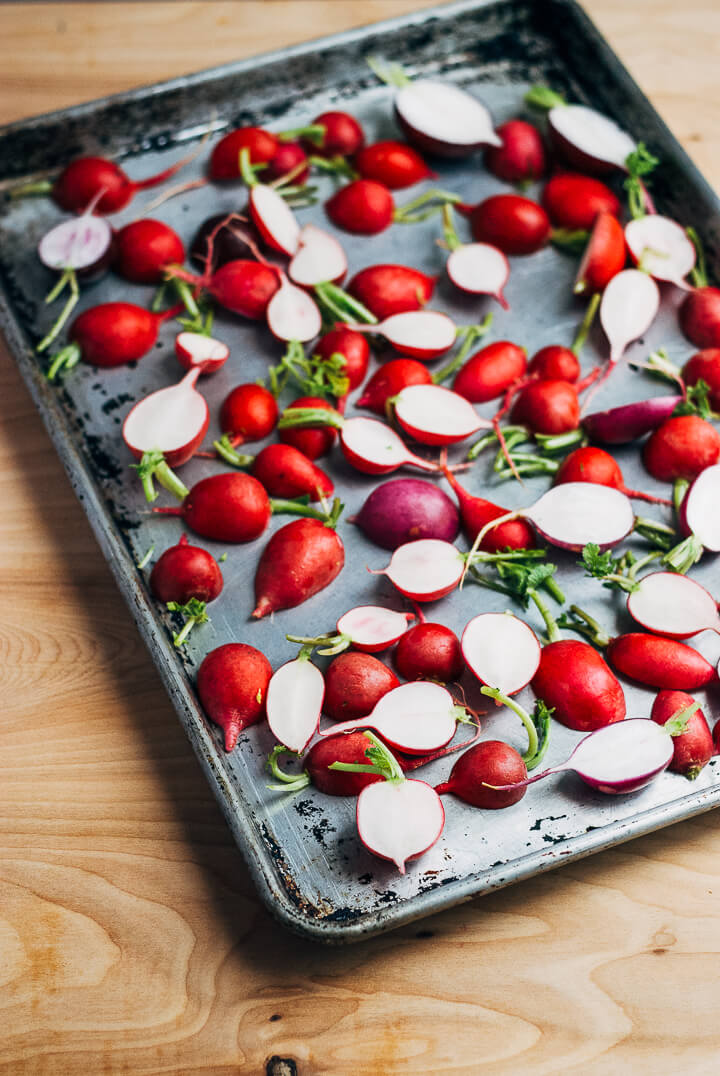 If you've never roasted radishes, they're unexpectedly mild with hints of sweetness and butter, while roasted salad turnips are unabashedly sweet with an almost creamy center. As the vegetables roasted, I chopped the radish and turnip greens for a simple spring pesto made with the greens, a small clove of garlic, toasted pepitas, lemon, olive oil, and sea salt. Simple, green, and good – exactly the kind of thing we all need to snap us out of the long weekend haze.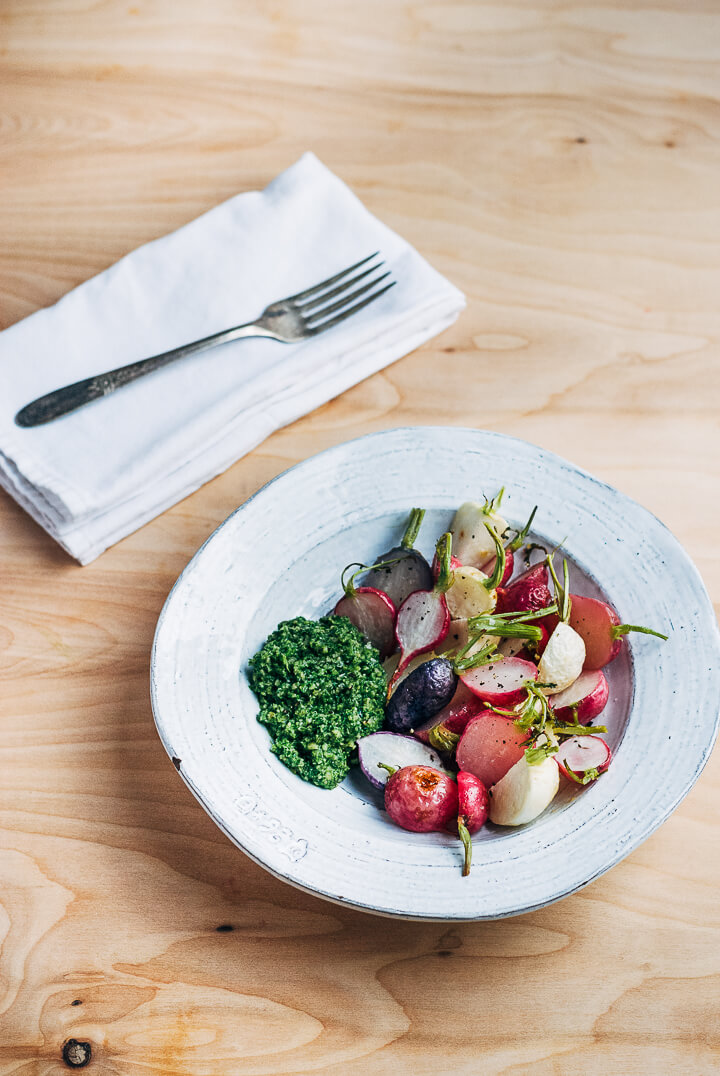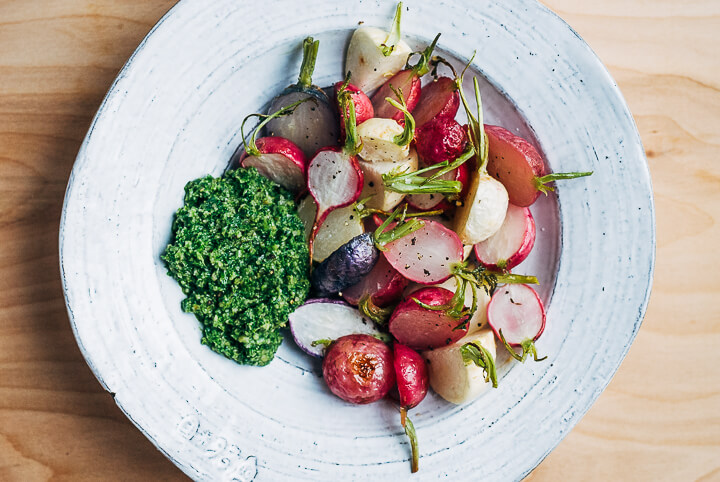 In selecting radish and turnip bunches for the recipe, look for small to medium roots and robust green leaves. Radishes and turnips can be very sandy, so immerse the vegetables in water and shake well, then rinse several more times to be sure.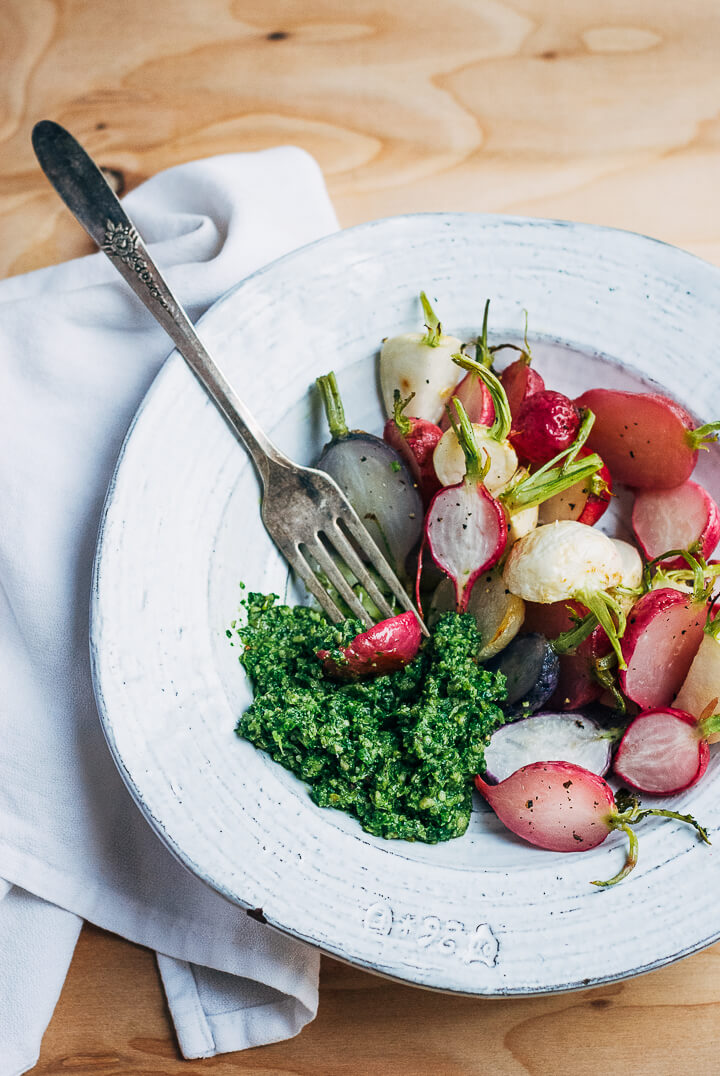 I made this recipe vegan, and it's very good as is, but if you'd like a little more heft, consider adding a handful of grated Parmesan to the pesto for added creaminess and depth of flavor.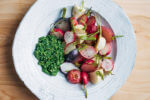 Roasted Radishes and Salad Turnips with Pesto
Though simply prepared, these roasted radishes and salad turnips with a greens and toasted pepita pesto are incredibly delicious.
Ingredients
3

bunches small to medium radishes with leaves

1

bunch small to medium salad turnips with greens

extra virgin olive oil

sea salt

1/4

cup

raw

, hulled pepitas

1

teaspoon

lemon zest plus 1 tablespoon juice

1

small clove garlic

, smashed and minced
Instructions
Preheat oven to 425 degrees F.

Immerse radish and salad turnips in water and shake to remove sand. Rinse well and pat dry.

Toss pepitas into a small oven-proof skillet or pan and toast in the oven for 1 - 2 minutes, or just until the first few pop. Set aside to cool.

Cut greens from the roots, leaving a 1/2-inch sprig of greens on radishes and turnips. Set greens aside. Halve radishes and turnips (quarter larger ones). Arrange radishes and turnips on a baking sheet (or 2), and just drizzle with olive oil. Sprinkle with sea salt. Roast 20 - 25 minutes, or until the edges are golden and the vegetables are tender.

Meanwhile, chop 3 bunches of the greens – enough to make 1 loosely packed cup. Place greens in the bowl of a food processor and add 5 tablespoons olive oil, a pinch of sea salt, lemon zest and juice, and toasted pepitas. Pulse to combine. Aim for a smooth mixture with a bit of texture. Adjust salt or lemon as needed.

Spoon pesto into a wide bowl and surround it with roasted radishes and salad turnips. Sprinkle with sea salt and freshly ground pepper. Serve immediately.