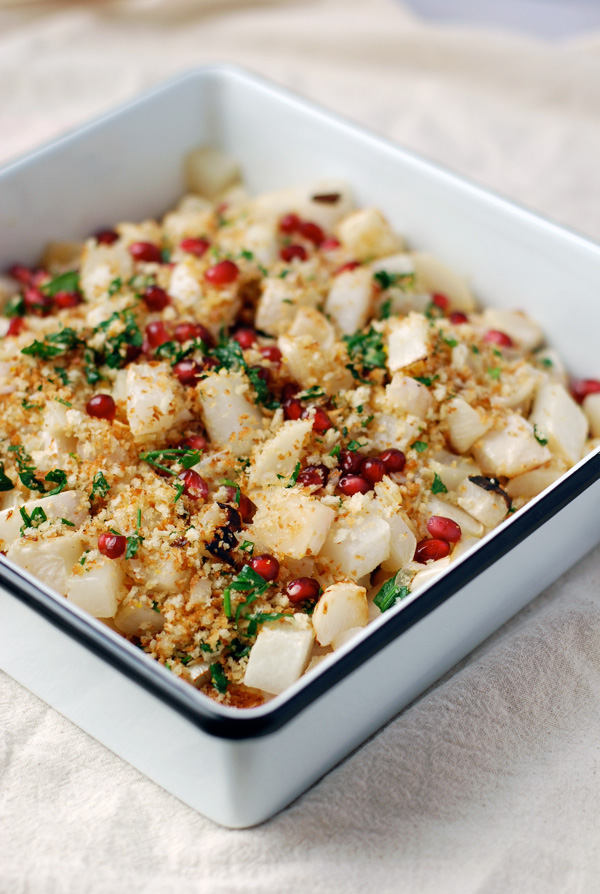 Have you heard? (Of course you have.) Frozen water is going to fall on the Northeast and only those with adequate reserves of milk and bread will survive! New York City is on the fringe of the blizzard, so we may see only a few inches. But, rest assured, I am devoting all my free time to hoping for snow measured in feet, and a cozy weekend spent cooking and watching it pile up. Snow, especially lots of it, is magical here in the city. All the noise stops. All the trash and dog shit and chicken bones are covered by a clean white blanket, and the city feels cleansed, even if only for a moment.
If you're at our latitude (or close), chances are you're feeling the pinch of the long-past growing season. Seasonal offerings are dwindling rapidly. Even the onions have gone soft. But there, in the farmer's market bin or produce aisle, are rutabagas. Ever-dependable, still firm, and with a hint of spice, they've been waiting for you. Because February is their time to shine.
Roasted, and topped with crunchy panko, gremolata, and lovely pomegranate arils, dowdy old rutabagas become transcendent. This recipe is almost satisfying enough to be a meal in itself, though you may want to add some protein by way of Gruyere, eggs, or nuts. However, whenever you eat it, it's going to be really, really good.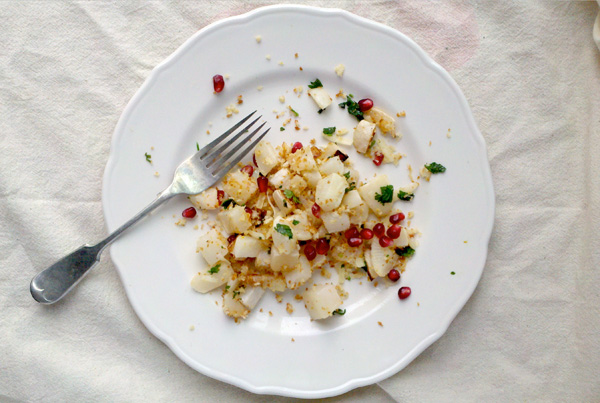 A note on the recipe: the idea for the panko gremolata is from food52. Their version pairs it with roasted cauliflower which sounds pretty darn good too. Back to the rutabagas–this dish has held up surprisingly well as leftovers. Of course the panko isn't crisp, but it adds a certain texture and nuttiness even after the fact.
Roasted Rutabagas with Panko Gremolata and Pomegranate
serves six as a side
4 – 5 rutabagas, cored, peeled, and cut into 1/2″ cubes
1/4 cup olive oil, divided
1/2 teaspoon sea salt
1/2 cup panko
2 tablespoons shallot, minced
zest of 1 lemon
2 tablespoons parsley
1/2 cup pomegranate arils
Preheat oven to 400 degrees. Prepare the rutabagas and spread them out on 1 or 2 rimmed baking sheets (I used one small and one large, and that was perfect). Drizzle the rutabagas with 2 tablespoons olive oil and turn to coat. Sprinkle on 1/2 teaspoon sea salt. Bake for 30 minutes, turning vegetable once at the halfway point.
Towards the end of baking time, in a small skillet, heat the remaining olive oil over medium-high heat. Add the panko, and stirring constantly, toast until it's golden. Add the shallot, lemon zest, and 1/2 teaspoon sea salt, and continue to toast the panko until it takes on a deep golden hue.
Spoon onto the roasted rutabaga, sprinkle with pomegranate arils, and serve immediately.