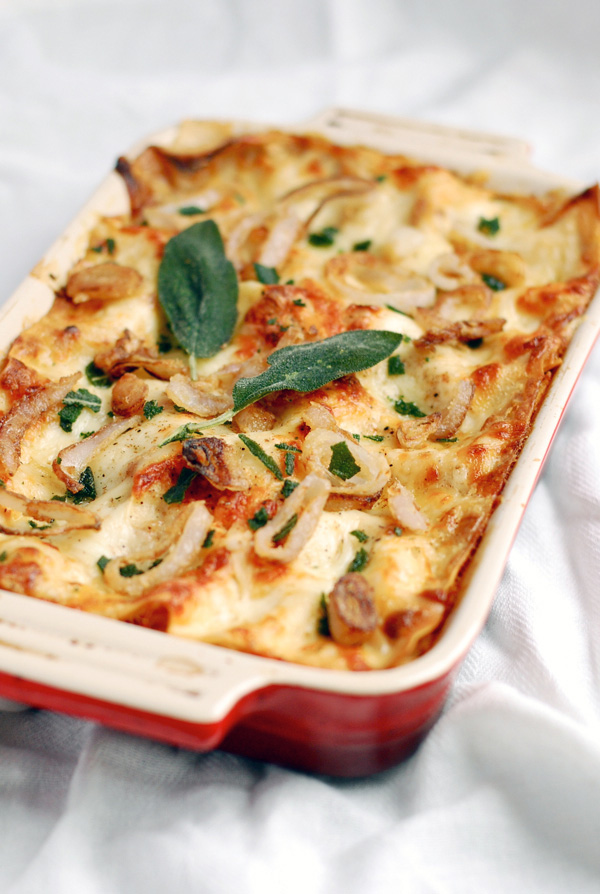 I don't know what to say here. It's been five days of heartbreak and utter sadness. While I usually find solace in the kitchen during times of trouble, this week I've cried over dishes and cookies, breakfast and dinner. I can't cook these woes away, but at least the act brings a bit of comfort.
I know that food blogging feels a little small right now. There's no lesson that brings closure or any possible way to wrap this up. So I'll say this: lasagna is comforting, and maybe in some small way, whether from an afternoon of making, filling the house with the aroma of shallots and sage, or just because it brings people to the table, it might comfort you and yours during these strange days.
Instead of one large, I made this as two smaller lasagnas, and that was ideal for our small family since the béchamel can separate a bit on reheating. If dividing, grease two smaller baking dishes measuring 6 x 10 inches or so, and assemble both lasagnas at the same time. Cook one right away, reducing the cook time to 35 minutes or so plus 10 minutes to brown the top, and keep the other covered in the fridge. Allow the casserole to come to room temperature before baking.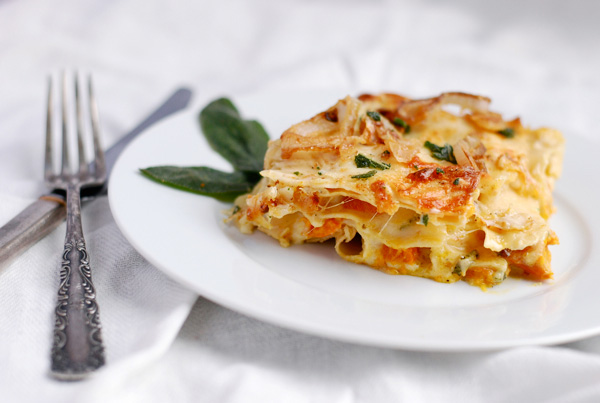 Roasted Squash Lasagna with Toasted Sage and Shallots (adapted from Bon Appétit)
served 10 – 12
for the roasted squash
1 kabocha squash, peeled, seeded, and cut into 1/4 inch slices
3 tablespoons olive oil
pinch sea salt
fresh ground black pepper
Preheat the oven to 425 degrees. Lay the squash slices on a rimmed baking sheet, drizzle with olive oil, turn to coat, and sprinkle on the salt and pepper. Roast squash for 15 – 20 minutes, flipping halfway through, until the edges have browned and the squash is tender.
for the béchamel
6 tablespoons butter
1/3 cup unbleached all-purpose flour
2 cups whole milk, room temperature
2 cups heavy cream, room temperature
1/4 teaspoon freshly grated nutmeg
1/2 teaspoon sea salt
In a medium saucepan, heat the butter over medium heat until fragrant and bubbly. Whisk in the flour, and whisk over heat for a minute or two. Combine the milk and cream, and slowly whisk into the flour mixture, waiting until each addition is fully incorporated before adding more. Add the nutmeg and salt, and turn off the heat.
to assemble the lasagna
2 pounds fresh mozzarella, grated to the best of your ability
1 3/4 cup grated Asiago, divided
zest of 1 lemon
1 tablespoon fresh sage, minced
1 pound lasagna noodles, boiled but al dente
Preheat the oven to 375 degrees. Grease a large 9 x 13 inch baking dish.
Combine the mozzarella, 1 cup of Asiago, the zest, and sage in a small bowl and set aside.
Spread 1/4 cup of the béchamel on the bottom of the baking dish, and add an overlapping layer of noodles. Add a third of the squash, a third of the cheese mixture, and 1/2 cup béchamel, cover with a layer of noodles, and repeat layers two more times. Top the lasagna with the remaining béchamel and the reserved Asiago.
Cover with foil and bake for 45 minutes. Remove foil and bake an additional 10 minutes, until the top has browned along the edges. Allow lasagna to cool 20 minutes before serving.
for the sage and shallot topping
3 tablespoons olive oil
10 large fresh sage leaves, washed and dried
1 shallot, sliced thin
1/4 cup unbleached all-purpose flour
While the lasagna cools, heat the olive oil over medium-high heat. Carefully add the sage leaves to the oil, cook for 15 seconds, flip and cook for another 20 seconds. Remove to a plate lined with paper towels.
Meanwhile, dip the shallot rings in the flour, and add to the hot oil. Fry for about 45 seconds, or until the shallots are golden brown. Remove to a plate lined with paper towels.
Scatter the shallots and crumble the sage on top of the lasagna, slice, and serve.