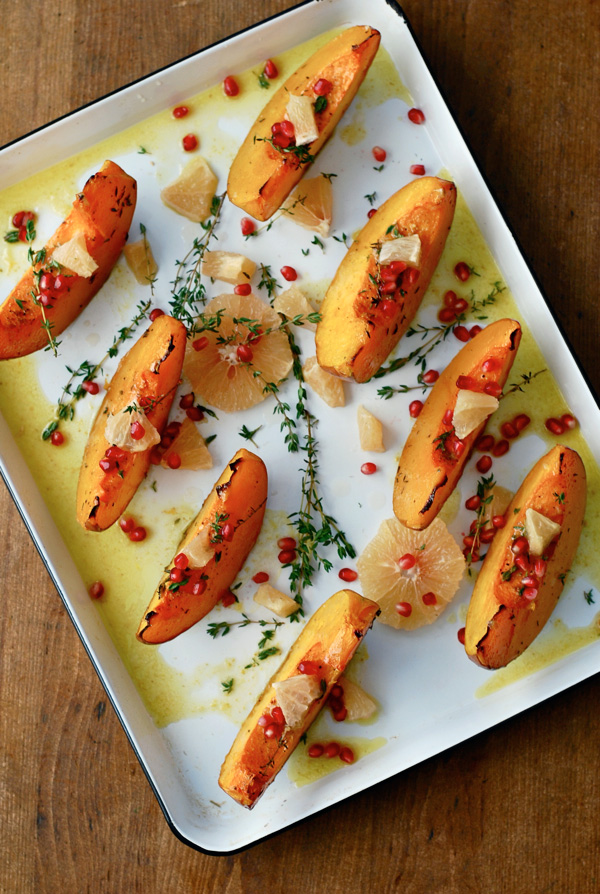 After an October spent traveling, November has been delightfully calm. Around here, in this bright little house we've lived in since April, things are good. Coat hooks have been hung. Books sorted. For the first time in a long, long time, I feel like things are on track and steadily improving. I know all too well how quickly the whole holiday thing takes hold, so in these last couple of weeks before the hysteria sets in, Brian and I have been doing what we can to get everything (finally) in order.
Finding time in the kitchen has still been a challenge, with my time spent working or taking care of the girls instead. When I do cook, it's most often on assignment, and so rather than warm, seasonal meals, we have a sort of poorly timed hodgepodge of cold food. Every now and then, circumstances align and we have a hot and delicious family meal. Last night it was a simple potlikker with kale and a ham hock that went over surprisingly well with the girls (you seriously never can tell what they will or will not eat). But my very favorite time to cook is in the morning. If the baby falls asleep at a predictable time, I have a quiet morning to myself. It's then that I have time to play, and to cook according to my own tastes and creative wanderings.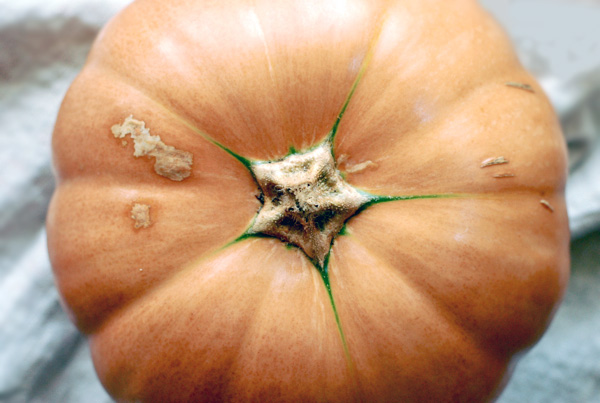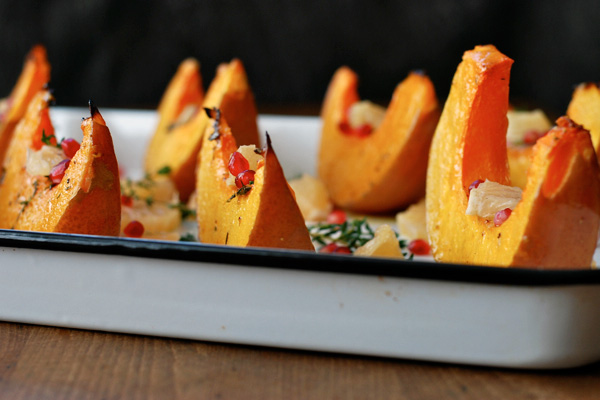 These roasted squash wedges comprised this morning's project. I had Thanksgiving on my mind, and thought wedges made for a fancier presentation than cubes. The squash in question was an Autumn Crown. It's a large squash with a pale outer skin and an airy flesh, similar to that of an acorn squash. Flavor-wise, I wanted it all and went with something that was at once spicy, sweet, acidic, and herbaceous. Bittersweet grapefruit suffuses the dish, while pomegranate arils lend little bursts of sweetness.
And before we head to the recipe, I want to say how saddened and concerned we've been about events in the Philippines. We hope you'll join us in supporting the victims of Typhoon Haiyan as they recover from this devastating storm. If you'd like to give, the Times has an excellent round-up of charitable organizations working to bring aid to the region.
Roasted Squash Wedges with Grapefruit and Pomegranate
makes twelve wedges

This recipe could easily be adapted to any round winter squash; I used an Autumn Crown here, but an acorn or kabocha would be excellent as well (be sure to adjust the cook time for a smaller squash). I didn't get it in the shot, but these wedges are complemented beautifully by a little chevre. Winter squash is incredibly forgiving and presents an excellent opportunity to play with flavors and make use of whatever you have on hand, so I hope you will substitute and adapt at will.
for the roasted squash wedges
1 large, round winter squash, cut into wedges (I used an Autumn Crown)
2 tablespoons olive oil
1 teaspoon sea salt
1/2 teaspoon black pepper
1/4 teaspoon each ground coriander and cayenne
12 sprigs fresh thyme
Preheat the oven to 425 degrees F.
Carefully slice off the woody stem and core of the squash, taking care to preserve the shape. Halve the squash and scrape out the center. Cut squash into wedges, roughly 2 inches thick, using the exterior ridges to guide you.
Working on a rimmed baking sheet, coat wedges on all sides with olive oil. In a small bowl, combine the sea salt and spices, and then rub onto the sides of each wedge.
Set the wedges upright, add a thyme sprig to the center of each, and slide into the oven. Bake for 30 minutes, turn wedges so that one side is flat on the baking sheet and roast for 15 – 20 minutes more. Squash should be fork tender.
Remove sheet from oven and carefully set wedges upright to cool. Meanwhile, make the dressing.
for the grapefruit dressing
2 tablespoons fresh squeezed grapefruit juice
1 teaspoon honey
1 teaspoon grainy mustard
1/2 teaspoon sea salt
3 tablespoons olive oil
In a jar or bowl, whisk together the grapefruit juice, honey, mustard, and sea salt until well combine. Slowly whisk in the olive oil.
to assemble the salad
1/2 cup pomegranate arils
1 large grapefruit, peel and pith cut off and then sliced
2 tablespoons fresh thyme leaves
chevre (optional)
Set the wedges upright on a platter. Break up the grapefruit slices, and along with the pomegranate seeds, scatter over the squash. Drizzle each wedges with the dressing, and finish with a few thyme leaves and crumbled chevre, if using. Serve immediately.