Fresh and roasted strawberries pair beautifully with this easy-to-make whipped coconut cream in this deliciously simple vegan dessert.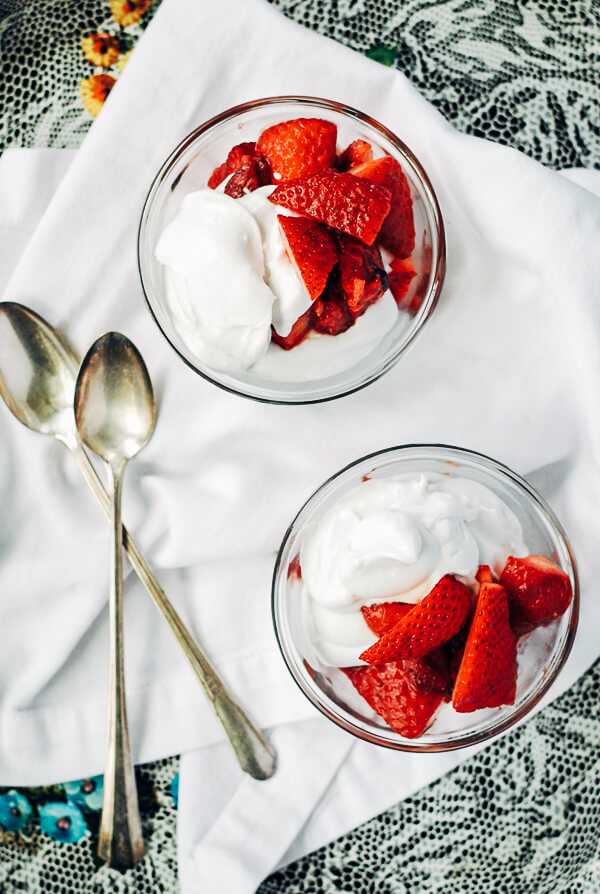 Post updated: May 2023
Our oldest daughter (who is doing well, by the way – thank you nice people for the thoughtful comments and messages) refers to the time when Brian and I grew up as "the olden days." And though it is kind of brutal, in some ways they were – back then cartoons were on Saturday only, phones had cords, and your parents had to rush to the bank on Friday afternoon or you'd have no way of getting cash until Monday. In my own youth, I at least had the courtesy to refer to the olden days as my grandparents' time; you know, before TV or rockets to the moon and stuff.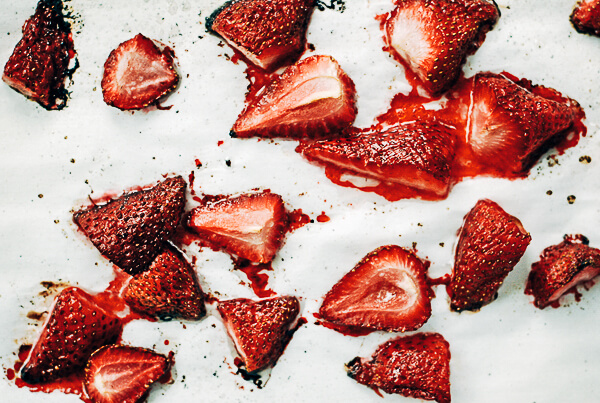 I like to imagine that in those days, dinner was dinner, and dessert, if there was any, was simple (and no kids would dare ask for mac and cheese in the face of a beautifully prepared bolognese). So today, we're harkening back to a simpler time (that might never have actually existed, but whatever) and keeping it real with strawberries and cream. This is the kind of easy treat that's perfect for overcommitted types who still want things to be nice.
A New Spin on Strawberries and Cream
Strawberries and cream is a summer classic, and here, we've given ours a vegan touch, with freshly whipped coconut cream. My dairy-free version was made with coconut milk and without any sugar or added sweeteners. If that sounds too austere to you, don't worry – I've added optional maple syrup or other sweetener, but just a bit because strawberries are best enjoyed exactly as they are. If it doesn't sound too austere, know that the subtle sweetness of coconut milk along with the concentrated flavor of the berries is incredibly delicious and of-the-moment just as it is.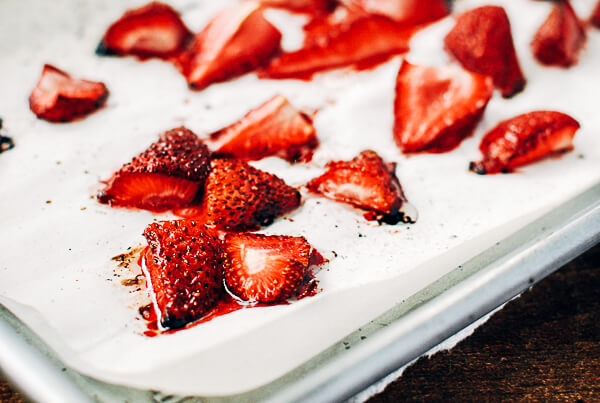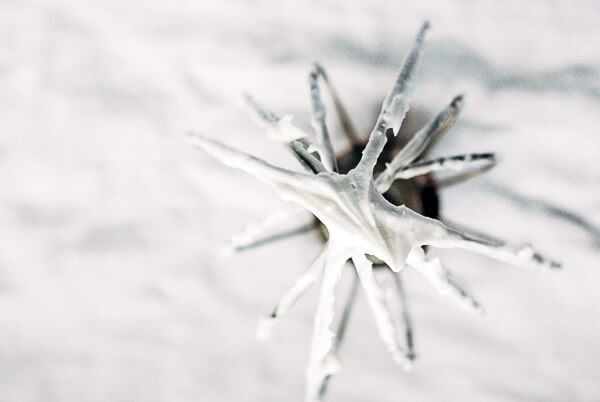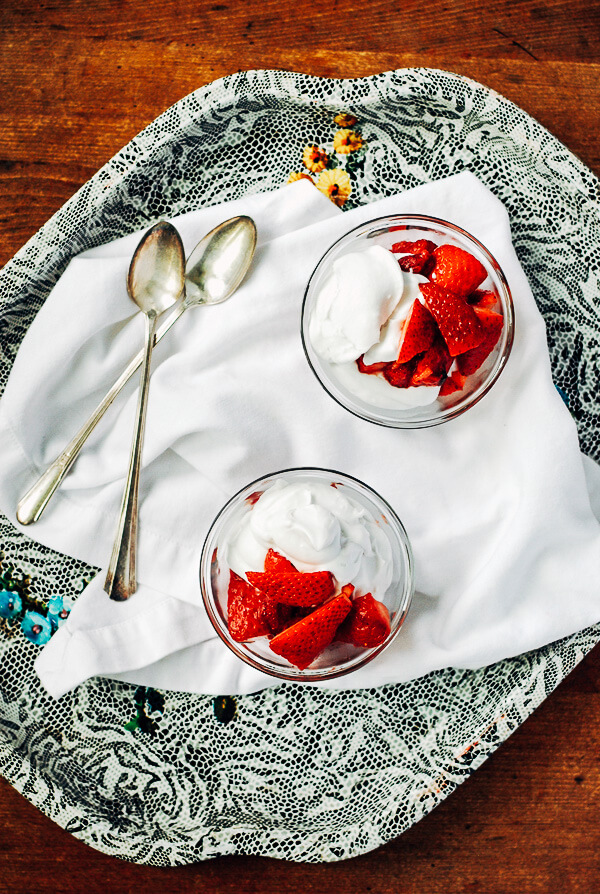 Roasted and Fresh Strawberries
This recipe pairs the depth of roasted strawberries with lots of fresh ones, and is complemented by a creamy dollop of whipped coconut cream. By the way, once the secrets have been revealed, whipped coconut cream is a total cinch to make (you might never go back). I liked things just as they are, but feel free to add a little maple syrup to suit your tastes.
In-Season Strawberries, Please
Finally, this recipe is best suited to in-season strawberries. The giant, watery ones available in the off months have low sweetness and high water content, and just don't come close to matching the flavor of spring or summer berries.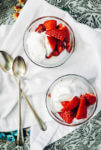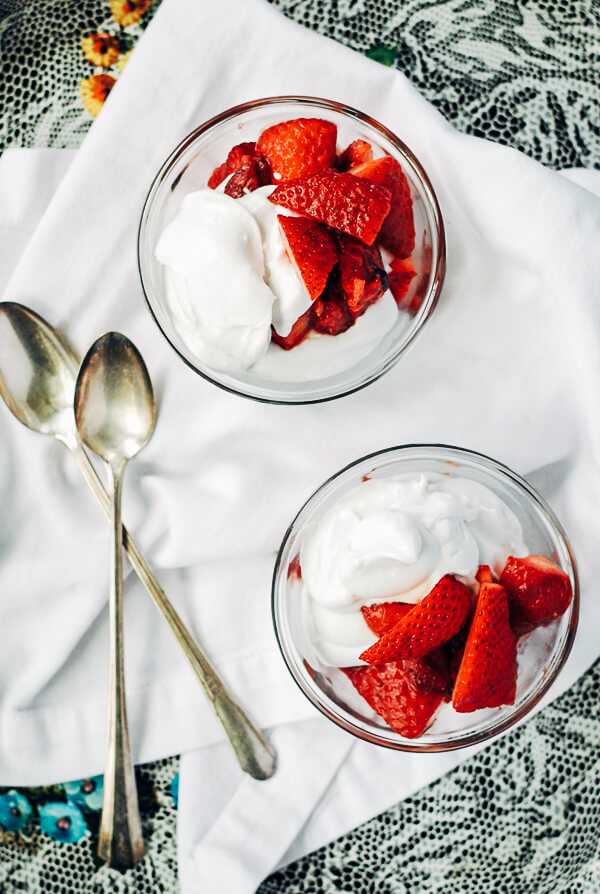 Roasted Strawberries and Coconut Cream
Fresh and roasted strawberries pair beautifully with this easy-to-make whipped coconut cream in this simple and delicious vegan dessert.
Ingredients
1

can full fat coconut milk

, refrigerated upside-down for several hours or overnight

2

pints

strawberries

, hulled and halved or quartered, divided

1

tablespoon

coconut oil

1

tablespoon

balsamic vinegar

1

tablespoon

maple syrup

, or to taste (optional)
Instructions
Preheat oven to 400 degrees F. Line a small rimmed baking sheet with parchment and set aside. Set a bowl in freezer for making coconut cream.

Toss 1 cup of berries with coconut oil and vinegar (don't worry if the oil's clumpy), and arrange on baking sheet. Roast 15 - 20 minutes, or just until juices begin to release and edges darken. Set aside to cool.

Toss roasted berries and any juices with remaining fresh berries, and sugar or honey if using, and set aside.

To make coconut cream, remove can from fridge, leaving it upside-down and being careful not to jostle it. Use a can opener to open the bottom, pour off the translucent liquid, and reserve.

Scoop thick white coconut cream into chilled bowl. Whip on medium until mixture is smooth and creamy. If desired, add 1 tablespoon maple syrup or the sweetener of your choice. Add a drizzle or two of reserved coconut liquid to smooth things out.

In small bowls, layer berries and coconut cream, and serve immediately.
SaveSave
SaveSave