A recipe for savory roasted sweet potato wedges topped with chimichurri and bacon.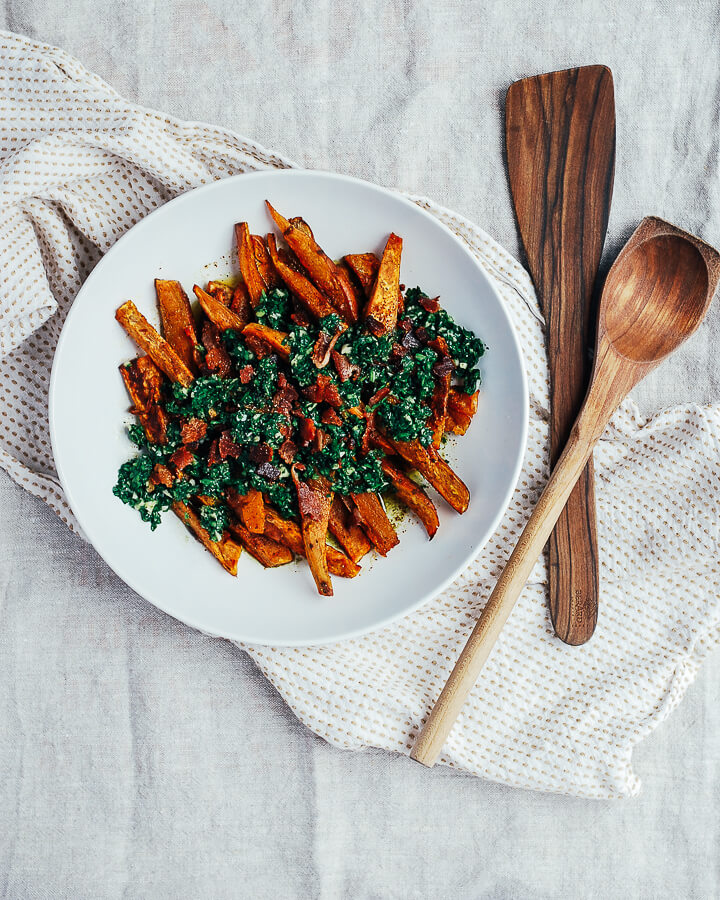 Owing to their place as one of the two vegetables my daughters will always eat gladly (the other is broccoli, if you're curious), I tend to stock up on sweet potatoes. If I look hard enough I can generally find one or two kicking around in the depths of my refrigerator. At lunchtime today, I found a few and my first inclination was to roast them whole, split them open, and smother them with chimichurri and bacon, but I decided at the last minute that I need more texture and spice so I cut them up for their stint in the oven.
I tossed the wedges with salt and pepper, of course, but also paprika and chili powder. I find the sweetness of sweet potatoes does well with a little heat. While they roasted, I dug around in the fridge for something to go with them. It is relatively clean these days thanks to a concerted effort to eat all of the Thanksgiving leftovers, but still yielded a few surprises. I found a big bunch of parsley – which I expected –  and a container of rubbery, who-knows-how-old rice noodles and some surprisingly fresh thyme sprigs – which I did not. The noodles went into the trash but the herbs I rinsed and minced for the chimichurri. I fried up a few strips of bacon, and did a very good job of not eating them while the sweet potatoes roasted. Next I crushed some garlic, finished the chimichurri, crumbled the bacon, and sat down to one of the best lunches I've had in a while.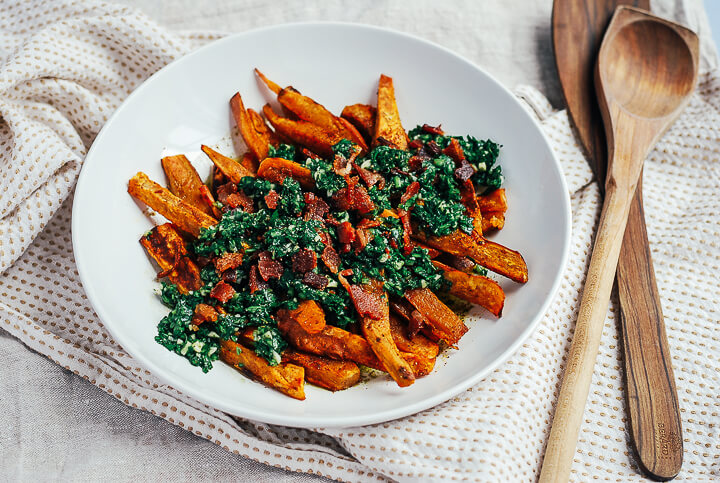 This dish is best just out of the oven, with the warm sweet potatoes taking on the flavor of the chimichurri. If you need to make it ahead of time, spoon chimichurri over the sweet potatoes at the last minute. And take note herbivores, the bacon can easily be left off, and the dish scattered with nuts or pepitas for crunch and texture.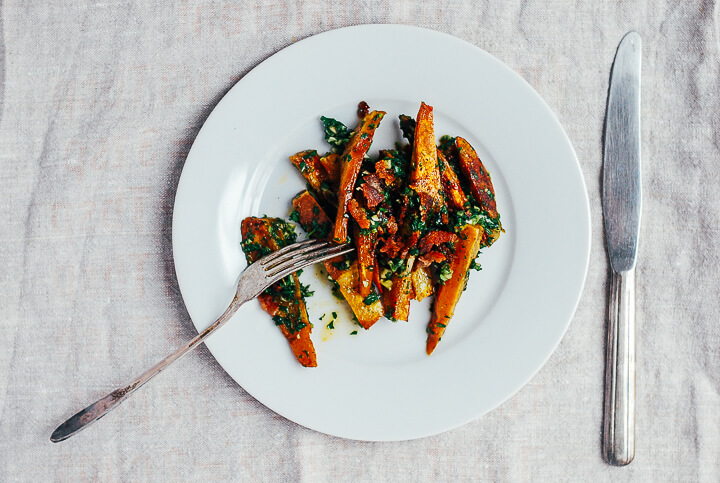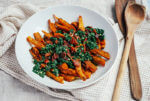 Roasted Sweet Potato Wedges with Chimichurri and Bacon
A recipe for savory roasted sweet potato wedges topped with chimichurri and bacon.
Ingredients
Sweet Potatoes
4

medium sweet potatoes,

scrubbed and cut into 1/2-inch wedges

2

tablespoons

olive oil

1/2

teaspoon

sea salt

1

teaspoon

chili powder

1

teaspoon

paprika

1/2

teaspoon

black pepper
Chimichurri
1

bunch parsley

2

tablespoons

thyme leaves

3

cloves

garlic

6

tablespoons

olive oil

2

tablespoons

red wine vinegar

1/2

teaspoon

sea salt

1/2

teaspoon

black pepper

1/4

teaspoon

cayenne pepper
Bacon
3

strips bacon,

fried and set on a paper towel to cool
Instructions
Preheat the oven to 425 degrees F.

Toss sweet potatoes with olive oil, salt, and spices. Spread on a rimmed baking sheet and bake for 35 - 40 minutes, flipping once halfway through, or until sweet potatoes are crisp on the edges and tender in the center.

Finely mince parsley and thyme leaves. Trim ends and smash garlic with the flat of your knife. Remove papery skin and finely mince. In a small bowl, combine herbs and garlic, and whisk in olive oil. Whisk in vinegar, salt, and spices.

Use a spatula to arrange wedges in a wide bowl or platter. Spoon on chimichurri, and finish with the crumbled bacon. Serve immediately.
SaveSave
SaveSave