A deeply savory roasted tomato pie that harnesses the acidic, faintly sweet edge of perfectly ripe summer tomatoes. There's also a flaky whole wheat crust, eggs with bright orange yolks, and handfuls of sharp cheddar.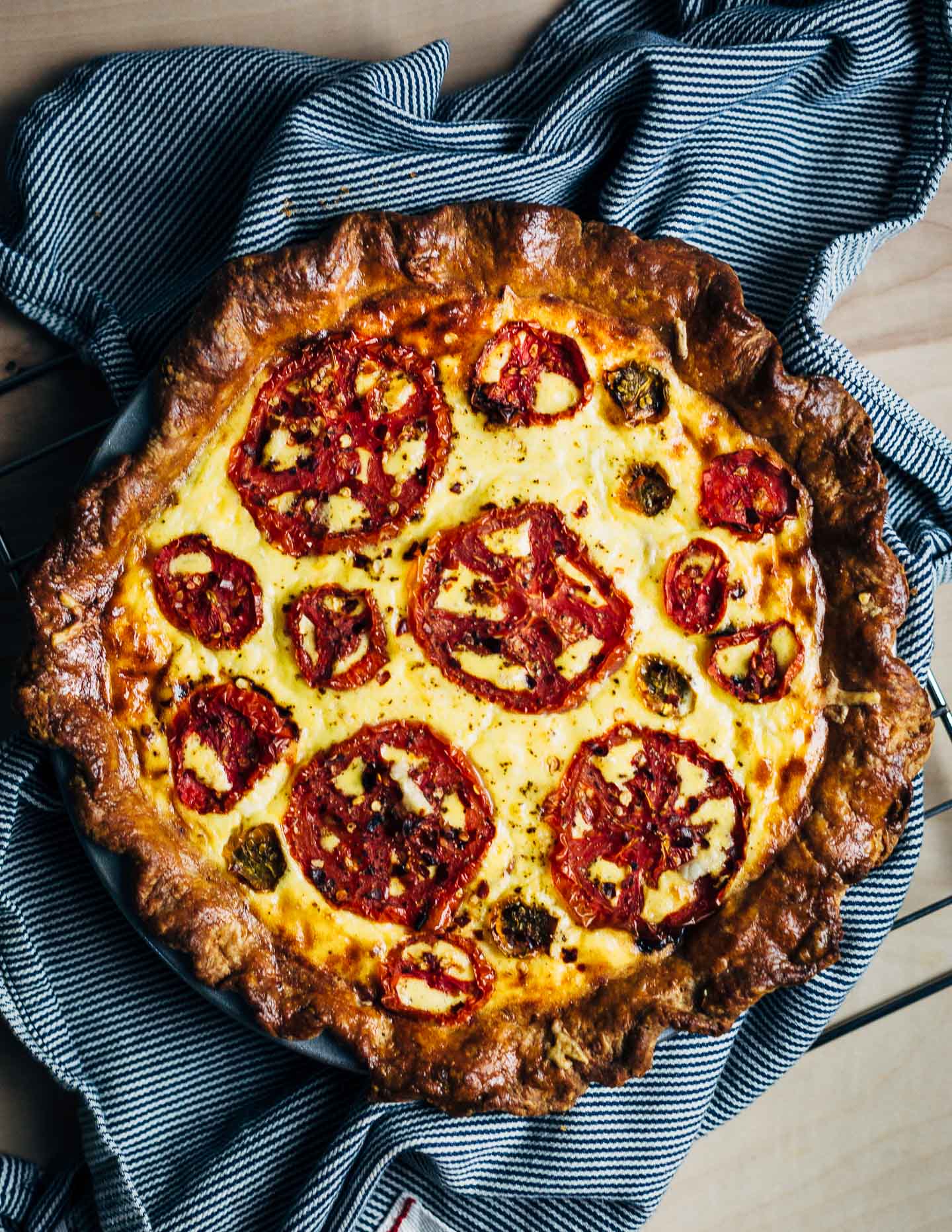 A note: I try not to ignore the outside world on this blog, but I don't know what to say this week. There's nothing I can write about the near destruction of another Black life at the hands of the police that hasn't been written already. Black Lives Matter. Please join the fight against police violence.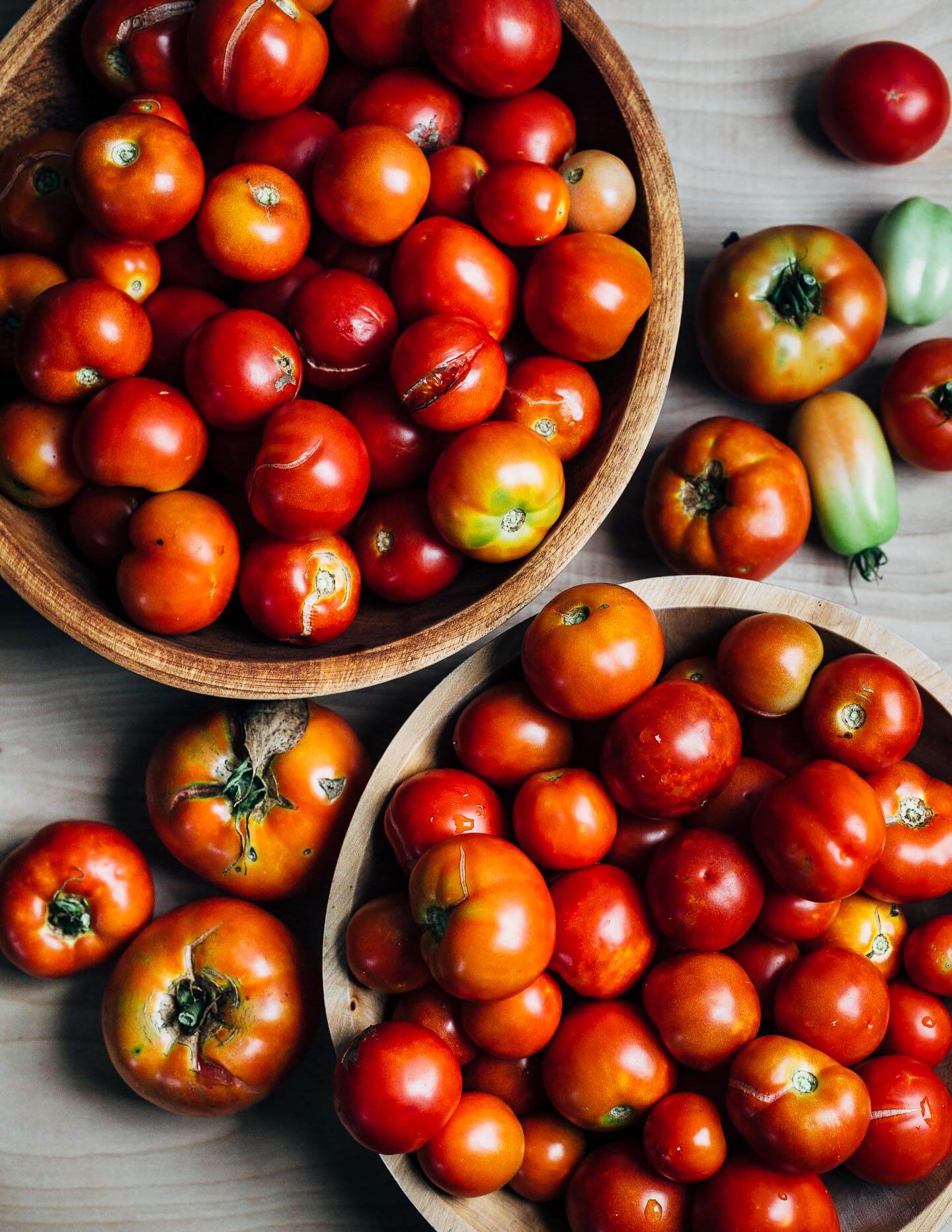 I was going for a rustic tomato pie. Something unfussy that felt real and grounded in this late August moment. Out in the garden, my tomato plants are mostly dead. Last week, ahead of yet another rain storm, I pulled in the last really big haul and made jarred marinara.
Now, for the first time since early July, my tomato supplies are slim. I'm left contemplating a post-tomato season life and find I'm not ready. So now's the time to make things like panzanella, gazpacho, and this roasted tomato pie.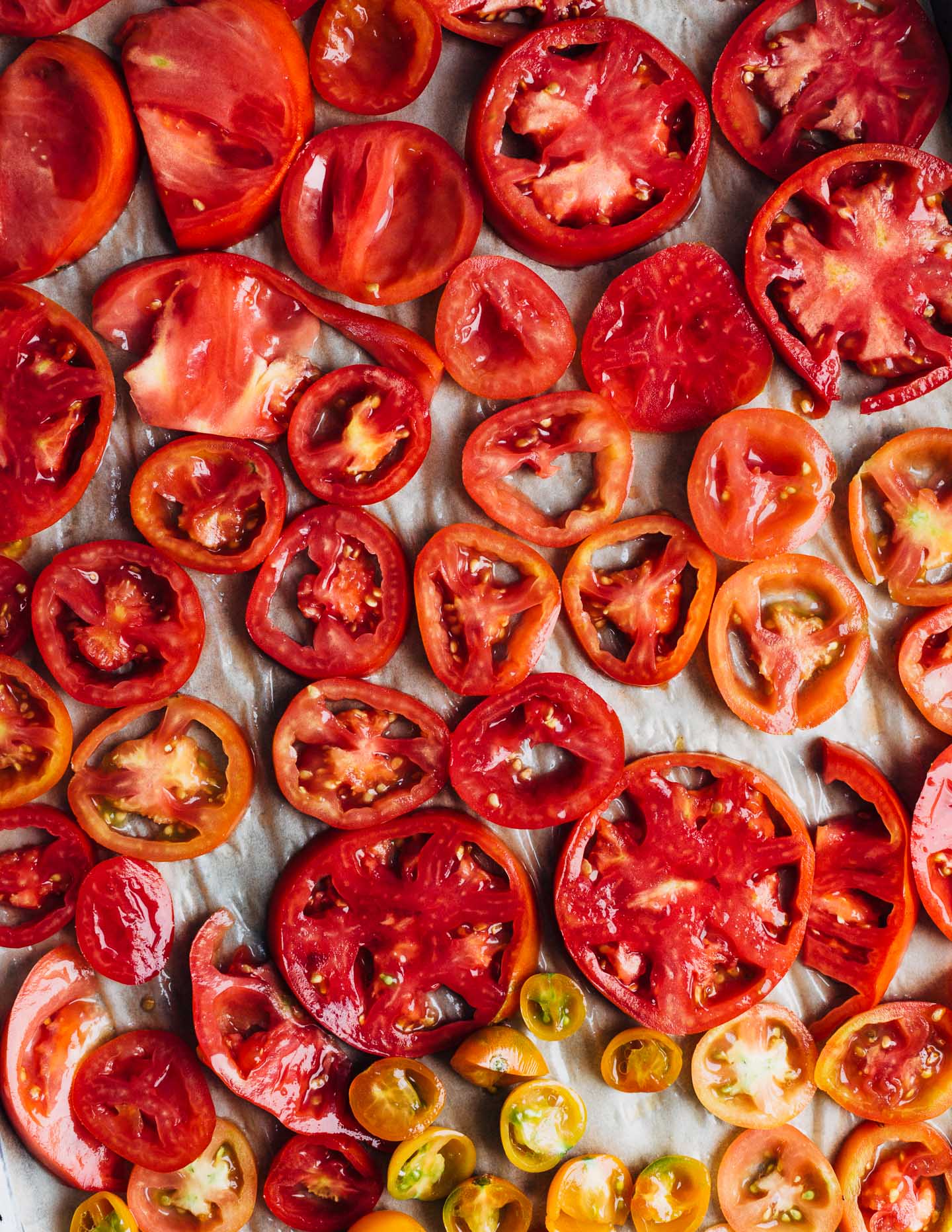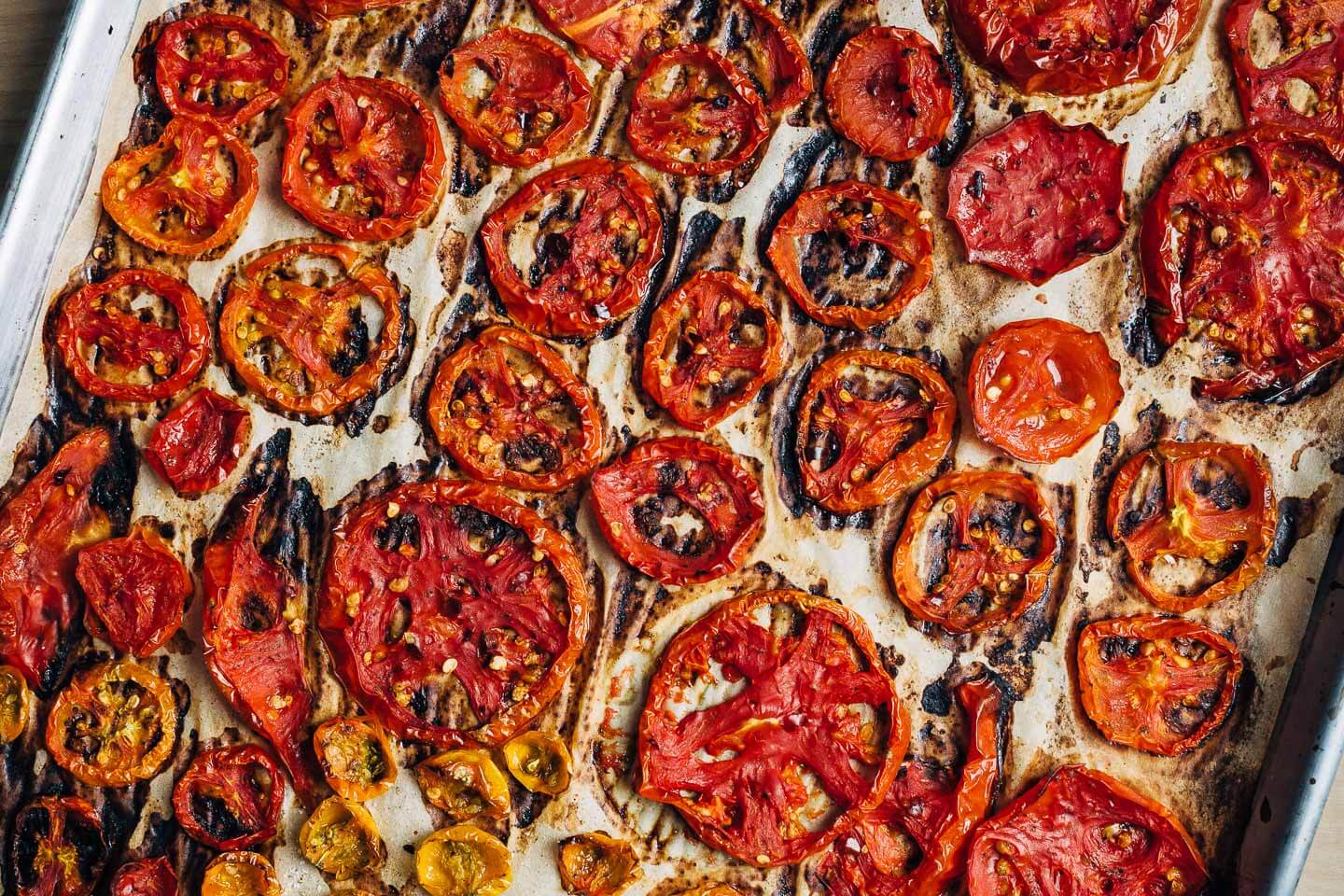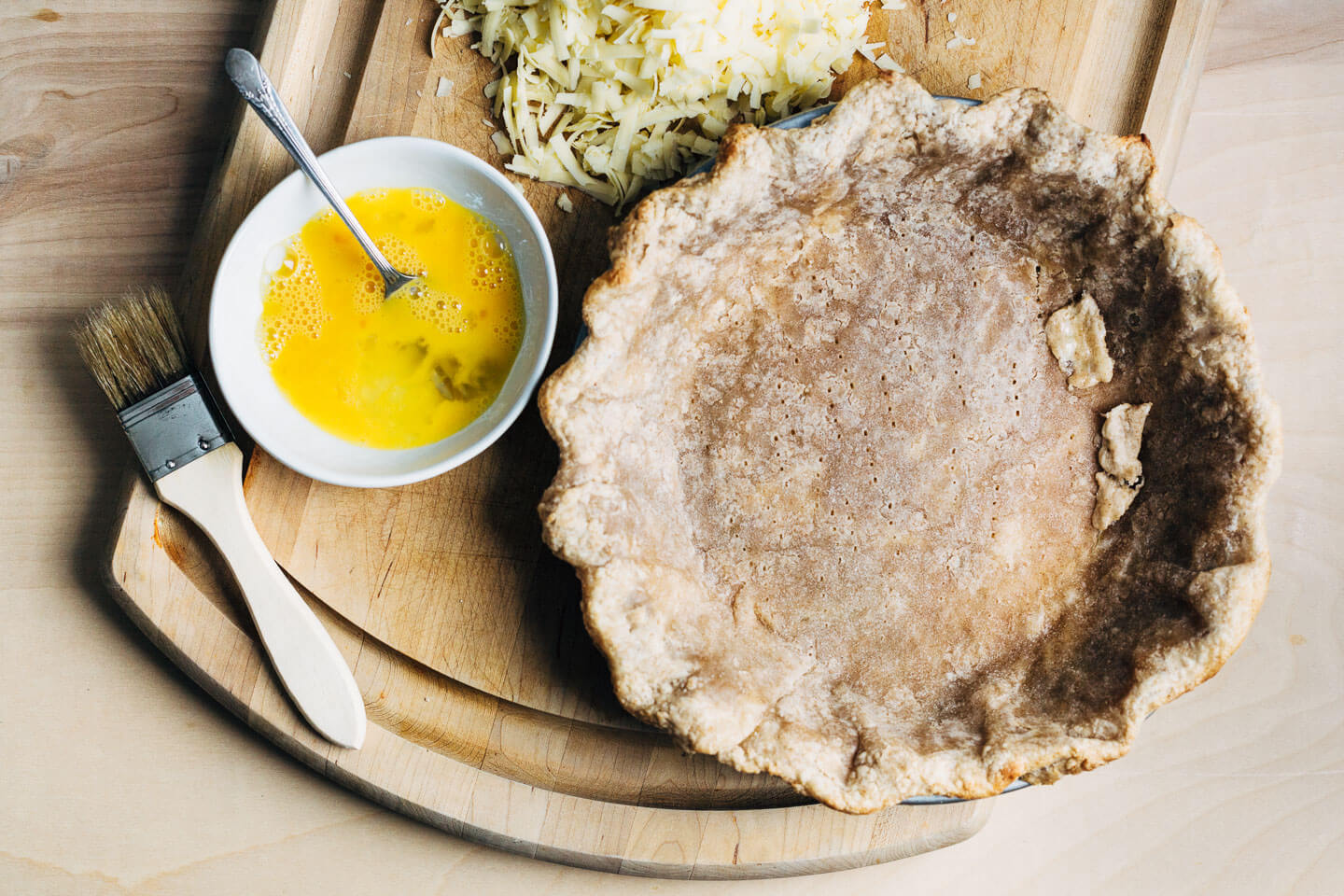 Roasted Tomato Pie
Here's the thing about tomato pie: it's nearly impossible to make one with fresh tomatoes that isn't soggy. So this recipe calls for them to be roasted first (I've borrowed the idea of roasting the tomatoes alongside the blind baking crust from this tomato pie recipe on the Kitchn). You get the superior texture and deeply concentrated flavor of a roasted tomato without taking up too much extra time.
Other than that, my roasted tomato pie is essentially a quiche. I've used a mix of cream and Greek yogurt in the filling because I like the way the tang of the yogurt sits against the beautiful acidity of the tomatoes. It's a little lighter and brighter than a traditional quiche. There's also a really nice aged cheddar in the mix – the kind with a sharp edge and little crackly bits. All these elements serve as the ideal backdrop for rich tomato flavor that blooms with each bite.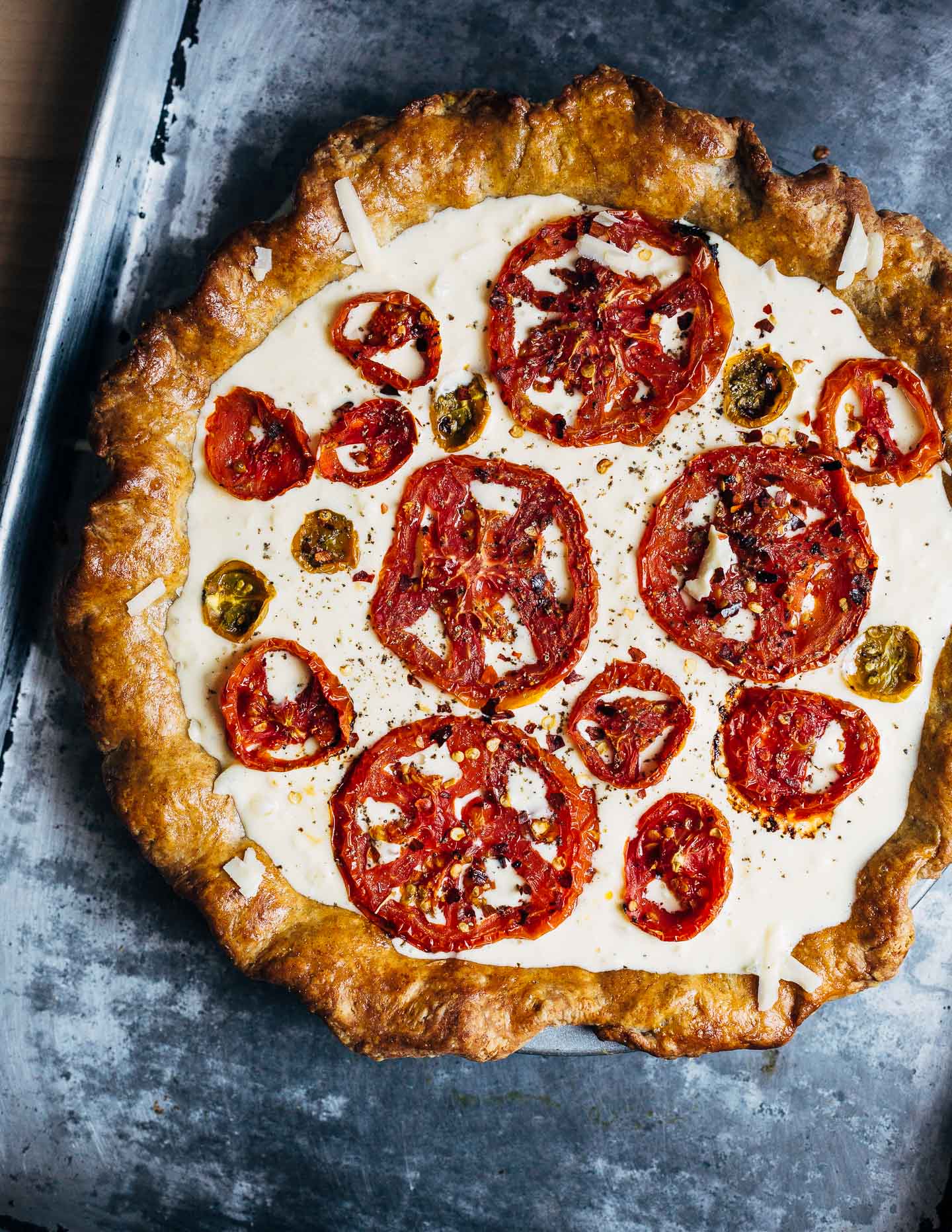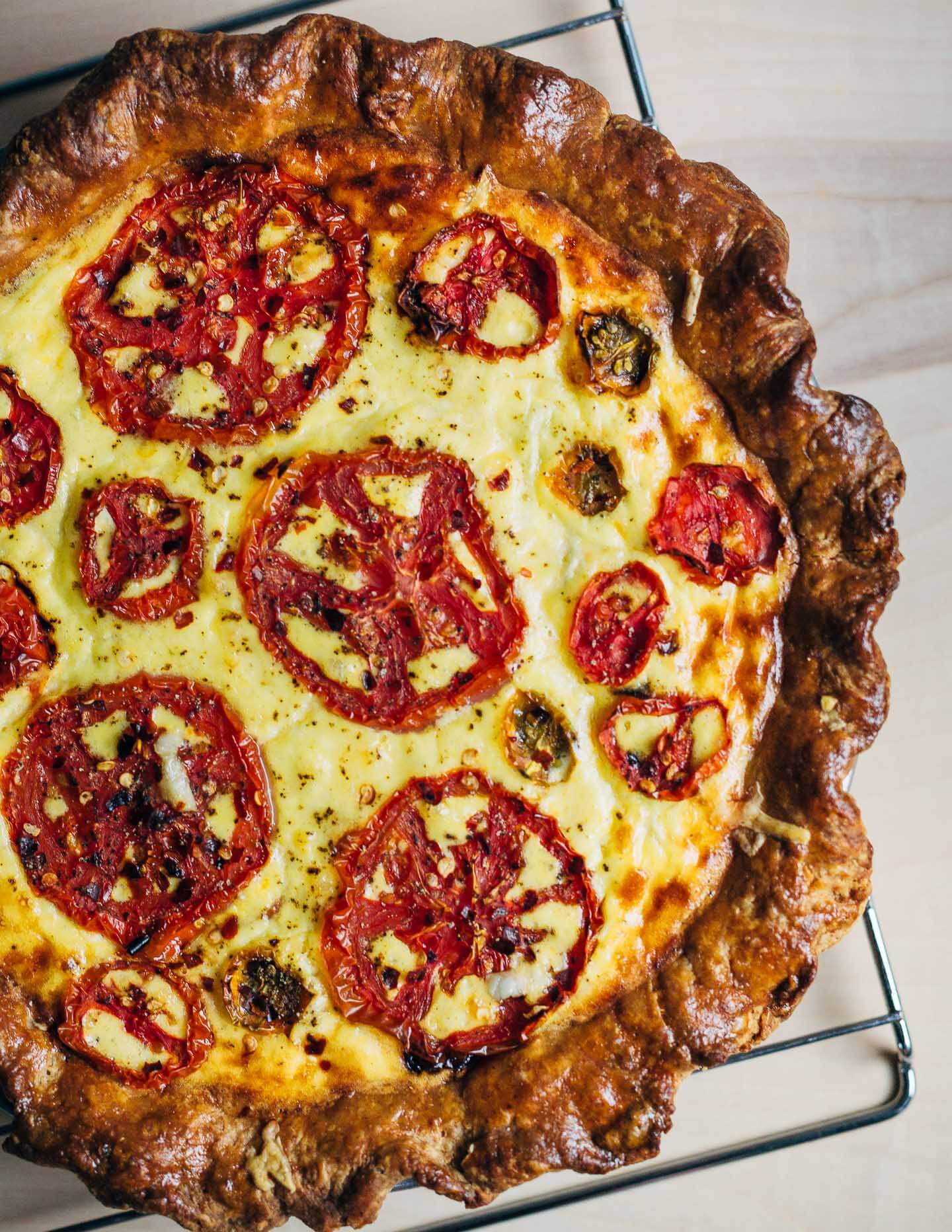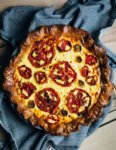 Roasted Tomato Pie
A deeply savory tomato pie that harnesses the acidic, faintly sweet edge of perfectly ripe summer tomatoes. There's also a flaky whole wheat crust, eggs with bright orange yolks, and handfuls of sharp cheddar.
Since your pie pan will need to go from freezer to hot oven, I recommend a metal pie pan.
This recipe is very versatile and can be made with nearly any kind of tomato, just be sure to swipe out as many seeds as you can before roasting.
Ingredients
Crust
¾

cup

all-purpose flour

½

cup

whole wheat flour

(or use all-purpose)

1

tablespoon

sugar

1/2

teaspoon

sea salt

5 - 6

tablespoons

ice water

8

tablespoons

unsalted butter,

cold

1

egg,

lightly beaten
Roasted Tomatoes
1

tablespoon

olive oil

2

pounds

tomatoes,

cored seeded, and sliced 1/4-inch thick

½

teaspoon

salt

½

teaspoon

black pepper

½

teaspoon

red pepper flakes
Filling
2

tablespoons

minced yellow onion

3

large eggs

1

cup

Greek yogurt,

full or non-fat is fine

1/2

cup

heavy cream

8

ounces

sharp cheddar cheese,

grated (about 2 cups), divided

1

teaspoon

Dijon mustard

½

teaspoon

black pepper
Instructions
Crust
To make the crust, whisk to combine flour, sugar, and sea salt in a large bowl. With a course grater, grate in the butter. Rub into flour mixture with fingertips until well combined. Drizzle in ice water a little at a time, folding into flour mixture with a silicone spatula. Add just enough so that the mixture holds together in a rough, floury ball.

Turn dough out onto a lightly floured surface and gather into a disk. Cover tightly with plastic wrap. Chill dough in the fridge for 30 minutes or as long as 5 days.

On a lightly floured piece of parchment paper, roll the crust into a 14-inch circle. Fold into quarters and then unfold in a 10-inch metal pie pan. Press dough into pan. Trim crust to a 1-inch overhang, tuck edges under along the rim and crimp. Use the tines of a fork to punch holes all over. Chill pie crust in the freezer for 30 minutes or longer.
Pie
When ready to bake the pie, move two baking racks to the top half of the oven and preheat to 425 degrees F. Prep the tomatoes. Line a rimmed baking sheet with parchment and brush with olive oil. As you core and slice the tomatoes, remove as many seeds as you can. Arrange on the baking sheet. Sprinkle with sea salt, black pepper, and red pepper flakes.

Slide tomatoes onto the top rack of the oven while you prep the crust.

Set the frozen crust on a rimmed baking sheet, line the inside of the crust with parchment, and fill with pie weights, dry beans, or rice. (I keep a couple jars of "pie beans" that I use over and over for pie weights.)

Bake both crust and tomatoes 15 minutes. Remove pie weights, brush crust with a lightly beaten egg, and sprinkle the bottom with ¼ cup grated cheddar. Cook 7 minutes more. Remove tomatoes and crust from the oven and set both aside to cool completely. (You want the tomatoes to be nice and dry with deep golden edges, but not burnt, so give them and extra 5 minutes in the oven if you need to.)

When ready to make the pie, heat the oven to 350 degrees F. Vigorously whisk the eggs, yogurt, cream, and Dijon. Fold in the remaining cheese. Set crust on a rimmed baking sheet, carefully pour in a third of the egg mixture. Add a layer of roasted tomatoes. Repeat the process for another layer, and top the pie with all the remaining tomatoes (or enough to fill the top – you may have a few slices leftover).

Carefully slide into the oven and bake 30 - 40 minutes, or until the center 4 inches have just a bit of movement.

Cool 1 hour or longer, slice, and serve. If desired, sprinkle with fresh herbs like basil, thyme, or parsley just before serving.