In partnership with Emmi USA, we're celebrating the height of tomato season with sumptuous aged Kaltbach Gruyere and roasted tomato tartines. An ode to a classic grilled cheese, these tartines feature jammy roasted tomatoes and melted Emmi Kaltbach Le Gruyere atop thick-cut sourdough smeared with garlic butter and fresh herbs.
Peak summer means a deluge of fresh produce, and sometimes I find it hard to keep up. Unlike past years, I've actually been doing an excellent job eating through my CSA share each week. But when it comes to all the beautiful berries and stone fruits and tomatoes coming in right now, I start to feel overwhelmed by my need to make each seasonal moment count.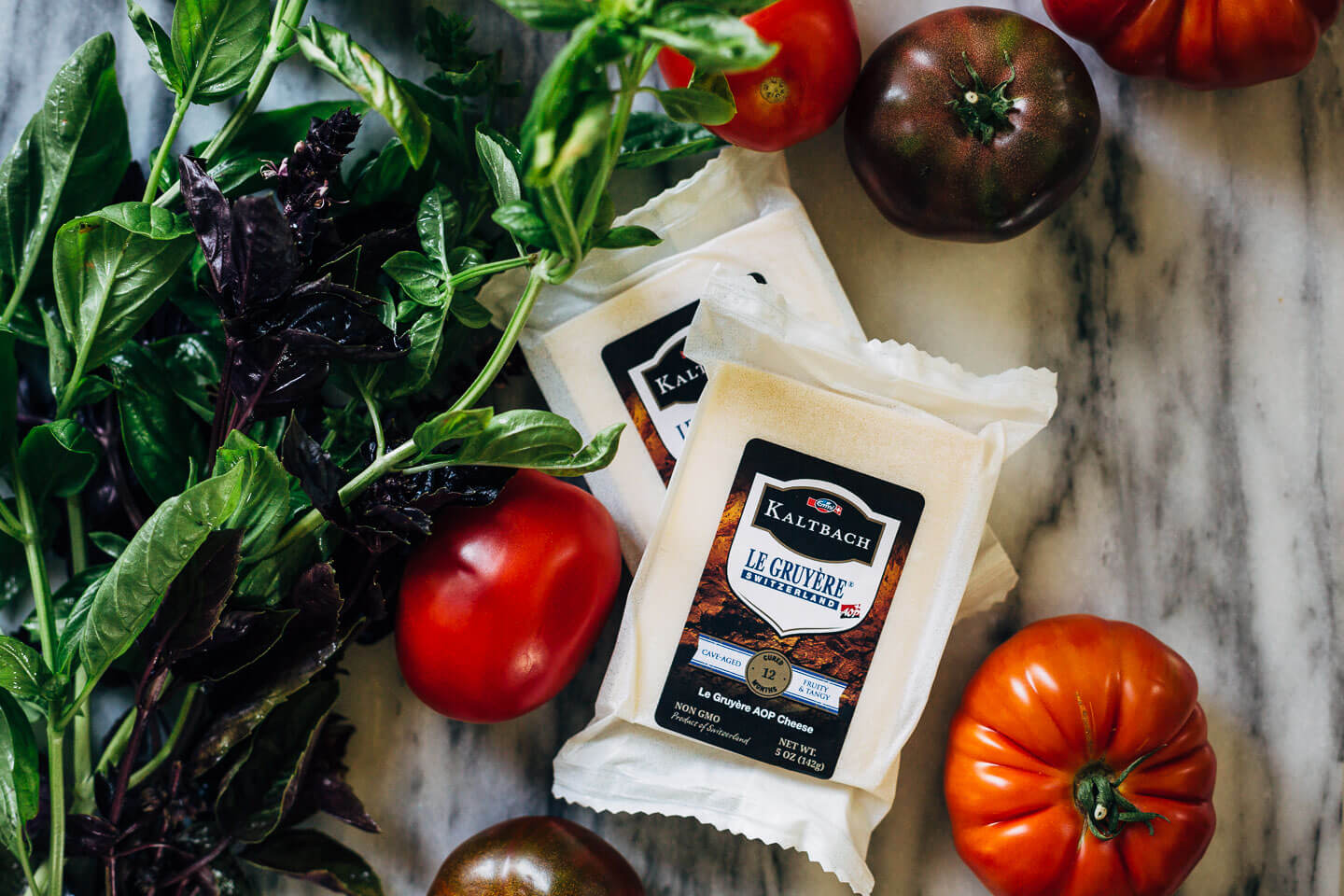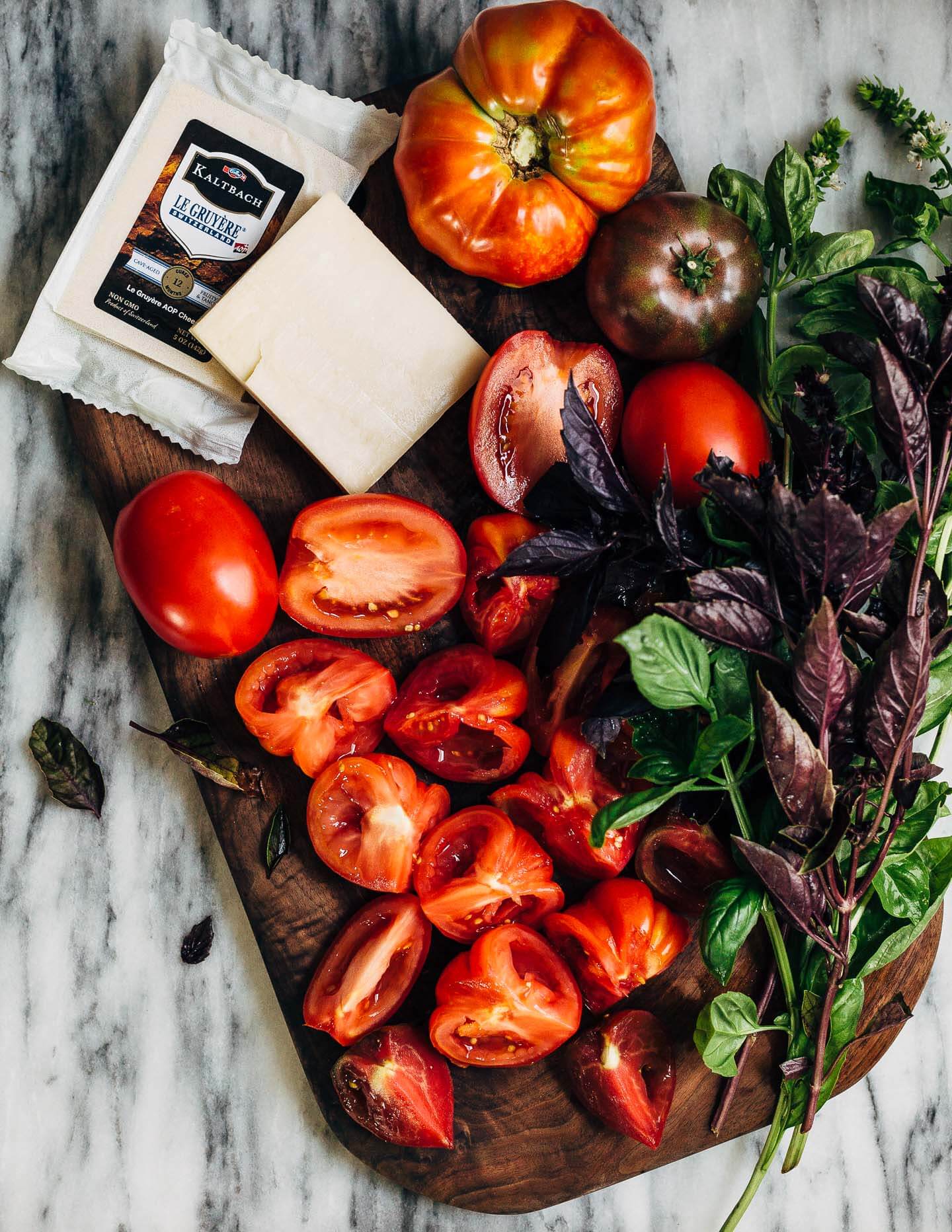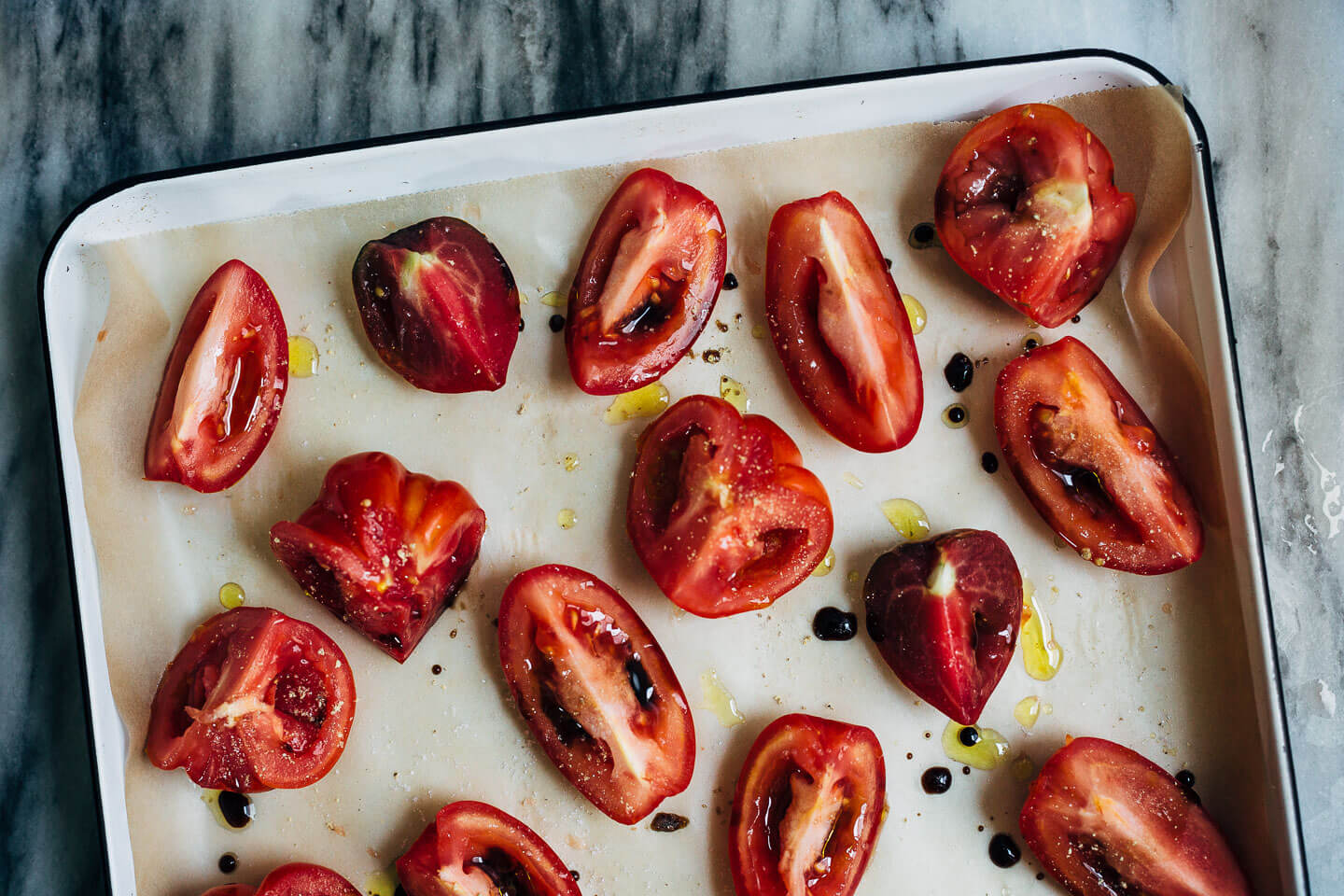 Most years I preserve as many tomatoes as I can, but this year is too chaotic for all that. Instead, I'm doing my best to enjoy our tomato harvest right off the vine. I've been slicing tomatoes and eating them right away in salads or on sandwiches, and now, deep into August, I've moved on to cooking them. If you're willing to brave the added heat of the oven, roasted tomatoes are a sublime addition to nearly anything. Crisp browned edges give way to a supple interior that's complex, jammy, and brightly sweet with concentrated acidity.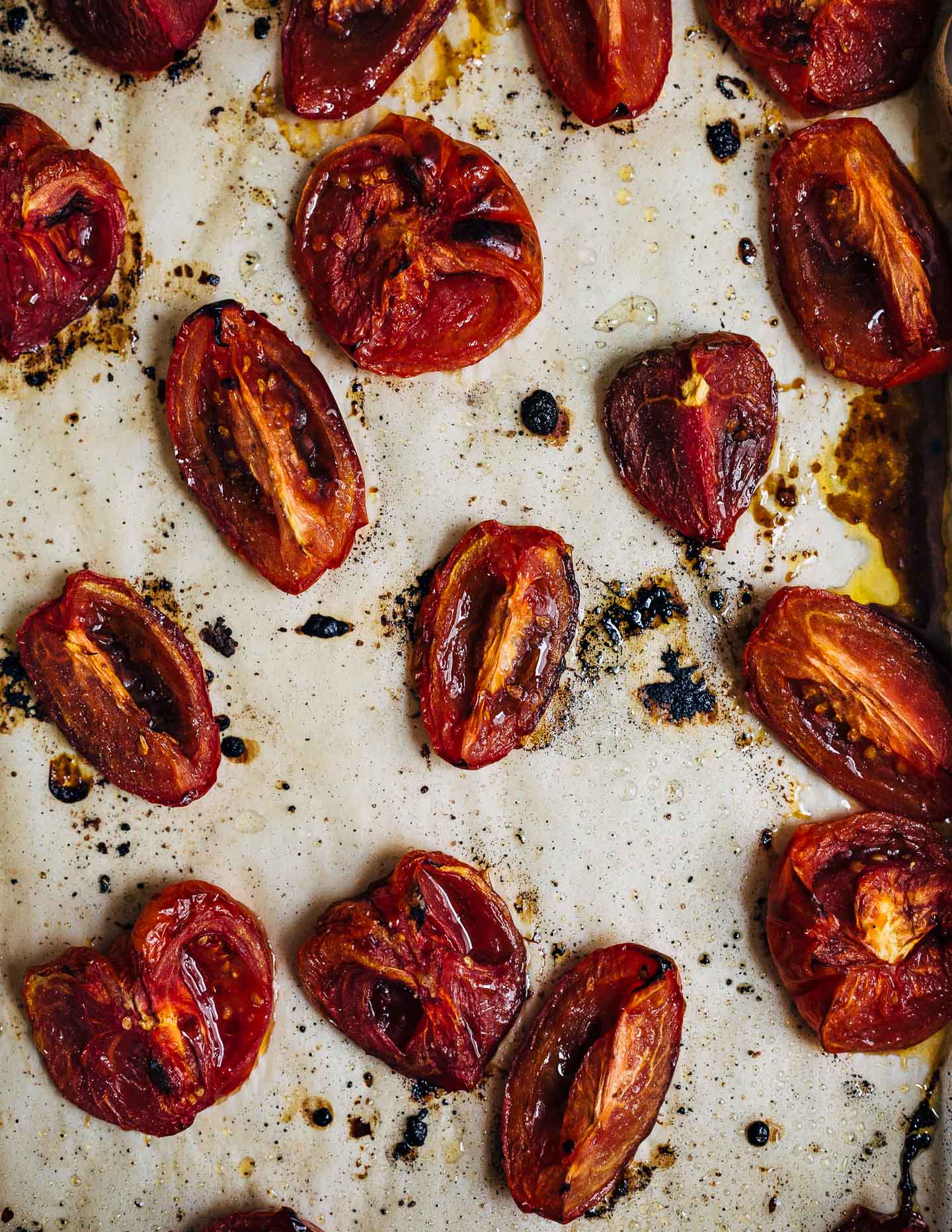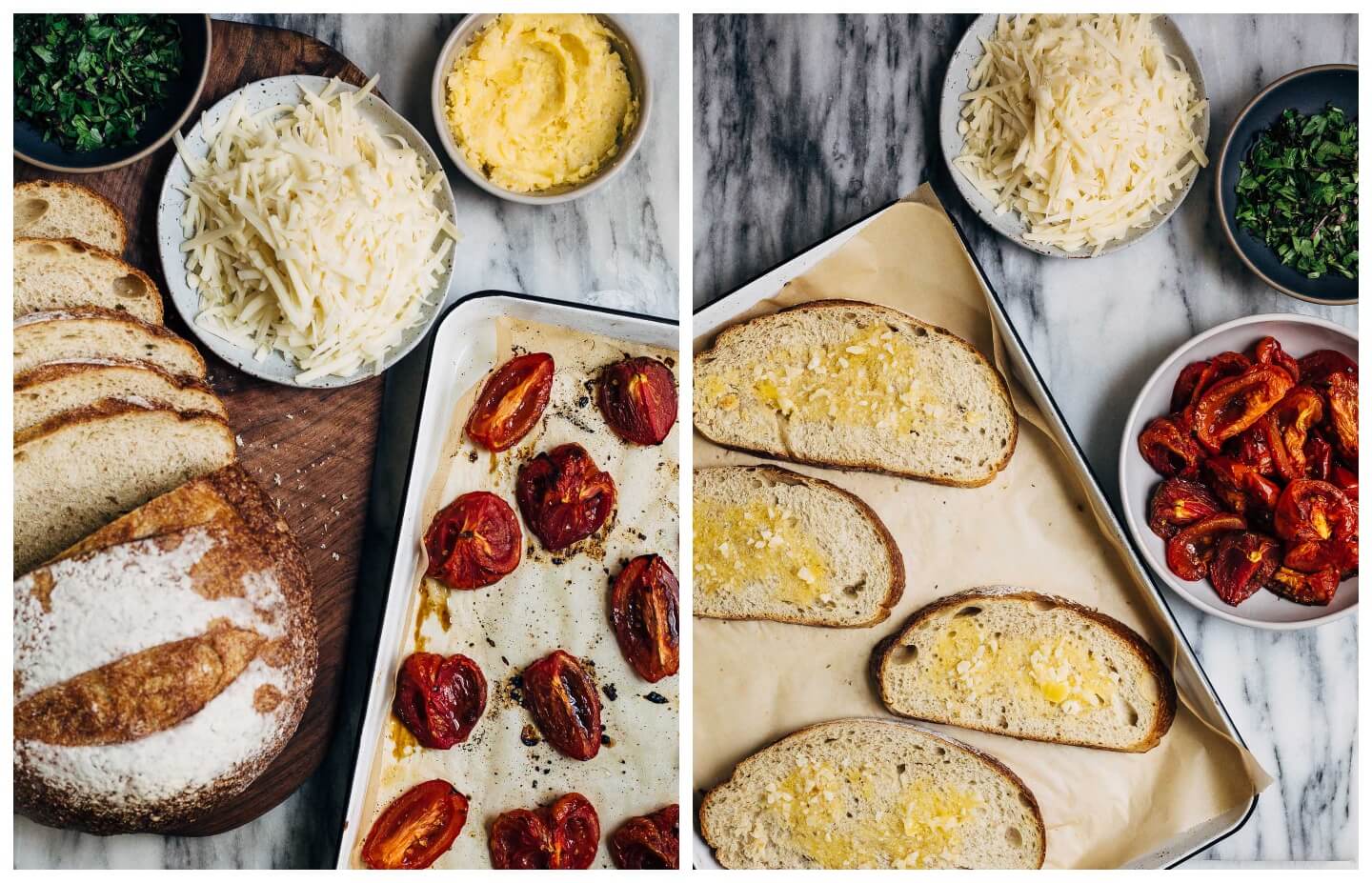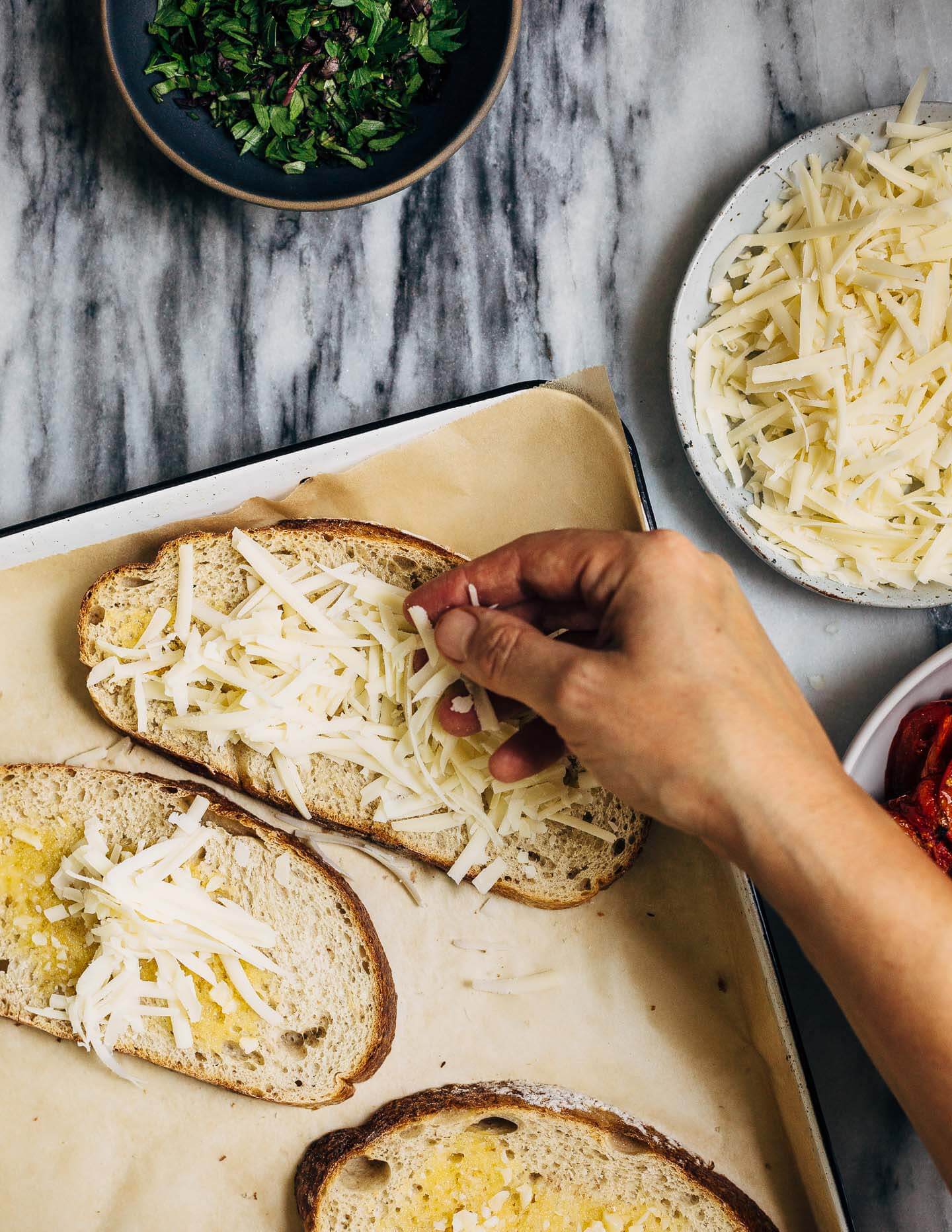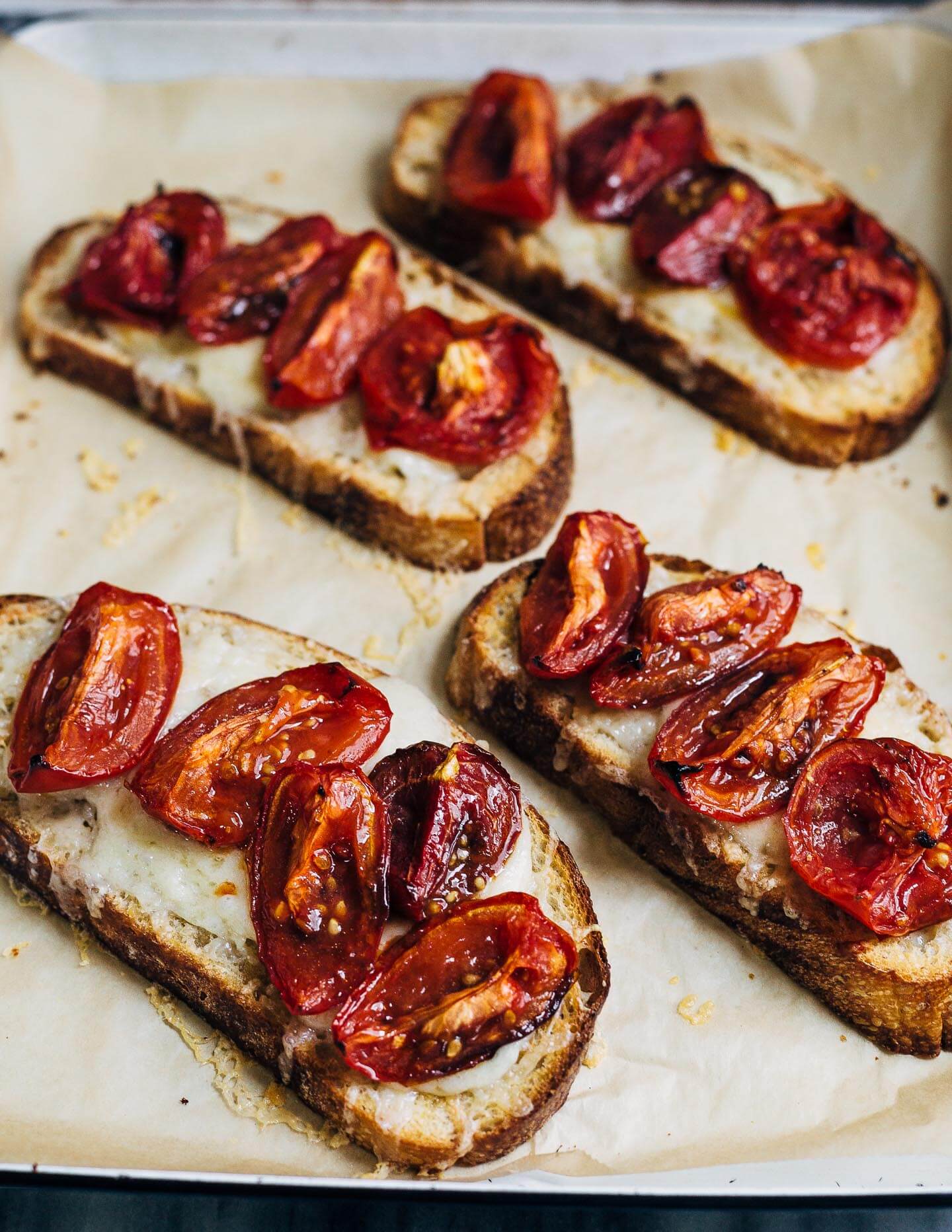 Cave-aged Emmi Kaltbach Le Gruyere offers a wonderful counterpoint to roasted summer tomatoes. Creamy, with notes of dried fruit and hazelnut, this aged cheese lends earthiness and depth of flavor, balancing the tomatoes' complexity perfectly. Kaltbach Gruyere melts well and makes for a decadent grilled cheese, but here, I've taken things even further with assertive fresh garlic butter (and just a pinch of mustard powder) and handfuls of fresh herbs. The resulting tartines have a multitude of rich flavors. I love that such complexity arises not from any difficult labor, but just the simple juxtaposition of great ingredients. These cave-aged Kaltbach Gruyere and roasted tomato tartines are exactly what summer eating should be.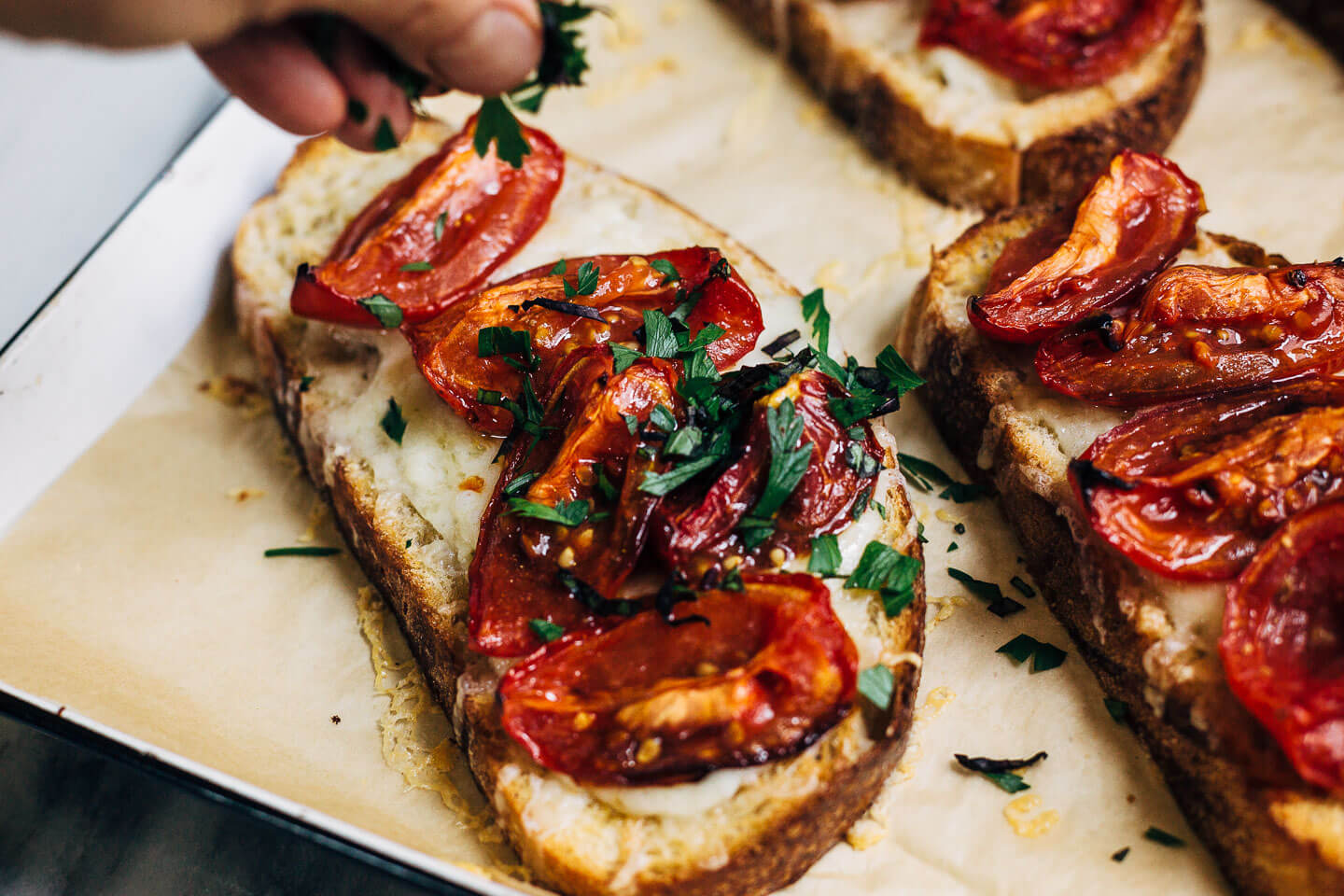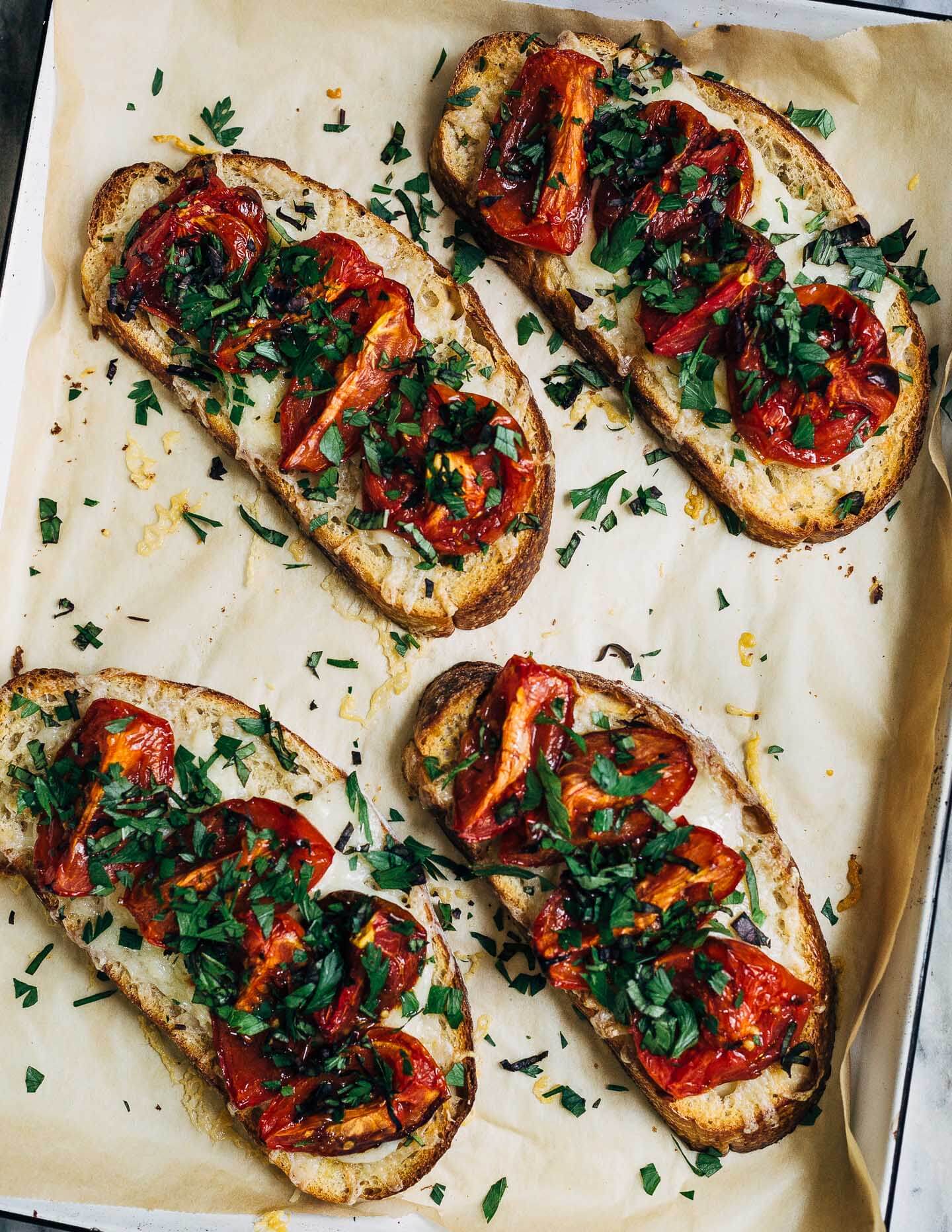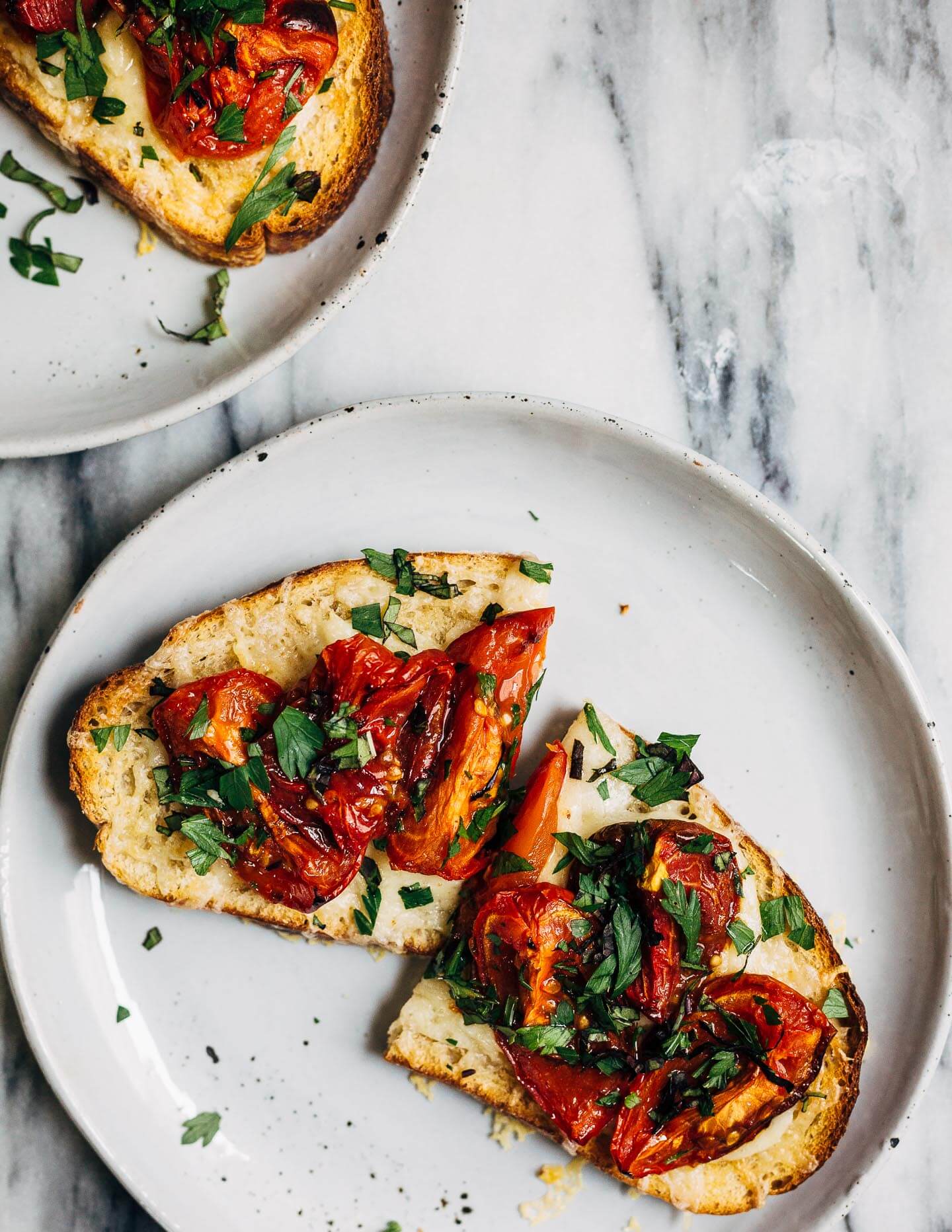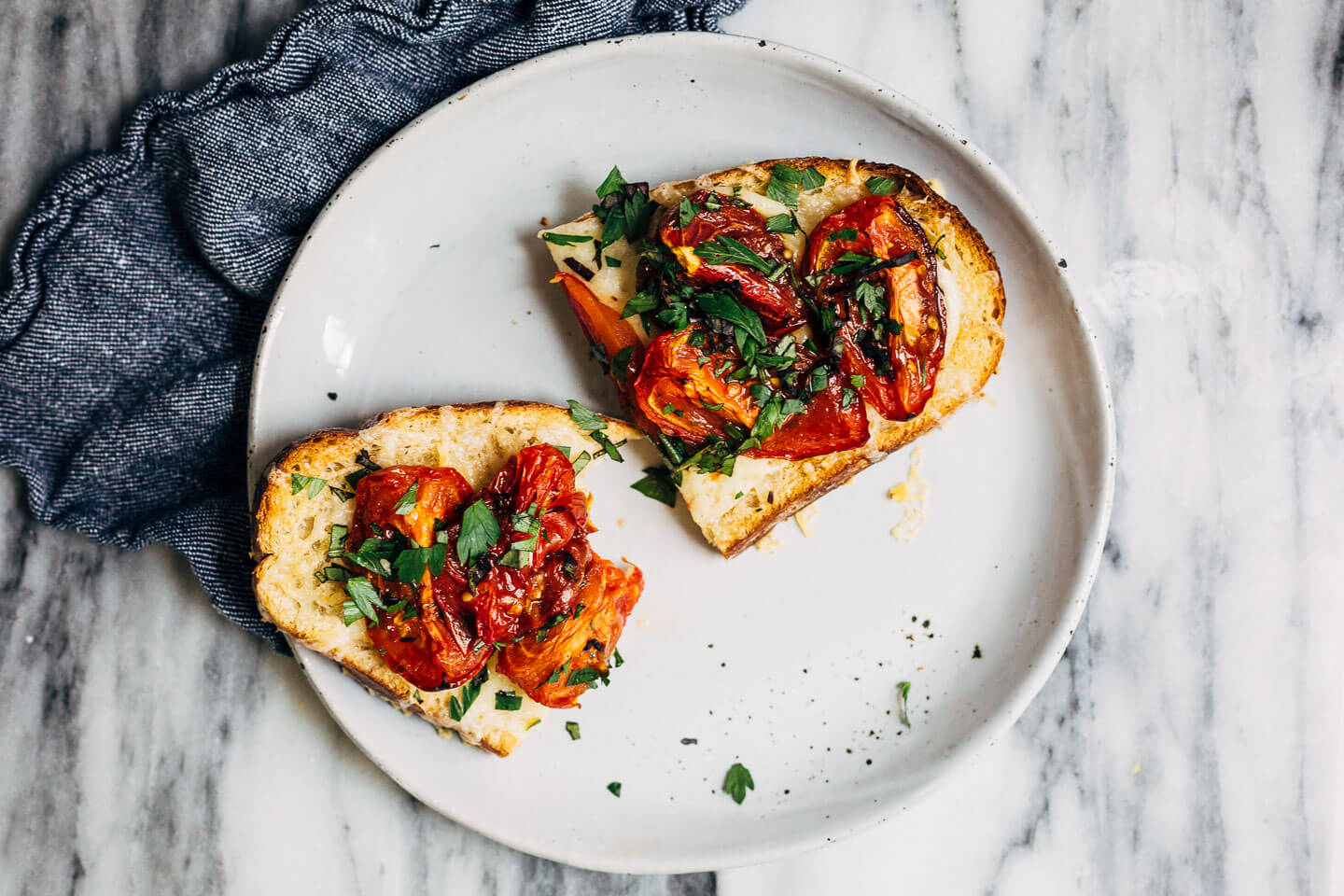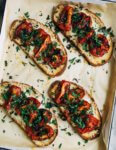 Gruyere and Roasted Tomato Tartines with Garlic Butter
An ode to a classic grilled cheese, these roasted tomato tartines are made with thick-cut sourdough smeared with punchy garlic butter and topped with melted Emmi Kaltbach Le Gruyere, jammy roasted tomatoes, and fresh herbs.
Ingredients
4

tablespoons

unsalted butter

4

cloves

garlic,

smashed, peeled, and minced

1

teaspoon

sea salt,

divided

1/4

teaspoon

mustard powder

2

pounds

firm tomatoes,

preferably a paste variety such as Roma, quartered or halved

2

teaspoons

olive oil

1

teaspoon

balsamic vinegar

1/2

teaspoon

freshly cracked white pepper,

reduce amount by half if using black pepper

4

slices thick-cut sourdough bread

6

ounces

Emmi Kaltbach Le Gruyere,

shredded
Instructions
Preheat oven to 450 degrees F. Line a large baking sheet with parchment and set aside.

In a small saucepan, melt butter over medium heat. Stir in garlic, mustard powder, and 1/2 teaspoon sea salt. Cook 2 minutes, stirring until salt has dissolved. Spoon mixture into a small bowl and set in fridge to chill.

Use your fingertip to scoop seeds and juices from tomatoes. Arrange on prepared baking sheet. Drizzle with olive oil and balsamic. Sprinkle tomatoes with 1/2 teaspoon sea salt and 1/2 teaspoon white pepper.

Roast tomatoes until edges have browned and tomatoes have released their juices, 30 - 40 minutes. Remove from oven and set aside. When tomatoes are cool enough to handle, set them on a platter or cutting board to cool. Line the baking sheet with a fresh sheet of parchment.

Slide bread into the hot oven and toast 5 minutes.

Arrange toast on prepared baking sheet. Spread 1 tablespoon garlic butter on top of each slice. Divide shredded Gruyere between slices. Slide into oven and bake 4 - 5 minutes, or until cheese is bubbling and melted.

Top each slice with 4 roasted tomatoes. Finish with minced herbs and a few twists white pepper. Serve immediately.