Keep winter eating interesting with this Whole30-compliant recipe for roasted Romanesco broccoli paired with a creamy vegan sunflower seed dressing made with soaked sunflower seeds and fresh Meyer lemons. 
I need to whisper something very quietly here. I'm sure that anything but a whisper, especially a grand pronouncement, will undo the magic. You see, after what feels like years of constant bickering, trips thwarted on account of unceasing whining, and general uncooperativeness, my two daughters (ages 6 and 10) are getting along. And being legitimately helpful. And mostly brushing their teeth, though thorough hand washing technique does seem to elude our youngest. Like everything else having to do with kids, this is probably a phase that will pass, but for now, it's delightful.
This spirit of benevolence is even present at the dinner table. My 10 year-old, trying something new, often says things like, "This is really good, Mom. I like the sauce." After years of eye rolling and complaints about ever-present vegetables, it's gratifying to know that the food I make each evening might actually be enjoyed. (The reverse of this is that all the meals Brian and I have made that weren't pizza or pasta weren't enjoyed, but whatever.)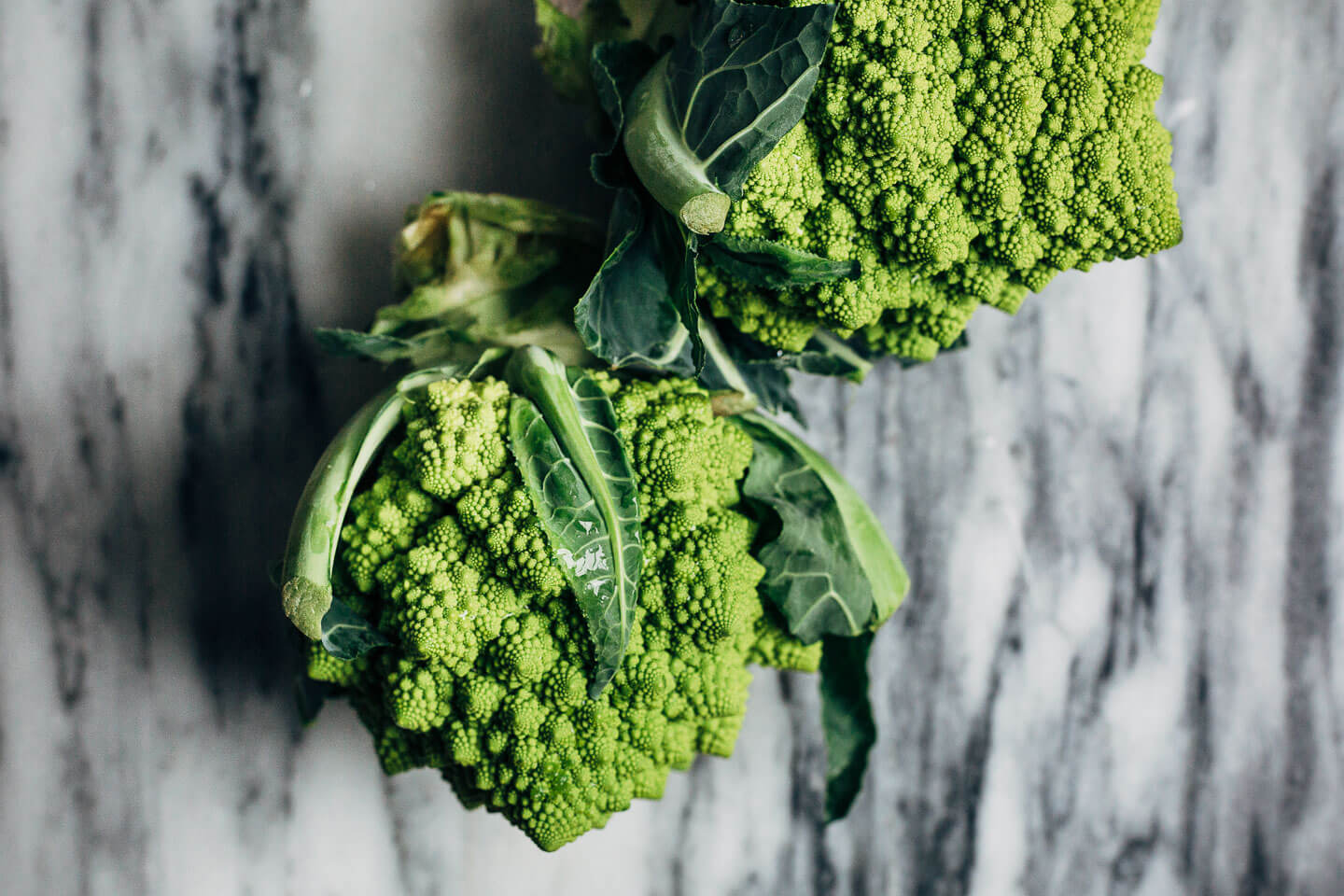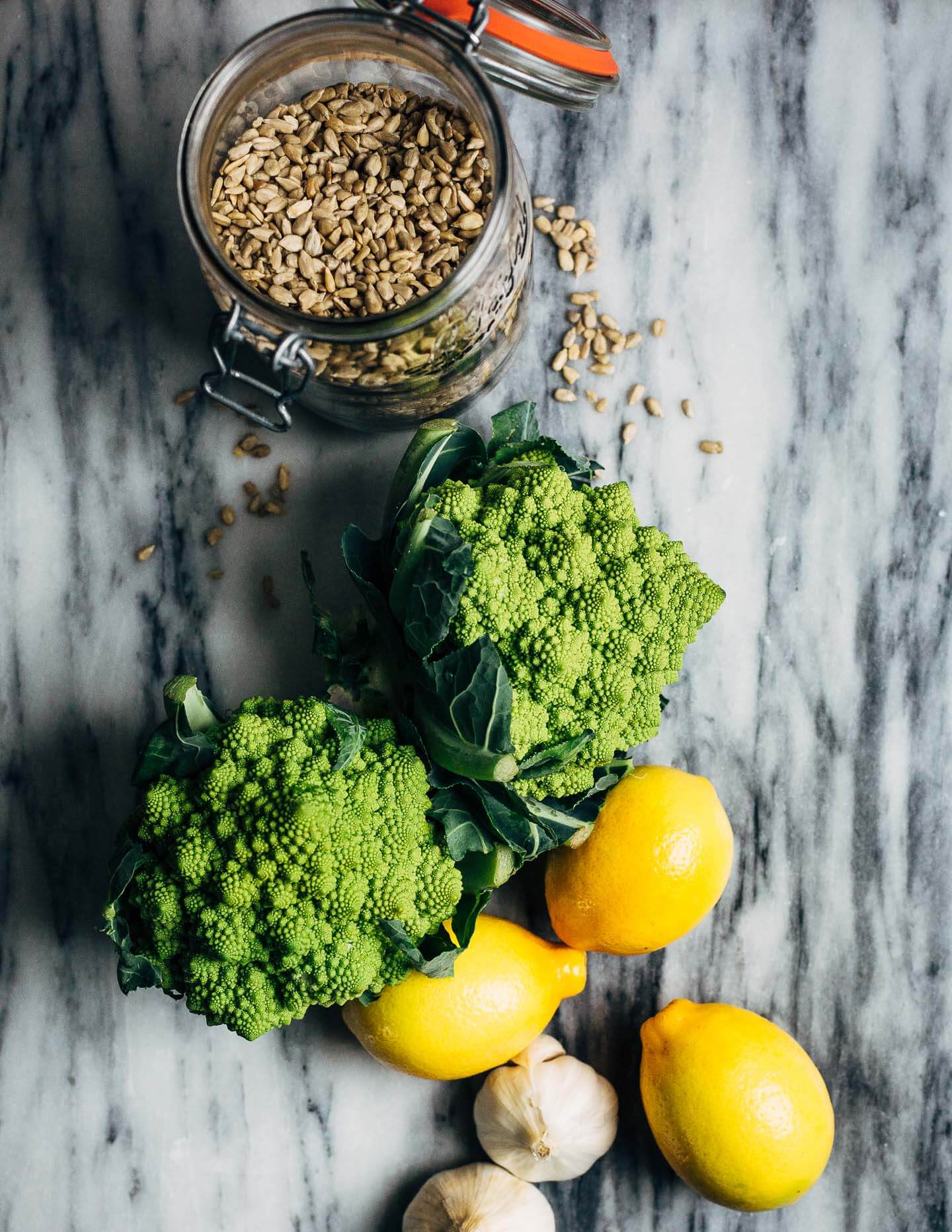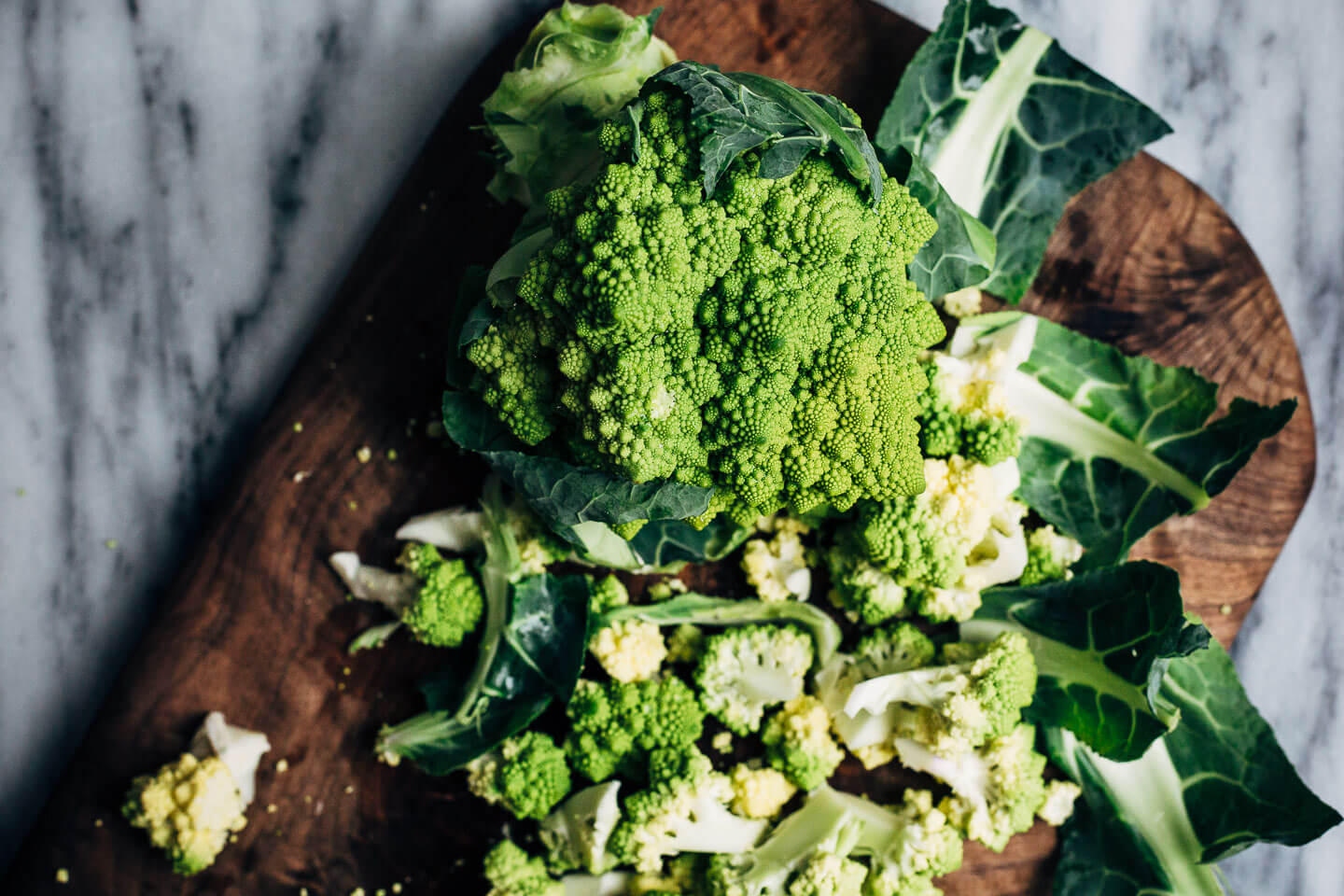 I'm doing a Whole30 this month and our recent dinners have been extremely vegetable forward. Plain healthy food bores me to death, so I'm always creating punchy sauces and dressings to keep things lively. And so far, the kids have been surprisingly into our meals. This warm roasted Romanesco salad with creamy Meyer lemon and sunflower seed dressing is one of our new favorites.
Romanesco, also called Romanesco broccoli, is often compared to its namesake, but I find it's closer in taste and texture to cauliflower. It has the same creamy-tasting stem, while the florets have just a bit more depth than cauliflower. Buying Romanesco is also a great way to make friends – everybody is fascinated buy it's intricate fractals and supercharged chartreuse color. The sunflower seed and Meyer lemon dressing is smooth and creamy and totally dairy-free. Meyer lemons lend their ideal blend of sour and sweet flavors, while soaked sunflower seeds blend into a wonderfully creamy dressing that's great fro dipping and dressing every vegetable you can find.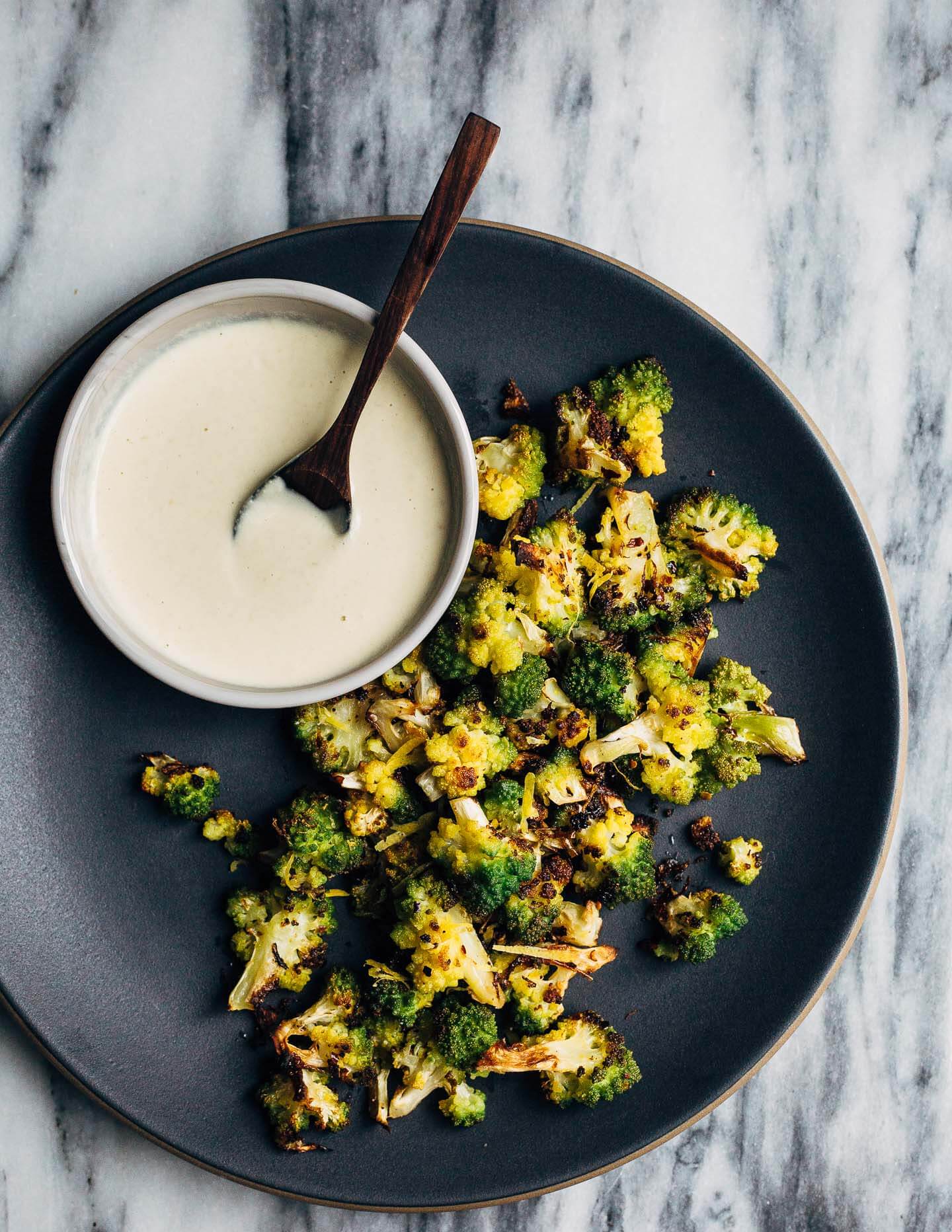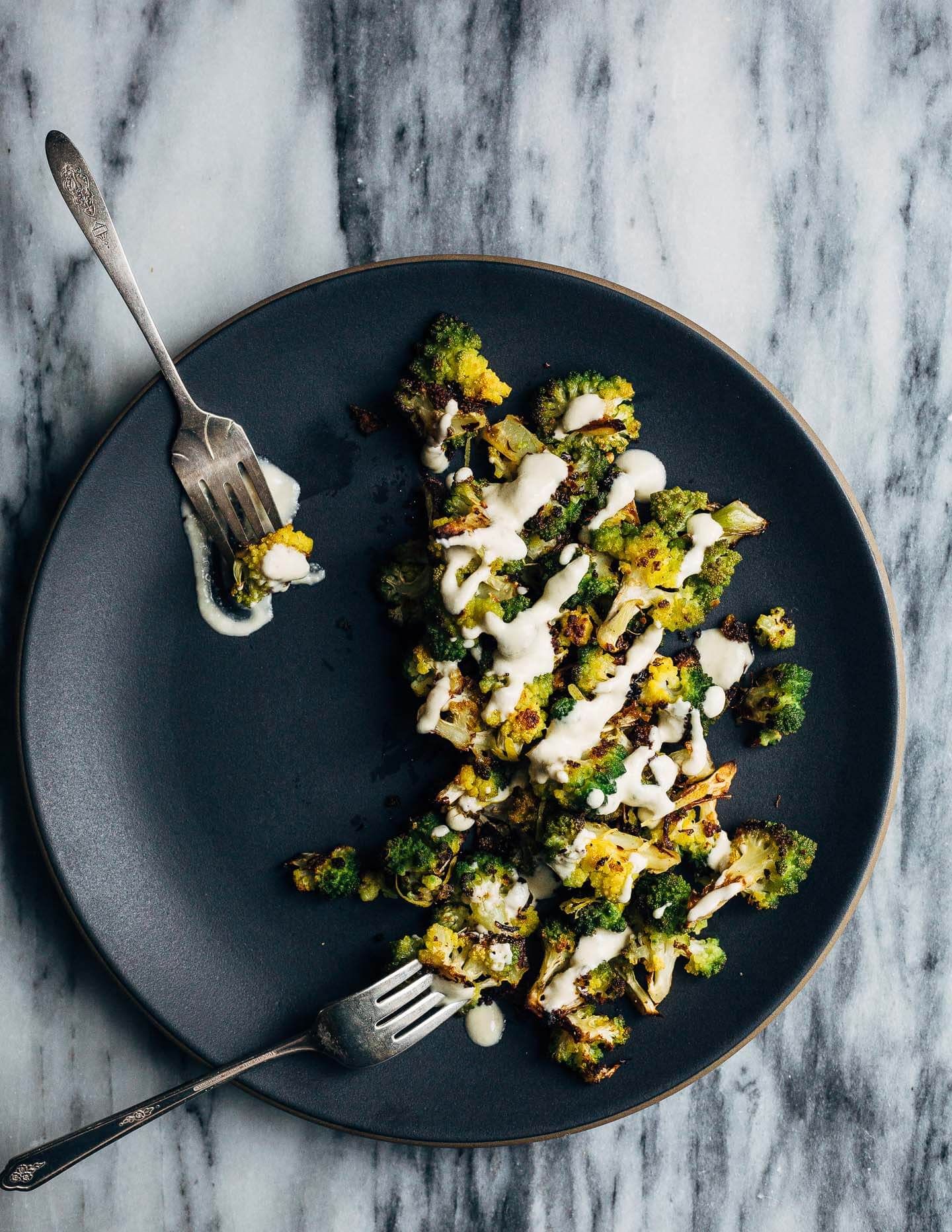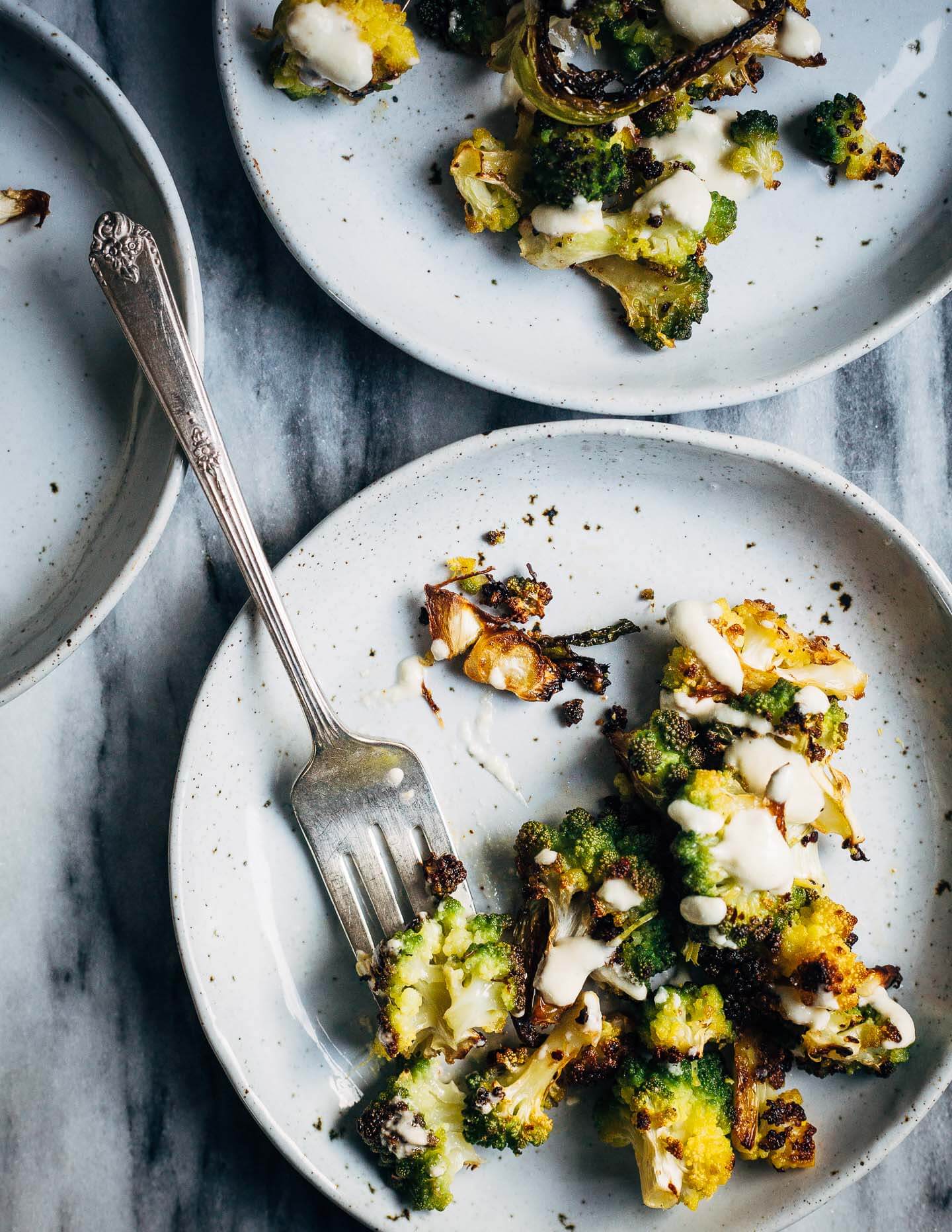 If you're with me in the Whole30 thing or just looking for satisfying, healthful recipes, check out all of our Whole30 recipes here.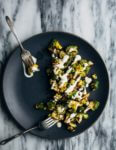 Roasted Romanesco with Creamy Meyer Lemon and Sunflower Seed Dressing
Keep winter eating interesting with this simple Whole30-compliant recipe for smoky roasted Romanesco broccoli paired with a creamy vegan Meyer lemon and sunflower seed dressing. For best results, soak sunflower seeds overnight.
Ingredients
Roasted Romanesco
1

head Romanesco

(cauliflower with work well, too), cored and cut into 3/4-inch florets

2

tablespoons

extra virgin olive oil

1/2

teaspoon

sea salt,

plus more to taste

1/2

teaspoon

freshly ground pepper

1/4

teaspoon

chili powder

zest of 1 Meyer lemon

(reserve lemon for juice), divided
Sunflower Seed and Meyer Lemon Dressing
1/2

cup

sunflower seeds,

soaked overnight

zest of 1 Meyer lemon

1/2

cup

Meyer lemon juice

(from 2 - 3 large lemons)

4

cloves

garlic,

smashed, peeled, and minced

2

tablespoons

rice wine vinegar

2

tablespoons

extra virgin olive oil

1/2

teaspoon

sea salt
Instructions
Soak sunflower seeds in cold water overnight. Strain and rinse thoroughly. Set aside.

To make dressing, combine sunflower seeds, Meyer lemon zest and juice, garlic, rice wine vinegar, olive oil and sea salt in the pitcher of a blender and blend on high until smooth. Taste and add sea salt as needed. Mixture will thicken up when chilled in the fridge. There will be extra dressing – it keeps sealed in the fridge for 4 days.

Preheat oven to 425 degrees F. Move rack to the top third of oven.

Toss Romanesco florets with olive oil, half the Meyer lemon zest, and a generous pinch each sea salt and pepper. Scatter on 1 - 2 baking sheets, making sure each floret has an plenty of space. Roast 15 minutes. Flip florets and roast another 10 - 15 minutes, or until edges are deep golden brown and florets are fork tender.

Garnish Romanesco with reserved Meyer Lemon zest, drizzle with sunflower seed dressing, and serve.
SaveSave
SaveSave
SaveSave
SaveSave
SaveSave
SaveSave
SaveSave