Created in partnership with Wolf, these nutty rye chocolate chip cookies are made with fragrant toasted rye flour and a few extra drizzles of molasses.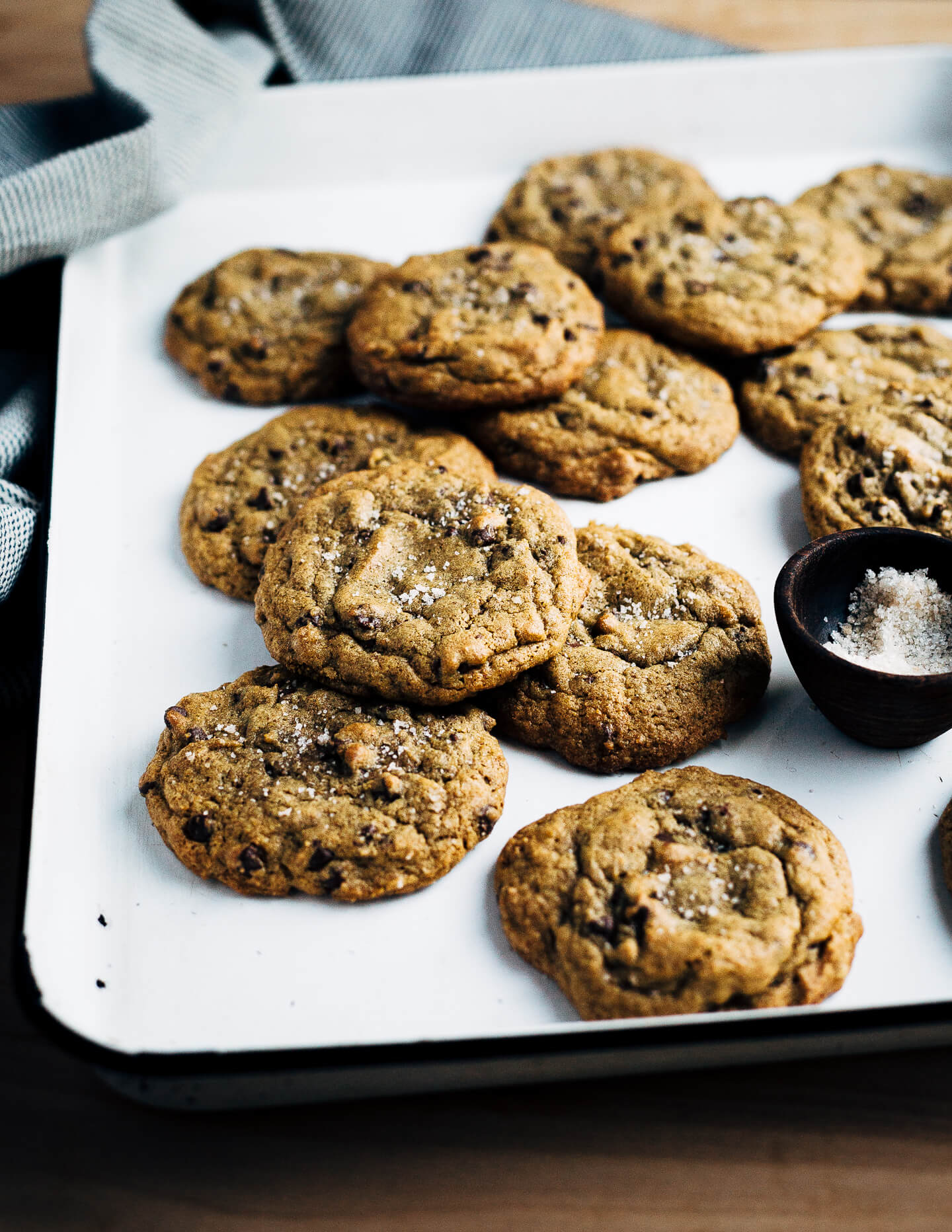 Jump to recipe.
For the past year, I've been working with Wolf on their Reclaim the Kitchen Initiative and it's gotten me thinking about my own family. Wolf aims to encourage everyone to do more cooking, whether by acquiring new skills or honing them. On their site, ReclaimtheKitchen.com, you'll find everything you need to make something homemade and delicious. Resources range from basics like how to stock a pantry to fundamental techniques like dicing an onion or making a roux. (Trust me when I tell you that it's all simpler than you might think.) And while I use these skills all the time, I haven't passed much of that knowledge on to my daughters.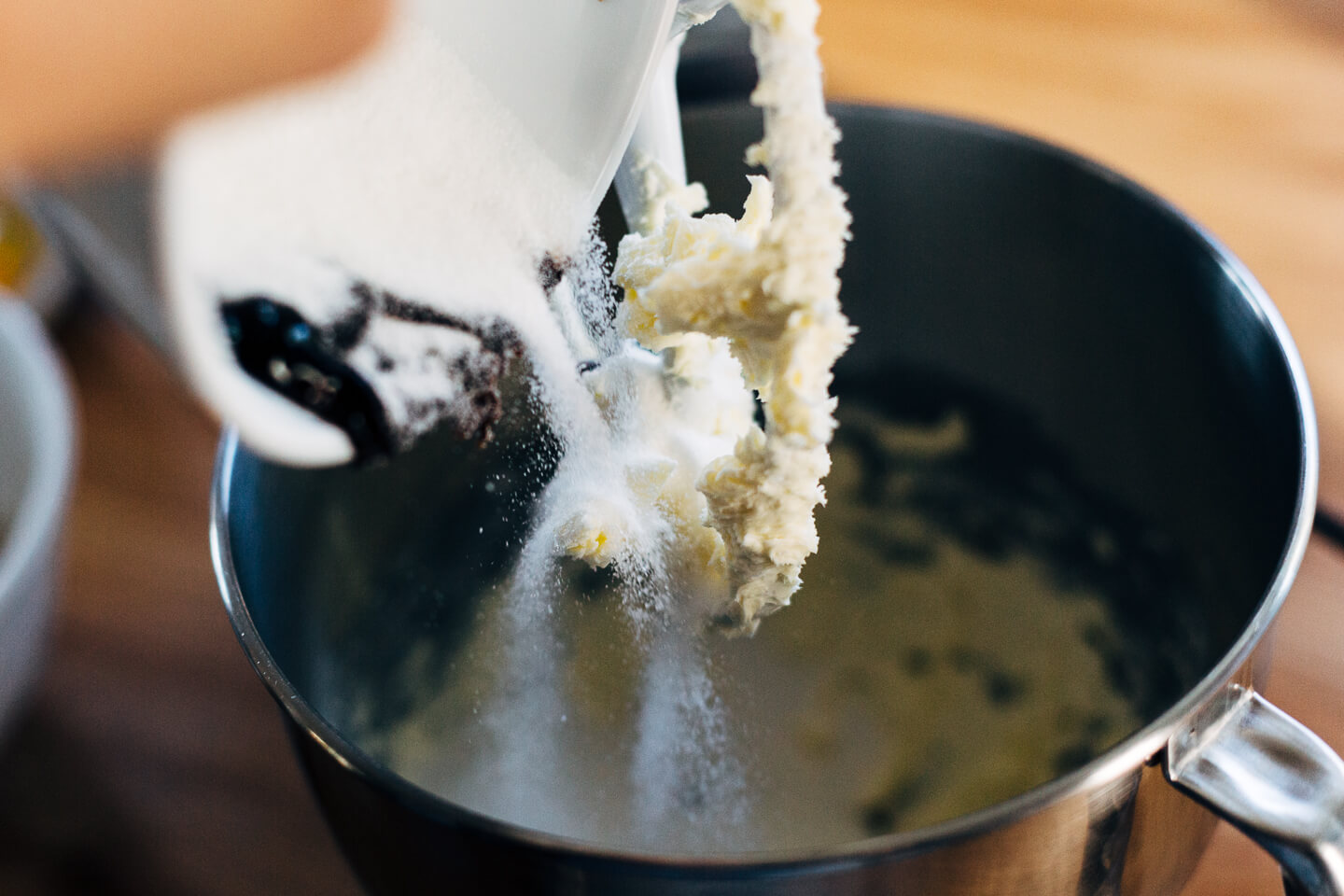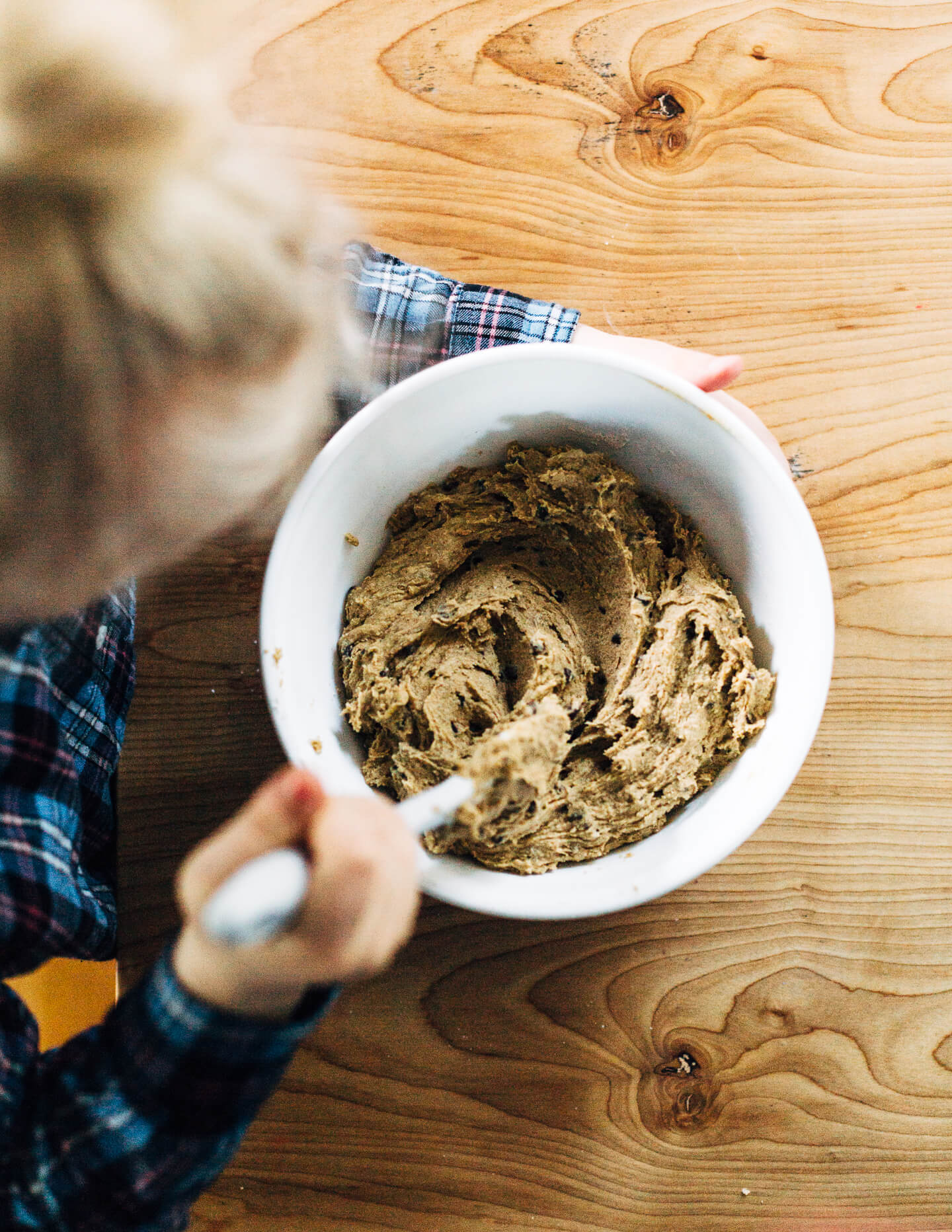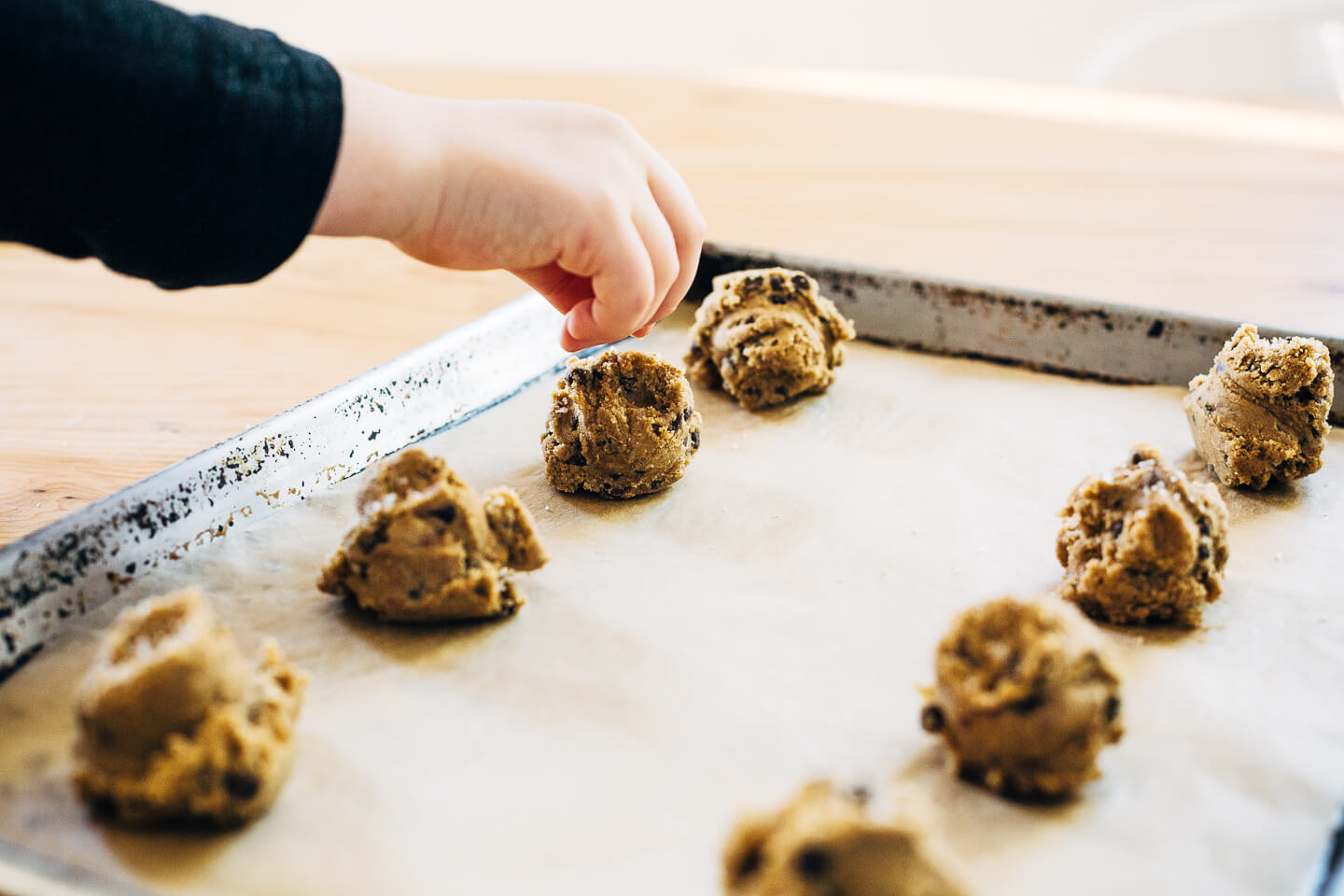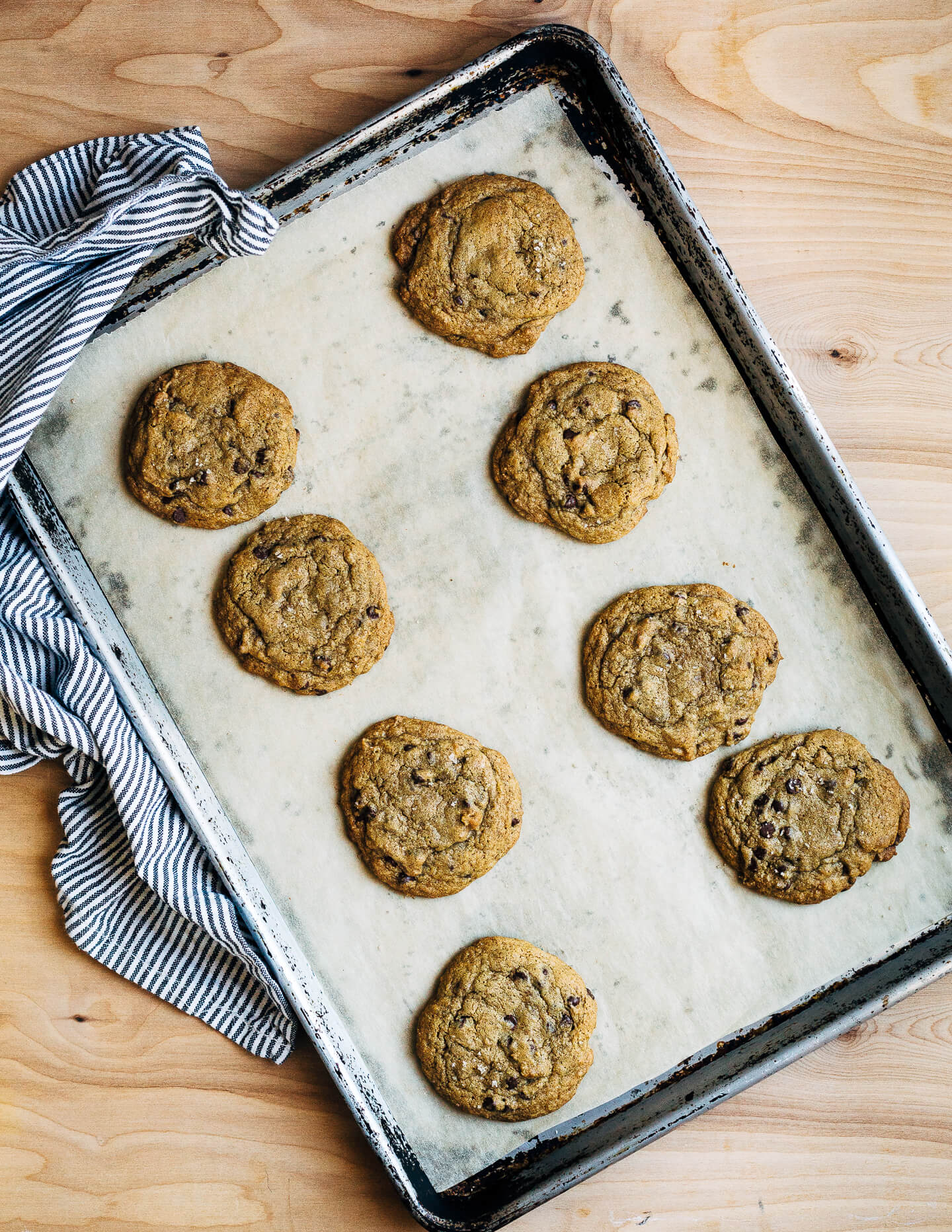 I want my kids to grow up as confident cooks. Not the kind of people whose parents cooked great food, but people who know how those recipes were made and can make them themselves, too. Somewhere along the way, though, I've become a control freak about the kitchen. I think of the kitchen as my personal space and strongly prefer all the messes there to be made by me. This attitude doesn't leave much room for encouraging my daughters to cook on their own. When they do cook, I tend to hover and micromanage their every step. This is a far cry from my afternoons as a latchkey kid baking up every cookie recipe in my mom's weathered copy of The Betty Crocker Cookbook, experimenting and making messes with abandon.
Knowing this, I'm trying to relax a little and give my daughters more freedom in the kitchen. My oldest has reserved Friday afternoons for baking adventures, while my six year-old is learning the basics of measuring and pouring, breaking eggs (and then getting little bits of shell out), and mixing. I'm hoping this knowledge will give them the confidence to cook and experiment for themselves as they get older.
One skill I've worked on in tandem with my six year-old is measuring. I know the adage "baking is science," and while I find plenty of wiggle room in pies and tarts, cakes and cookies need solid math to back them up. To get more consistency in the kitchen, and to make things simpler, I've started measuring dry ingredients by weight. This takes the guesswork out of things and makes for excellent cookies every time. (And – parenting secret here – it even involves a little real world math.)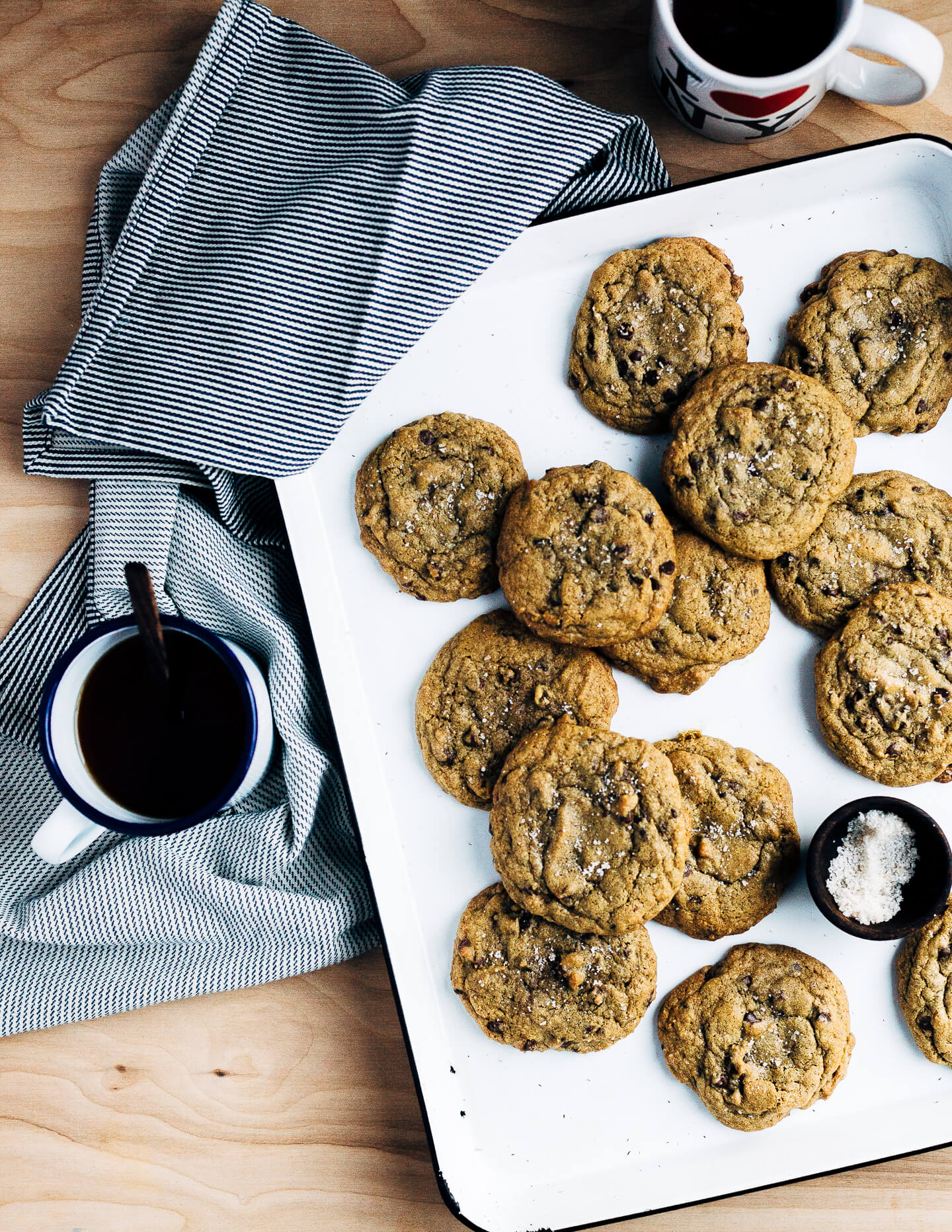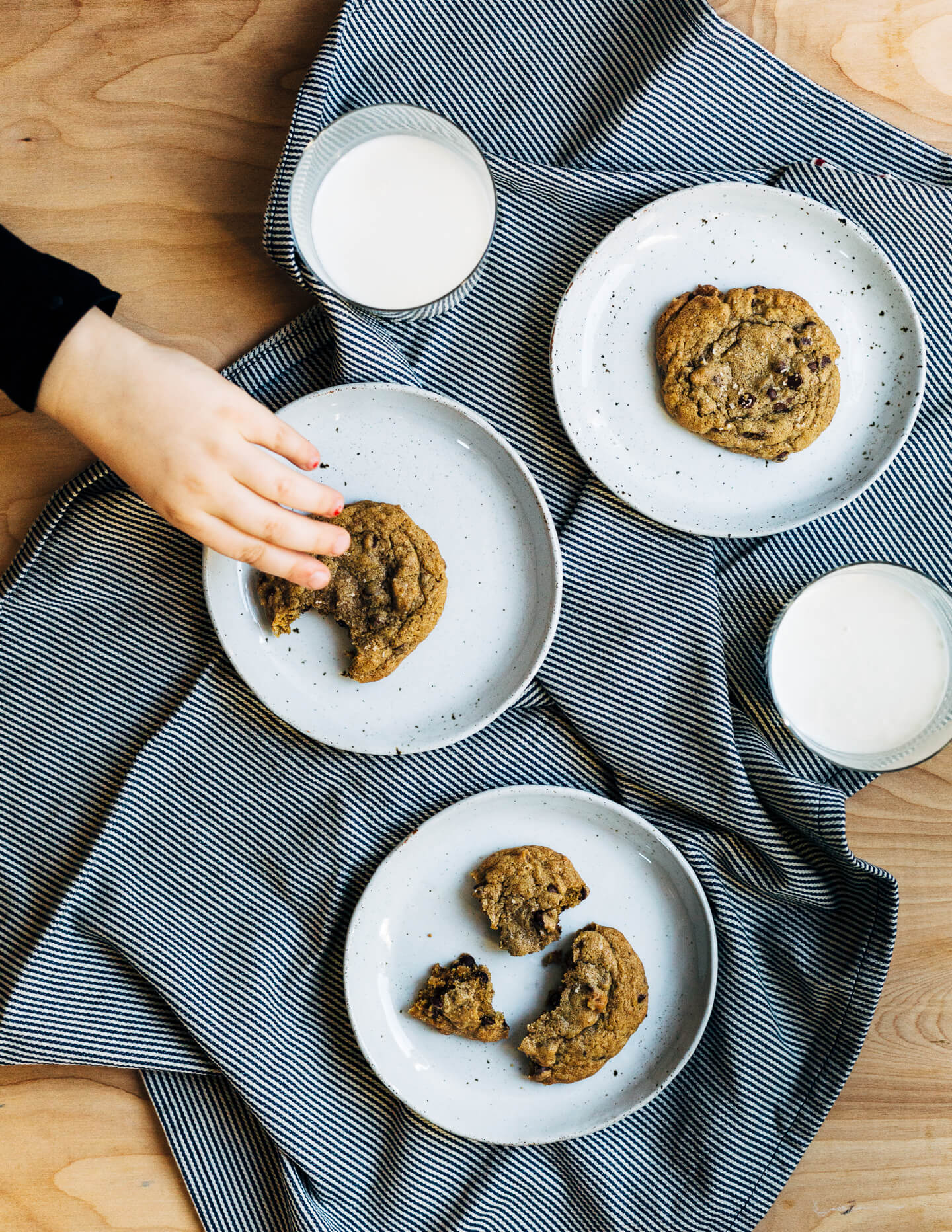 Measuring by weight tends to separate serious bakers from casual ones, so I've been hesitant to switch over to weights here on BkS. The recipe below is in both, but I'd love to know more about what kind of recipes work for you.
Now, about these rye chocolate chip cookies. They have a deep caramel sweetness and a delightfully nutty fragrance. Pan-toasted rye flour brings a rich nuttiness to the cookies and they bake up with crispy edges and a gooey center.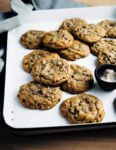 Toasted Rye Chocolate Chip Cookies
These salty sweet rye chocolate chip cookies are made with fragrant pan-toasted rye flour and a few extra drizzles of molasses.
To allow flavors to develop, chill dough in the fridge overnight or for as long as three days. If you're pressed for time, chill dough at least two hours.

Ingredients
1

cup

(130 grams) rye flour

1 1/3

cups

(170 grams) unbleached all-purpose flour

1

teaspoon

sea salt,

plus more for sprinkling

1/2

teaspoon

baking soda

12

tablespoons

(170 grams) unsalted butter,

room temperature

1

cup

(200 grams) granulated sugar

3

tablespoons

(64 grams) molasses

2

large eggs,

room temperature

1

tablespoon

vanilla extract

8

ounces

(225 grams) semi- or bittersweet chocolate chips or wafers
Instructions
Measure and toast rye flour. Carefully tip flour into a medium skillet and set over medium heat. Stirring frequently, toast 7 minutes, or until flour edges just a couple shades darker and becomes very fragrant. Keep a very close eye during the last 4 minutes. Scrape flour into a mixing bowl, and mix in all-purpose flour, baking soda, and sea salt.

In the bowl of your stand mixer fitted with the paddle attachment or with a hand-held mixer, beat butter on low speed until pale and fluffy, scraping down sides as needed. Add sugar and molasses, and mix 4 minutes more. Add eggs one at a time, scraping down sides as needed. Add vanilla and mix until incorporated. With mixer on low, fold flour mixture in in two batches. Finally, fold in chocolate chips, mixing just until chocolate is well distributed.

Cover dough and refrigerate at least 12 hours or as long as 3 days.

Preheat oven to 350 degrees F. Line an 18 x 13-inch baking sheet with parchment.

With a 1-ounce cookie scoop or using two spoons, measure 3 tablespoons dough into round balls. Arrange 6 - 8 on baking sheet. Sprinkle each ball of dough with a generous pinch of flaky sea salt.

Bake 12 - 14 minutes, or just until the edges begin to turn a golden hue and the centers have puffed up.

Cool on baking sheet for 4 minutes, then transfer to a wire rack to cool completely.
SaveSave
SaveSave
SaveSave
SaveSave
SaveSave
SaveSave
SaveSave