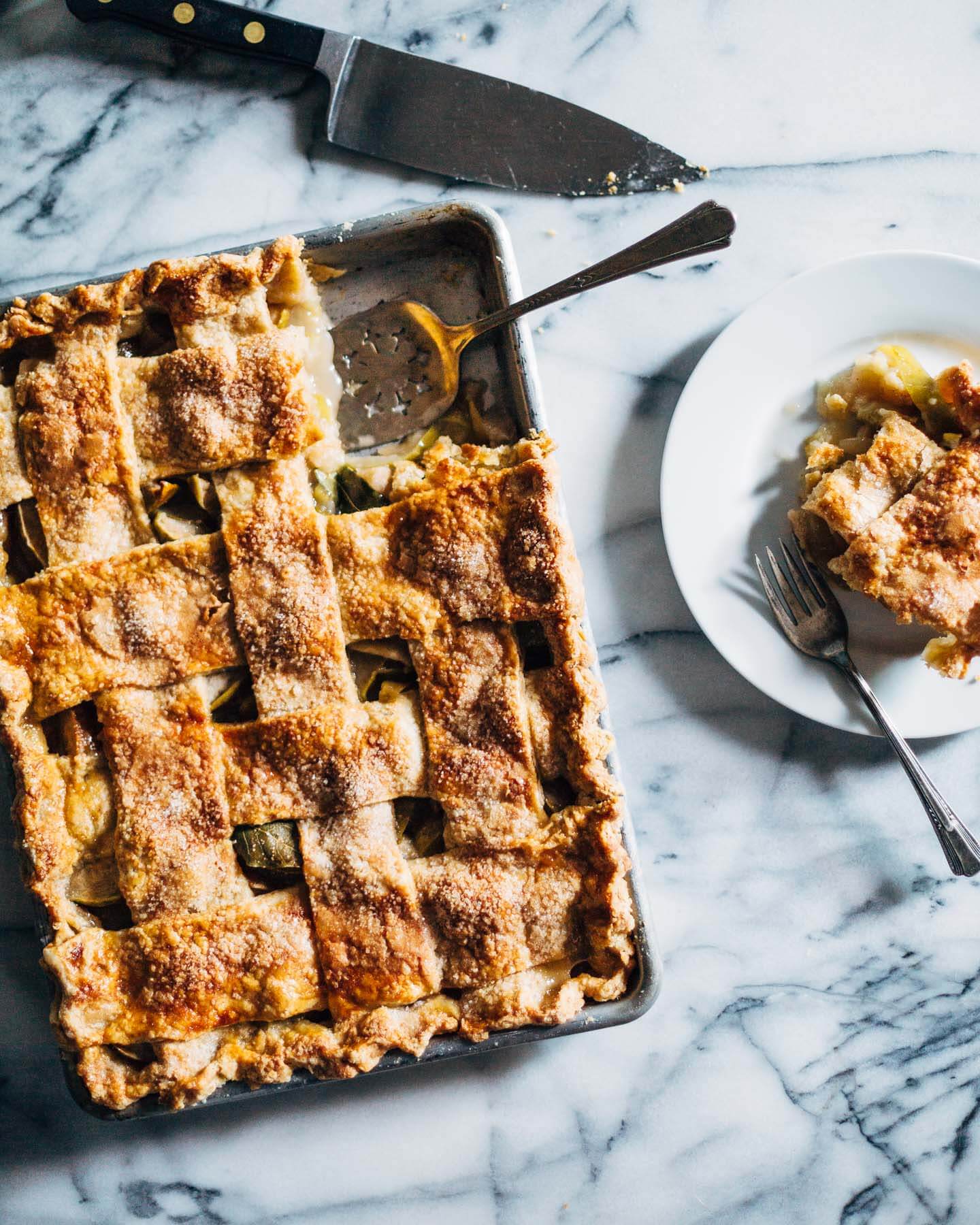 A rye crust apple slab pie recipe with nutmeg, lemon, and bay leaf surrounded by a flaky rye lattice crust. Jump to recipe. 
Late summer and fall have collided in my kitchen. A photo shoot has left me with a full complement of Thanksgiving leftovers, while a bowl of garden tomatoes and two pie pumpkins share space on the counter. And the big bag of apples that comes with our CSA fruit share has started to include chartreuse and golden fall varieties alongside pale summer apples.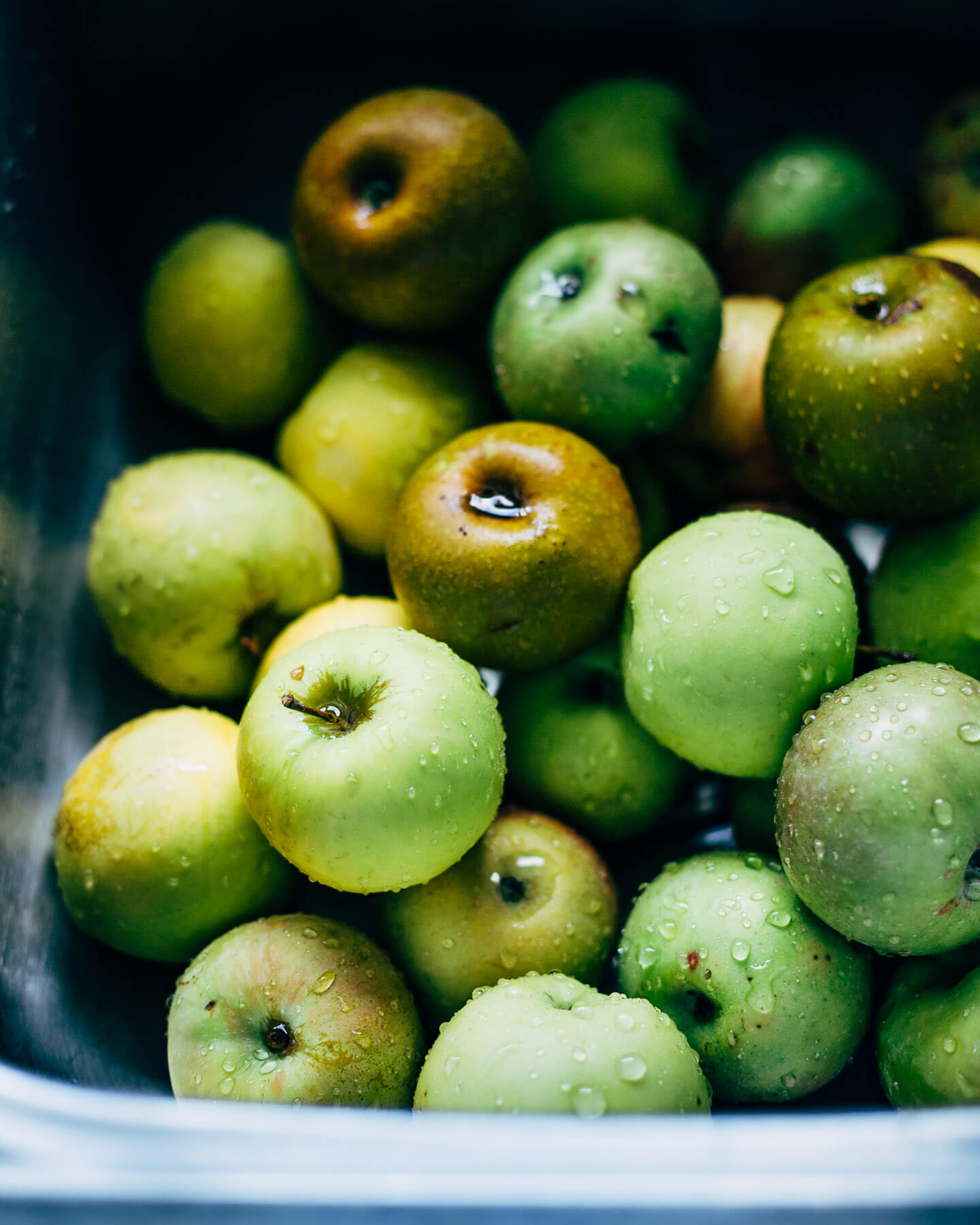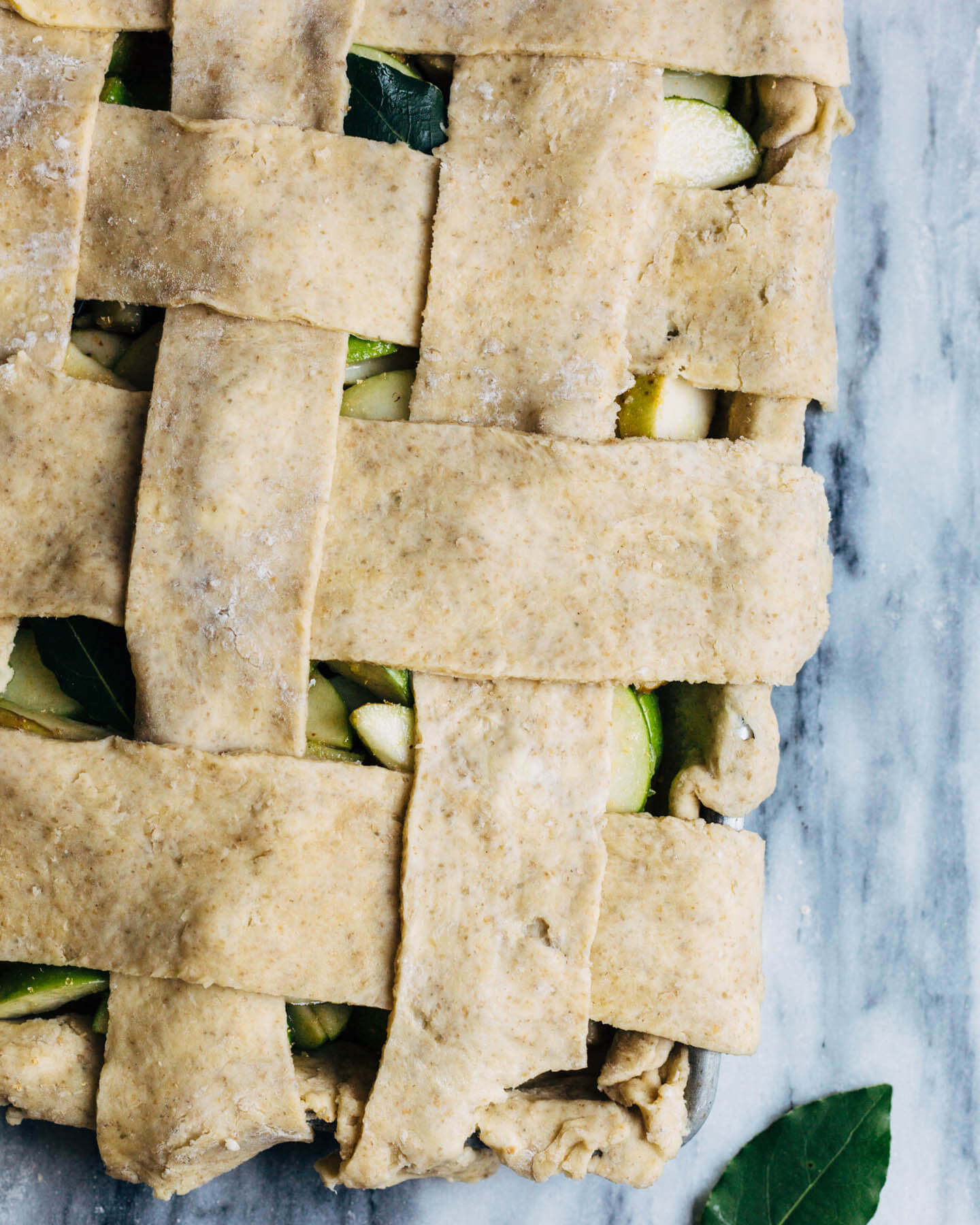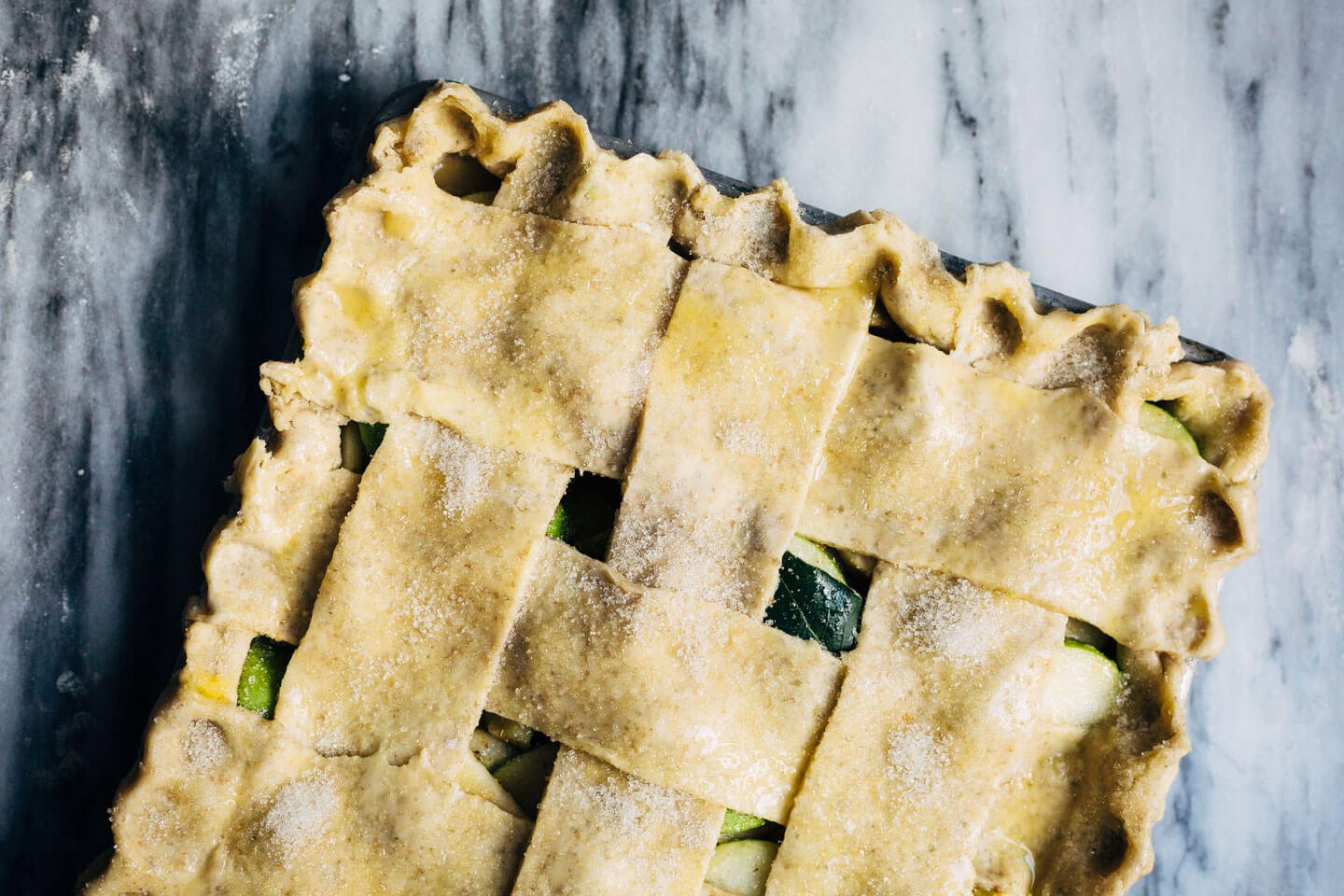 A hard freeze struck Central Virginia in mid-May. Peach, cherry, and apple blossoms were already out then, so a huge part of the tree fruit harvest was lost almost before it began. And so, we've made do without cherries and learned to really love the apple. My CSA apples come in a rumpled brown bag, a mix of familiar apples and russeted varieties I can only guess at. Some are mediocre with a mushy texture and muddled taste, but others are crisp, vivid, and intensely flavorful. They're proof that the very best apples aren't always the prettiest.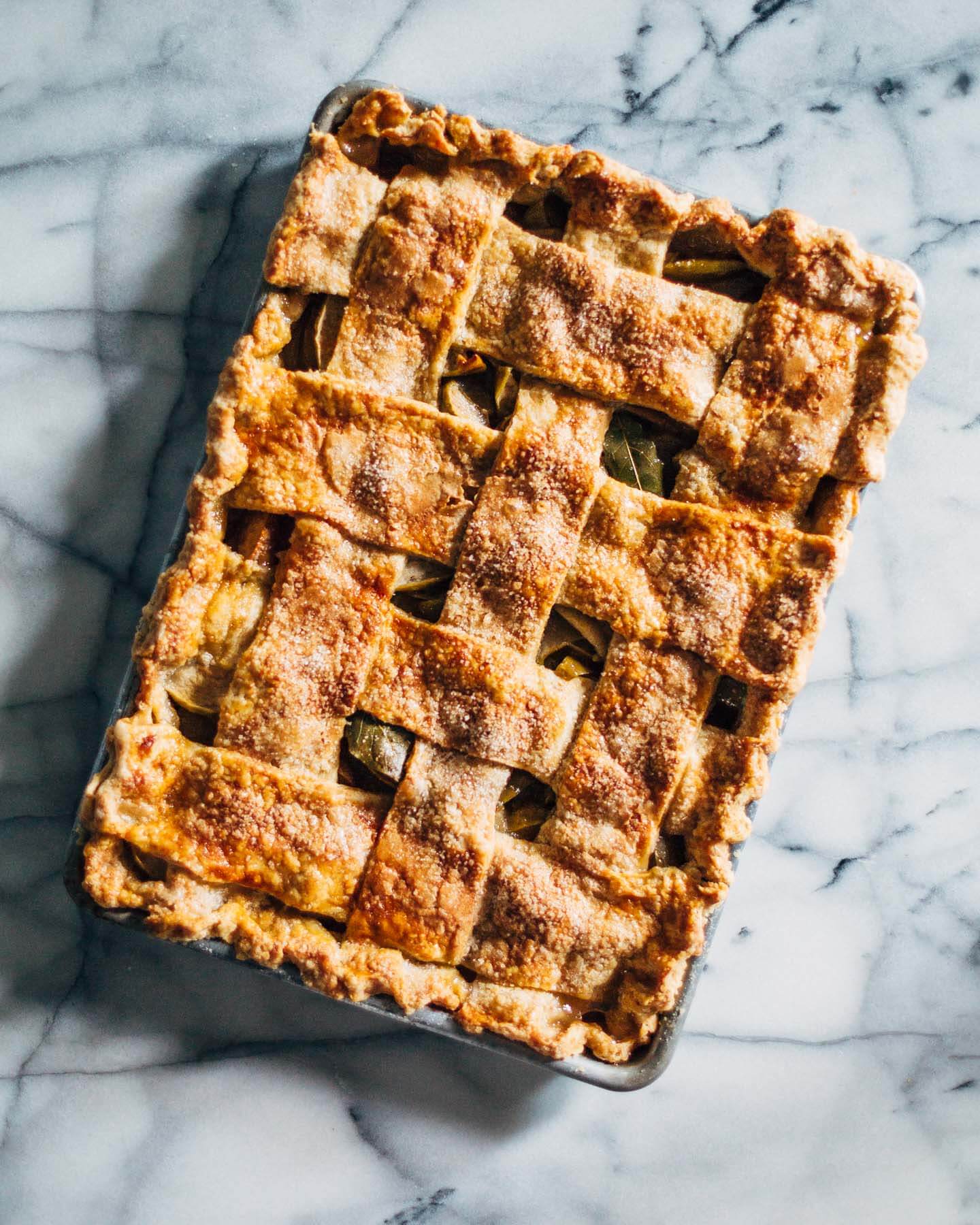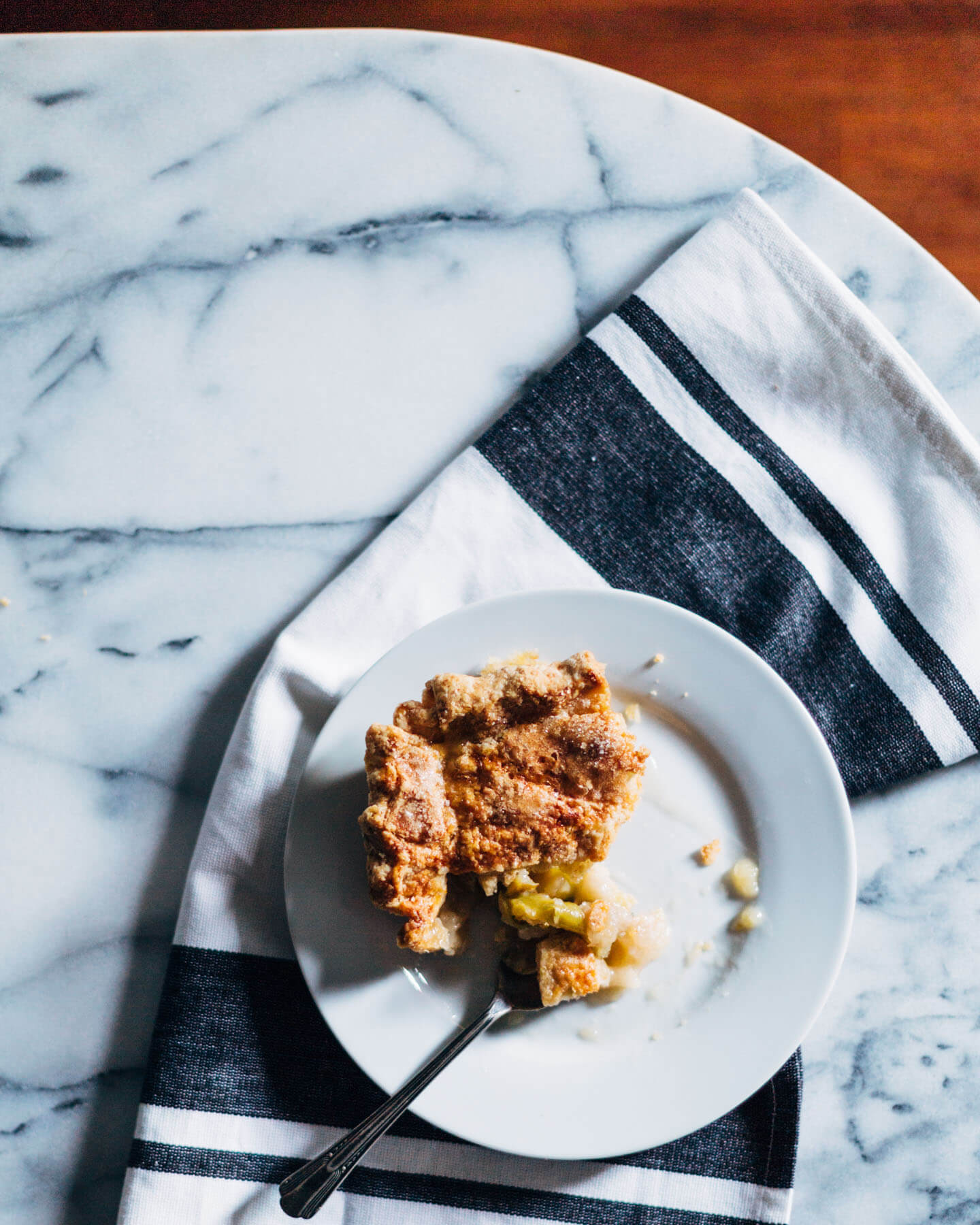 About those Thanksgiving leftovers (it's early, I know) – this weekend, Brian and I put together a Friendsgiving shoot for a client and (for once) food wasn't center stage, but my friends were in attendance and I wanted them to eat well. So I did what comes easy – I made a big apple slab pie made with heirloom apples, lemon, freshly grated nutmeg, a couple of bay leaves from the garden, and a rye crust baked to a deep golden brown. Cinnamon is overrated.
This recipe is best suited to the bright flavors and crisp texture of green and russet apples. Experiment with a range of heirlooms. Ask about interesting varieties at your market or store.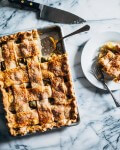 Rye Crust Heirloom Apple and Bay Leaf Pie
A rye crust apple slab pie recipe with heirloom apples, nutmeg, lemon, and bay leaf surrounded by a flaky rye lattice crust.
Ingredients
For the Crust

2

cups

all-purpose flour

1/2

cup

dark rye flour

2

tablespoons

turbinado sugar

1

teaspoon

sea salt

16

tablespoons unsalted butter

(2 sticks), cold

2/3

cup

ice water
For the Filling
6

cups

1/4-inch thick sliced

tart heirloom apples

3/4

cup

plus 2 tablespoons turbinado sugar
,

divided

2

tablespoons

all-purpose flour

zest of 2 lemons plus 2 tablespoons juice

1/2

teaspoon

freshly grated nutmeg

1/2

teaspoon

flaky sea salt

2

fresh bay leaves

1

egg,

lightly beaten
Instructions
Combine flours, sugar, and sea salt in a large bowl with a fork. Using the large holes on a box grater, grate in butter. Mix into flour. Use fingertips to combine butter and flour until mixture has a crumbly appearance. Drizzle in half the water, fold with a silicone spatula to combine, then drizzle in remaining water or just enough so that dough holds together. 

Turn out onto a lightly floured surface, gather into a ball, and divide in half. Pat each dough ball into an oval disc, wrap tightly with plastic wrap, and refrigerate at least 30 minutes.

Preheat oven to 425 degrees F. Set a rimmed baking sheet in oven and preheat that as well. Butter a 10 x 13-inch rimmed baking pan.

In a lightly floured surface, roll the first disc of dough into a 14 x 17-inch rectangle. Press into baking pan, leaving a 1-inch dough overhang. Set pan in fridge to chill while you prepare filling.

In a large mixing bowl, toss apples with 3/4 cup sugar, flour, lemon zest and juice, nutmeg, and sea salt. Set aside while you roll out the top.

On a lightly floured surface, roll the second disc of dough into a 12 x 15-inch rectangle. 

Working quickly, retrieve chilled shell from fridge, spoon in filling, and lay 2 bay leaves on top. Use a sharp knife to cut 3 (2 x 15-inch) strips and lay lengthwise across the pie. With remaining dough (you may need to gather scraps and re-roll), cut 4 (2 x 12-inch) strips. Weave short strips across pie (

basic weaving instructions here

). Crimp edges, brush with egg wash, and sprinkle lattice with 2 tablespoons sugar.

Set pie in oven on preheated baking sheet and bake 15 minutes. Turn heat down to 350, rotate pie, and bake 40 - 50 minutes longer or until pie is a rich golden hue and the filling is bubbling vigorously.

Cool a full 3 hours before serving.
SaveSave