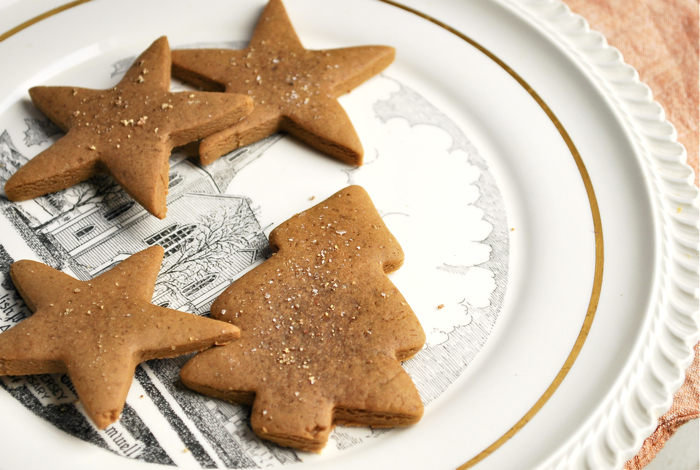 For the first time this year, we'll be spending Christmas in Brooklyn. With two kids, it seemed like time to make our own holiday traditions and enjoy our own home, and neighborhood, on Christmas day. Brian and I have family in Virginia and we usually spend the holidays sprinting from house to house trying to get everyone scheduled in the prime 48 hours of Christmas. This year, we're slowing things way down and it feels great.
And so we begin our own traditions, which is a funny thing. Traditions, by nature, aren't begun, they just are. Cookies seemed like a pretty good place to start, so I got my oldest daughter in on the act with this gingerbread recipe.
Few flavors capture the season more than molasses and spice. So, when cookies need to be made, I go for gingerbread. This time around, I wanted something a little more sophisticated–a cookie for grown-ups. These are lightly sweet, soft, and caky gingerbread cookies with a pinch of salt and pepper on top. Subtle notes of chili powder and pepper add a bit of zing to the more traditional notes of molasses and spice.
These cookies are made in steps, and making the dough ahead of time will give you the most flexibility. If you happen to be making them just for adults, feel free to up the chili powder, or even add a pinch of cayenne pepper. For fresh pepper, I used white peppercorns–I find it's a bit milder than black pepper, but feel free to use what you have on hand.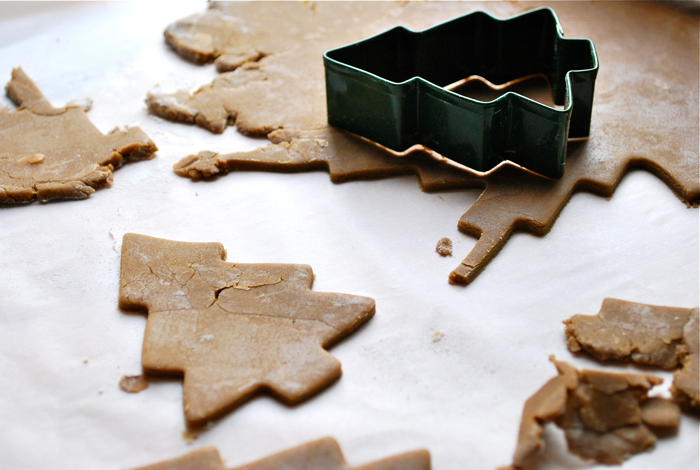 Salt and Pepper Gingerbread
5 1/2 cup unbleached all-purpose flour
1 teaspoon baking soda
2 teaspoons kosher salt
5 teaspoons ground ginger
3 teaspoons ground cinnamon
1/2 teaspoon chili powder
1/2 teaspoon fresh ground white or black pepper
1/4 teaspoon nutmeg
16 tablespoons butter (2 sticks)
3/4 cup granulated sugar
2 room temperature eggs
1/2 cup unsulphured molasses
1 cup honey
In a large bowl, combine the flour, baking soda, salt, and spices. Set aside.
In another large bowl, beat the butter until light and fluffy, roughly 4 minutes. Add the sugar, and beat for another 2 minutes. Beat in the eggs one at a time, then the molasses, and honey. With mixer on low, gradually add the flour. Mixing just until combined.
Divide into 3 discs, and wrap tightly with plastic wrap. Chill for at least a half hour.
Preheat the oven to 350 degrees. Move a rack to the center of the oven.
On a lightly floured sheet of parchment, roll out one of the discs to 1/4″ thickness. Place paper and dough on a cookie sheet, and place in freezer for 15 minutes.
Line a cookie sheet with a sheet of parchment paper. Use lightly floured cookie cutters to cut out desired shapes, and place them on the prepared cookie sheet. Sprinkle each cookie with a small pinch of kosher salt and a slight twist of white or black pepper. Lightly press the salt and pepper into the cookie.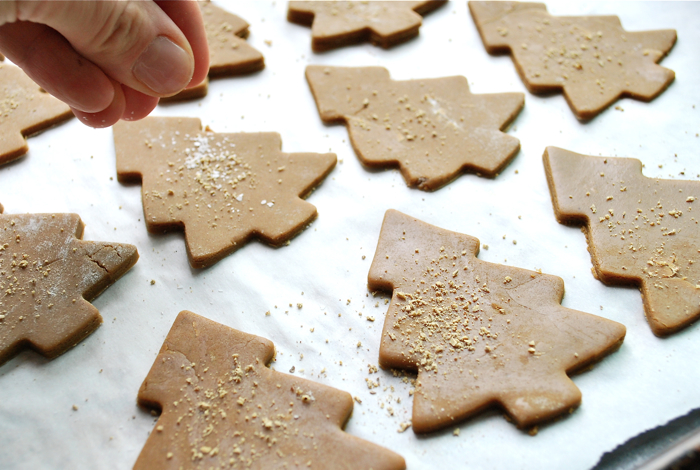 Place cookie sheet on the center rack of the oven. Bake for 6 minutes, rotate, and bake for about 4 minutes longer. Cookies should be just set, but not at all crisp (unless you prefer a harder gingerbread, or are using it for a house). Cool for 2 minutes, and remove to a rack to cool.
Continue this process for each batch, baking one tray of cookies at a time.
Well-wrapped cookies will keep at room temperature for several days. Wrap cookies in plastic wrap and freeze for longer storage.