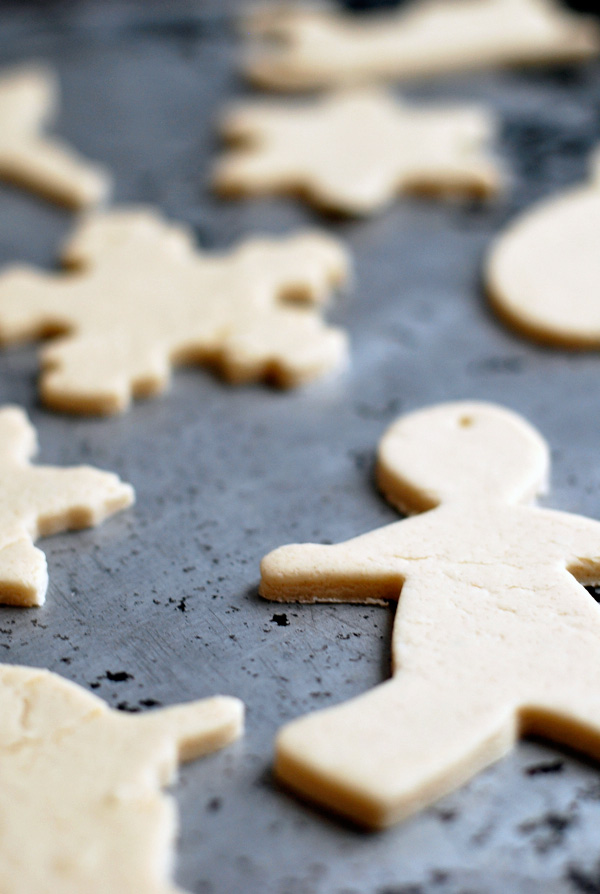 An easy recipe for homemade salt dough Christmas ornaments.Jump to recipe.
Salt dough Christmas ornaments are perfect for me, and likely for many of you, for the simple reason that while I am not an especially crafty person, I am pretty comfortable baking. So a craft that you bake is about as good as a craft is going to get for me. This is our second time making them and they've been great for both the craft-challenged and children in our family.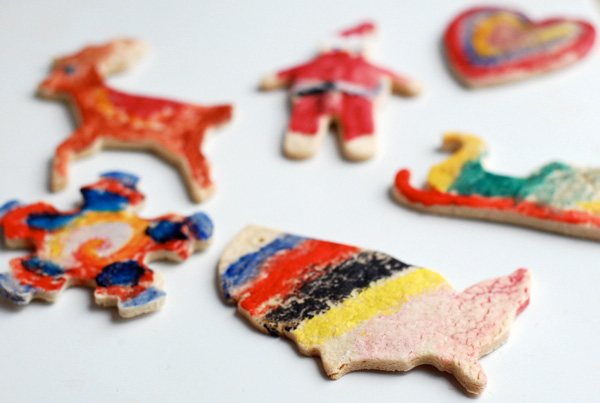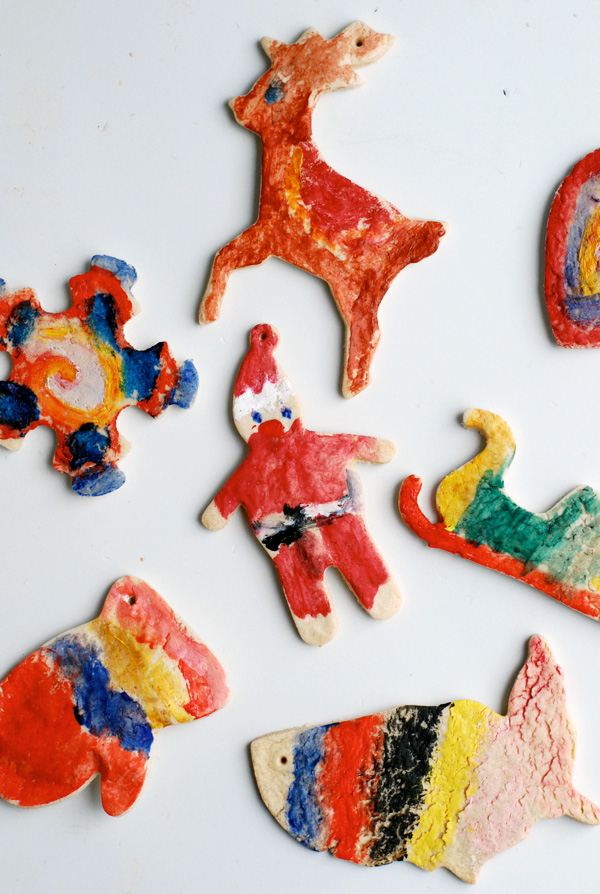 This year, we opted to keep our ornaments very simple, but if you're inclined, you can add all kinds of decorations – long beards for santa or raised bits and balls for added oomph. Once they're completely dry, paint them up with acrylic paint (just go easy on the water), let that dry, and then spray them on both sides with clear acrylic paint. Thread in a hook and you've got yourself some new ornaments.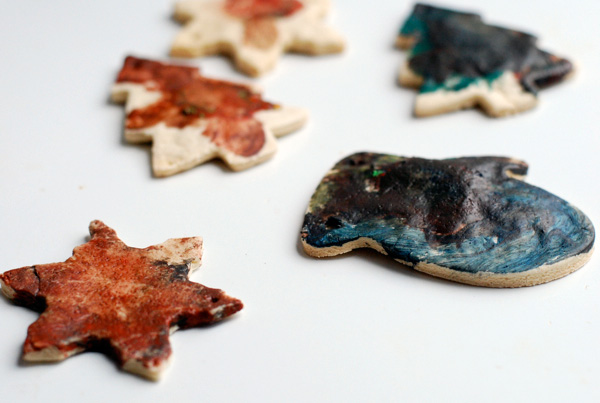 Wishing you and yours a warm and happy holiday. Here's to a very merry little Christmas and all the best in the New Year.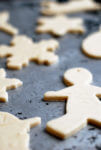 Salt Dough Christmas Ornaments
An easy recipe for homemade salt dough Christmas ornaments.
Ingredients
4

cups

all-purpose flour

1

cup

salt

1 1/2

– 2 cups water

acrylic paints

clear acrylic spray paint,

available at craft or hardware stores
Instructions
This recipe is easiest with a stand mixer that can do the kneading for you. if you don't have one, be prepared to knead a little. Keep in mind that you want to dough to be pliant and smooth, so add small increments of water as needed if it gets at all crumbly.

Preheat the oven to 300 degrees F.

In the bowl of a stand mixer, combine flour, salt, and 1 1/2 cups water. Mix on low speed with paddle attachment until well-combined (mixture will be very crumbly, but will hold together easily when squeezed).

Switch paddle out for the dough hook and run mixer on low for 5 minutes to knead. You'll need to stop and push dough down from the sides a few times. Alternately, you can knead by hand 10 minutes. Check that dough is smooth and pliant. If not, drizzle in a bit more water and knead a few minutes more.

Divide dough into 4 balls. Roll one of the dough balls into a rectangle 1/4 inch thick (you shouldn't need any flour for this). Use cookie cutters to cut out your ornaments, carefully placing cut ornaments on a cookie sheet. Round up dough scraps, knead a bit, and roll out dough again until you've used it all. Once ornaments are on cookie sheet, use a chop stick or similar implement to poke a 1/8 inch hole in each for the hook or string.

I baked my ornaments two trays at a time because that's what worked for my oven –– do whatever works best for yours. Bake for 25 - 35 minutes or until ornaments are firm and cooked through, but not browned. Cool on tray 15 minutes, then set on a rack to cool completely.

Paint with acrylic paint, dry completely, and then spray with a clear coat of acrylic spray paint. Thread in a hook or string, and you're all set.
SaveSave