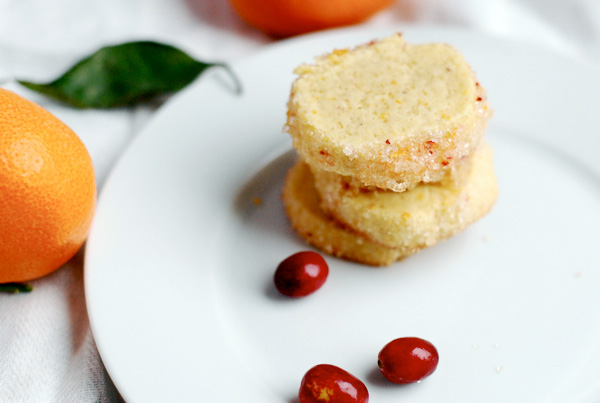 Bright and buttery satsuma orange and fresh cranberry sablés that are as beautifully festive as they are delicious. Jump to recipe.
Pretty much always, I'm in this for the butter, especially where sweets are concerned. And, if you've read Brooklyn Supper for any amount of time, you have probably divined that I'm obsessed with citrus, and that zest of some fruit or another finds its way into almost all of my recipes. So for a recent cookie exchange, I did what came naturally to me and made these buttery, zesty satsuma and cranberry sablés.
With a light and incredibly buttery crumb, sablés (so named because of their sandy texture) are less gooey than sugar cookies and softer than shortbread. Here, they're imbued with the distinct fragrance of satsuma oranges, and just a little tang from a few fresh cranberries. The edges glitter with zest and cranberry-flecked sugar, making them an irresistible holiday bite ready to disappear from any party table.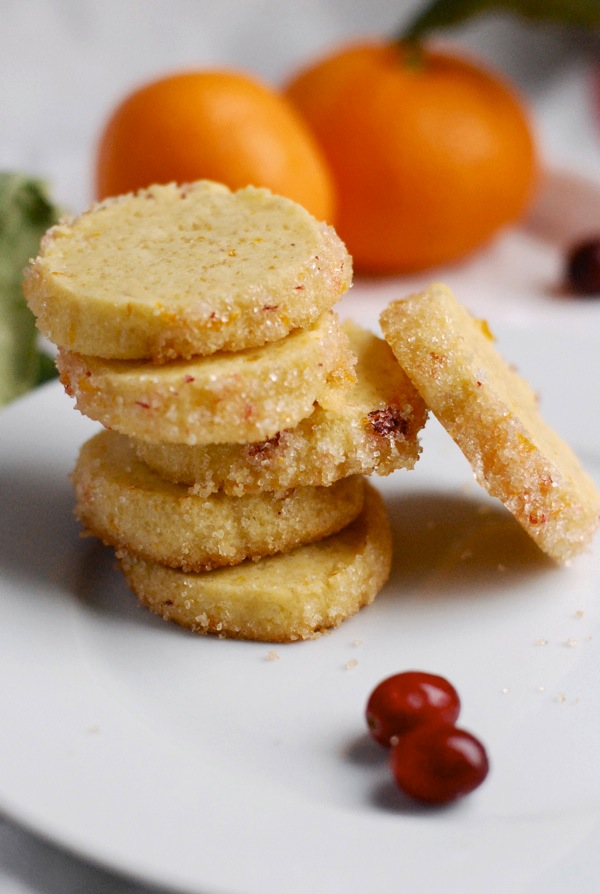 And the cookie swap? The proceeds from the delicious event went to WhyHunger, an organization based in New York, but dedicated to practical, empowering, community-based solutions to hunger and poverty across the US and worldwide. As you're considering end-of-the-year charitable donations, I highly recommend this effective non-profit; learn more about WhyHunger here.
A note on the recipe: Satsumas are a citrus variety widely available right now. They're a fragile fruit, with intense fragrance and delicate, delicious flesh. Whether for cookies, or a simple salad, try to get your hands on some before the season ends.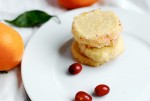 Satsuma Cranberry Sablés
Satsuma orange and cranberry sablés imbued with the distinct fragrance of satsuma oranges, and just a little tang from a few fresh cranberries. Recipe adapted from Orangette, by way of Amanda Hesser.
Ingredients
Dough
2

cups

unbleached all-purpose flour

2

teaspoons

baking powder

16

tablespoons

2 sticks unsalted butter, at room temperature

1/2

cup

confectioner's sugar

1/2

cup

granulated sugar

(I used Turbinado, which made for distinct grains of sugar within the cookie)

2

tablespoons

satsuma orange zest

3

cranberries,

grated

1

teaspoon

sea salt

4

egg yolks,

room temperature
Rolling Sugar
1/3

cup

large-grain Turbinado sugar

2

tablespoons

satsuma orange zest

3

fresh whole cranberries,

grated
Instructions
Combine flour and baking powder and set aside.

In the bowl of your stand mixer fitted with a paddle attachment, or with a regular mixer, beat room temperature butter on medium-low speed until light and fluffy, about 3 minutes. Add confectioner's sugar, beat 1 minute, add granulated sugar, and beat until ingredients are fully incorporated. Stop and scrape sides down as needed.

Add egg yolks one at a time, mixing until each is fully incorporated. Next, add sea salt, zest, and grated cranberry.

Finally, add flour mixture in three batches, scraping sides as needed.

Turn dough out onto a lightly floured surface and divide into two. Roll each section into a long 2 inch-thick log. Wrap in parchment, tie ends, and chill an hour or more.

Preheat oven to 350 degrees F. Thoroughly mix rolling sugar ingredients in a small bowl and spread sugar into a rectangle on a large board. Remove dough roll from fridge, unwrap, and slowly press and roll into sugar mixture until the roll is well coated.

Slice dough roll into 1/4-inch slices. Place rounds on a parchment-lined rimmed baking sheet, an inch or so apart.

Bake cookies 10 - 12 minutes, or until they are set, but still pale. Cool on cookie sheet 10 minutes, then remove to a wire rack to cool completely.

Cookies will keep nicely in a sealed container for a few days, or longer if frozen, but they at their very best day-of.