A fortifying sausage and kale stew with big flavor and a bit of heat. This versatile stew is ideal for busy weeknights, or anytime you need a nutrient-dense, one-pot meal.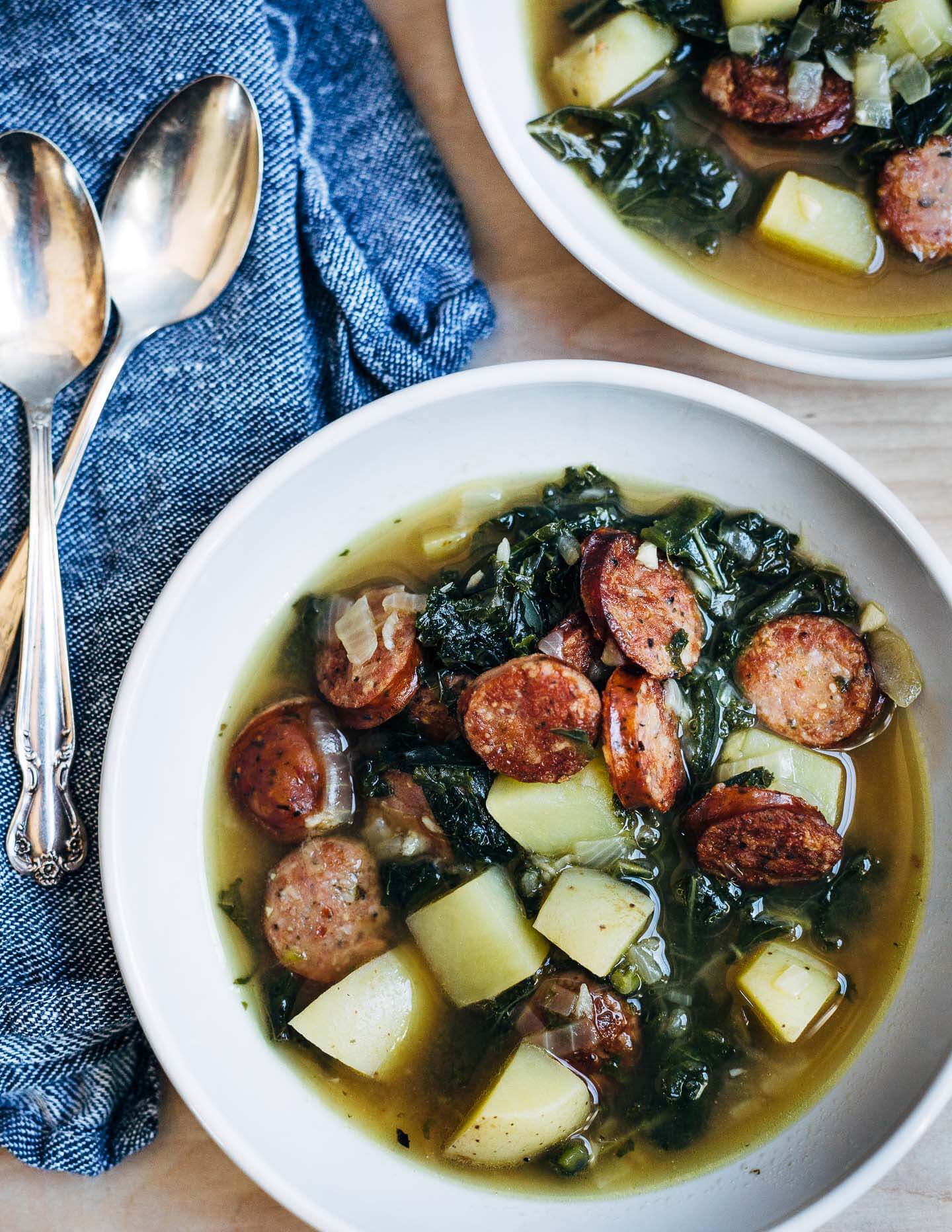 Last night, we switched off the news, put on some music, stashed our phones, and sat down to a relaxed family meal. It was good to have a break from the chaos and stress of this excruciating election that feels like it's lasted an entire four years. But this morning, we're back to worrying and refreshing. Going through the motions of our work all while checking, checking, checking.
Since this post will live on long past this very stressful week in American history, I won't get into the exact details of where the as yet undecided presidential election stands (besides, you really should get your election news from other sources!). But I don't think any of us will forget the sense of tumult for a long time.
At least Brian and I were wise enough to plan for election week uncertainty. When we made our weekly meal plan, we prioritized easy, nourishing meals like this spicy sausage and kale stew. It comes together in one pot, and harnesses the flavor of spicy sausage to get you to eat lots of kale.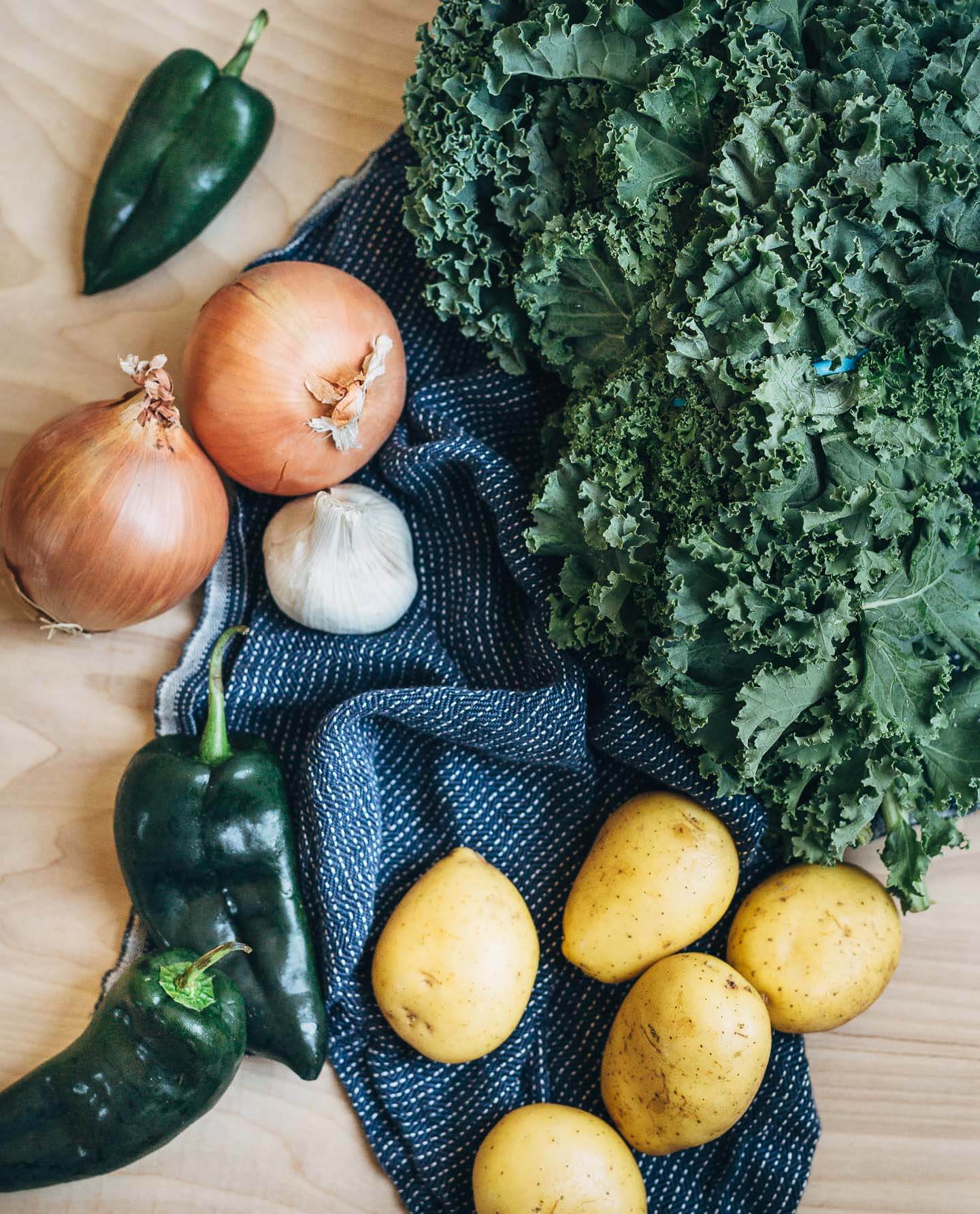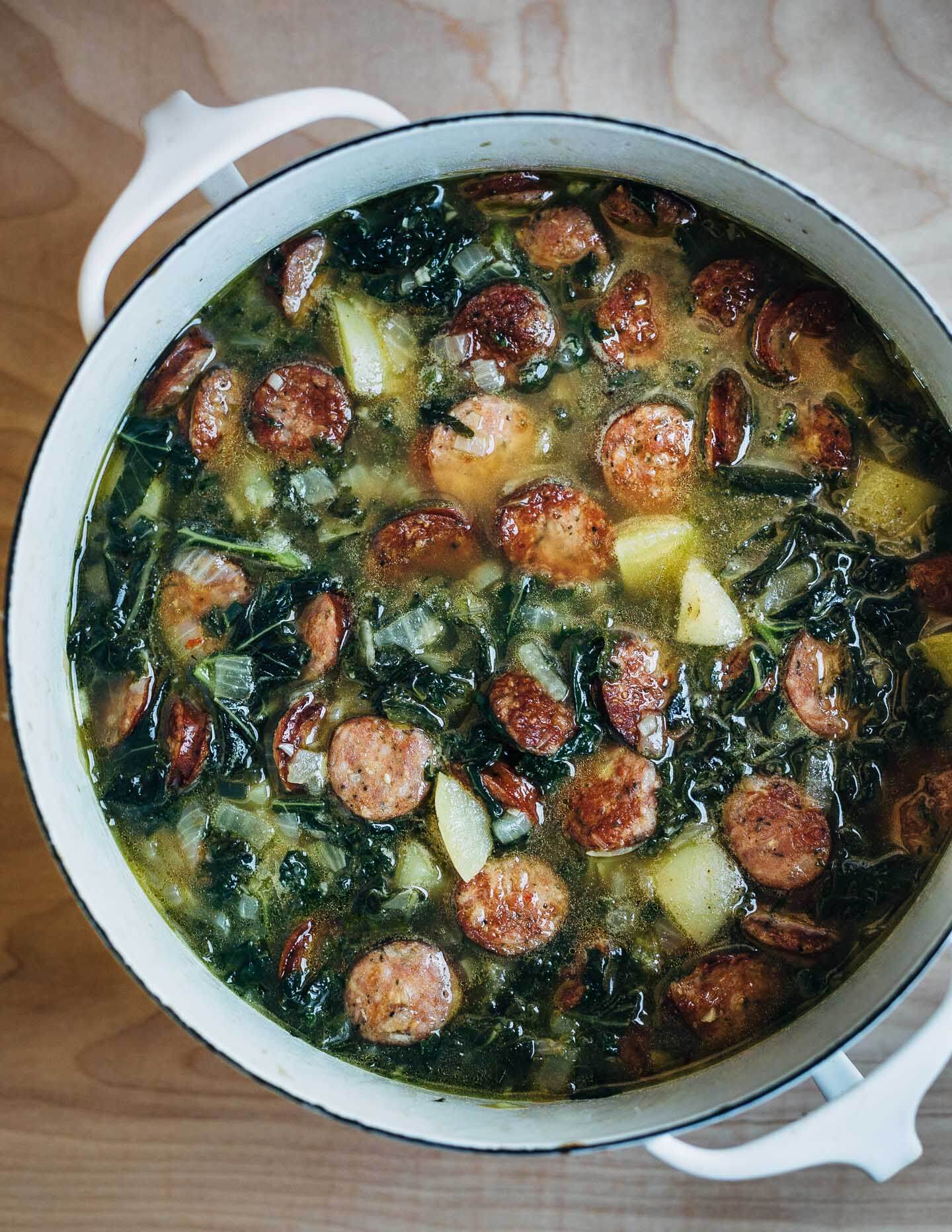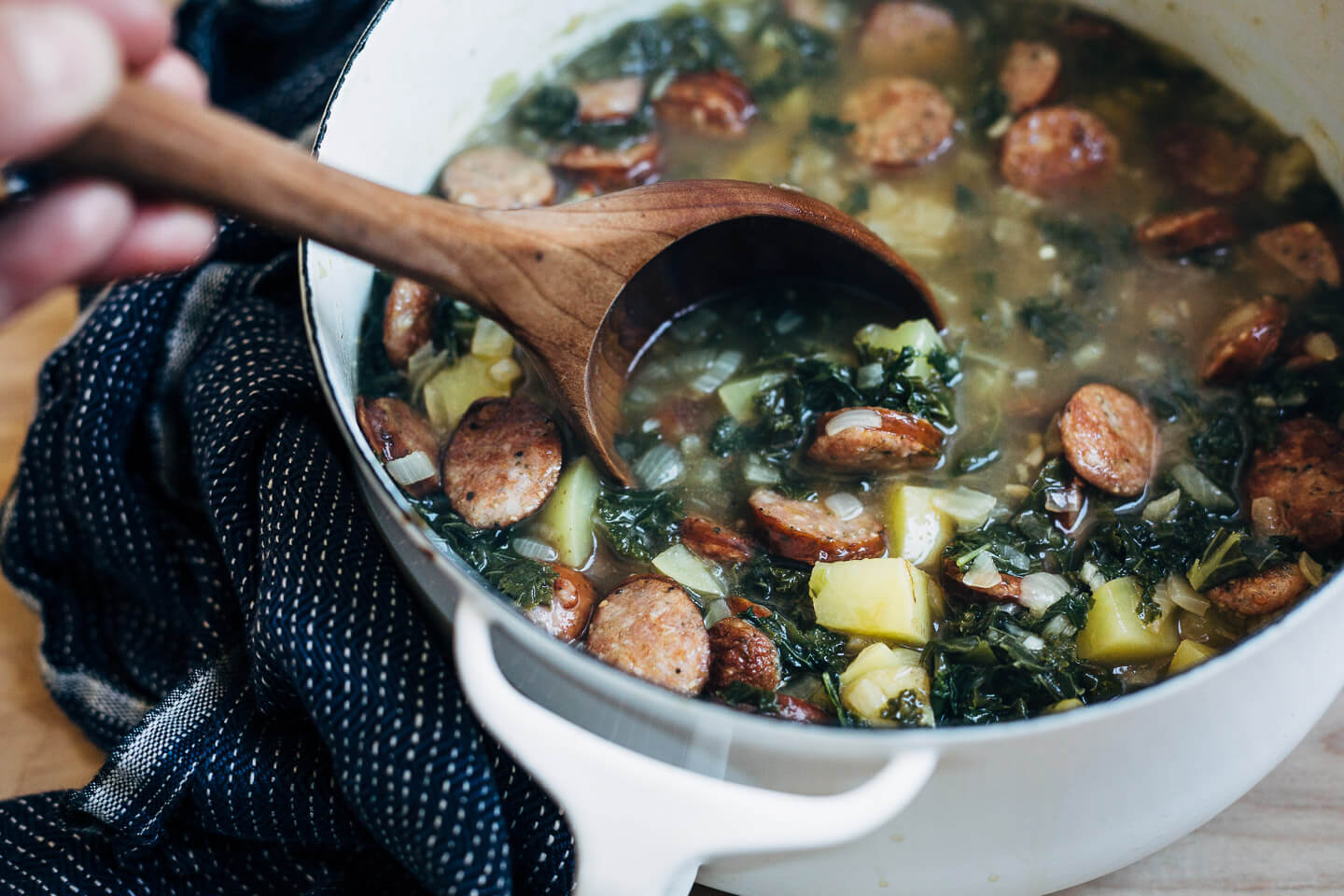 Sausage and Kale Stew: One-Pot Weeknight Magic
This sausage and kale stew can handle a lot of heat, if that's your thing. The flavor base comes from the sausage and the stock, so look for the best quality of both. First, you'll sear the sausage until the edges are nice and crisp. Then you cook the onion, poblano pepper, and garlic in the sausage fat until it's really tender. And finally, you add the cooked sausage, stock, and a few handfuls each of potatoes and kale, and let it simmer.
I've shared detailed instructions below, but this is totally the kind of recipe that can be cooked by feel and taste. It's adaptable too – you could swap in collard or turnip greens, or go with a more mild or veggie sausage (I made a vegetarian version alongside this one for my older daughter).
Browsing my recipes archives, I realize that I really love soup. If you do too, check out the BkS Soup Recipe Index right here.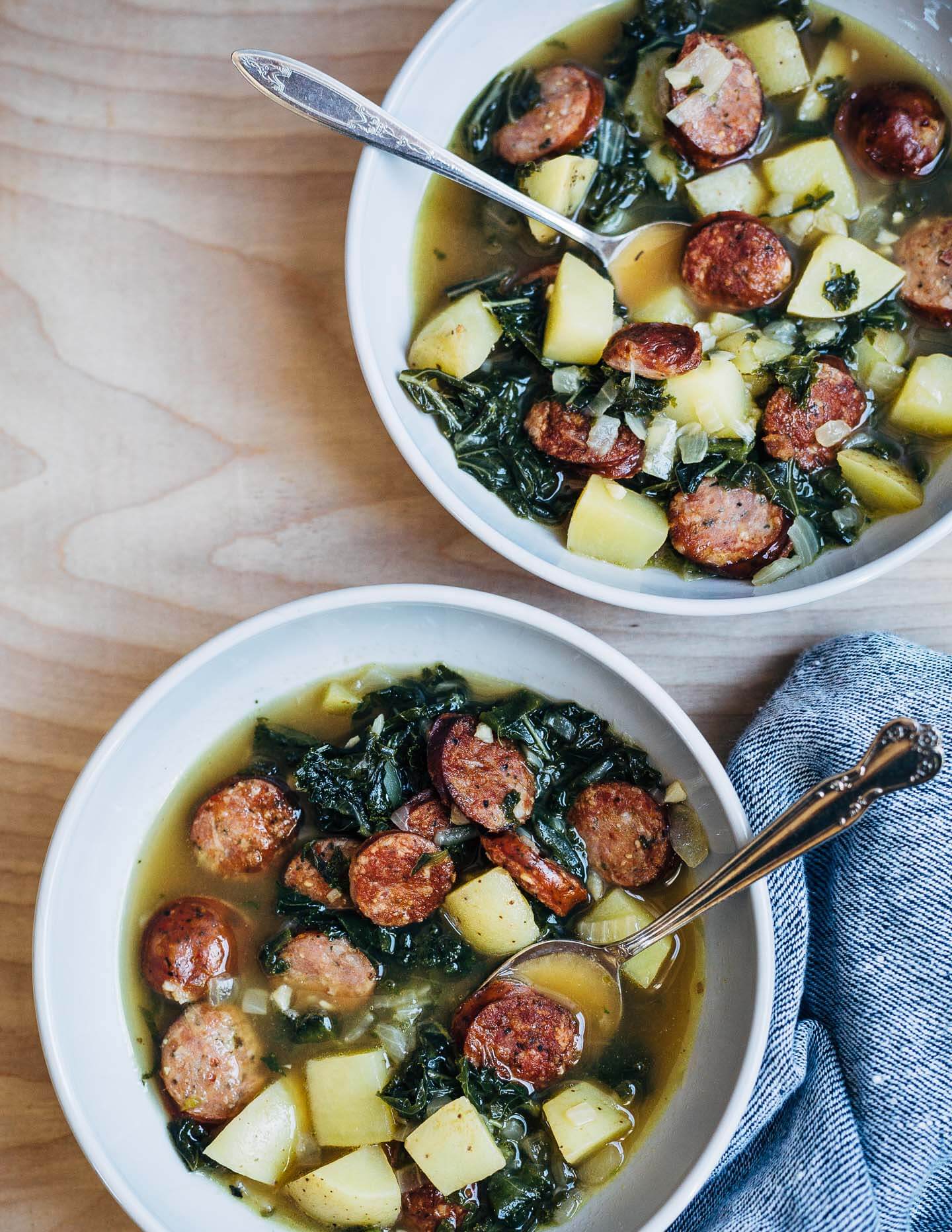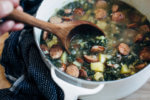 Spicy Sausage and Kale Stew
A fortifying sausage and kale stew with big flavor and a bit of heat. This versatile stew is ideal for busy weeknights, or anytime you need a nutrient-dense, one-pot meal. To make this recipe vegetarian, swap in the veggie sausage of your choice and a flavorful vegetable broth.
Keyword:
sausage and kale stew
Makes
:
4
generous servings
Ingredients
1

tablespoon

extra virgin olive oil

12

ounces

spicy Italian sausage,

sliced into ¼-inch thick coins

1

medium yellow onion,

diced

1

poblano pepper,

seeded and diced

4

cloves

garlic,

smashed, peeled, and minced

2

cups

diced Yukon gold potatoes,

about 4 medium

4

cups

rich chicken stock or vegetable broth

2

packed cups chopped curly kale,

(about 1/3 of a bunch), strip tough stems before chopping

Water,

as needed

Sea salt, black pepper, and ground cayenne to taste
Instructions
Set a 3- or 4-quart Dutch oven or other heavy bottomed pot, over medium/medium-high heat (hot, but not so much the oil smokes). Add the oil, and once it's hot, half the sausage. Sauté until sausage is cooked through and the edges are crisp. Remove to a bowl while you sauté the remaining sausage. (Note that vegetarian sausage may need a lot more oil – add as much as you need.) Remove the second batch of sausage to the same bowl.

Pour off all but 2 tablespoons accumulated fat and add the onion and poblano. Cook until both are nice and supple, about 7 minutes, and then add the garlic and cook 1 minute more. Toss in the potatoes and kale, stirring and cooking for about 4 more minutes (if things start to stick, add a splash of stock or broth). Next add the stock or broth and the cooked sausage, bring to a gentle boil, and then turn down to a gentle simmer for 15 - 20 minutes, or until potatoes are tender. If the stew feels too thick, add up to 1 cup water to thin it out. As things cook, taste and add sea salt, pepper, cayenne, or other seasonings to taste. Because the flavor base comes from the sausage, salt and spicy heat will vary from batch to batch.

Ladle into bowls and serve. Stew will keep well covered in the fridge for 3 days, or in the freezer for 6 months.
Recipe Notes
Learn from my mistakes, and avoid the temptation to add to many potatoes or too much kale. In this case, more is not better, and the stew will be too crowded and potato-y.