A versatile, make-ahead recipe for savory bread pudding (also known as strata) with crispy mushrooms, tender greens, and nutty Comté cheese. This vegetarian recipe is perfect for busy weeknights or as part of your holiday menu.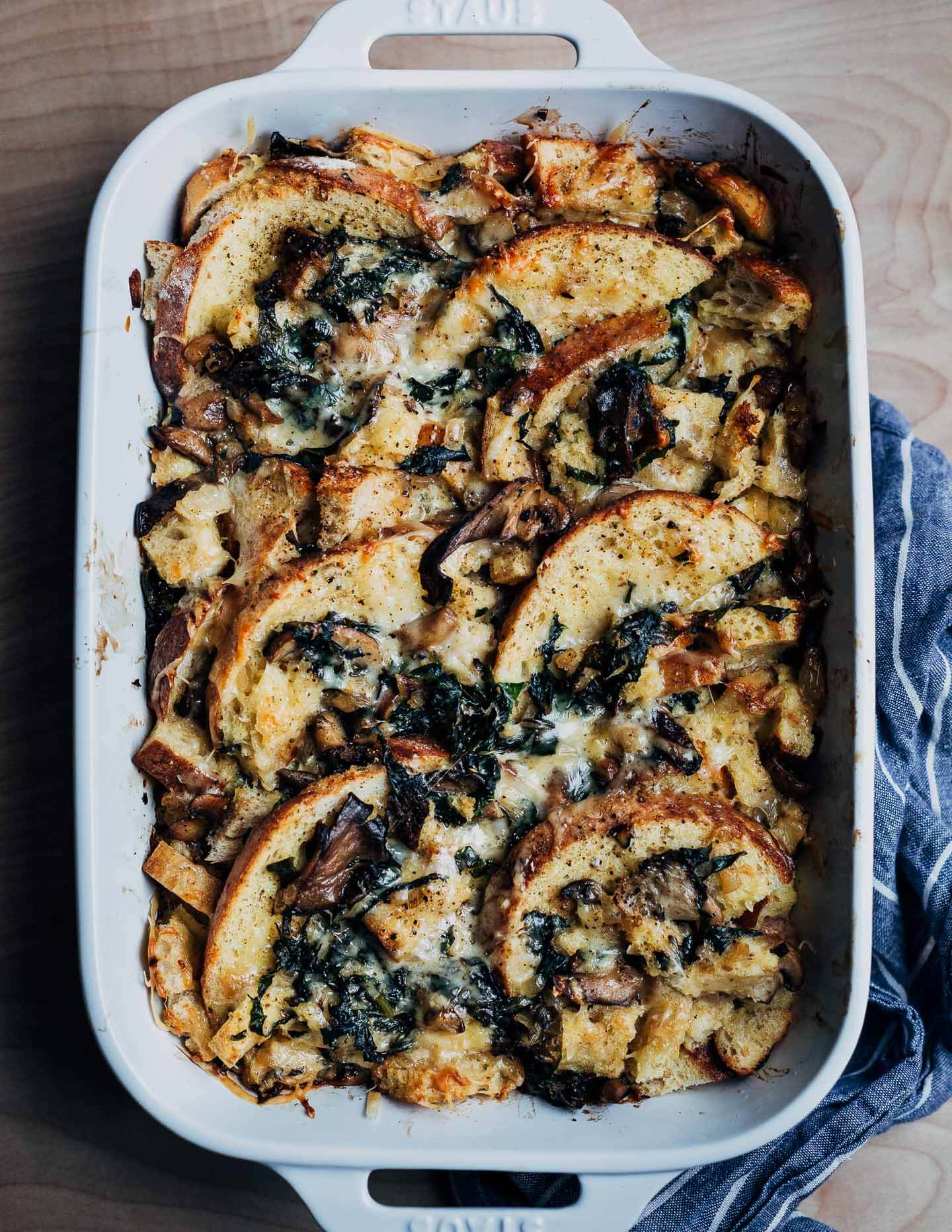 My family's holiday busyness has reached an entirely new level of chaos. Between ballet rehearsals and performances, no less than five music recitals, and festive gatherings, December is already a whirlwind. Our Christmas tree, lit and wrapped in garland, has sat undecorated since Sunday! It's all a little too much.
Tomorrow, finally, we'll have time to properly decorate the tree. And then, after the weekend, we'll have a chance to settle into a more relaxed version of the holiday spirit. One that I hope will feature mugs of hot chocolate and cozy times watching movies with the family.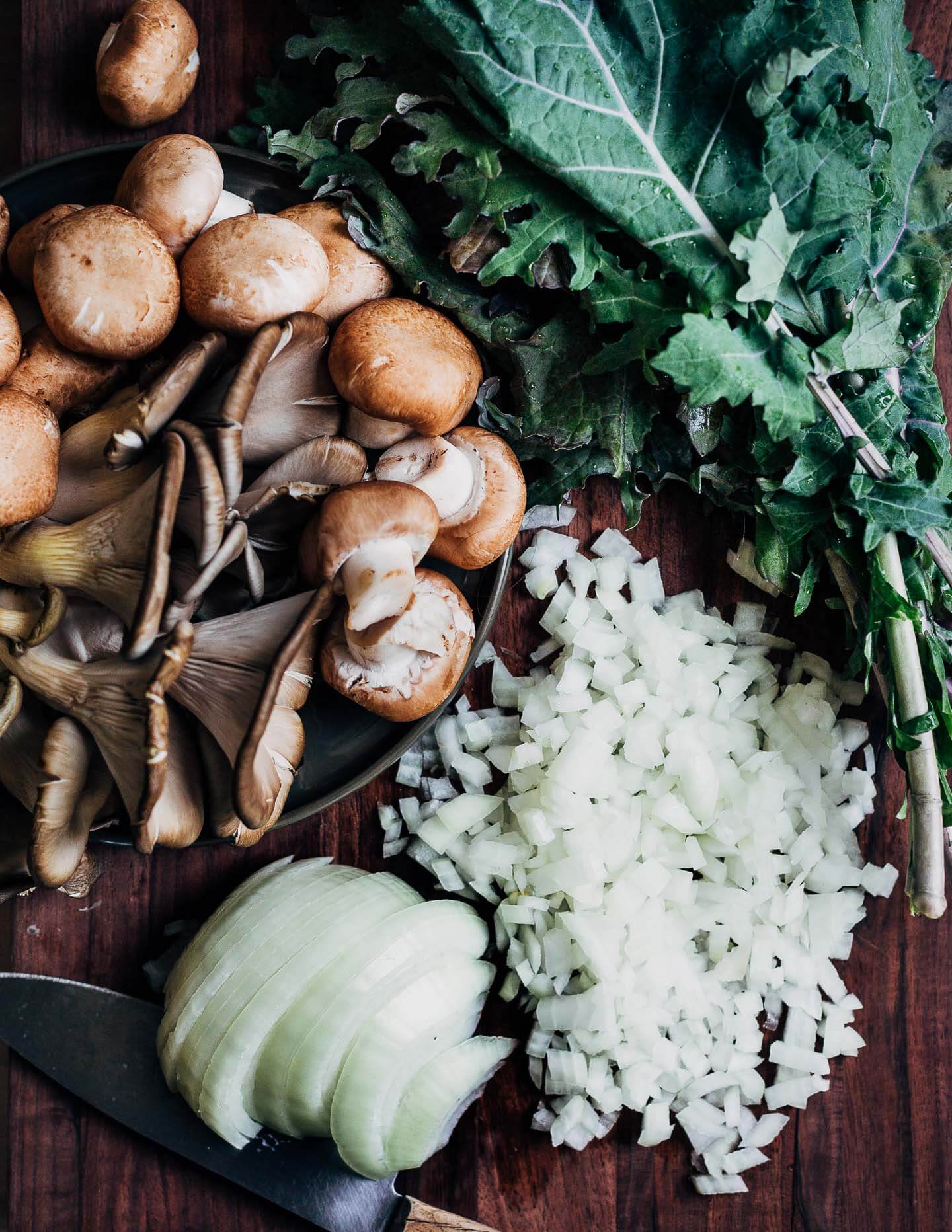 Savory Bread Pudding: A Simple Dinner for Busy Nights
I know this time of year finds us all juggling a bit too much, and dinner can feel like an afterthought. This savory bread pudding with mushrooms and greens, also known as strata, checks a lot of boxes for busy types who need dinner. It comes together in about 20 minutes and can be prepped up to one day ahead. Suffused with cream and Comté, crispy mushrooms, and tender greens, it's also really delicious.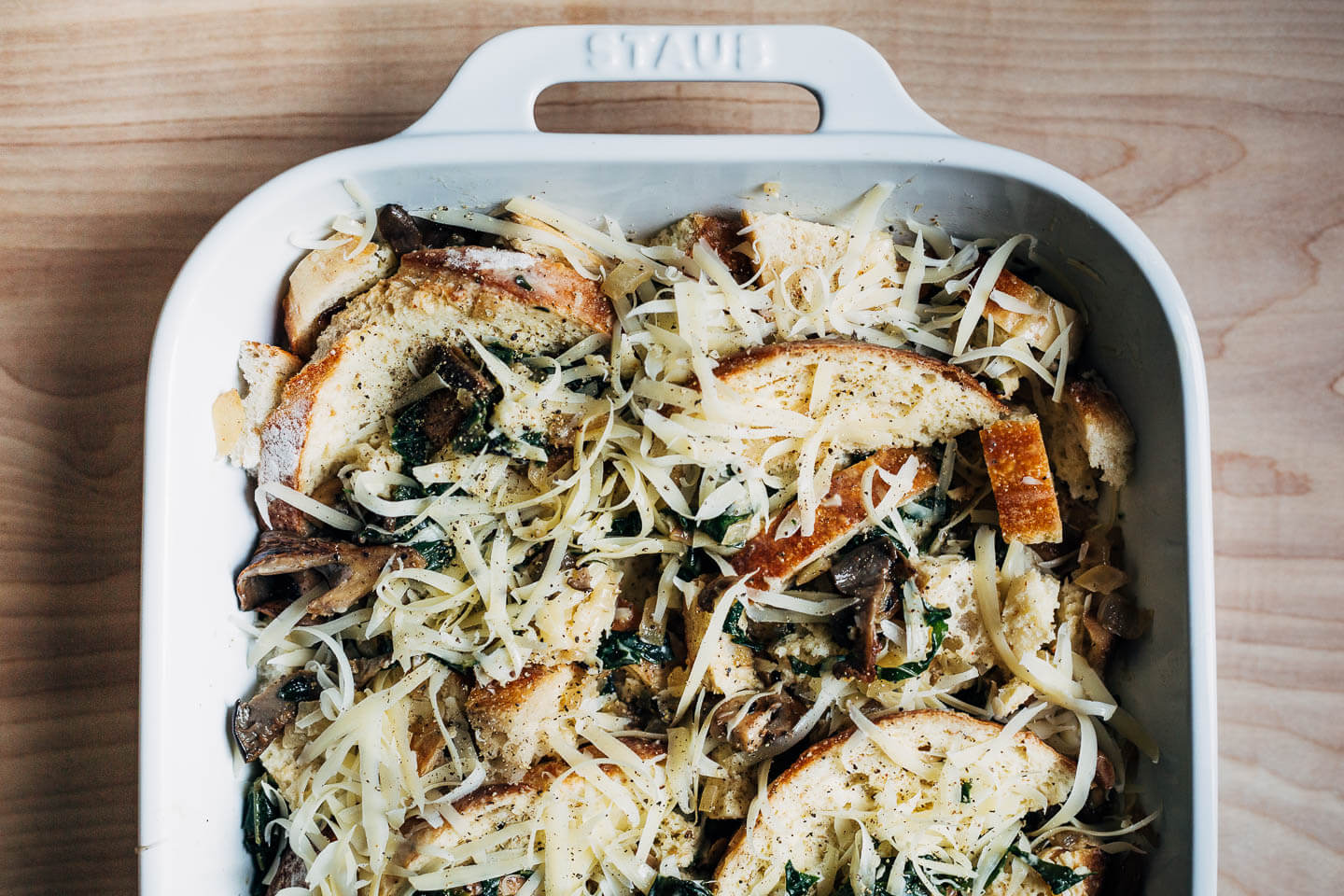 Holiday Menu Ready
And while it's great as a simple, sating weeknight affair, savory bread pudding can also be a lovely vegetarian addition to a holiday dinner spread. Keep it in mind as you plan your holiday menus!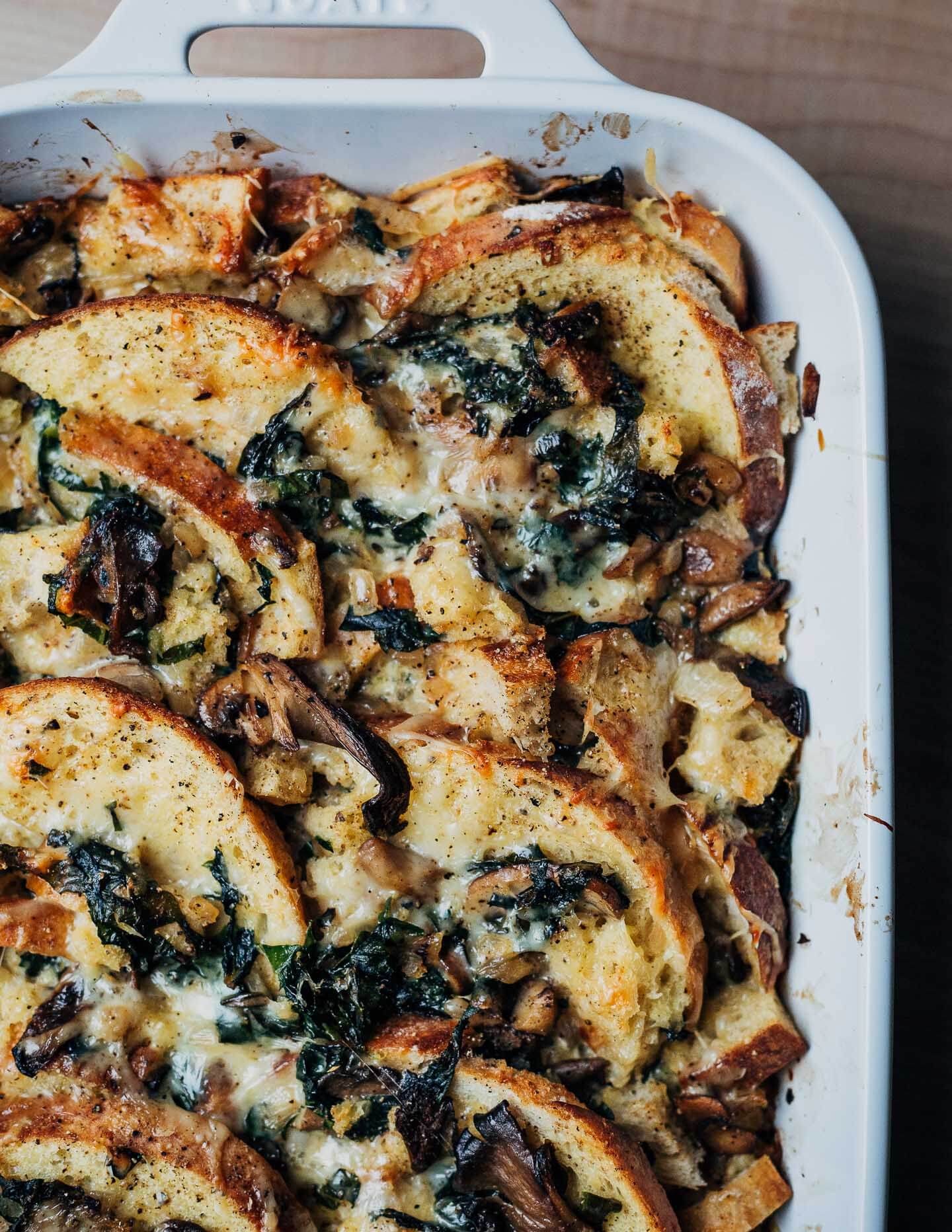 Building the Flavor
A good savory bread pudding has depth and flavor, and there are a few steps to get you there. I start by searing the mushrooms in a hot, uncrowded skillet, leaving the mushrooms untouched until the edges start to crisp and the mushrooms release their water. Next, I cook the onions and greens until they're supple. I deglaze the pan with drinking sherry, tossing all the vegetables in the reduction and imbuing everything with flavor.
The bread pudding itself is made with a familiar base of ingredients: cubed sourdough (no need to remove the crusts), eggs, cream, and cheese. If your bread is on the stale side, wonderful. If it's fresh, that'll work too. There's no need to toast the bread, since this recipe cooks up with lots of crispy, golden edges no matter what.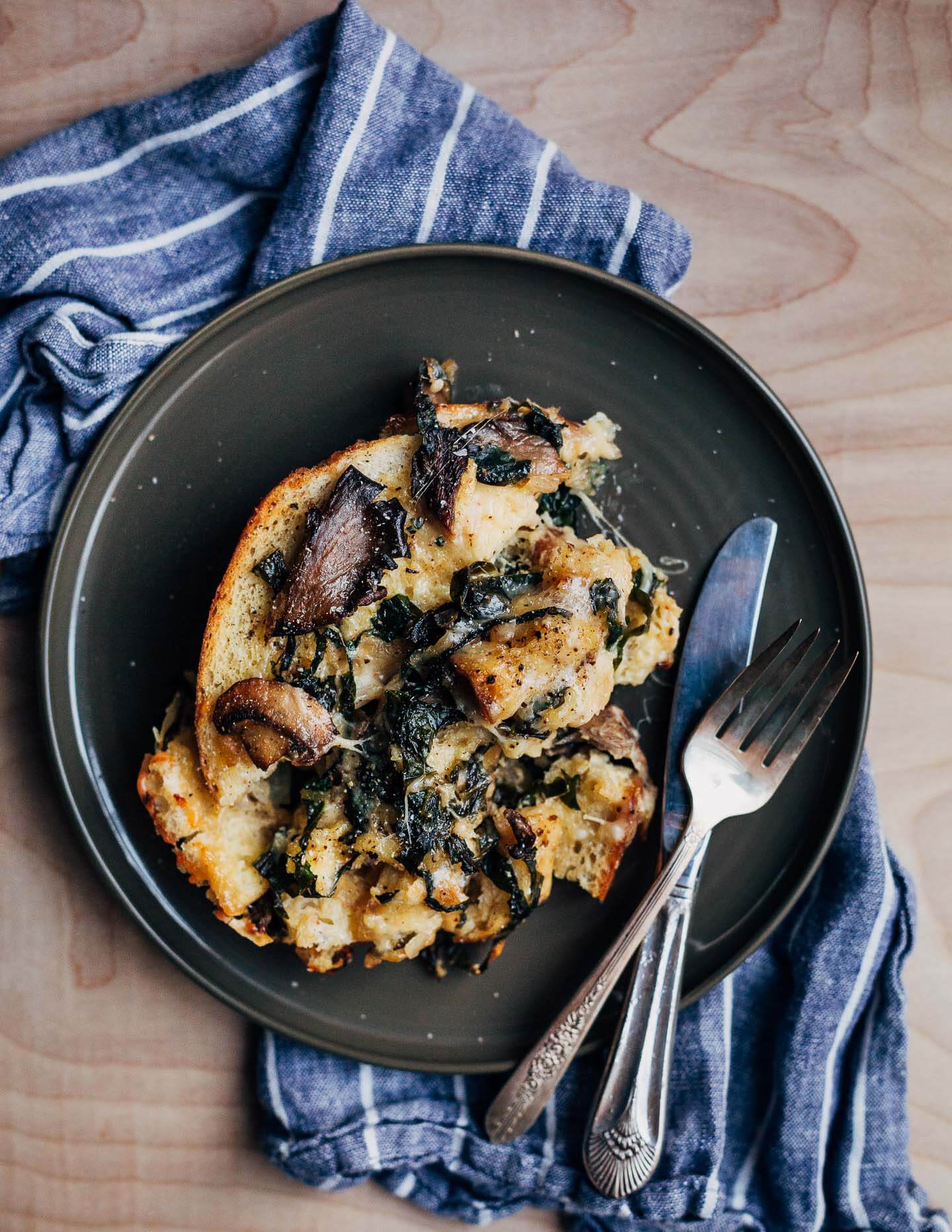 Make It Yours
As always, there's lots of room for variation. Sub in any mushrooms and any greens. Dress it up with a swirl of pesto or frizzled shallots. Leeks, fennel, shallots, or fresh minced chilies can all be swapped or added for more flavor.
A note on ingredients: sherry plays an important role. But if you don't have it, a nice dry white wine or dry vermouth will work too.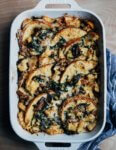 Savory Bread Pudding (Strata) with Mushrooms and Greens
A versatile, make-ahead recipe for savory bread pudding (also known as strata) with mushrooms and greens. This vegetarian recipe is perfect for busy weeknights or as part of your holiday menu.
*For a decorative look, reserve a 2-inch horizontal sliver off the top of 6 slices, and arrange those at a diagonal on top of the bread pudding.
Ingredients
Butter for the baking dish

3

tablespoons

extra virgin olive oil

10

ounces

oyster,

crimini, or other mushrooms, woody stems trimmed, sliced ½-inch thick

Sea salt

1

large yellow onion,

minced

2

cloves

garlic,

smashed, minced, and peeled

4

ounces

kale or other greens

(about 5 - 6 stems), stems removed and chopped into thin ribbons

1/2

teaspoon

black pepper

1/2

teaspoon

red pepper flakes

2

tablespoons

sherry,

or sub dry white wine or dry vermouth

6

large eggs

2 1/2

cups

half and half,

or sub 1 1/4 cups each milk and cream

12

ounces

bread cubes

(about 6 cups), see note above*

10

ounces

grated Comté or Gruyere,

about 2 1/2 cups
Instructions
Preheat the oven to 350 degrees F. Butter a 9 x 13-inch baking dish.

Set a 9- or 10-inch skillet over medium/medium-high heat. When hot, add a drizzle of olive oil and about half the mushrooms (they should have lots of room). Cook, undisturbed, 4 - 5 minutes, then flip and cook 2 - 3 minutes more. Remove mushrooms to a plate and sprinkle with sea salt. Repeat for the second batch, adding additional olive oil as needed.

Edge heat down to medium. Add the remaining olive oil and the onions. Cook about 4 minutes. Add garlic, a sprinkle of sea salt, pepper, red pepper flakes, and kale, and cook until the kale is quite supple, about 7 minutes more. Add sherry, scrape up any brown bits, and fold the mushrooms back in. Remove skillet from heat.

In a large mixing bowl, whisk the eggs and then whisk in the half and half and 1/2 teaspoon sea salt.

Scatter half the bread cubes in the baking dish. Pour half the egg mixture over top. Add half the vegetables and half the cheese. Top with remaining bread cubes. Add the remaining egg mixture, vegetables, and all but 1/4 cup of cheese. Press and toss gently with fingertips to combine. If using, add decorative bread slices, pressing them down gently so they get moistened. Top with reserved cheese, and finish with black pepper and a sprinkle of sea salt.

Cover with foil and bake for 30 minutes. Remove foil, and bake until filling is puffed up and bubbly and the top is golden with crisp edges, 15 - 20 minutes more. Cool 10 minutes, then serve.

Bread pudding can be assembled up to 1 day ahead of time. Keep it covered in the fridge until you're ready to bake.