This rustic savory pear and Gruyere tart with fresh bay leaves makes for a lovely holiday appetizer.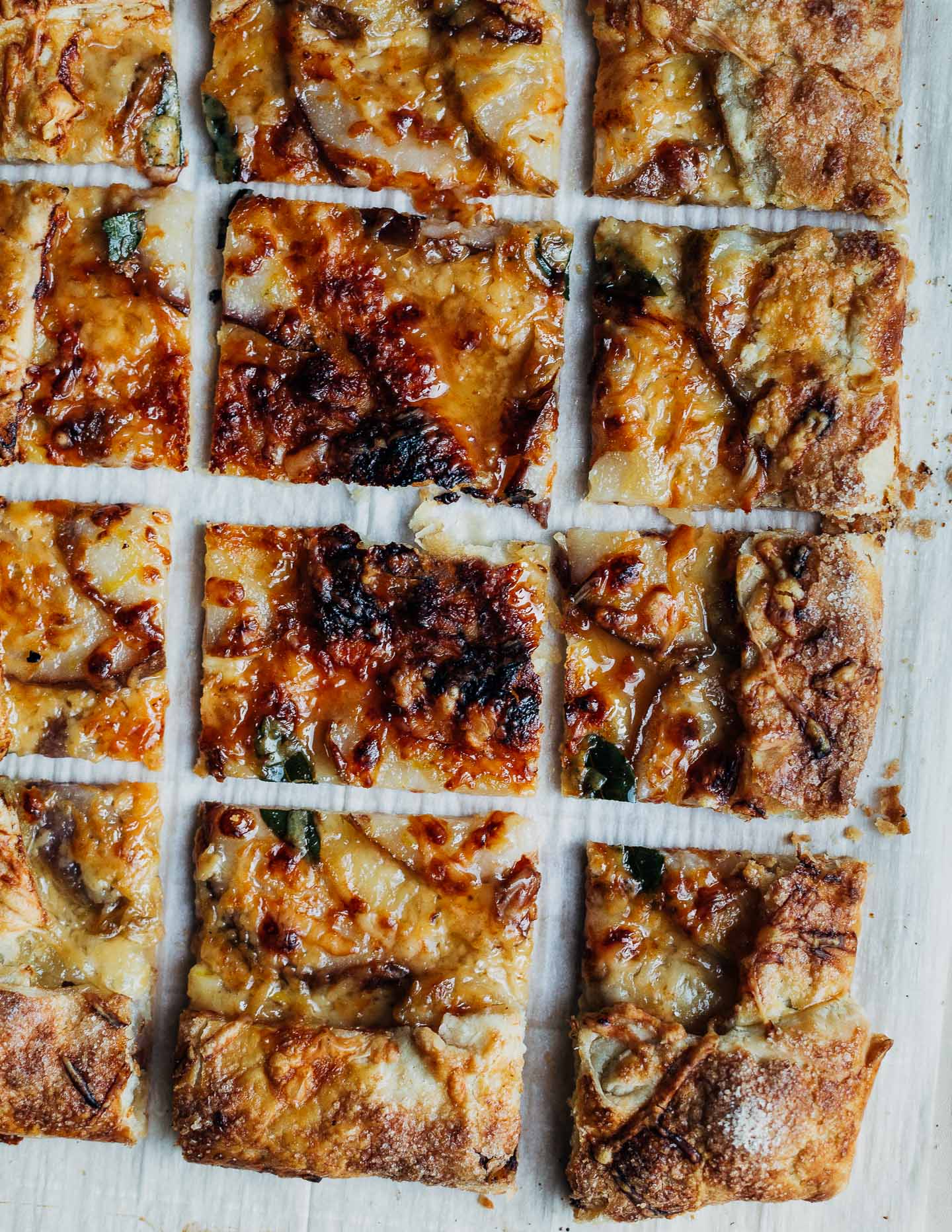 The Best Ways to Eat Cheese and Fruit
You know those kind of staid brie and jam appetizers? The ones where you slather a wheel of brie with jam and either warm it up like that or cover it with pastry dough? Those things are good.
Unctuous cheese and fruit were meant to be together and there's no use denying it. So whether you're going the pastry dough and jam slathering route, or you're very fancy and rustic like me and bake pears, brown sugar, bay leaves, and Gruyere in a flaky homemade pastry dough, you're harnessing a near-perfect flavor combination that's just right for a holiday appetizer or dessert. (But probably an appetizer. This savory pear tart is fantastic but I would never suggest it take the place of pie!)
On a practical note, this tart is well-suited to the times we're living in since it can be sliced and served – no commingling of knives and bread and fingers.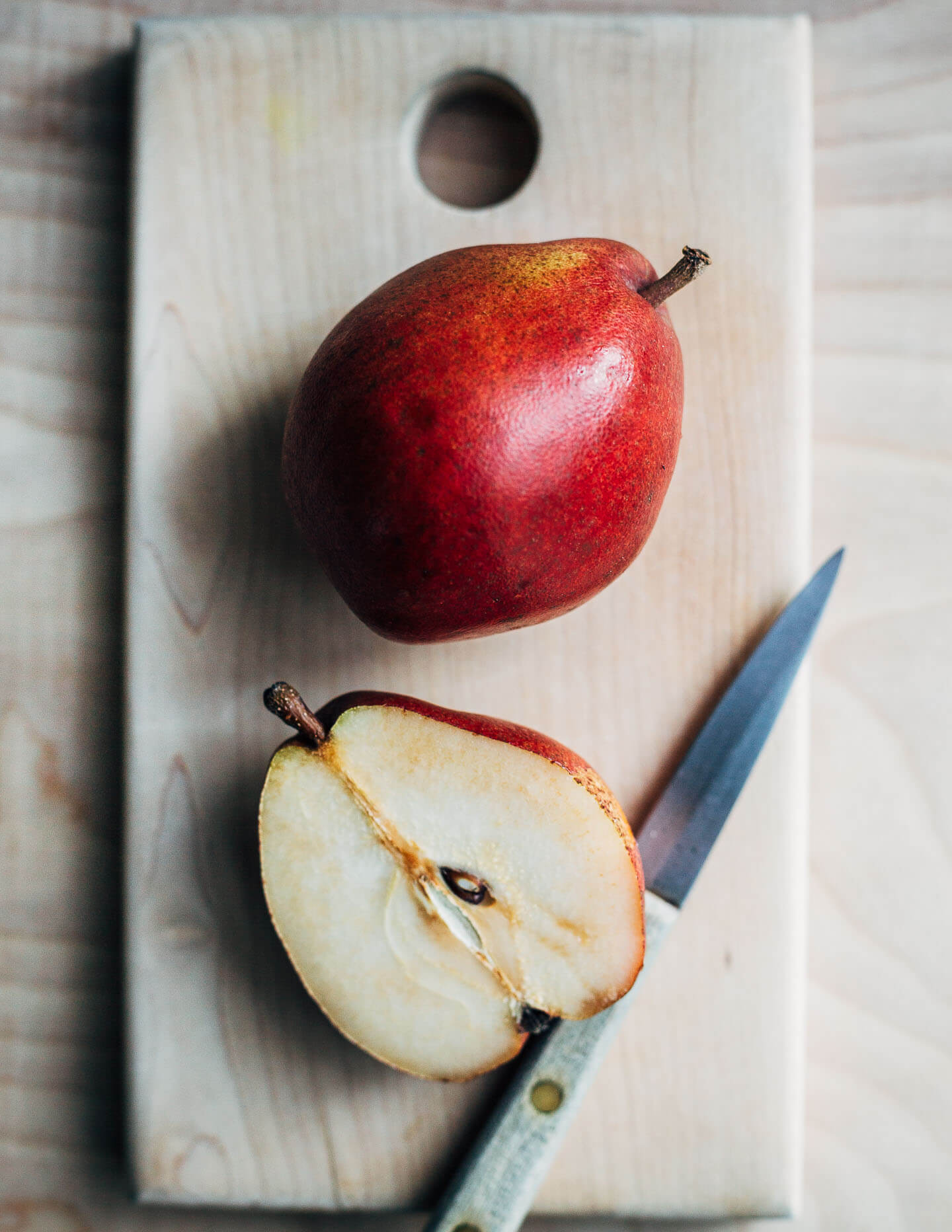 On Pastry Dough
This pear and Gruyere tart starts with flaky pastry dough. I made my own dough, using my usual recipe. I used to lean heavily on a method that used a combination of grated and sliced butter, which gave me fairly flaky dough with a tight crumb, but lately I'm back to a more traditional style of slicing the butter and cutting it in.
If you're new to pastry dough or just ready to step things up, this comprehensive pie post goes into the pastry dough techniques I use most often and has a lot of tips for beginners.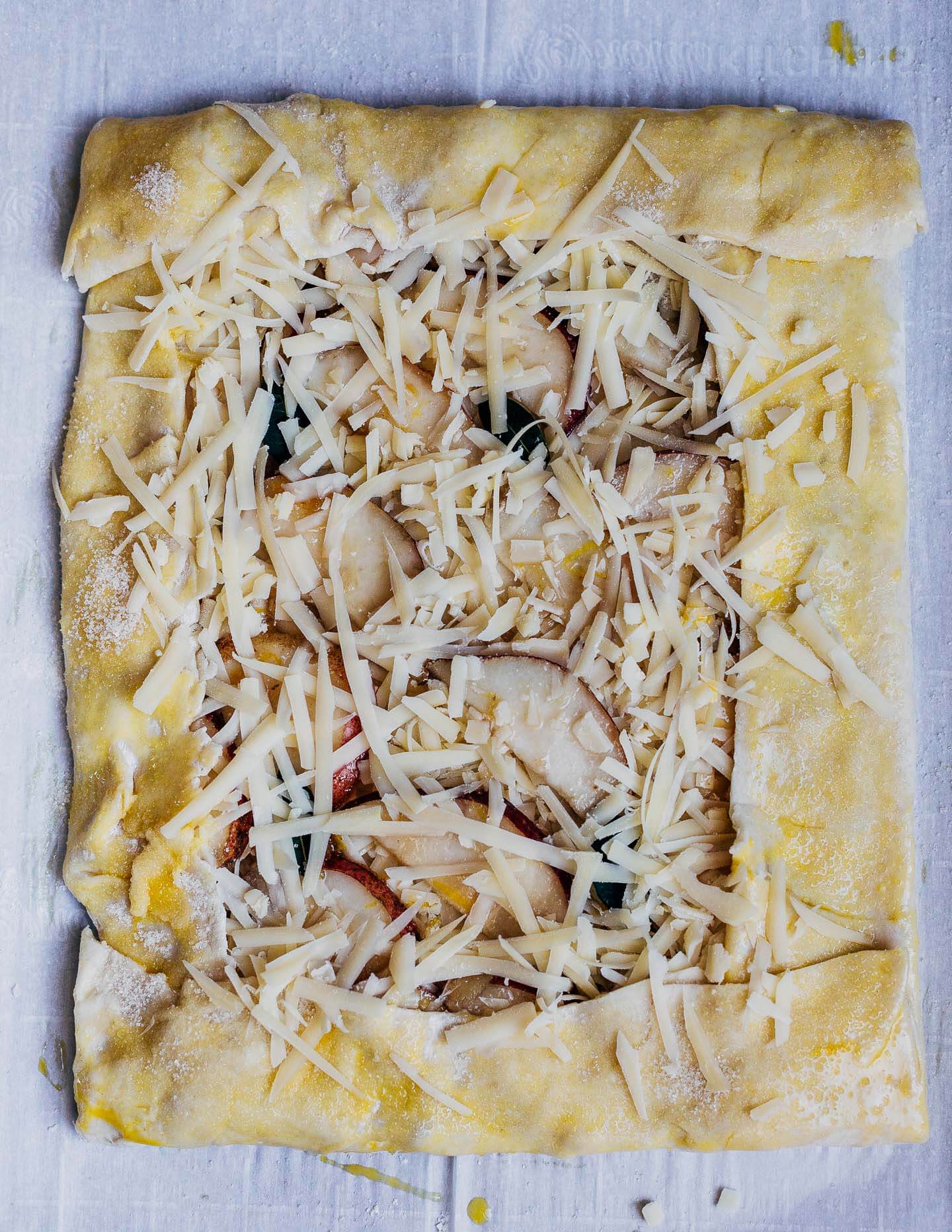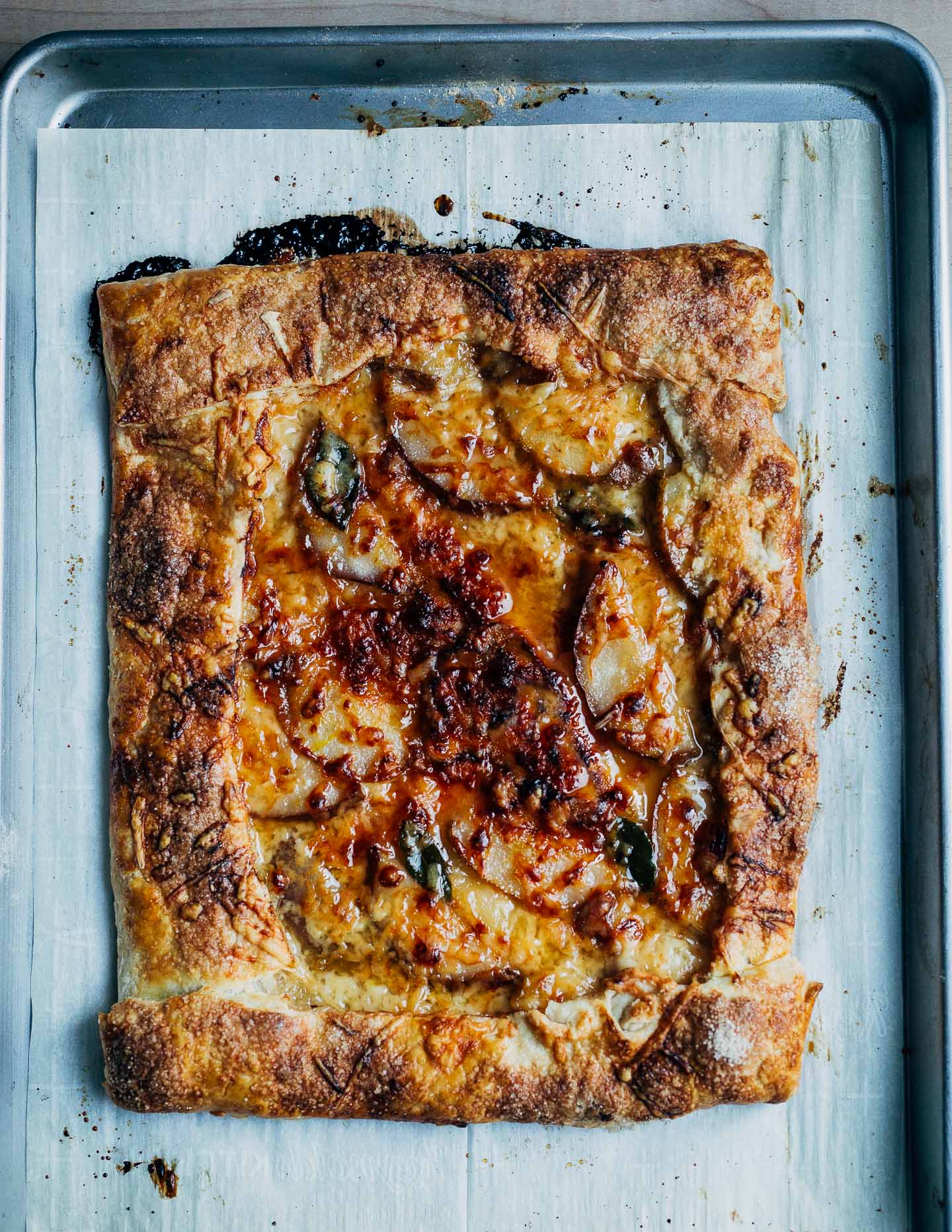 On Filling
Once you have your dough nice and chilled, you're ready to assemble the very simple filling. It's just a couple of pears, halved, cored and sliced, brown sugar, lemon zest, and a pinch of sea salt – no thickener needed. I also threw in some fresh bay leaves which impart quite a bit of buttery, herbaceous flavor. Fresh thyme would be just as lovely, so use what you have and what's easy.
Any decent Gruyere will do, but this savory pear tart can be a nice place to showcase a more assertive aged variety. And really, you don't have to stick with Gruyere – an aged cheddar would be nice as well.
Likewise, crisp apples or Asian pears could be subbed in for the Red Anjou pears I used here.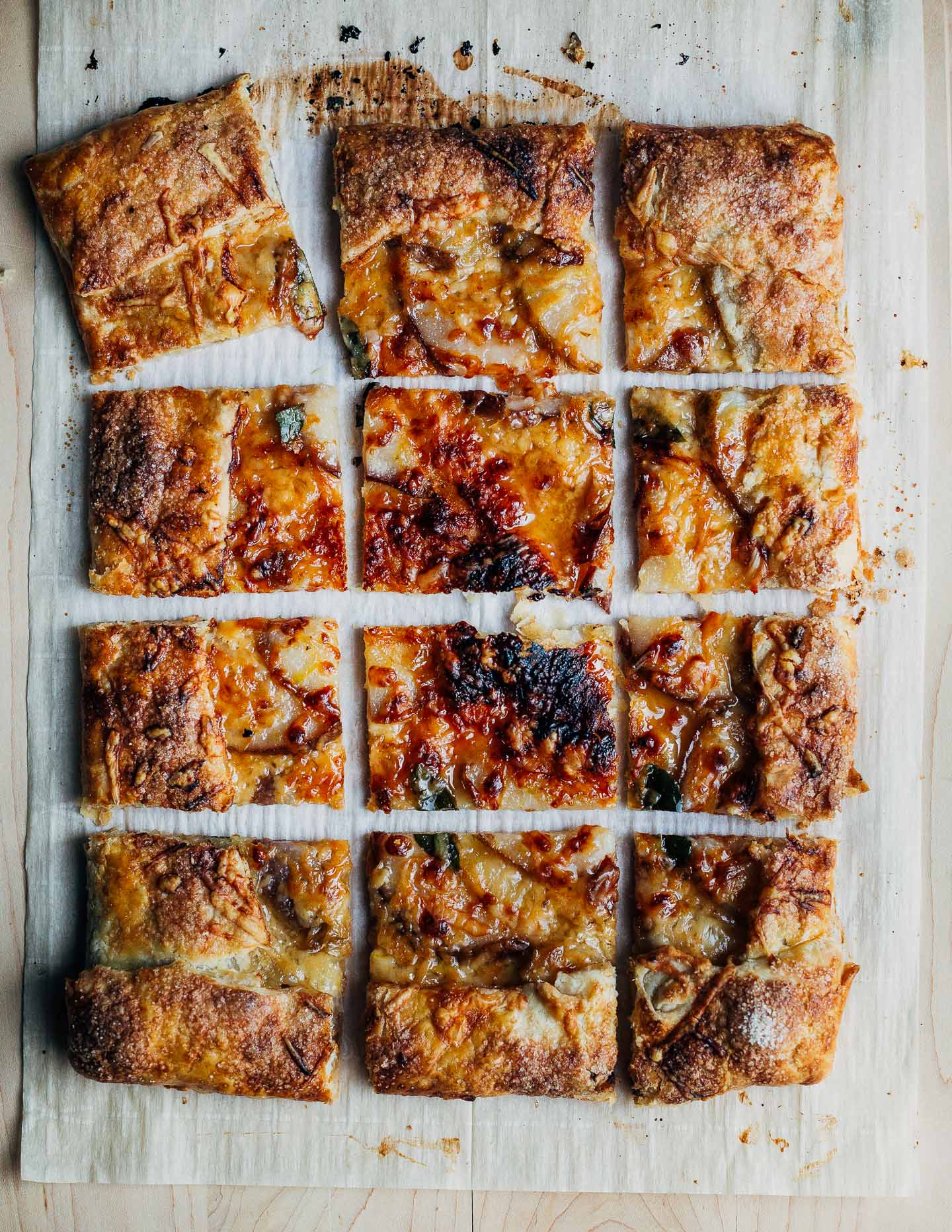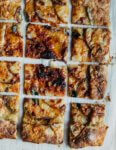 Savory Pear Tart with Gruyere and Bay Leaves
This rustic savory pear tart with Gruyere and fresh bay leaves makes for a lovely holiday appetizer.
Keyword:
savory pear tart
Ingredients
Pastry
1 1/4

cups

all-purpose flour

2

teaspoons

plus one tablespoon cane sugar,

divided

1/2

teaspoon

sea salt

8

tablespoons

unsalted butter,

cut into thin slices

1/3

cup

ice water

1

egg,

lightly beaten
Filling
2

Red Anjou or other firm variety of pears,

halved, cored and cut into 1/4-inch thick slices

3

tablespoon

brown sugar

Zest of 1 lemon

Pinch

of sea salt

8

ounces

shredded Gruyere cheese

4

fresh bay leaves, or for more mild flavor, 4 sprigs fresh thyme
Instructions
Make the dough at least an hour ahead (longer, if possible).

In a large mixing bowl, use a fork to whisk the flour, 2 teaspoons sugar, and sea salt together. Toss in the slices of butter, and cut into the flour mixture, either with a pastry cutter or with your fingertips. The mixture should be crumbly, with each bit of butter coated in flour. Use a silicone spatula to fold in just enough ice water for things to hold together. Tip mixture out onto a lightly floured sheet of parchment or plastic, gather into a disc, and wrap tightly. Set in the fridge to chill for at least an hour, but preferably overnight. If at any point in the dough-making process, the dough starts to feel warm or gluey, stop and put it back in the fridge to chill for 20 minutes or so.

When ready to make the tart, preheat the oven to 400 degrees F. Line a large baking sheet with parchment.

In a medium mixing bowl, toss the pears with the brown sugar, lemon zest, and sea salt. Set aside.

Set the cold dough on a lightly floured sheet of parchment. Roll into a rough 15 x 12-inch rectangle. Trim any extra dough and patch up any holes. Reserve any leftover dough.

Scatter half the cheese in the center of the dough rectangle, leaving a 2- or 3-inch border. Working at a diagonal, arrange the pears in lines so the cut side lines up in little rows. Don't overcrowd or overlap the slices – you'll likely have a few left over. Tuck the bay leaves around the pears.

Brush the pastry border with egg wash and fold the long sides in first, followed by the short sides. Press to crimp the folds firmly together. Plug any holes with reserved dough. Brush the edges with egg wash and sprinkle with 1 tablespoon cane sugar. Add the remaining cheese, mostly over the pears, but add a few bits of cheese over the crust as well.

Bake 25 - 30 minutes, or until the crust is golden brown and the cheese is bubbling and brown in places. If any of the cheese forms a bubble, open the oven and carefully press it down with a fork.

Cool 30 minutes, slice, and serve. If desired, remove the bay leaves before serving, though I prefer to leave them in and just warn my guests.

Tart can also be made a day ahead and rewarmed in a 300 degree oven for 15 - 20 minutes.