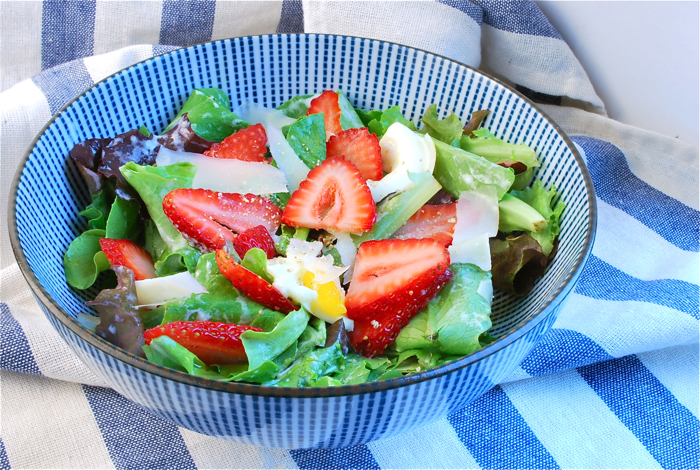 I've always been a bit dubious about savory strawberry preparations. With such subtle flavor, it seems the sweetness could easily be leached out of the delicate berries. But the other day, for whatever reason (chalk it up to a pregnancy craving) I needed some strawberries in my salad. Also, two eggs and buttermilk. Lucky for me, it was really simple to put this satisfying salad together.
Buttermilk dressing is a versatile dressing, and lends a relatively low-fat creaminess that compliments a host of seasonal greens. With a little more salt, this would be good with bitter greens, and as is, it blends beautifully with more delicate spring lettuces or tender spinach. I intend to make this my go-to dressing for summer 2011. Now all I need is a good summer jam (as in song, but maybe some actual jam would be good too. As in, "Ahhhh, 2011–that was the year we ate all that great blueberry lime jam, right?").
I kept my version of the salad simple, but this would also accommodate bacon, nuts or seeds, or crumbled feta very nicely.
Savory Strawberry Salad with Buttermilk Dressing
for the buttermilk dressing
1 scallion, minced
1/2 teaspoon salt
1/4 cup buttermilk
3 tablespoons sour cream
1 tablespoon rice wine or white wine vinegar
2 tablespoons olive oil
1 teaspoon fresh ground black pepper
for the strawberry salad
4 eggs
1 tablespoon white vinegar
3 or 4 big handfuls of lettuce greens (here a mix of young lettuce and spinach)
1/2 red onion, sliced paper thin
1/4 cup grated Pecorino Romano, plus more for garnish
1 cup strawberries, thick sliced
To prepare the eggs, using a needle or push pin, poke a small hold in the narrow end of the egg. Place in a small to medium saucepan and cover with cold water. Add a tablespoon white vinegar. Bring to a boil, and then cover, remove from heat, and set aside for 6 minutes. Rinse the eggs under cold water, and allow them to cool. Peel and slice the eggs and set aside.
Meanwhile, prepare the dressing. In a jar or bowl, cover the shallots with salt, and beat with a fork to macerate. Fork whisk in the vinegar, olive oil, buttermilk, sour cream, salt, and pepper. Check salt and acid levels and adjust if necessary.
Wash and dry the greens, and place in a large salad bowl. Dress the greens with your hands. Toss in the Pecorino and onion slices. Scatter the sliced eggs and berries, add another drizzle of dressing and some Pecorino Romano shavings. Finish with a few twists of fresh pepper, and serve.