A rich and creamy seafood chowder recipe featuring Old Bay seasoning, cod, crab, a mix of potatoes and turnips, and wild chives.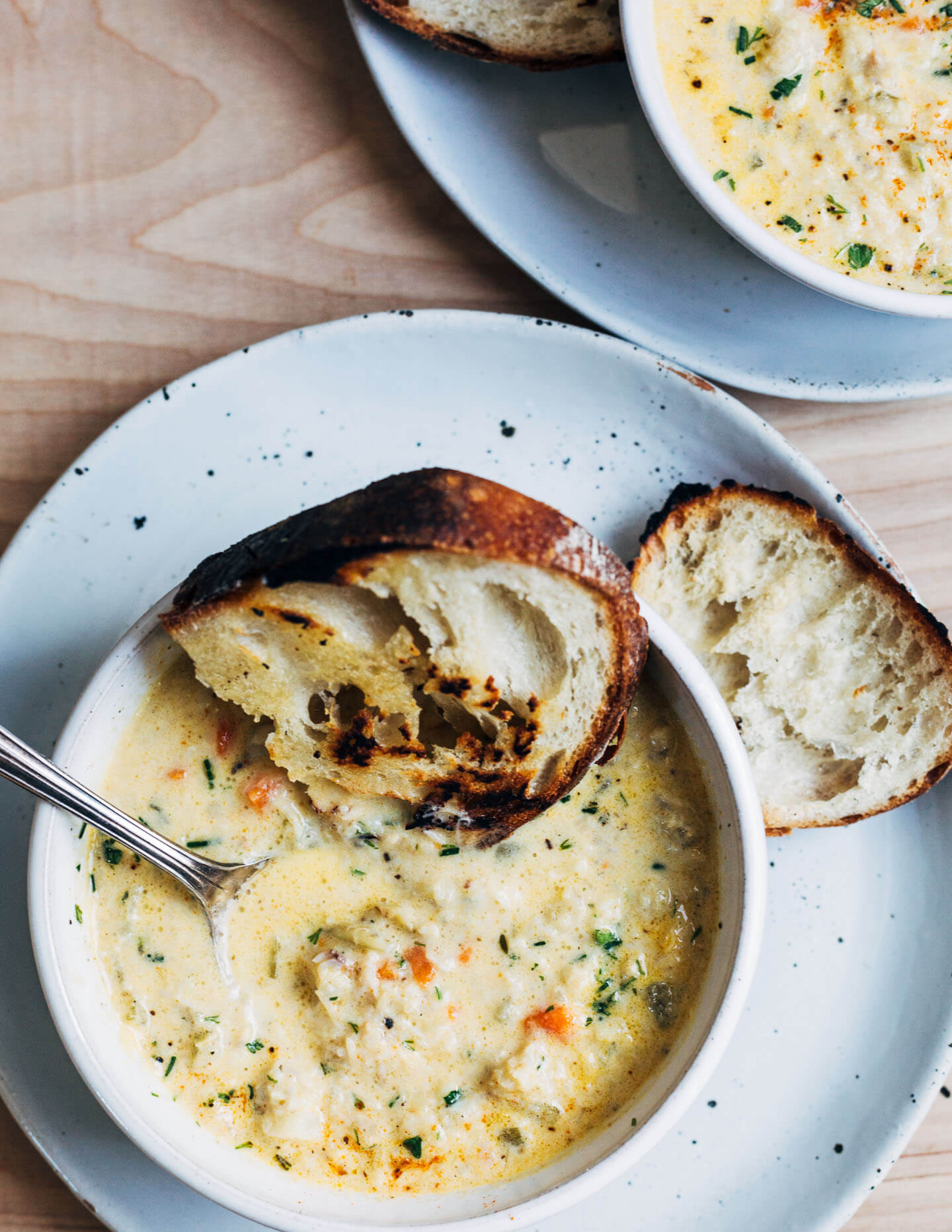 A Winter Garden
I've had three winter gardens since I've lived in Virginia. The first was entirely experimental and did pretty well owing to a mild winter. The second froze solid in mid-December and that was that. This year's garden, my third attempt, has been incredibly productive considering the lack of sunlight and warmth generally. I planted only winter-hardy plants: daikon, black radishes, turnips, kale, cabbage, and an herb called winter chervil (it's really lived up to its name!).
For those interested, I've used Ira Wallace's book Vegetable Gardening in the Southeast as my guide to all-season gardening (sorry to my northern readers!).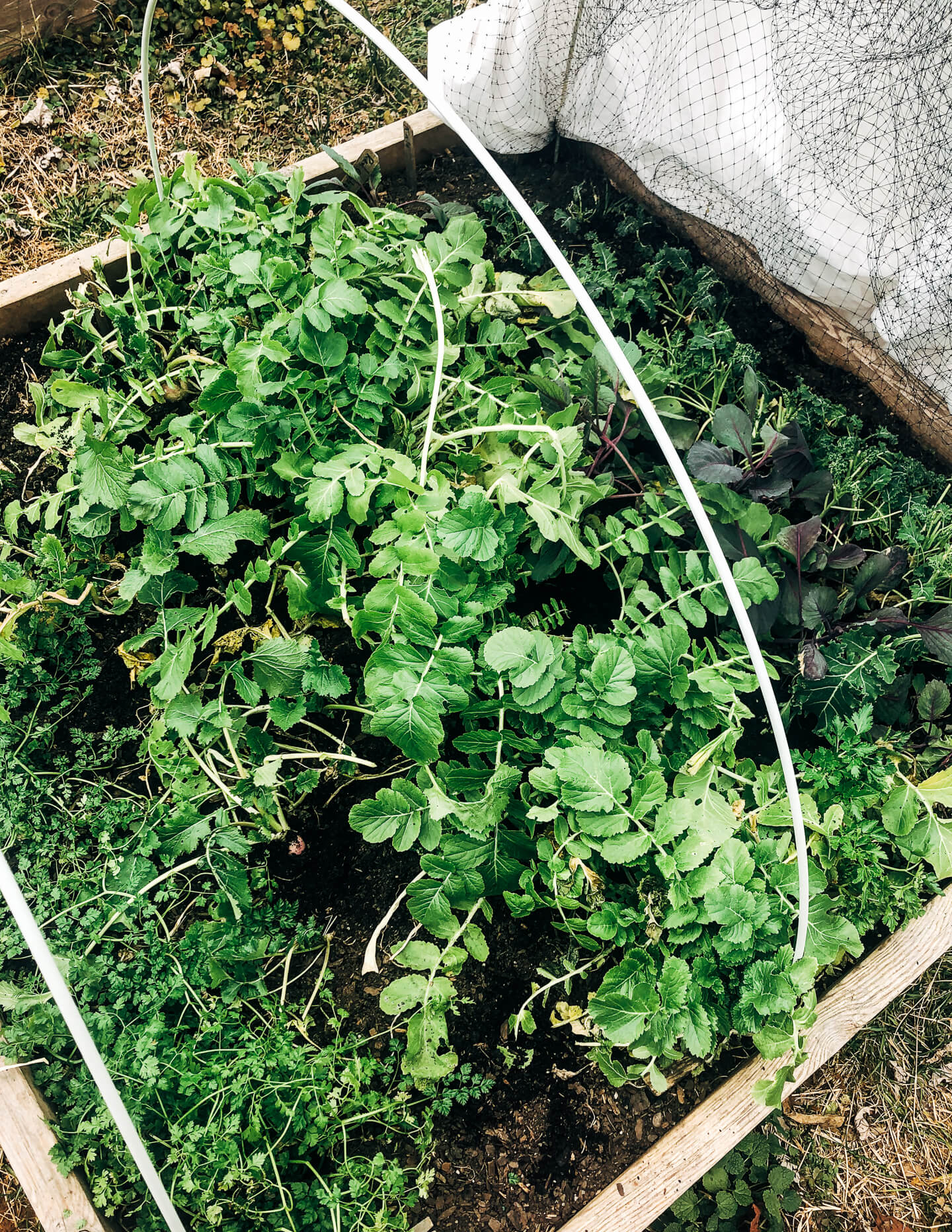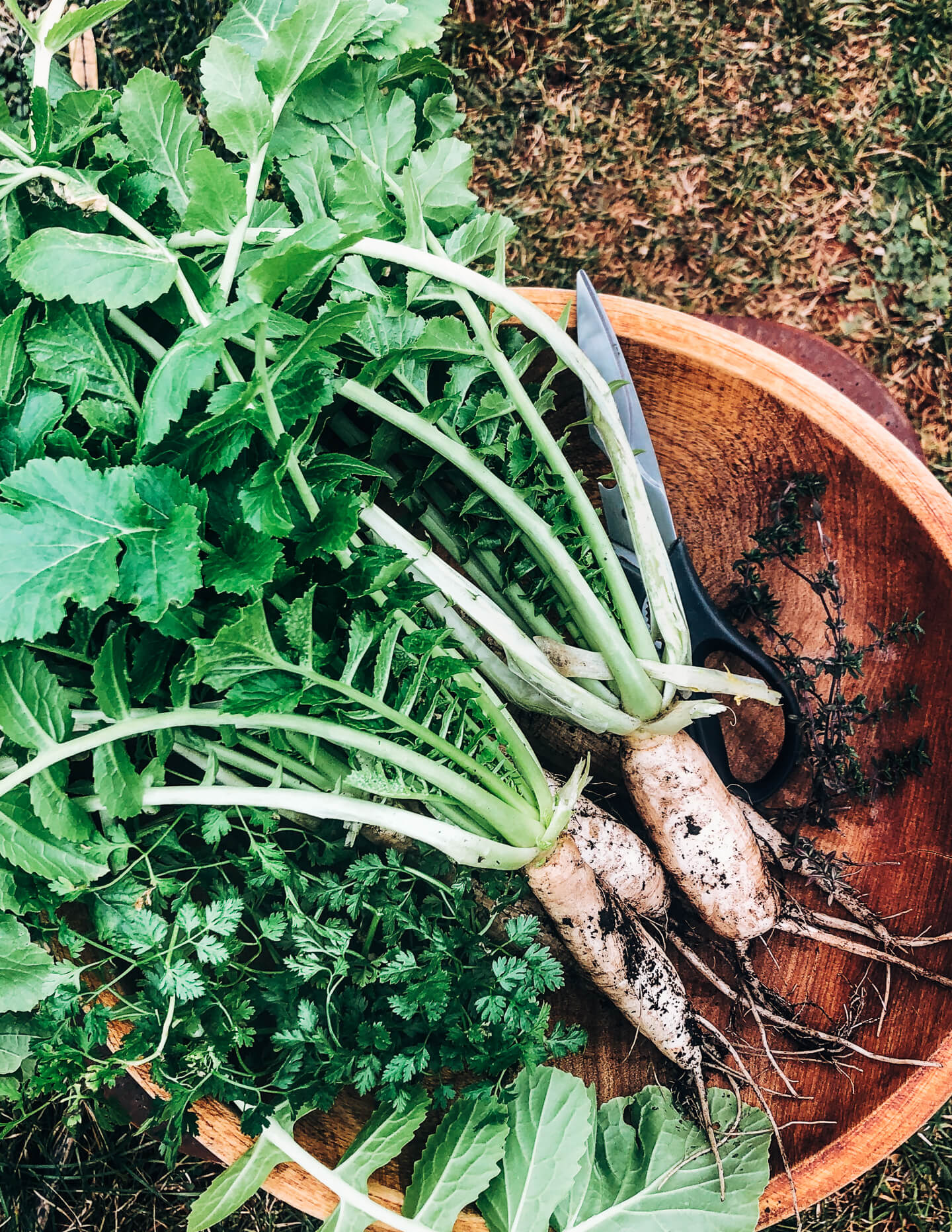 Making Use of Winter Vegetables
With growing so much food comes the issue of actually eating it. We've been stewing or blanching the turnip and radish greens – they turn supple and take on other flavors beautifully. I've made kimchi and quick pickles with the daikon. Even with all this, I'm left with odds and ends, a few turnips and black radishes, lingering in the crisper.
These ingredients might not be the first thing you'd think to add to a seafood chowder, but they lend an earthy edge to what was always meant to be a delicious solution to consuming vegetal odds and ends.
Especially now, when grocery runs are fleeting and far between, it feels important to build flexibility into any recipe. This seafood chowder uses a mix of potatoes and winter tubers, and you should use whatever kind of tubers you have. If you're shopping, rutabagas are sweet and cheap this time of year. Turnips can have a hint of bitterness, but it's balanced nicely by the sweetness of crab and cream in the chowder. Parsnips, carrots, even tough radishes would all work.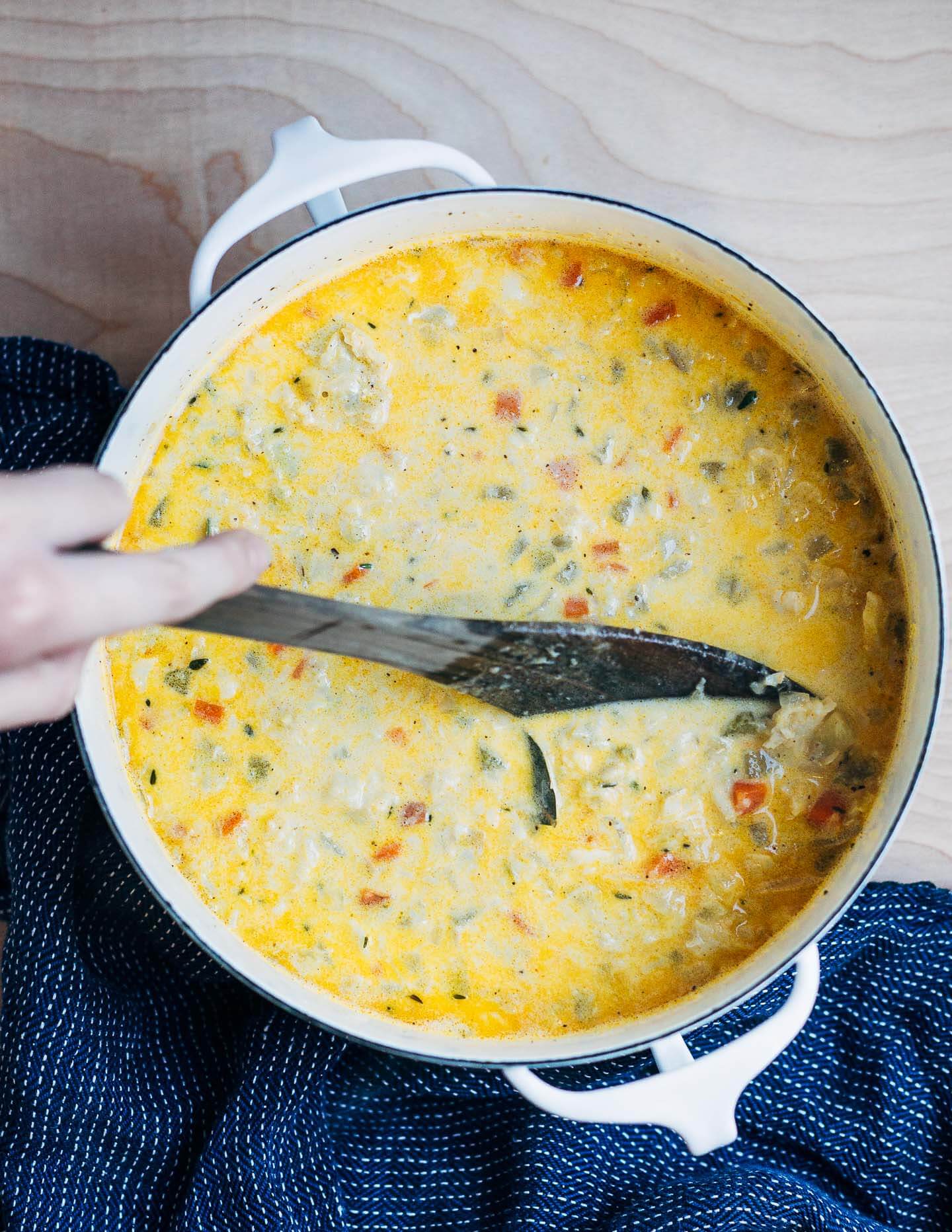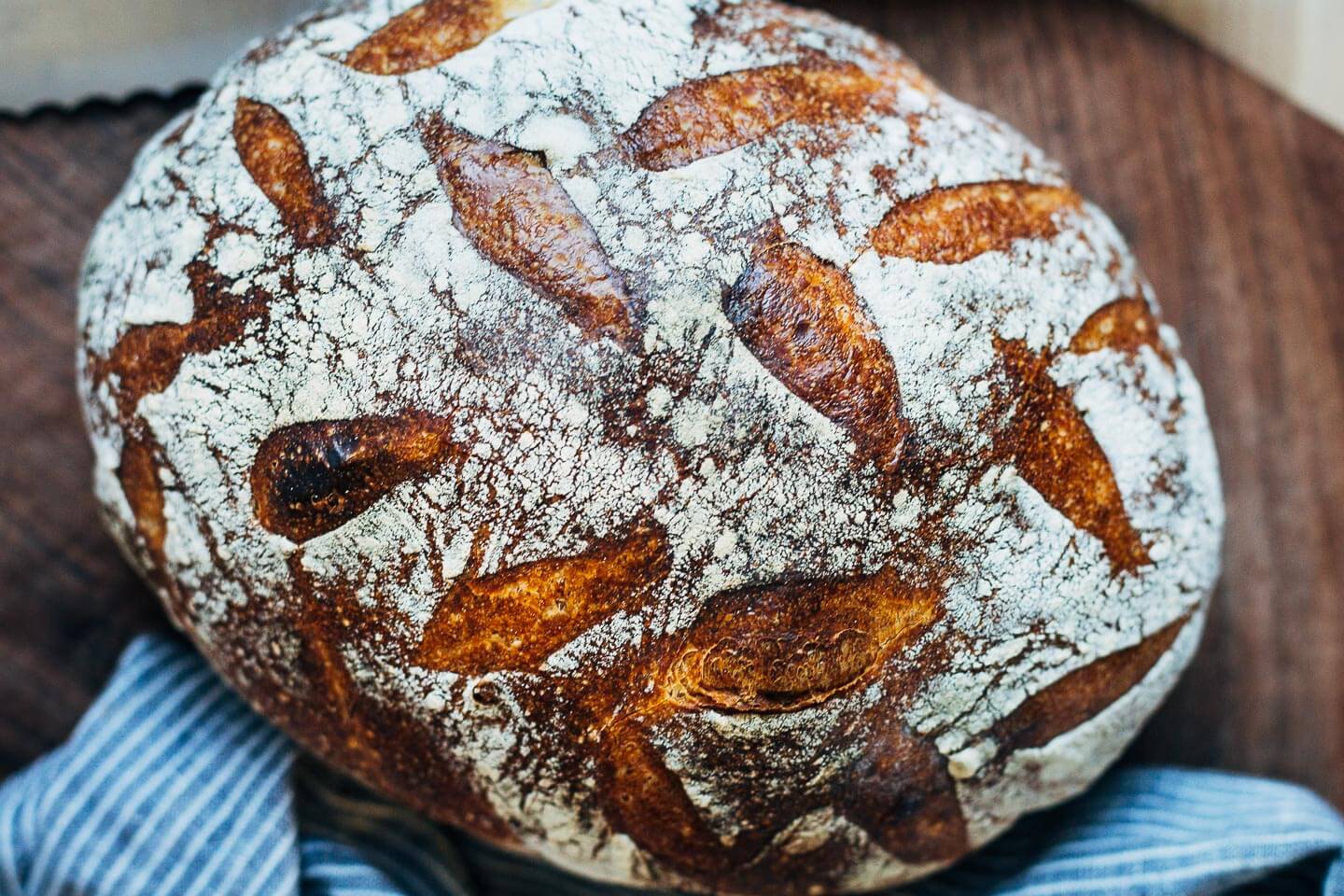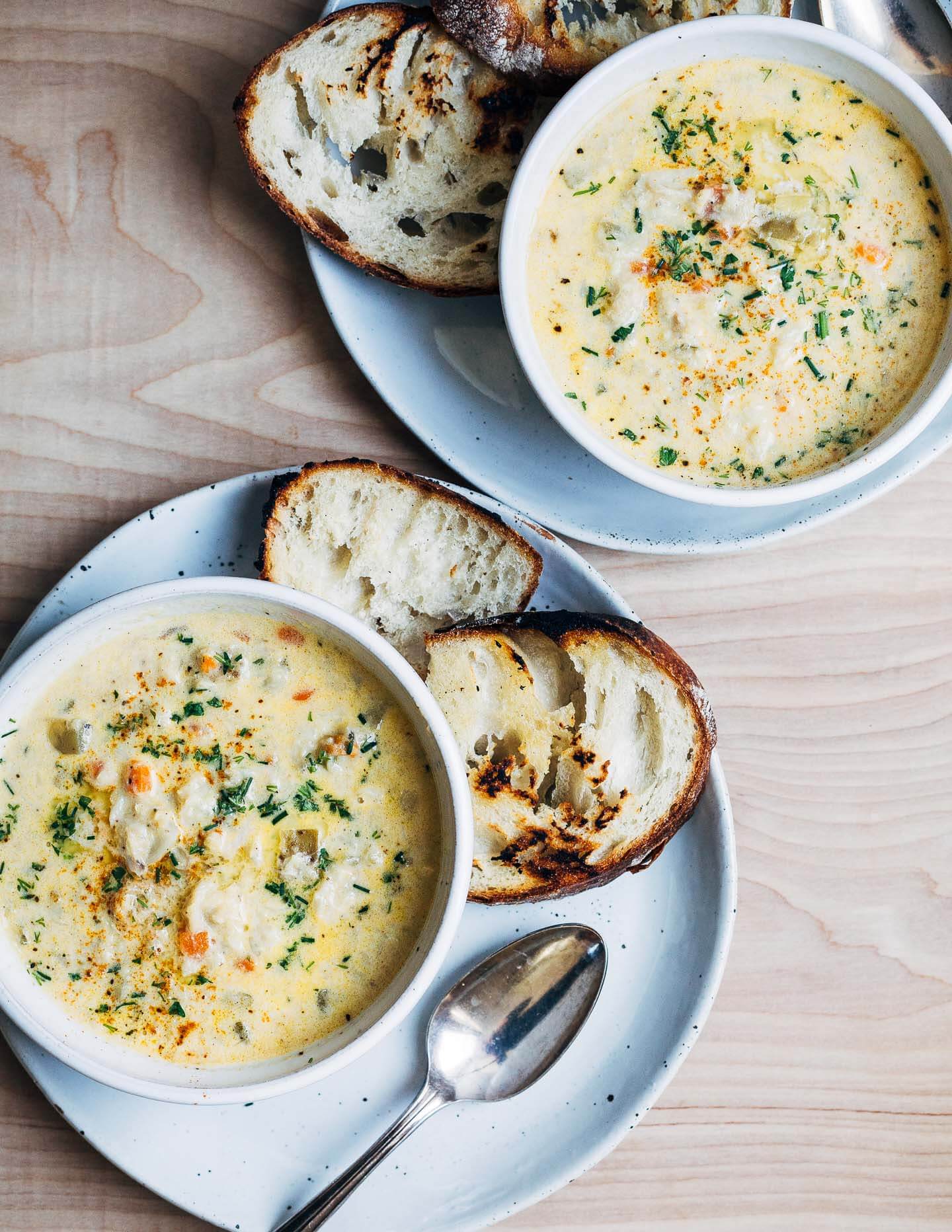 Seafood Chowder: Big Flavors and Delicate Seafood
To make the chowder, you'll want to sauté the onions, carrot and celery, and vegetables until they're just tender. Then add a broth you like – homemade or store bought (I really like Imagine's No-Chicken broth lately. It hits my flavor requirements but is suitable for pescatarian family members, too.) Once these flavors have melded, turn the heat down and add the cod. It should be cooked until tender and flaking at a gentle simmer. Pre-cooked crab meat can be added at the very end, along with the cream, to maintain its delicate texture. I grabbed herbs from the garden for garnish, winter chervil and a bunch of wild chives I swiped right out of the grass, but you could use what you have on hand. Parsley or even celery tops are great.
You don't have to bake your own sourdough for the toasts, in fact, you can just use whatever bread you have on hand.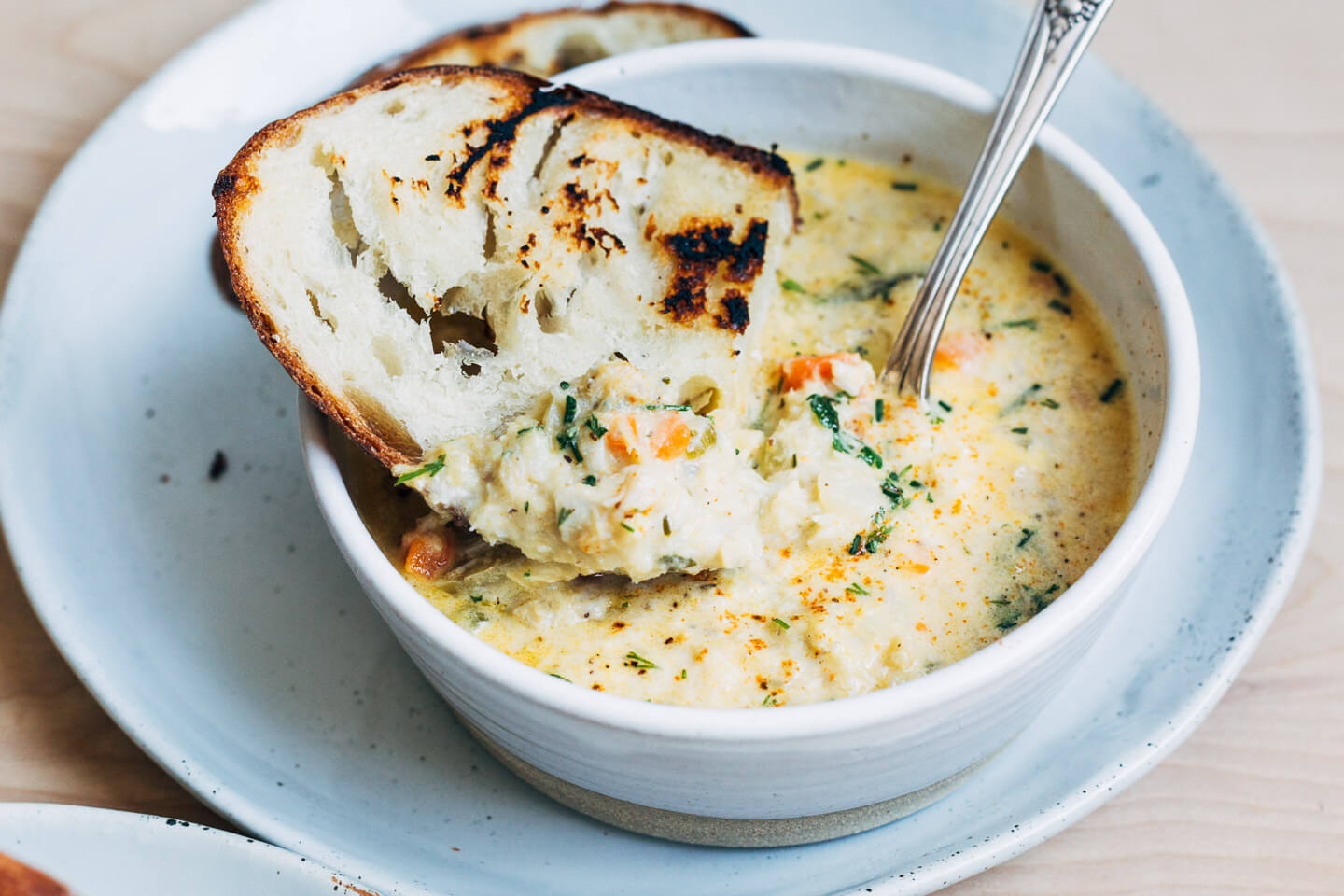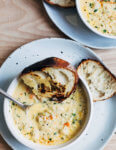 Seafood Chowder with Winter Root Vegetables and Sourdough Toasts
A rich and creamy seafood chowder recipe featuring cod, crab, a mix of potatoes and turnips, and wild chives.
Ingredients
Stew
4

tablespoons

unsalted butter

1

medium yellow onion,

diced

1

tablespoon

Old Bay seasoning

½

teaspoon

black pepper

2

celery ribs,

diced

1

large carrot,

scrubbed and diced

1

medium turnip,

rutabaga, or other tuber, scrubbed and diced (about 1 ½ cups)

3

small Yukon Gold potatoes,

diced (about 2 cups)

2 - 3

cups

chicken or vegetable broth

2

bay leaves

2

sprigs thyme plus more for garnish

1

pound

cod fillets

8

ounces

pre-cooked crab meat

2

cups

cream

Sea salt to taste

1/4

cup

chopped herbs,

such as parsley, winter chervil, or chives
Toasts
2

tablespoons

extra virgin olive oil

6

thick-cut slices sourdough

Sea salt and black pepper
Instructions
Set a 4- or 5-quart dutch oven or braising pot oven medium heat. Add the butter and when melted, the onions, Old Bay, and pepper. Sauté onions until translucent and tender, 5 - 7 minutes. Add the carrots and celery, and cook 5 minutes, stirring often. Add the remaining vegetables and cook another 5 minutes.

Slowly add 2 cups broth, scraping up any brown bits as you go. Add the bay and thyme, bring mixture to a boil, and then turn down to a lively simmer. Cook 10 - 15 minutes, or until vegetables are tender. Taste mixture, and add sea salt as needed. Turn heat down so that broth bubbles very gently, and add the cod. Cook until cod is flaking apart and cooked through, 10 - 15 minutes. Add the crab and cream, and cook until heated through. Taste again and add additional salt and/or pepper.

While stew simmers, make the toasts. Heat a cast iron or other heavy skillet over medium-high heat. Brush both sides of the sourdough with olive oil and season with salt and pepper, and then cut each slice in half. Add as many slices as will fit to the skillet and cook 2 - 3 minutes per side, or until the edges are dark brown (almost, but not quite burnt). Flip and cook the other side. Repeat for any remaining slices.

Ladle stew into bowls and serve soup topped with fresh herbs and a couple of sourdough croutons on the side.