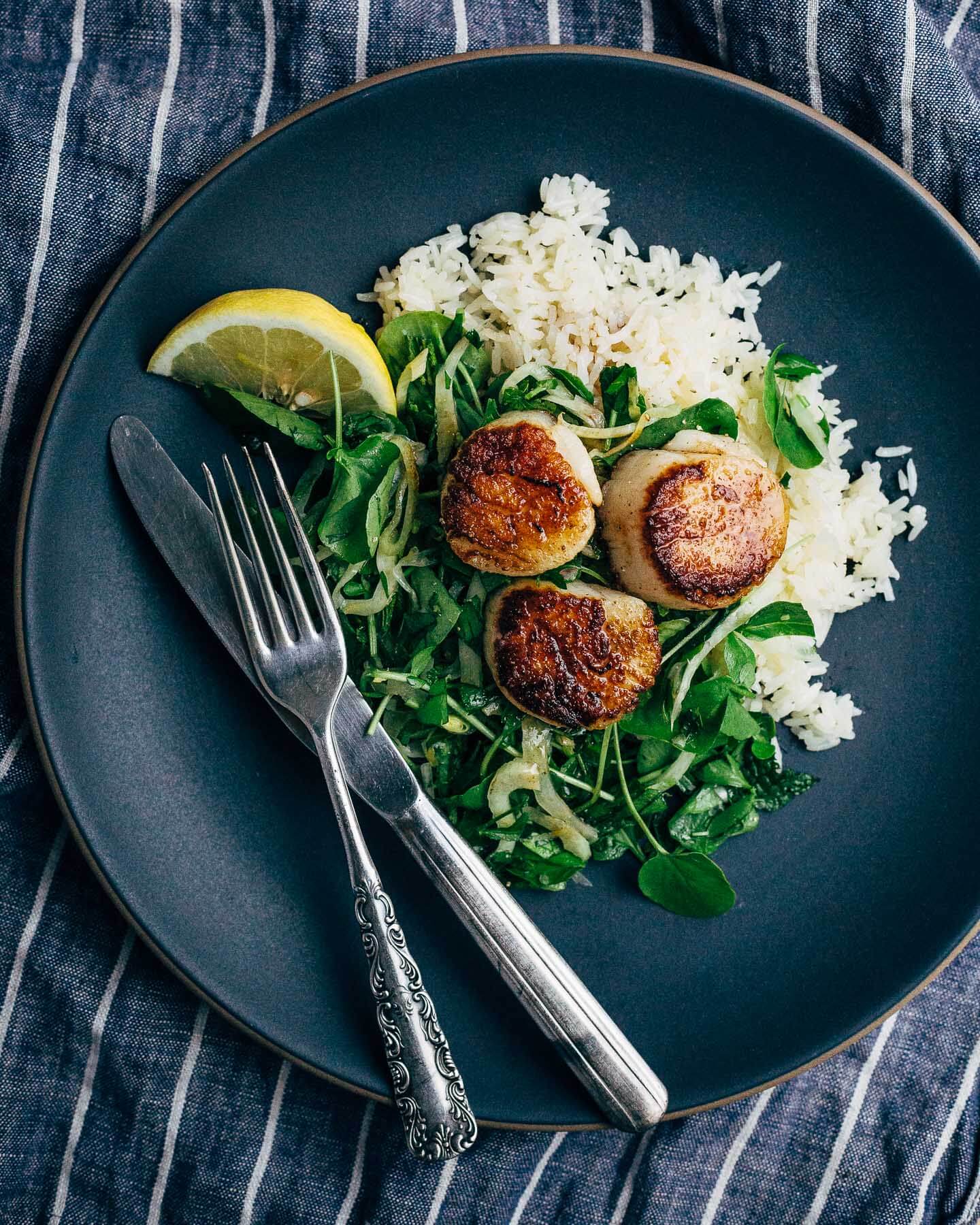 Making better, quicker dinners and a recipe for pan-seared scallops drizzled with a simple brown butter sauce and served over lemony watercress salad and tender Thai Hom Mali jasmine rice. This post is brought to you in partnership with Lundberg Family Farms.
I'm a quick dinner skeptic. It's not that I don't make quick dinners, I do. It's that these quick dinners, typically light on the vegetables and big on pasta, leave me wanting more. More texture, more flavor, and definitely more vegetables. While they're often a victory from the perspective of time, they can feel like a defeat of my ideals.
Lately, I've been trying to break free from this all-or-nothing approach to making dinner and come up with smart, nourishing dinners that are ready in less than 30 minutes. I've enjoyed the challenge and along the way, a few quick meals have earned a place in our regular rotation.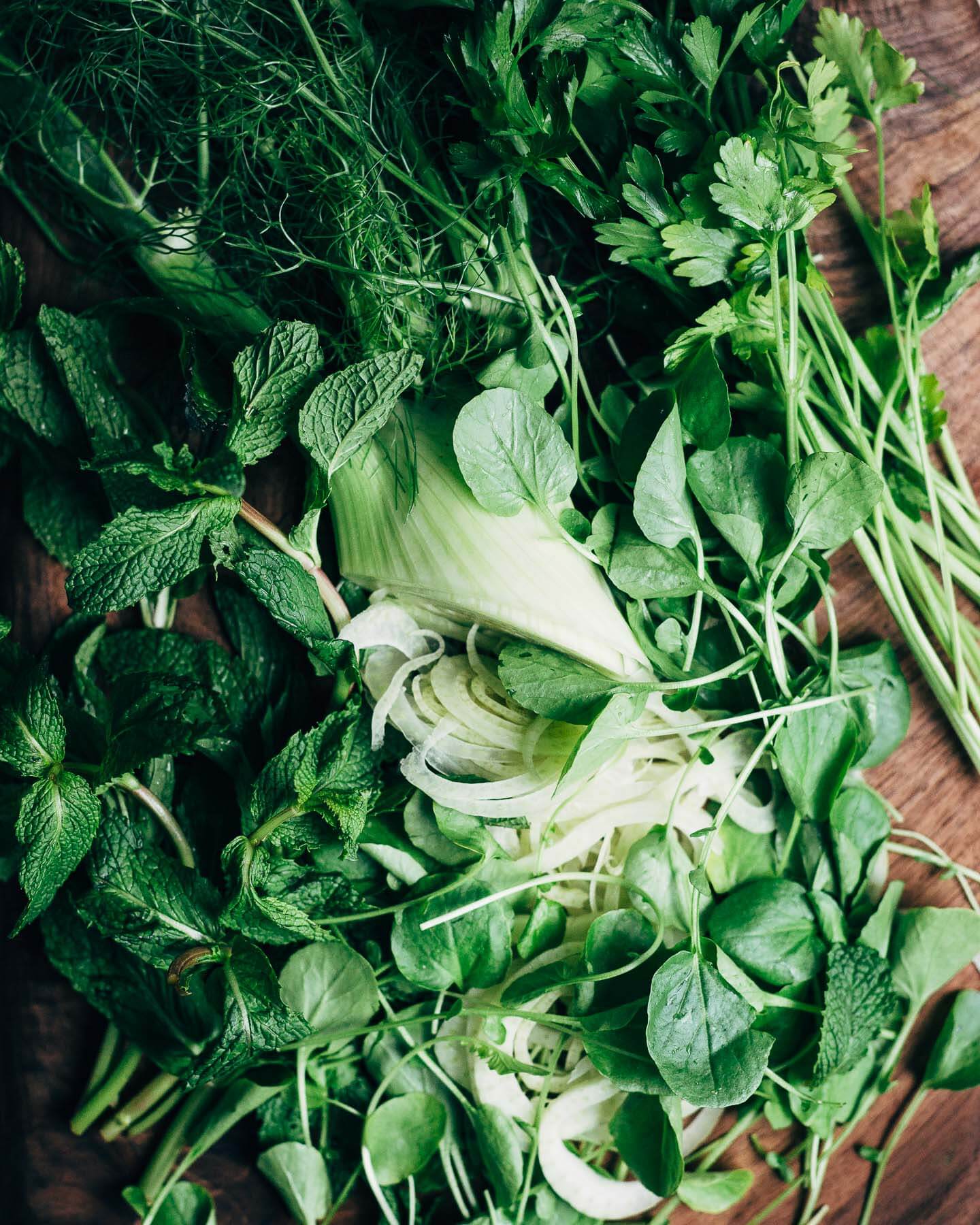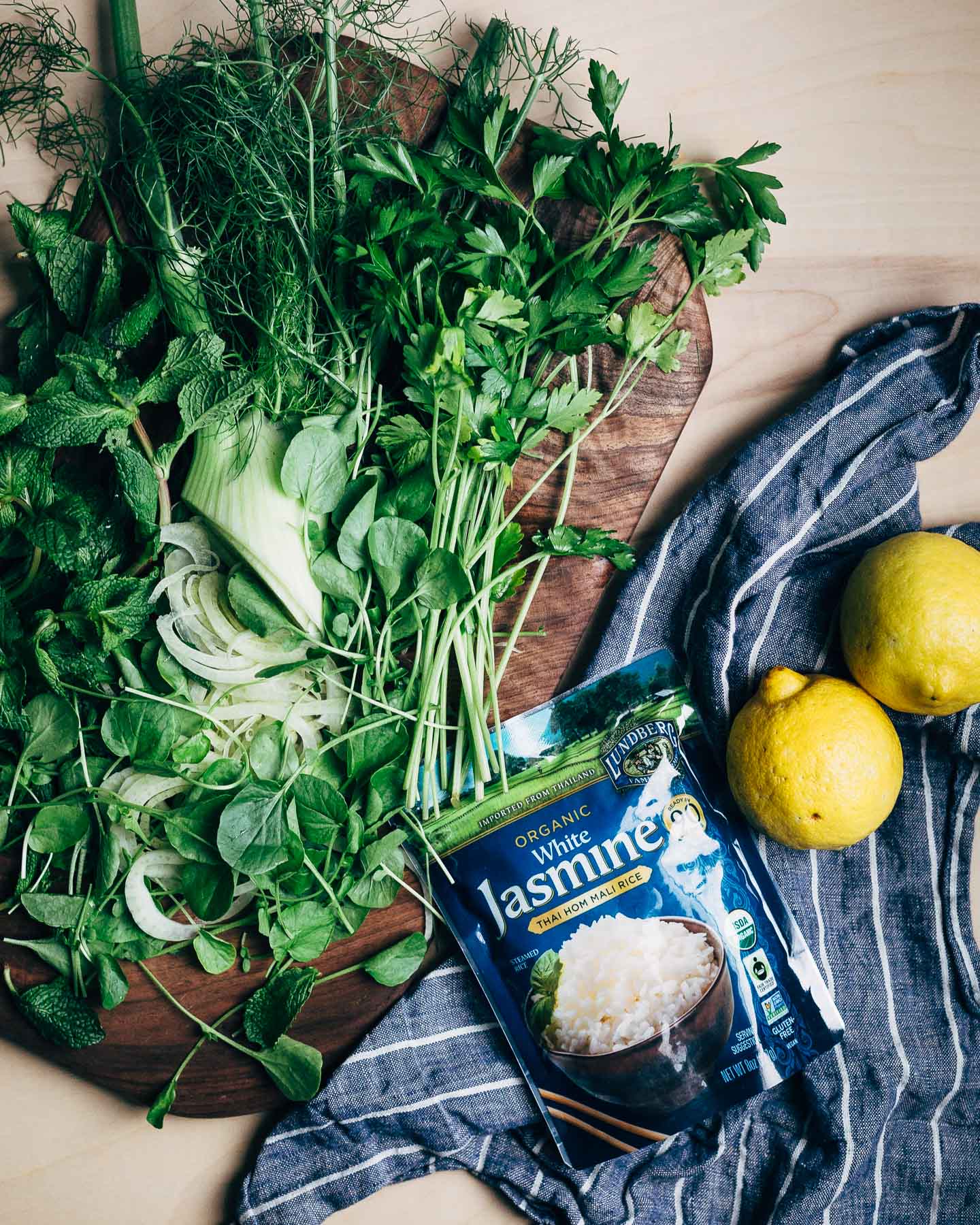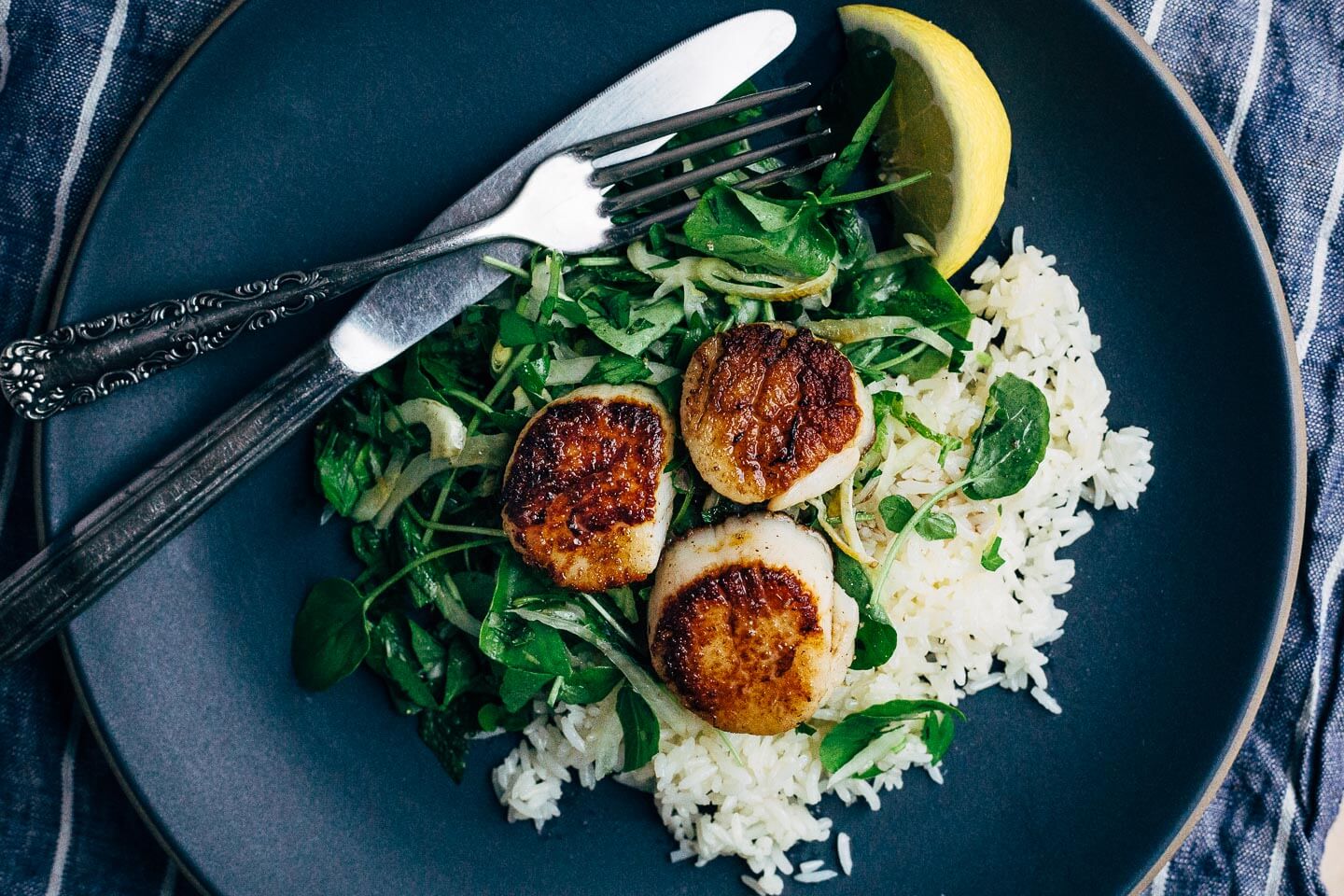 These pan-seared scallops are one of those newfound faves. Sea scallops' inherent deliciousness, with their delicate, faintly sweet flesh, always felt a little too special for a day-to-day use, but they're nearly effortless and a very good excuse to make an elevated weeknight meal. To complement the delightful simplicity of scallops drizzled with brown butter, I made an easy, herbaceous watercress salad and a packet of Lundberg Family Farms' Organic White Jasmine Thai Hom Mali Rice.
Lundberg Family Farms are out with a new line of steamed Organic Jasmine Thai Hom Mali Rice that is ready after just 90 seconds in the microwave. The rice is tender, with just the right amount of bite, and takes all the guesswork (and time) out of making great rice every time. I also love Lundberg Family Farms' commitment to sourcing Fair Trade, Organic rice.
We're celebrating the new product line with an exciting Lundberg Family Farms prize package giveaway! One reader will receive one of each variety of rice, a $50 AmEx gift card for groceries, a rice paddle, set of four gorgeous serving bowls, and an eco microwavable lunch box. To enter, leave a comment on this post sharing your most delicious dinner shortcut. Giveaway closes May 22, 2017 at noon. Giveaway open to US residents only. Giveaway now closed – thanks to all who entered!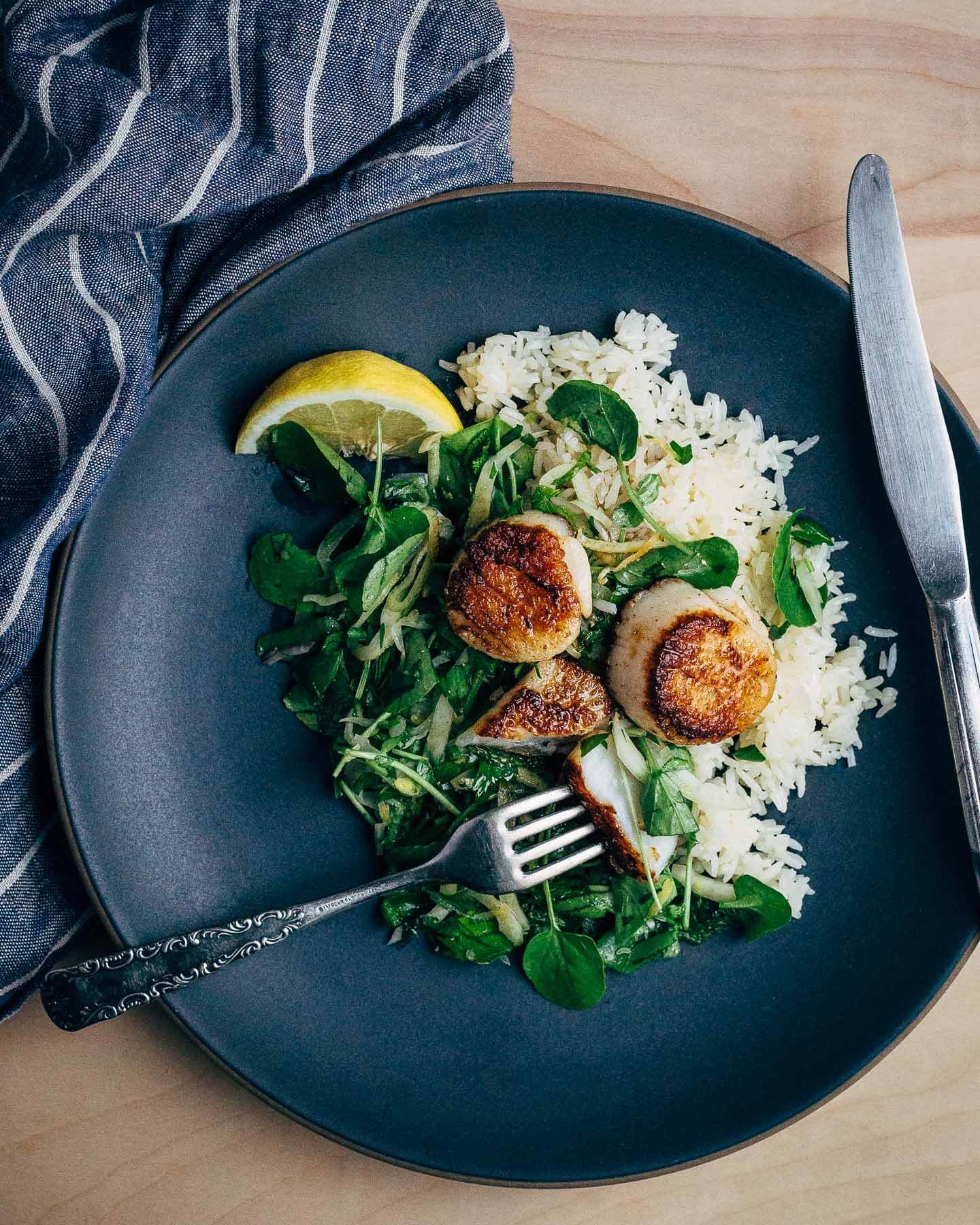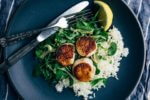 Pan-Seared Scallops with Watercress Salad and Jasmine Rice
Pan-seared scallops are so easy and delicious, it's hard to imagine you'd make them any other way. Adding a pat of butter to the skillet during the sear makes a rich brown butter pan sauce that's just wonderful drizzled over the scallops, white jasmine rice and a simple, lemony watercress salad.
The secret to a perfectly seared scallop is two-fold. First, select "dry" sea scallops (these are scallops that have not been altered by chemicals or added water). Second, when searing, allow the scallops to cook unmoved to maximize contact with the hot surface. (You can peek under one to check for color.) Because this dish comes together in minutes, have all your ingredients prepped and ready to go before you begin cooking.
Ingredients
6

large sea scallops

(about 1/2 pound)

1/2

small fennel bulb

, cored and thinly sliced plus 1/4 cup chopped fronds, divided

zest of 1 lemon plus 1 tablespoon juice

1

tablespoon

minced shallot

sea salt

1/2

bunch watercress

, stems trimmed and rough chopped

1/2

cup

chopped parsley

1/4

cup

chopped mint leaves

1

tablespoon

plus 1 teaspoon neutral cooking oil

(such as grapeseed or sunflower), divided

2

tablespoons

unsalted butter

fresh ground black pepper to taste
Instructions
Set scallops on a paper towel-lined plate. Use another paper towel to blot the top as well.

In a medium-sized bowl, toss fennel (excluding fronds) with shallot, lemon zest, 1 teaspoon lemon juice, and a pinch sea salt. Set aside. Prep the remaining greens, including fennel fronds) but don't add to the fennel mixture.

Set a large, heavy skillet over medium-high/high heat. Add 1 tablespoon oil and then quickly add scallops. Sear, unmoved, 2 minutes, or until scallops are a rich golden hue. Flip, add butter, and sear another 2 - 3 minutes. As scallops cook, tip pan and carefully spoon pooling butter over them.

Meanwhile, make white rice according to package instructions.

Just before serving, toss greens and herbs with lemon and fennel mixture. Drizzle with 1 teaspoon oil, and add sea salt and pepper to taste.

Plate rice and a handful of greens, top with seared scallops, and finish with brown butter pan sauce and a pinch each sea salt and pepper.
This post is sponsored by Lundberg Family Farms. Thanks for supporting the brands that make Brooklyn Supper possible.