A deeply flavorful back pocket shakshuka recipe that makes the most of vibrant spring eggs and a host of pantry staples.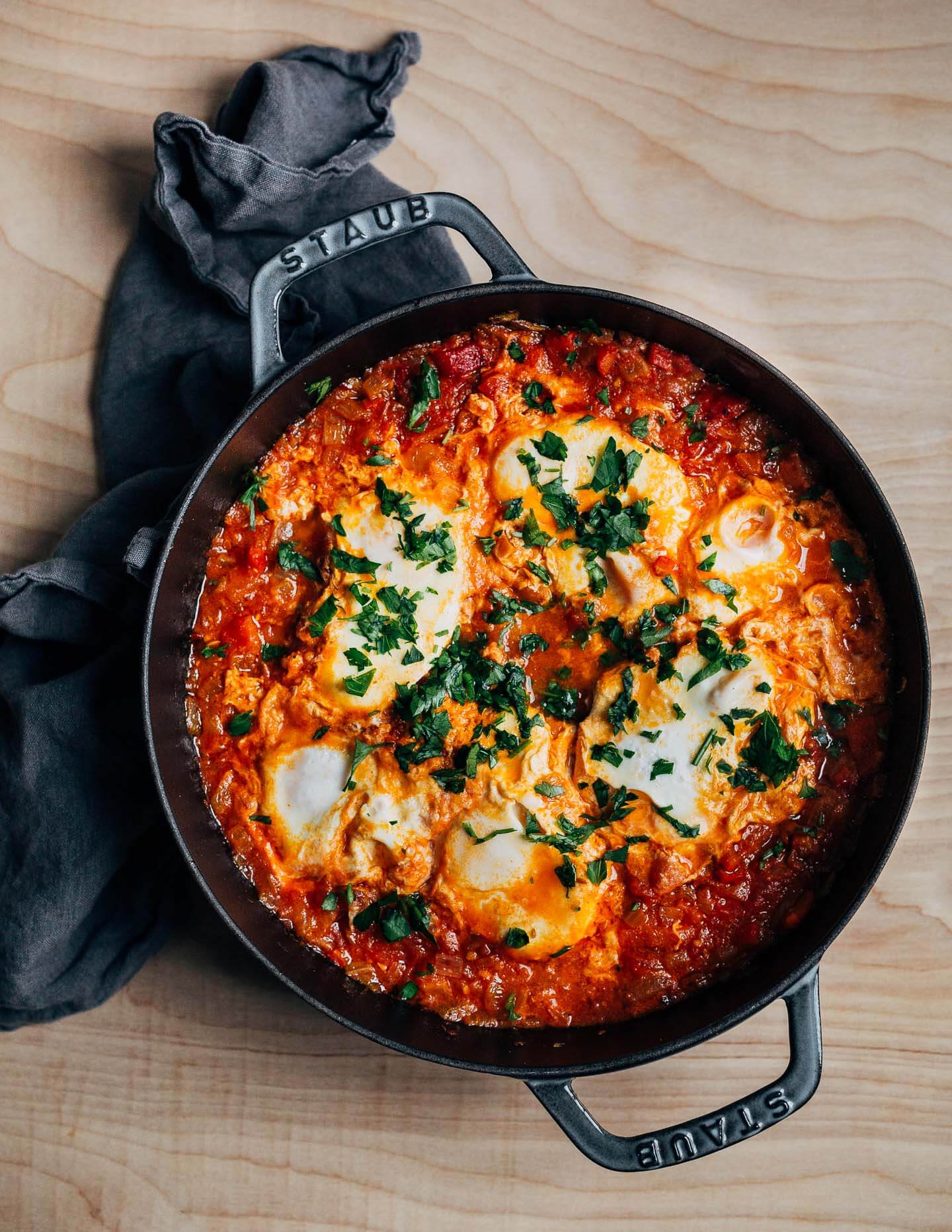 Good Eggs: A Herald of Spring
One of the first ingredients to reflect the slow shift from winter to spring is farm fresh eggs.
As I write this, there are hordes of starlings, robins, and bluebirds flitting around my backyard, pecking feverishly at the newly unfrozen ground. I guess they're eating bugs and worms and pebbles and whatever else birds eat. Like my backyard birds, the chickens of the Mid-Atlantic are currently enjoying a similar late winter feast. And soon, their eggs will reflect the change – they'll go from the pale, anemic hue of a winter yolk, to the creamy, electric orange hue of a perfect spring egg.
And so, even if the tomatoes and red peppers are canned and the herbs shipped in from far away, late winter is an excellent time to make shakshuka. Especially if you take the time to get some farm fresh eggs from the farmers market.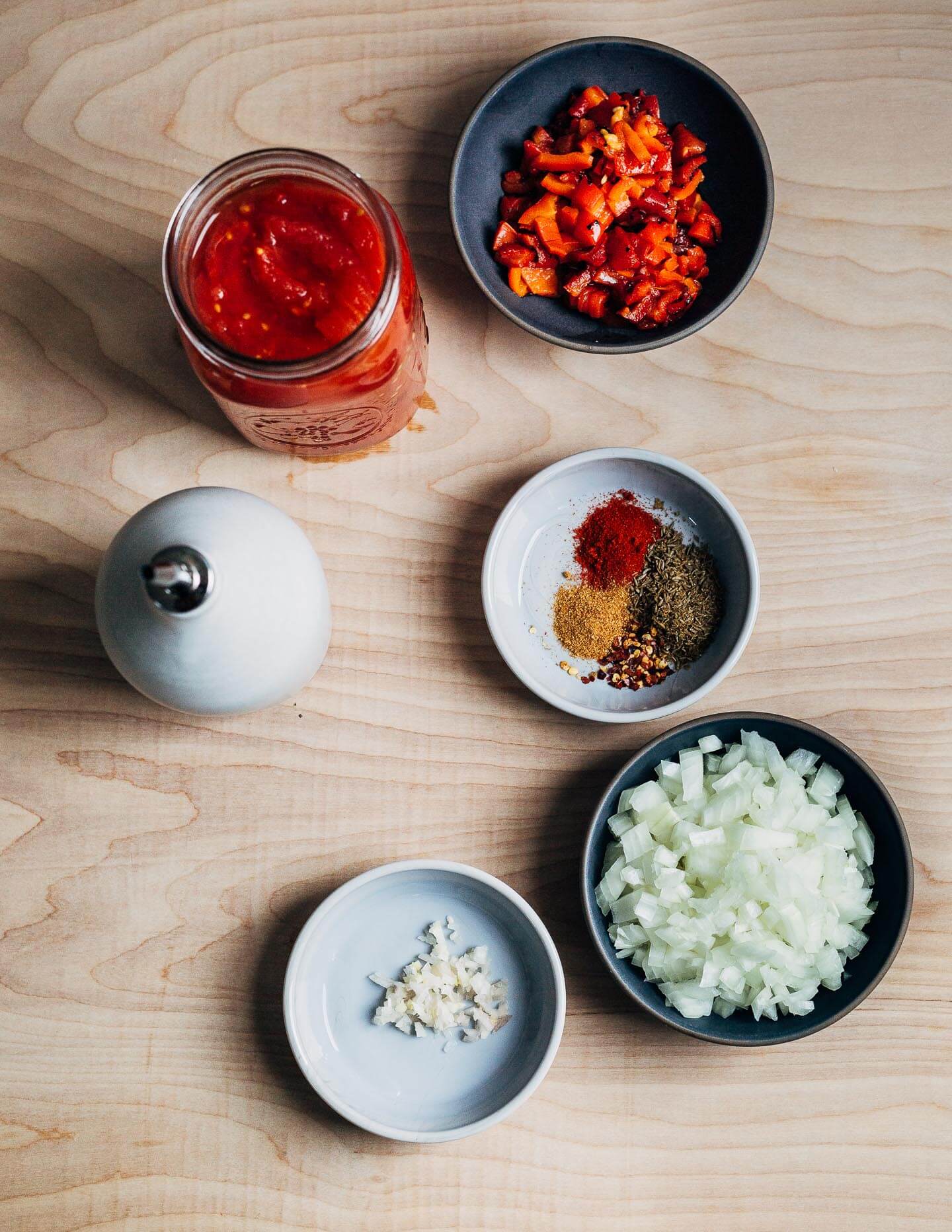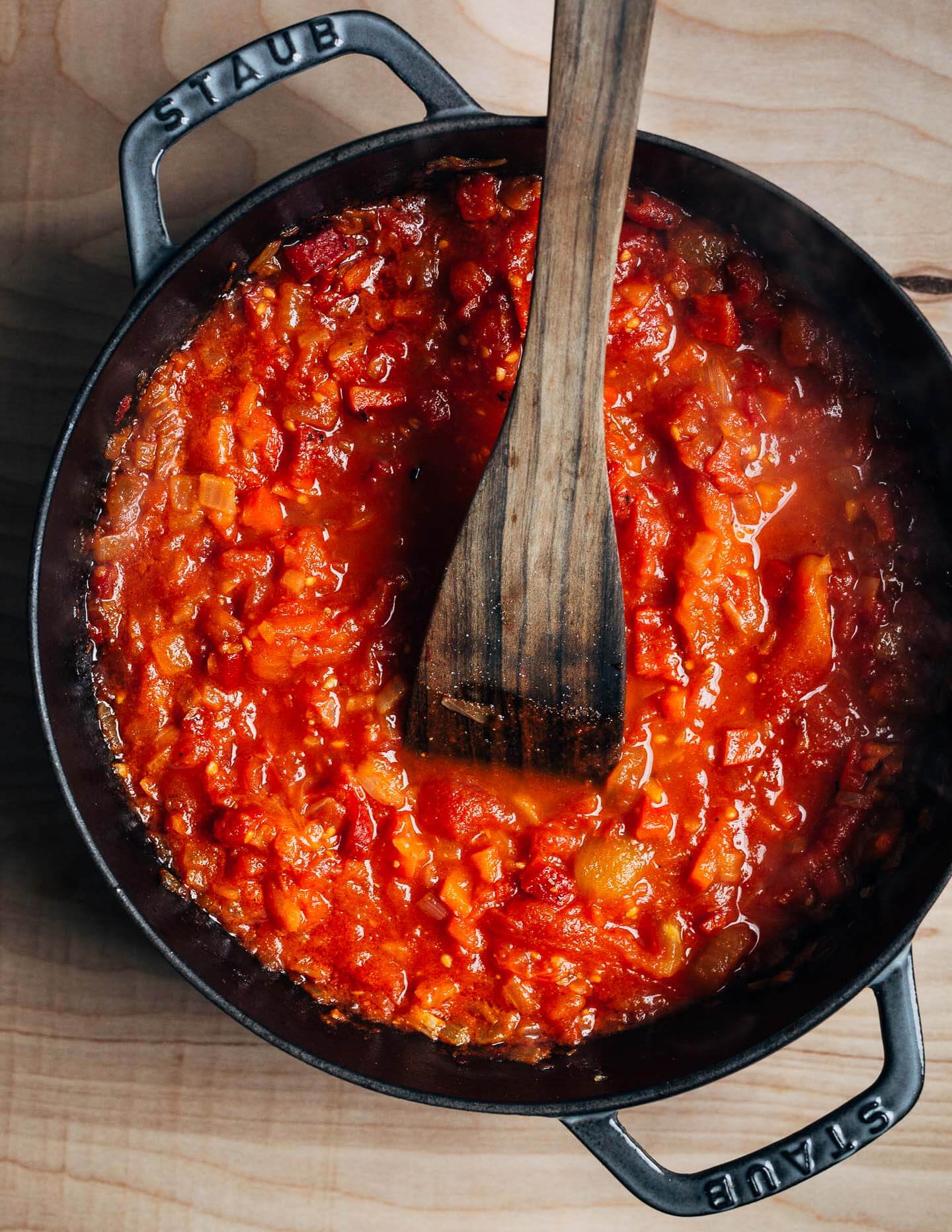 Classic Shakshuka: A Back Pocket Staple
Shakshuka, a North African and Middle Eastern dish featuring eggs poached in a rich tomato and red pepper sauce, is one of those classic, back pocket, we-have-nothing-for-dinner recipes that I cherish. There are countless variations on shakshuka and once you have the basics down, there are lots of ways to riff and experiment.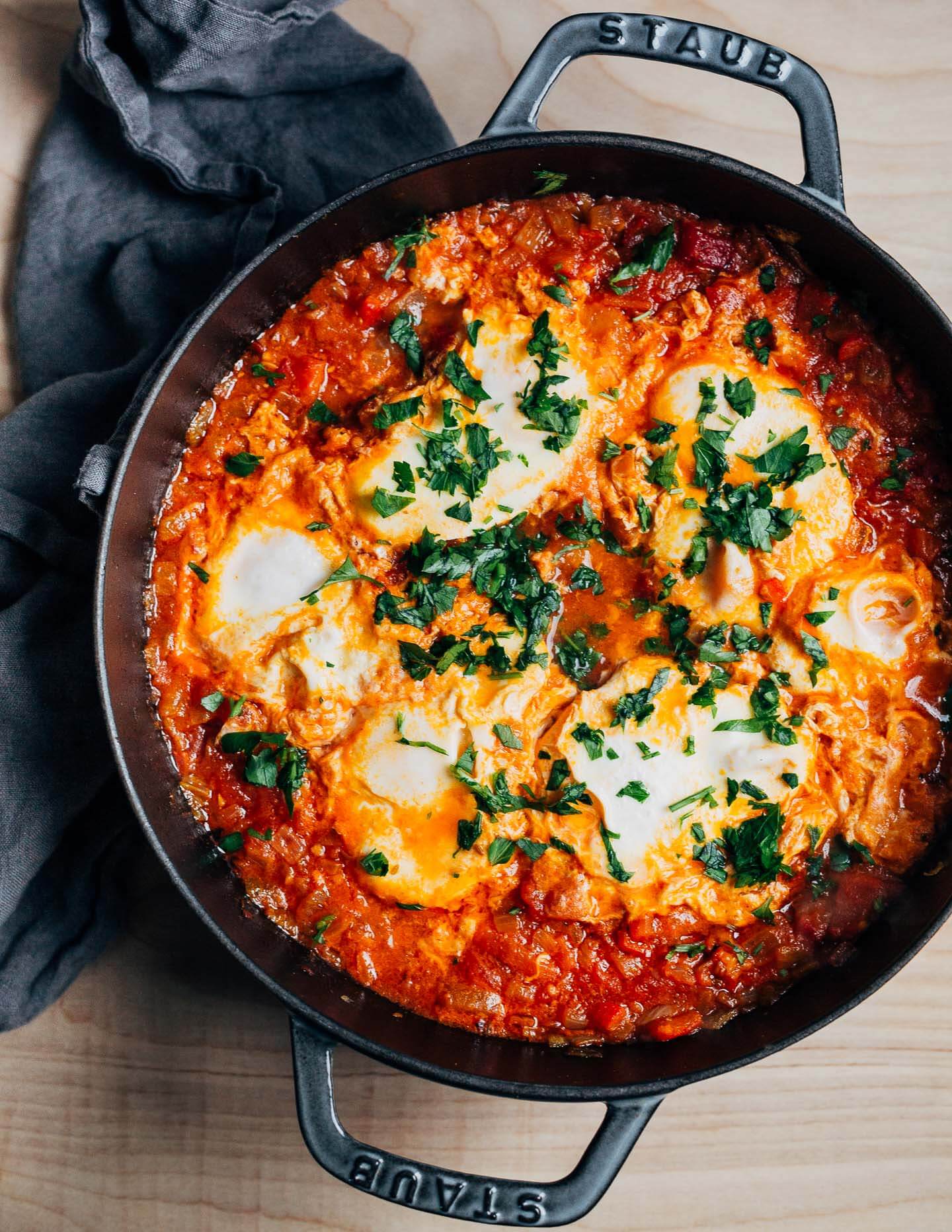 To make shakshuka, you'll want a wide, deep skillet with a lid. Some folks worry about cooking tomatoes in cast iron, but as long as your skillet is well-seasoned, cast iron is an excellent vessel for shakshuka. I start by sautéing a diced yellow onion until the onion is very supple, then add the garlic, spices, and a mix of whole, peeled tomatoes and roasted red peppers. Once you have your sauce, simmer everything gently until the ingredients break down and begin to meld. When you're ready to poach the eggs, pay close attention. I tend to judge doneness by jiggle rather than visual clues, since the yolk can cloud over or appear translucent even once it's cooked through.
Once the eggs are ready, work quickly to garnish and serve your creation – the eggs will continue to cook in the hot liquid and you'll want to serve them when they're just right. Serve with thick-cut slices of crusty bread that have been rubbed with a garlic clove, drizzled with olive oil, and sprinkled with flaky sea salt and freshly cracked pepper.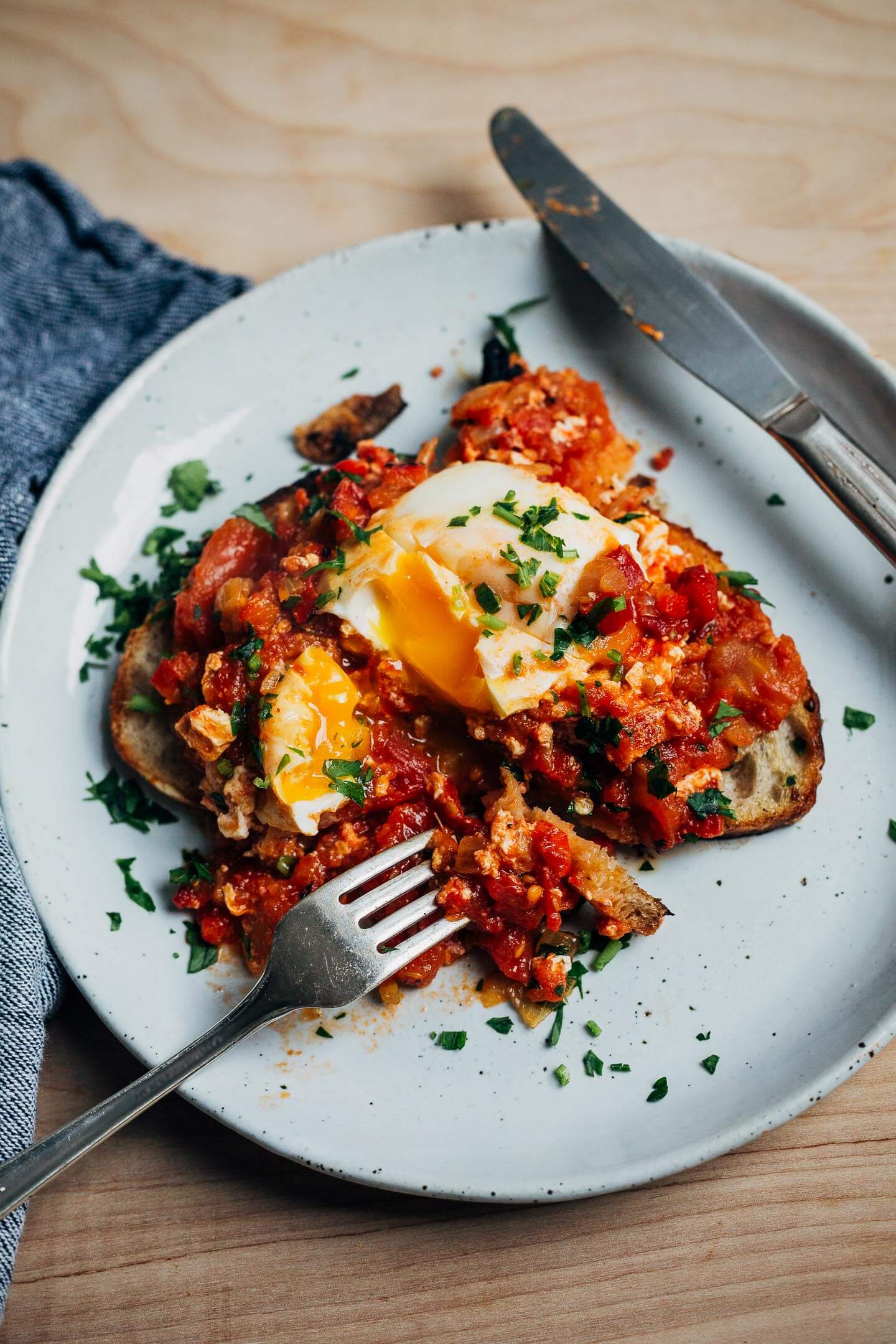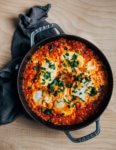 Shakshuka on Toast
A deeply flavorful back pocket shakshuka recipe that makes the most of vibrant spring eggs and a host of pantry staples.
Ingredients
2

tablespoons

extra virgin olive oil,

plus more for drizzling

1

large yellow onion,

diced

2 - 4

cloves

garlic,

smashed, peeled, and minced, plus 1 whole clove for the bread

2

teaspoons

paprika

2

teaspoons

freshly ground cumin seed

½

teaspoon

or more red pepper flakes

½

teaspoon

ground cayenne pepper

1

roasted red pepper,

chopped

1 28-

ounce

can whole,

peeled tomatoes

Sea salt

Black pepper

8

thick-cut slices of crusty bread

6

eggs

½

cup

minced cilantro or parsley
Instructions
Set a deep-sided 10-inch skillet over medium heat. When hot, add the olive oil and then the onion. Cook, stirring often, until onion is translucent and quite supple, about 10 minutes. Add the garlic and cook for 1 minute. Fold in the spices, and then add the peppers and tomatoes. Bring to a gentle simmer, and turn heat to medium-low and cook 10 - 15 minutes, or until the ingredients start to break down. As the sauce cooks, add sea salt and black pepper to taste.

Meanwhile, toast 8 slices of crusty bread. Rub each slice with the reserved garlic clove, drizzle with olive oil, and sprinkle with a pinch each of sea salt and pepper.

To add the eggs, turn heat to low and make a small well in the sauce toward the edge of the pan for each egg. Break the egg in a small, shallow dish, and tip it into the sauce. Repeat for all the eggs. Sprinkle a pinch of sea salt over each egg. Place the lid over the pan slightly askew, and cook eggs 6 - 8 minutes, or until the whites are opaque and the yolks are runny.