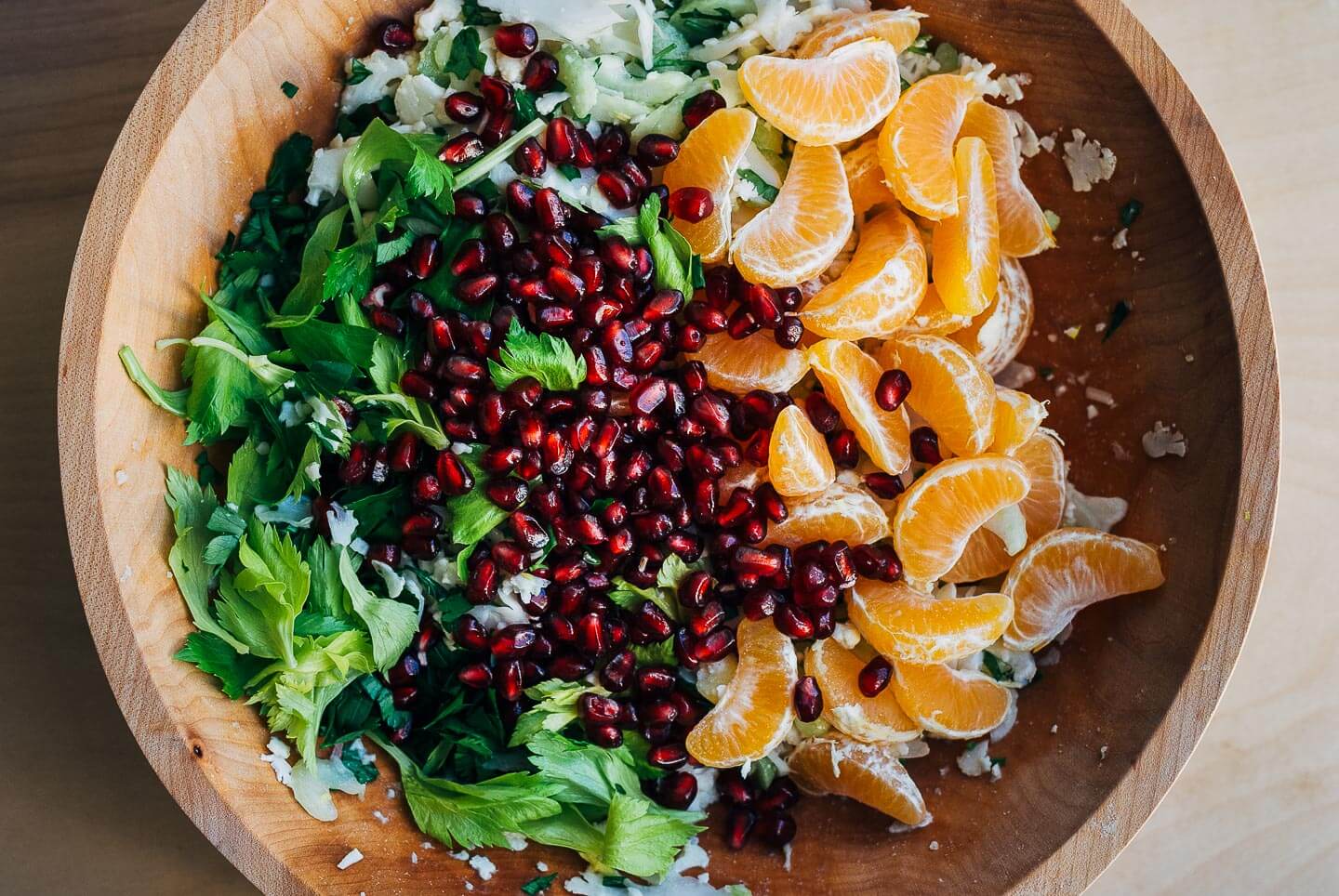 A healthful, colorful shaved cauliflower salad recipe with tahini citrus dressing, pomegranate arils, and clementine slices. Jump to recipe. 
Over the weekend, a friend asked me what I like best about my work here on the blog. My answer surprised me – I told her I love playing with the ingredients. Before I had editorial schedules and deadlines, this blog was my place to experiment. Over time, external forces and an internal drive have pushed me to be better, more professional. I also have less time – the sun's always setting, the food's always wilting, and the girls always, always want me to drop the camera and make them (another) snack. Photographing raw ingredients comes at the beginning – before the sun has begun to dip, before the final dish has been made, before the girls are home from school. This conversation made me realize that I missed playing with food, without pressure (both outward and self-imposed), and resolved to make more time for fun and invention.
I spent the day yesterday creating this shaved cauliflower salad. The recipe had already been tested and all that was left was to enjoy to process of putting the ingredients together. And, for the first time in a while, I had fun making the recipe – and the pictures – from start to finish. As we count down to Christmas and New Year's, it was nice to take a step back and give myself the gift of time.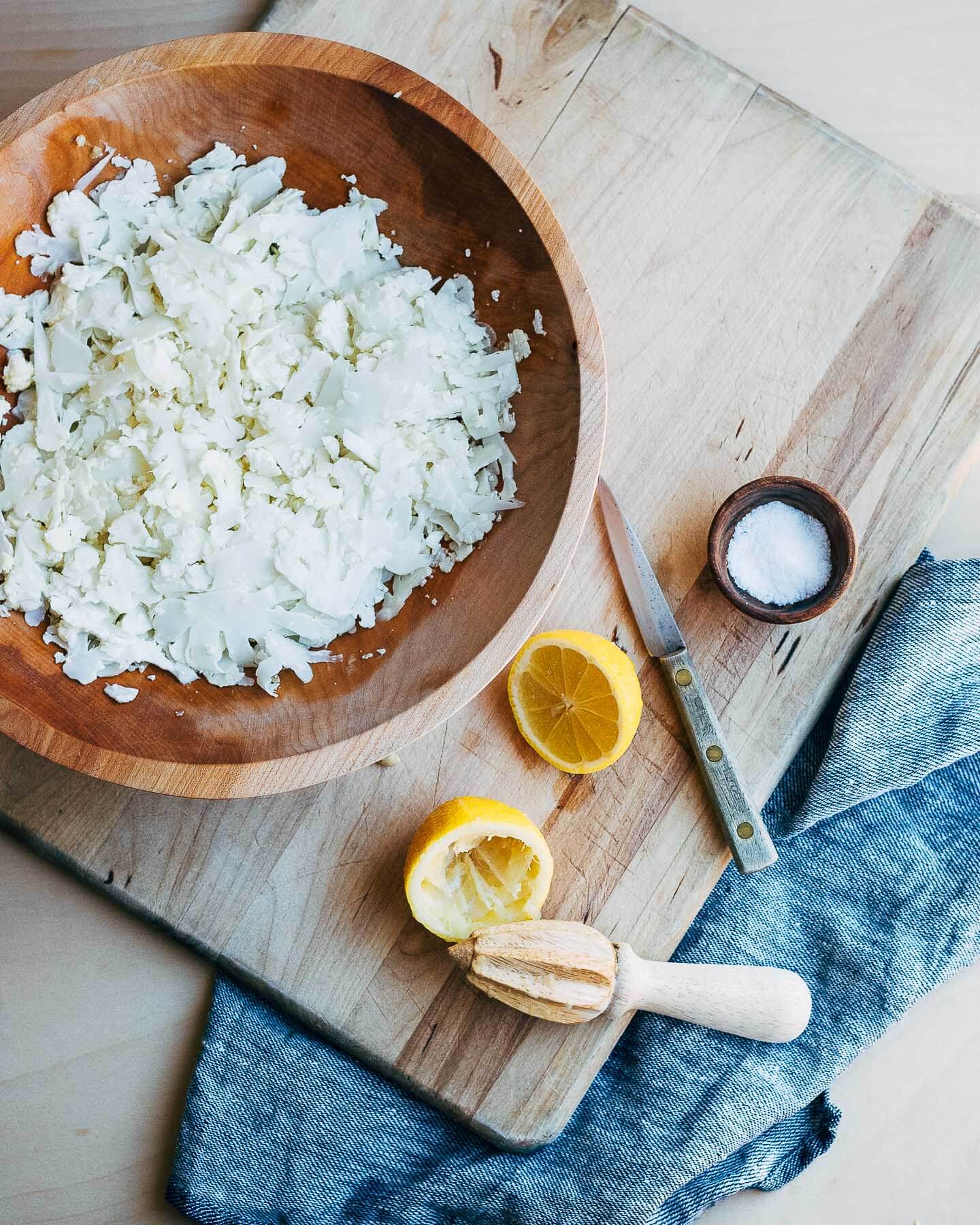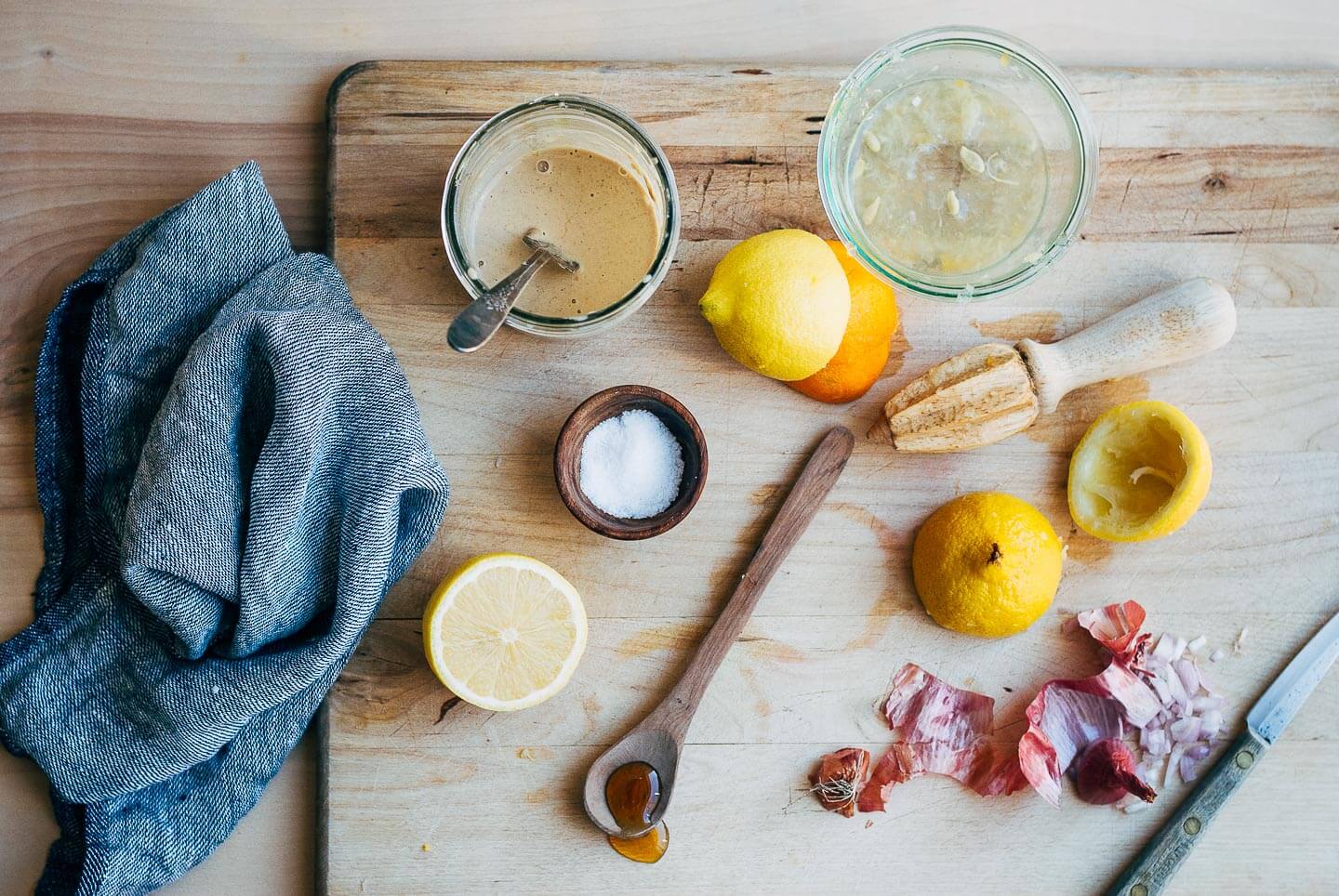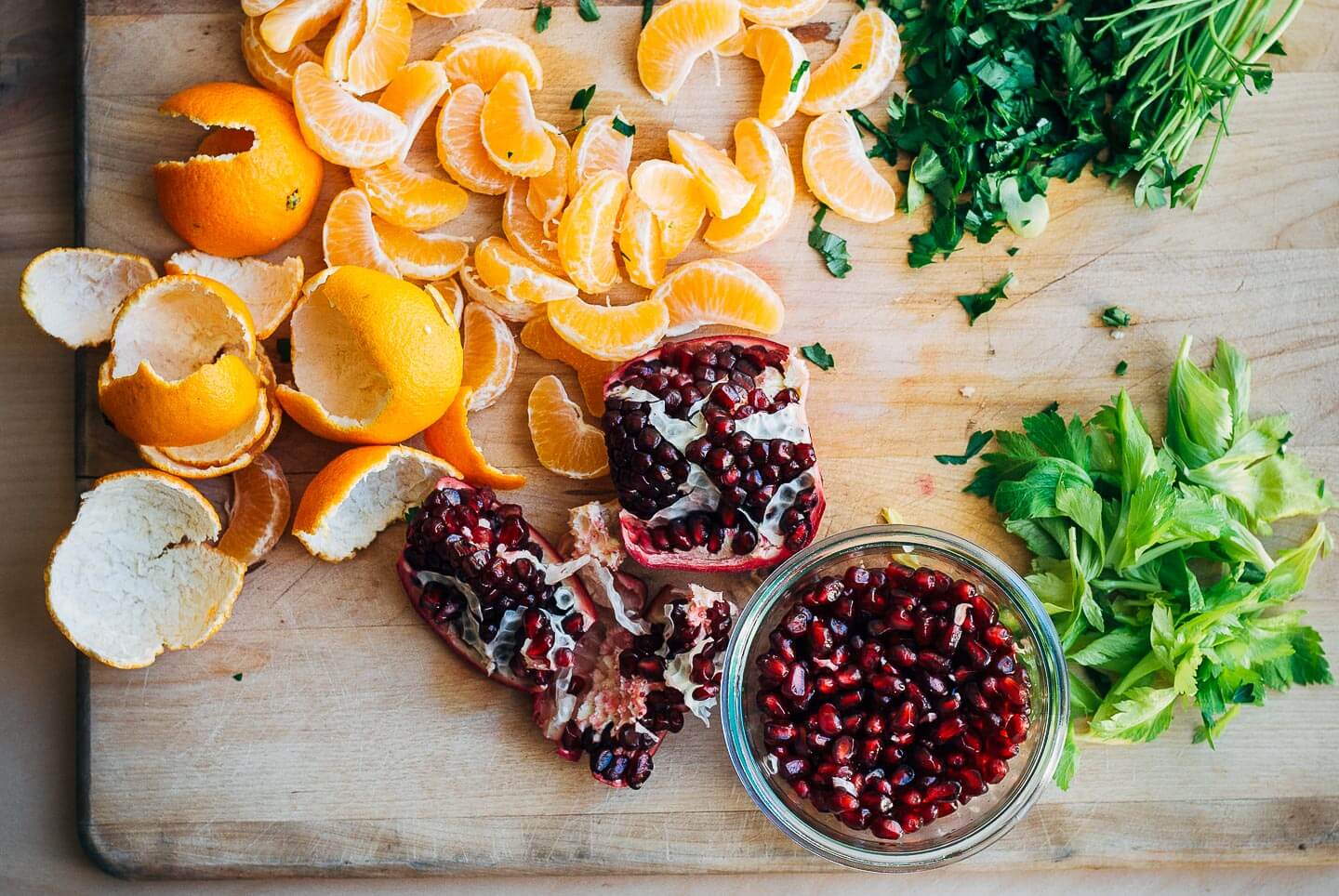 Besides the fun of wrestling a pomegranate or peeling a mess of clementines, this salad's also a nice break from the parade of sweets that accompany the season. Shaved cauliflower and celery lend crunch, fresh fruits lend brightness, and a citrusy tahini dressing ties it all together. So maybe step away from the sugar cookies long enough to put this beautiful, virtuous holiday salad together, then dig in and enjoy a moment of culinary saintliness.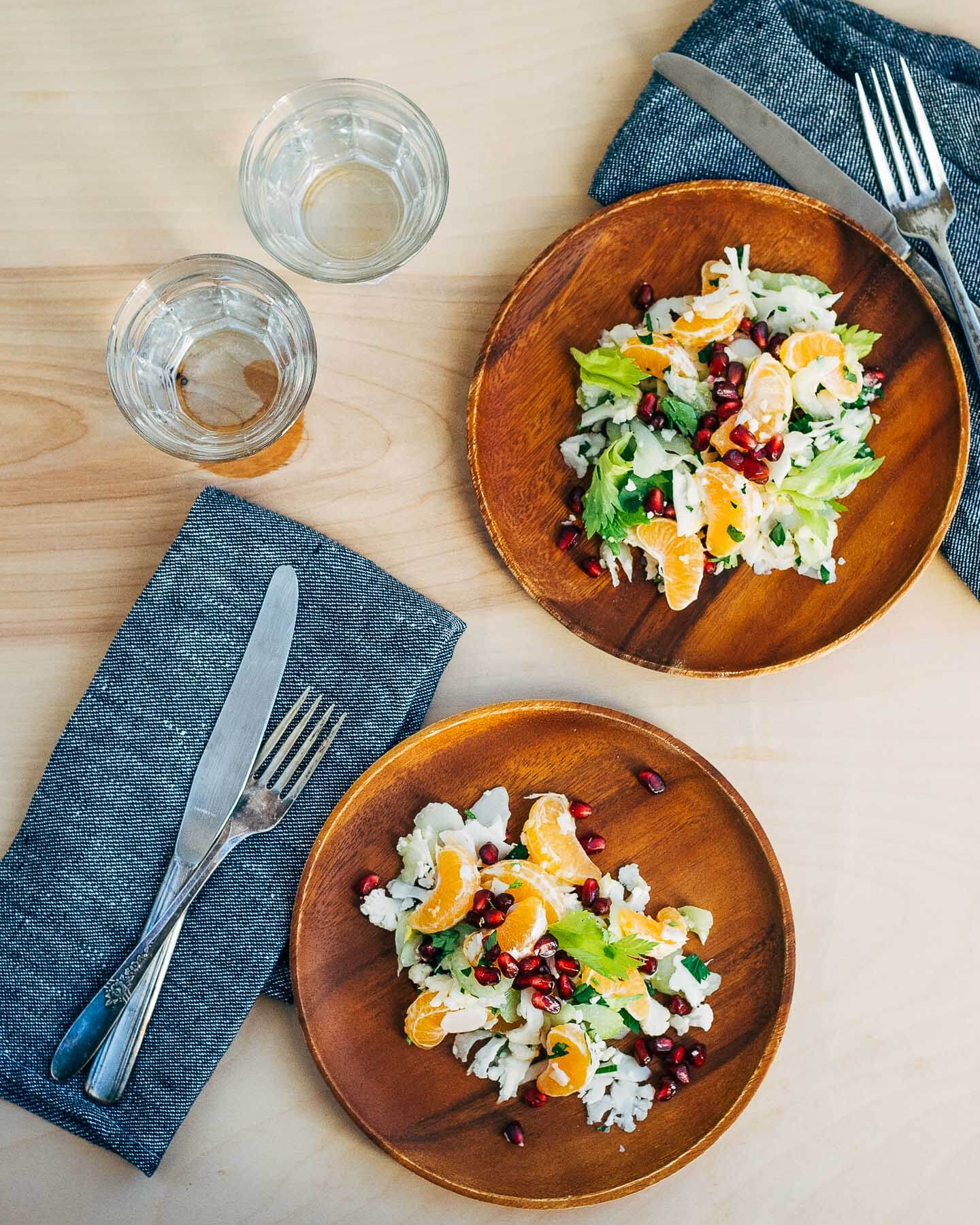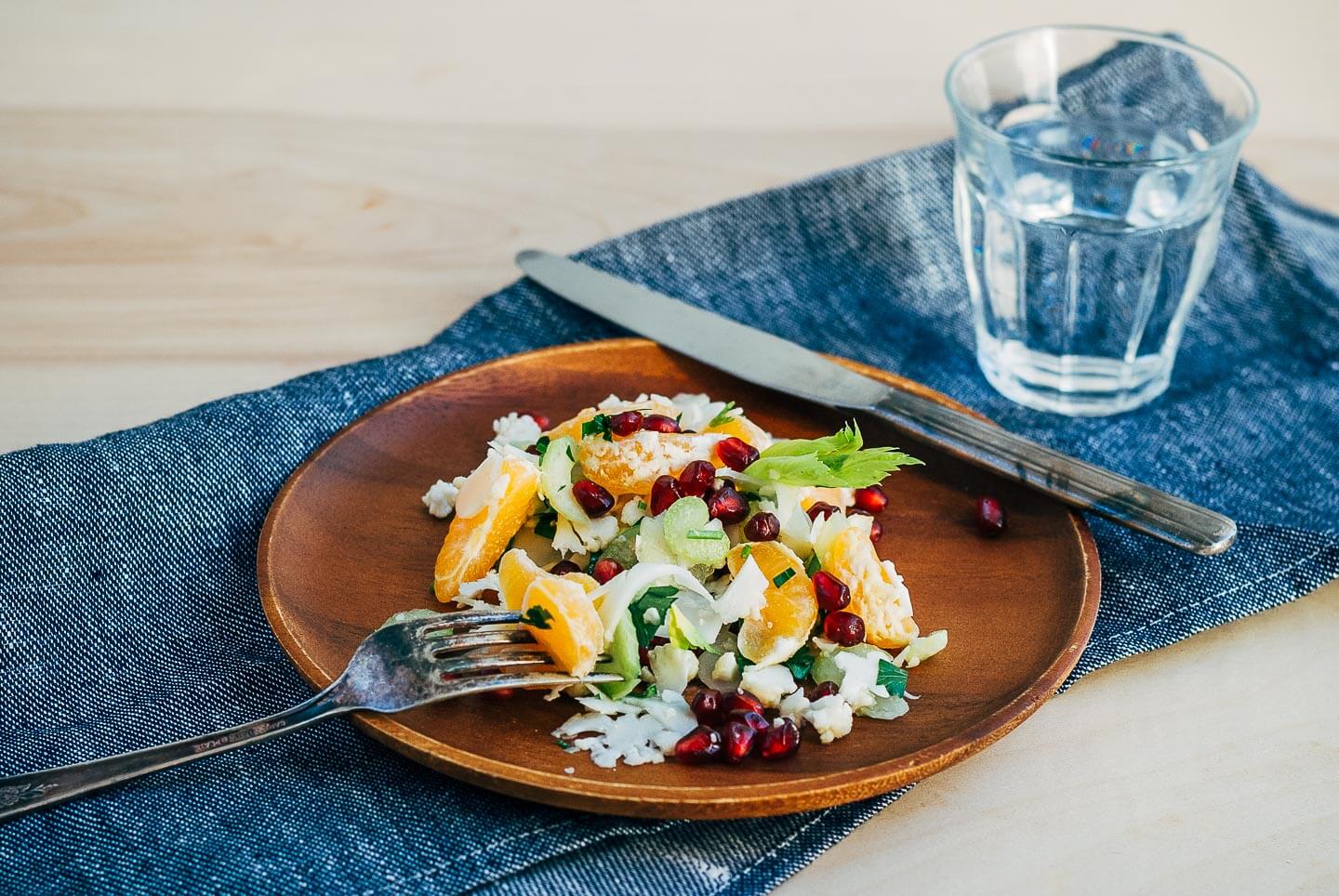 To ensure the raw shaved cauliflower is delicious and supple, this recipe has a couple of steps. First, you'll want to shave cauliflower as thinly as possible. I found this was best done with the 1/16-inch setting on my mandoline. I then carefully sliced up any wayward florets with my sharpest knife. You could prep cauliflower using the slicing blade on a food processor, but I found those slices unpleasantly thick. No matter which method you use, watch those fingertips! Second, you'll want to toss the cauliflower with lemon juice and sea salt ahead of time. The lemon juice works its way into the cauliflower, imbuing each bite with a bright, perfectly salted tang.
This salad's forgiving, and can easily be made a day ahead of time. Keep the extra dressing on hand and add a few tablespoons just before serving – this salad is particularly thirsty.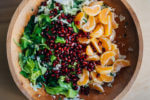 Shaved Cauliflower Salad with Clementines and Pomegranate
A bright, holiday-worthy shaved cauliflower salad recipe with tahini citrus dressing, pomegranate, and clementines.
Ingredients
1/2

head cauliflower,

cored

4

tablespoons

freshly squeezed lemon juice,

divided

sea salt

4 - 6

celery stalks,

preferably pale, leafy center stalks

2

tablespoons

freshly squeezed clementine juice

1

tablespoon

minced shallot

3

tablespoons

tahini

1

teaspoon

honey

1/2

cup

rough chopped parsley

4

clementines,

peeled and broken into segments

1

cup

pomegranate arils
Instructions
Working carefully, break cauliflower into large florets and shave as thinly as possible using the 1/16-inch setting on a mandoline slicer. Use a sharp knife to slice any wayward bits. In a large bowl, toss cauliflower with 2 tablespoons lemon juice and several pinches of sea salt. Set aside while you prep remaining ingredients.

Trim celery and reserve any leaves. Using the mandoline, shave stalks into thin crescents.

To make the dressing, whisk to combine 2 tablespoons lemon juice, clementine juice, shallot, and a big pinch of sea salt. Vigorously whisk in tahini and honey. Taste, and adjust salt, acid, or sweetness as needed.

Toss shaved celery, reserved celery leaves, and parsley with prepared cauliflower. Drizzle with 1/4 cup dressing and toss again. Add clementine and pomegranate and toss gently. Salad can be served right away or covered and refrigerated for up to 1 day ahead.

Before serving, finish with a drizzle of dressing and a pinch of sea salt.