A deliciously refreshing shaved fennel and Brussels sprout salad tossed with sweet apples.
Consider yourself warned, I'm going to talk a little bit of trash on Thanksgiving. It's hard for me because holiday-wise Thanksgiving is second only to Christmas in my heart. The thing is though, I hate rules. And Thanksgiving has so many. You HAVE to serve this or that. It's tradition. I love tradition! But I hate cold casseroles.
And until the day when I can call a big old professional range mine, or at least have two ovens, cold casseroles are a fact of Thanksgiving life.
Or not. I'll keep lots of our traditions this year. There will be too many starches, and definitely stuffing, but I'm going to nix the casseroles. Because, every year after working for three days straight, there's always a moment where I look down at the luke warm food on my plate and think, "All this work, for this?" It's the friends and family and good food that I really care about. Sweet potatoes and marshmallows be damned.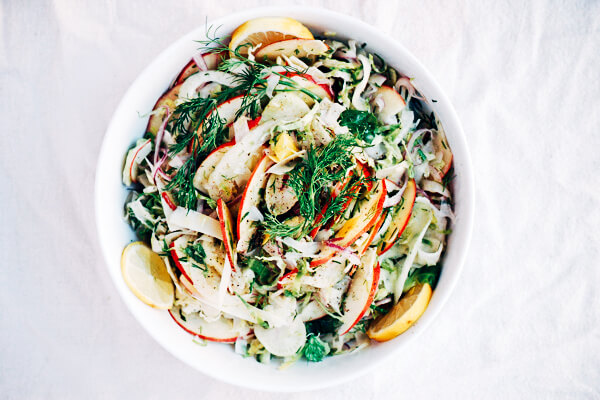 With that in mind, I'm sharing this addictively crisp and crunchy shaved fennel and Brussels sprout salad with apples. It's bright and lemony and just really good. Fresh flavors with a late fall twist – it may not beat out your beloved sweet potatoes, but it will be awesome cozied up next to them.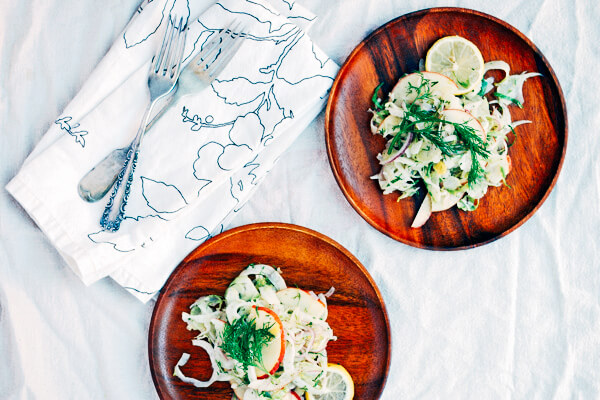 Note: the vegetables in this recipe are best prepared with a mandoline slicer. Always with these things, and especially with the sprouts, use extreme caution. If you don't have a mandoline, use a sharp knife and do your best to keep the slices thin.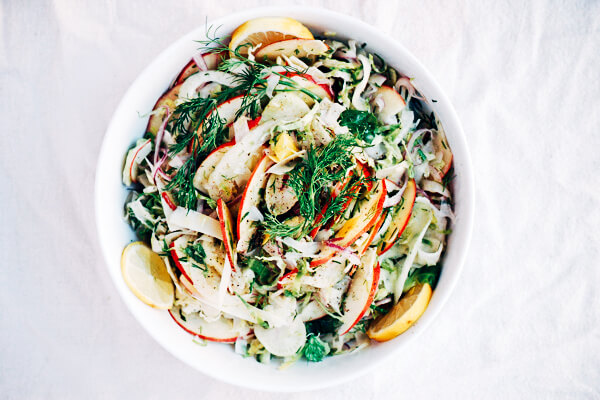 Shaved Fennel and Brussels Sprout Salad with Apples
A deliciously refreshing shaved fennel and Brussels sprout salad tossed with sweet apples.
Ingredients
2

small bulbs fennel,

shaved into 1/8-inch slices (reserve several green leaves for garnish)

1

cup

Brussels sprouts,

shaved into 1/8-inch slices

1

red onion,

shaved into 1/8-inch slices

1

apple,

cored and shaved into 1/8-inch slices

1/2

cup

chopped dill,

plus several sprigs for garnish

zest of 1 lemon

3

tablespoons

lemon juice,

plus several wedges for finishing the salad

1

teaspoon

sea salt

1/4

cup

olive oil,

plus a drizzle more for garnish

1

teaspoon

black pepper

shaved Parmesan to taste
Instructions
In a large bowl, toss the fennel, Brussels sprouts, onion, and apple shavings with the dill and lemon zest.

In a small bowl, combine the lemon juice and sea salt. Whisk in the olive oil. Drizzle over the vegetables, and toss. Salad will keep well, covered and refrigerated, for one day.

Before serving, toss a bit, and then finish with Parmesan and pepper, fennel leaves, and a generous squeeze of lemon juice.
SaveSave
SaveSave
SaveSave
SaveSave
SaveSave