A punchy shaved radish and Parmesan salad featuring shaved radishes, fennel, and Parmesan tossed with ton bits of radicchio, lemon zest, spicy olive oil, and nutty fried garlic.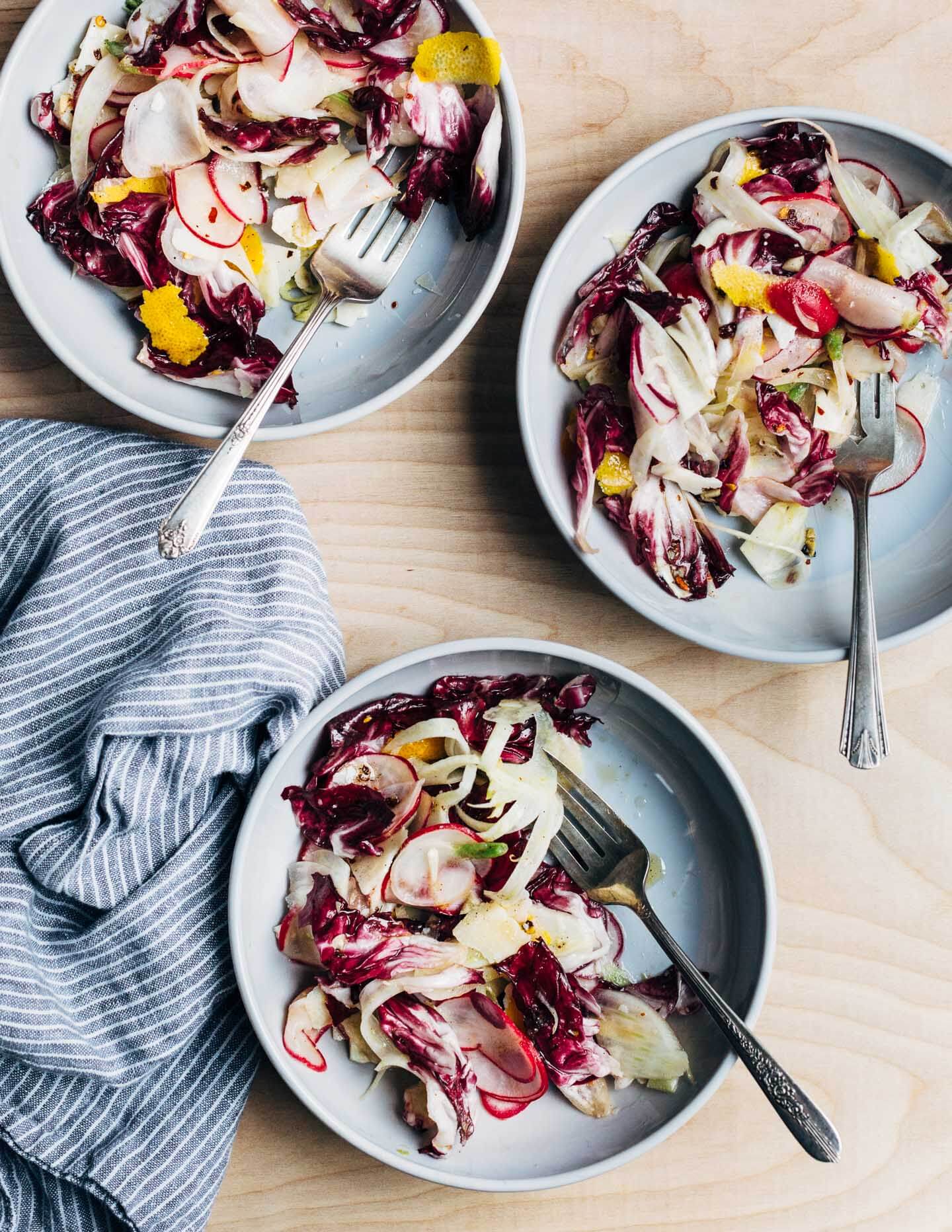 Now, in week eight of sheltering in place, Brian and I have finally figured out the right schedule for our family. On mornings when I need to work and can't have an endless rotation of snack-seekers cycling through the kitchen, Brian takes the girls to the park. They set up blankets and read and play in the creek. In the meantime, I imagine I'm in my old life where I have the house to myself during the day and clean the kitchen top to bottom and then mess it all up again. And though all of our routines have been completely ruined, I always find these glimpses of normalcy – like, just a regular old work day! – restorative.
Just as restorative is the making, and eating, of this shaved radish and Parmesan salad. Processing a mess of vegetables carefully and deliberately is one of my favorite cooking activities.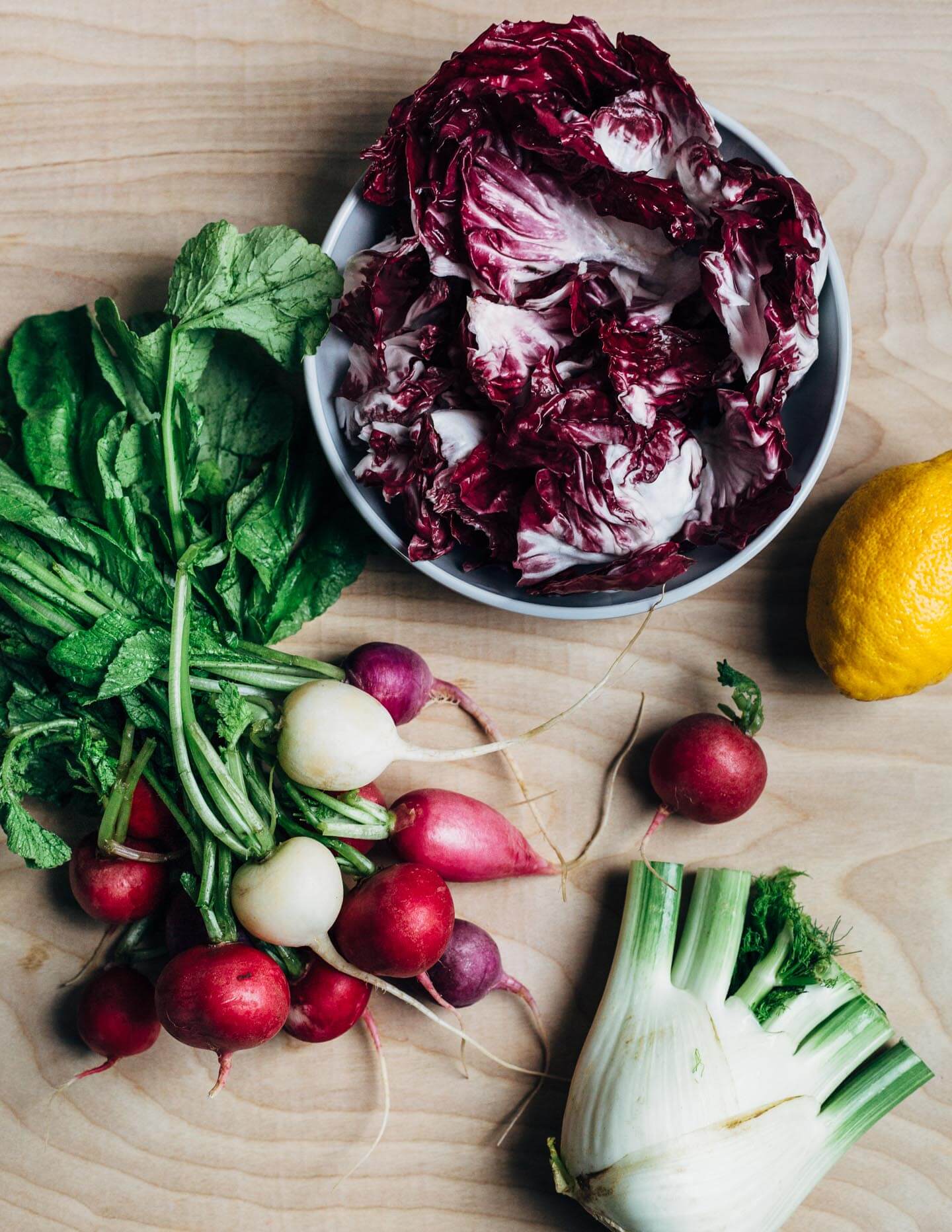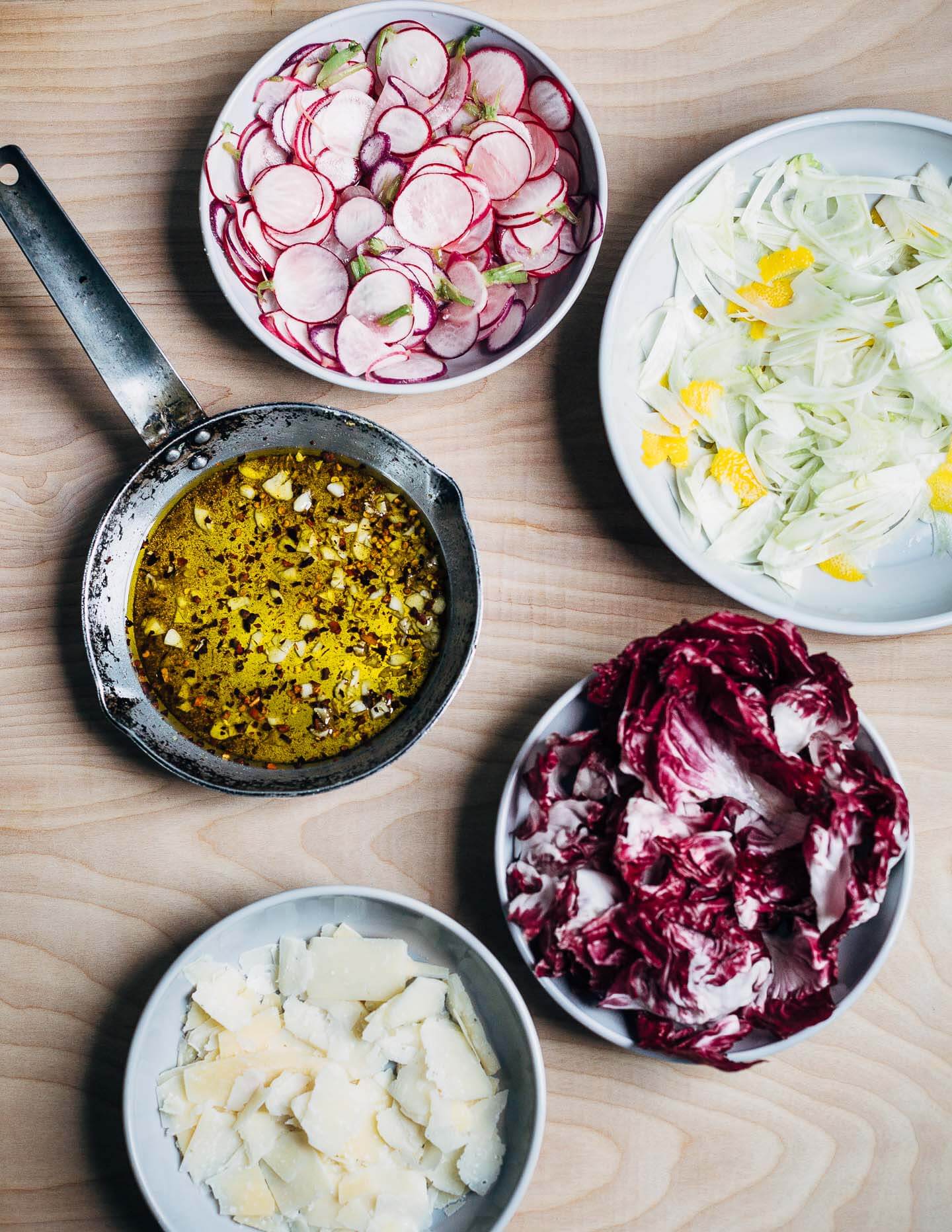 Shaved Radish and Parmesan Salad
I've struggled with what to call this salad. Just "cheese salad" or slightly fancier, "Parmesan salad" were both strong contenders. But you know, there are vegetables, too. Shaved radishes which I make a little fussy by keeping just the tips of the greens and carefully slicing them with the mandoline. There's paper-thin fennel, torn radicchio leaves, and flecks of lemon zest. The base for the dressing is olive oil suffused with red and black pepper and garlic. There should be enough red pepper flakes to deliver a warming bite. Not spicy exactly, but present. I didn't have one on hand, but I'm positive a few slices of a small red chili like Bird's Eye, would be even better.
It's robust enough to keep for a few days and sating enough that you'll want to eat it all the time. Add a jammy egg and a golden slice of sourdough, and you have a meal.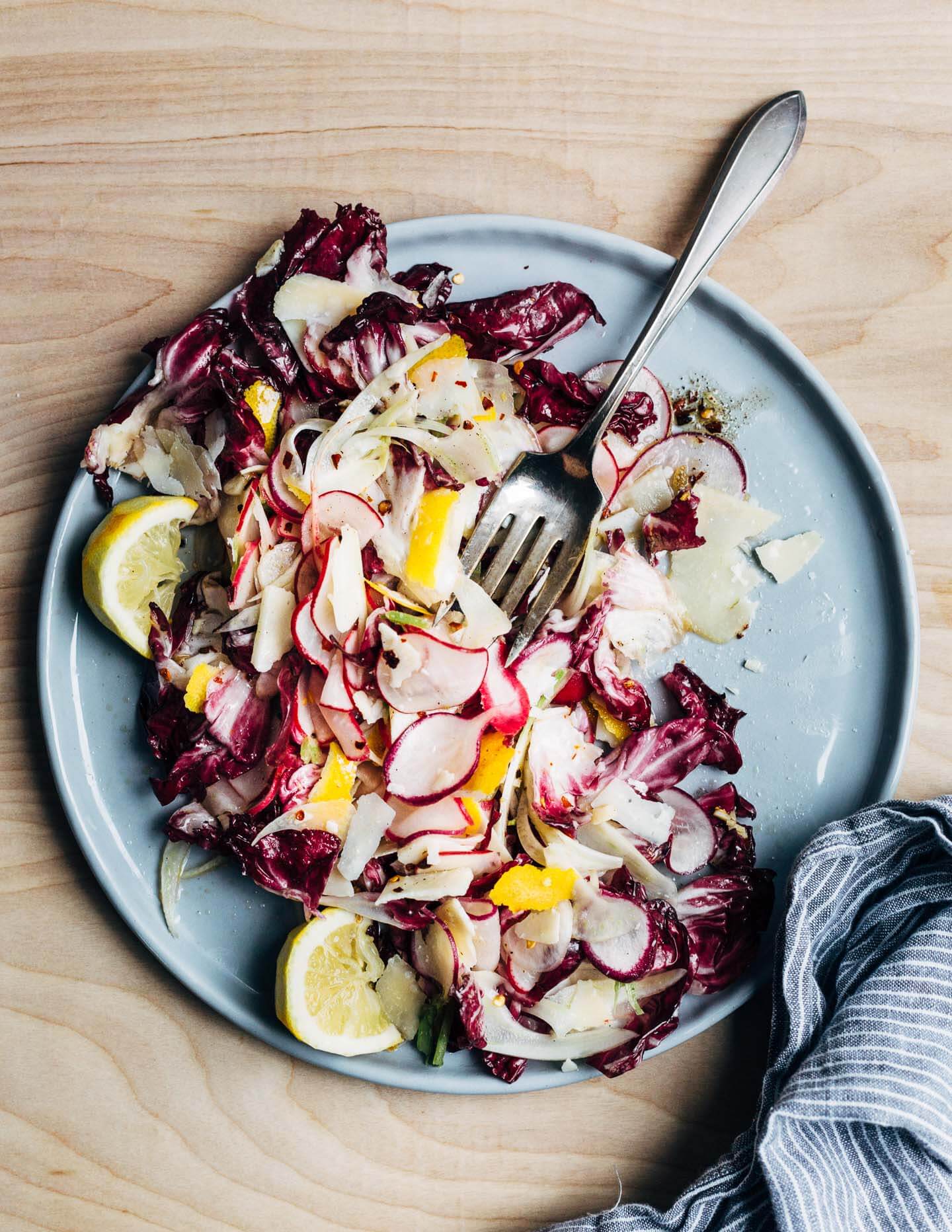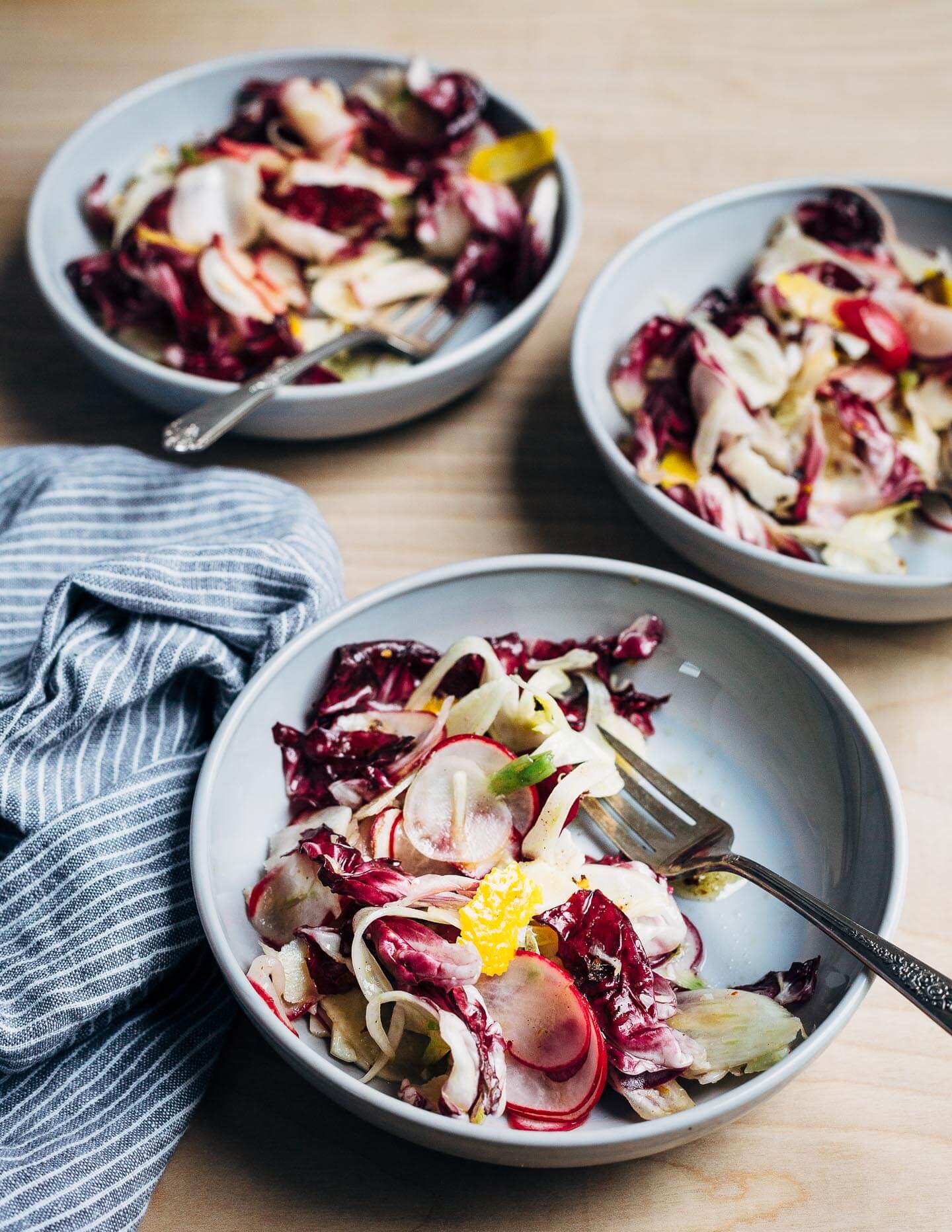 Notes on the Recipe
Once my olive oil stores are replenished, I'll make a full cup of this spicy, garlicky olive oil. It's perfect for salads, tomatoes, or toast. It'll keep well in the fridge for about a week.
I have chain mail gloves for use with my mandoline, and it makes using it much more chill and safe. $15 bucks to keep all your fingertips intact and enjoy thinly sliced vegetables is a solid deal.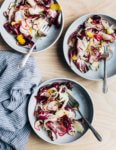 Shaved Radish and Parmesan Salad
A punchy shaved radish and Parmesan salad featuring shaved radishes, fennel, and Parmesan tossed with ton bits of radicchio, lemon zest, spicy olive oil, and nutty fried garlic.
I've used radicchio here, but feel free to sub in any robust, slightly bitter green, tatsoi, arugula, mustard or dandelion greens would all be delicious. If making ahead leave these more delicate leaves out until you plan to serve.
Keyword:
shaved radish and Parmesan salad
Makes
:
4
generous servings
Ingredients
Spicy Oil
3

tablespoon

extra virgin olive oil

1/2

teaspoon

red pepper flakes

1/2

teaspoon

fresh ground black pepper

1/4

teaspoon

sea salt

2

cloves

garlic

smashed, peeled, and thinly sliced
Salad
1

bulb fennel

trimmed and cored

1

lemon

1

bunch radishes

all but 1/4-inch of greens trimmed, gently scrubbed

Sea salt

2 - 3

cups

radicchio leaves (from 1 small head),

or other robust green like tatsoi, arugula, or dandelion greens

3

ounces

Parmesan
Instructions
To make spicy olive oil, set a small skillet or butter warmer over medium-low/medium heat. Add olive oil, and when it's fragrant and shimmering, add both kinds of pepper and sea salt. Olive oil should fizz and sizzle just a bit. Swirl in the garlic and leave over heat for 1 minute, then set aside to cool.

To prep salad, with a mandoline or a very sharp knife, carefully slice the fennel into 1/8-inch thick slices. Set in a medium mixing bowl. Toss with a big pinch of sea salt. With a peeler, remove lemon zest in 1/2-inch long slices and toss with fennel. Slice the lemon into quarters; squeeze one of the quarters over the fennel and toss again.

Slice radishes 1/8-inch slice and place on a separate small mixing bowl. Toss with lemon juice (from another quarter of the lemon) and a pinch of sea salt. Set aside.

Tear radicchio leaves, or other greens, into bite size pieces. Drain any liquid from the bowl of fennel, add radicchio leaves, and toss with a tablespoon of the spicy oil. Add sea salt to taste.

Shave Parmesan into 1/8-inch thick slices.

When ready to serve, arrange fennel-radicchio mixture in a wide bowl or a platter. Drain liquid from the radishes and tuck throughout the salad, layer in Parmesan. Drizzle with remaining hot oil and remaining lemon juice. Finish with sea salt and pepper to taste.

I like this salad best right away, but it will keep well for 2 days in the fridge.