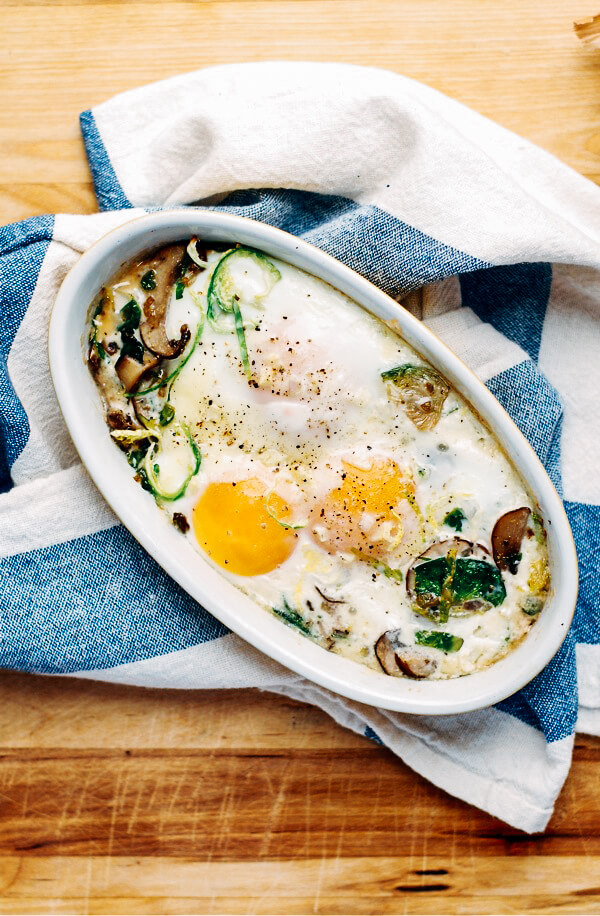 The internet is full of big, amazing people. People whose cakes are frosted perfectly, people whose children don't spill yogurt down the front of their shirt at lunch, people who stroll around the city and don't even care that their suede shoes are getting ruined in the puddles because it's not a big deal to buy another pair. We are not those people. There's something in the air lately–real life, real blogging, real talk, real food. I like that. Especially because I don't stand a chance of ever being one of those big, amazing types. Our life is messy, hopelessly real, and very far from perfect.
And, I'm pretty cool with that. Around here, in this imperfect apartment of ours, change is happening. We're getting closer to what's next for us, to what we want next, and it feels great. What is it that we want? Less. Less cool, less big, less perfect, less busy, less stuff. We want the little things back. Laid back family dinners. Acting silly. Dates (Brian and I haven't been on one since SEPTEMBER. How did that happen?). Closing the computer and living life. Less worrying about the small stuff, less hassle about the big stuff. These are our goals. We're proceeding with hope and our fingers crossed for really good things ahead.
Speaking of really good things, I'm heading to Costa Rica this weekend for a trip with the Rainforest Alliance. We'll be touring Rainforest Alliance Certified sustainable farms, and I can't wait to get there. I'm not sure how connected I'll be, but I'm planning to Instagram the heck out of the trip, so follow along if you'd like. And stay tuned for the full run-down once I'm back. I feel so lucky to have this crazy awesome opportunity. And maybe I'll befriend a sloth? Here's hoping.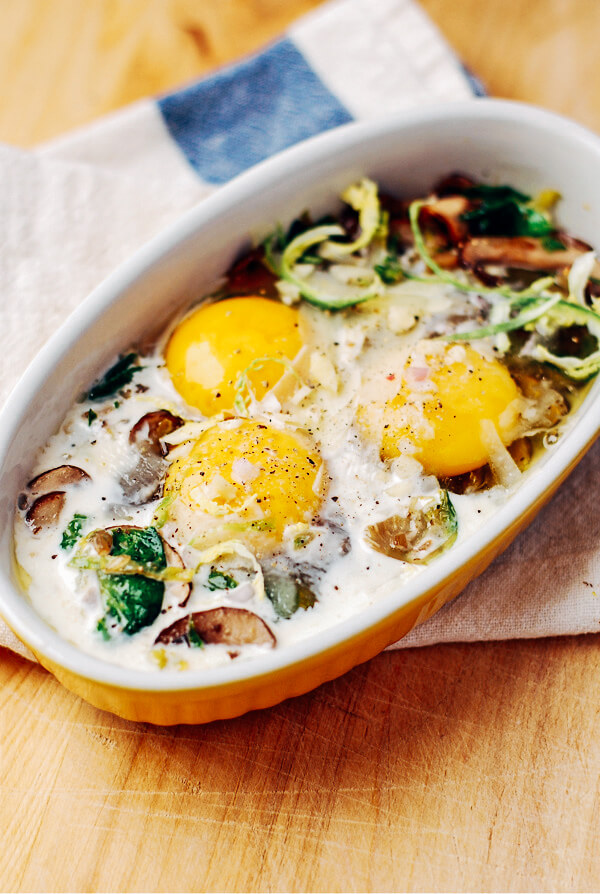 Now for the eggs. I went to the kitchen to make a honey cake or goat cheese ice cream or something fancy, but I was starving and it seemed strange to make a cake when what I really needed was a meal. So after some poking around in the fridge, inspiration struck: baked eggs. My version is buttery, with bright, runny yolks and a little cream. The addition of garlic, Brussels sprouts, and mushrooms adds a little nuttiness and lots of flavor. The eggs are topped with a bit of Gruyere, which is spectacular, obviously. These baked eggs are a great dish for the transition to spring, and could accommodate green garlic, chives, spring onions, and tender greens beautifully.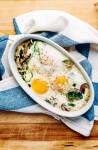 Baked Eggs with Brussels Sprouts and Mushrooms
Ingredients
1

tablespoon

butter

divided

2

cloves

garlic

minced

1

tablespoon

minced shallot

1

cup

crimini mushrooms

wiped clean, stems removed, and sliced

1

cup

Brussels sprouts

bottoms trimmed and sliced thin

3

eggs

1

tablespoon

heavy cream

1/4

– 1/2 teaspoon sea salt

several twists of fresh ground black pepper

3

tablespoons

Gruyere

grated or sliced thin
Instructions
Preheat oven to 425 degrees F.

Heat half the butter in a small skillet over medium-high heat. Add garlic and shallot, and sauté 1 minute. Next, add mushrooms, sprouts, and a good sprinkle of sea salt; sauté, stirring a bit, for about 4 minutes. The mushrooms and sprouts should be soft and will have released a bit of their water.

Place the remaining butter in a small 6 inch ramekin or baking dish, and set in the oven until butter is melted and bubbly. Remove from oven.

Swirl melted butter in ramekin, and then spoon in sautéed vegetables. Drizzle in cream and crack eggs into the dish. Top off with a pinch of sea salt and a twist or two of pepper.

Place in oven and bake 5 minutes. Working quickly, pull ramekin, and add cheese to the top. Return to oven and cook for 1 - 2 minutes more, or until the whites are just set. Keep in mind that the eggs will continue to cook a bit once out of the oven. Pull, and set aside to cool for a minute or two, and serve.