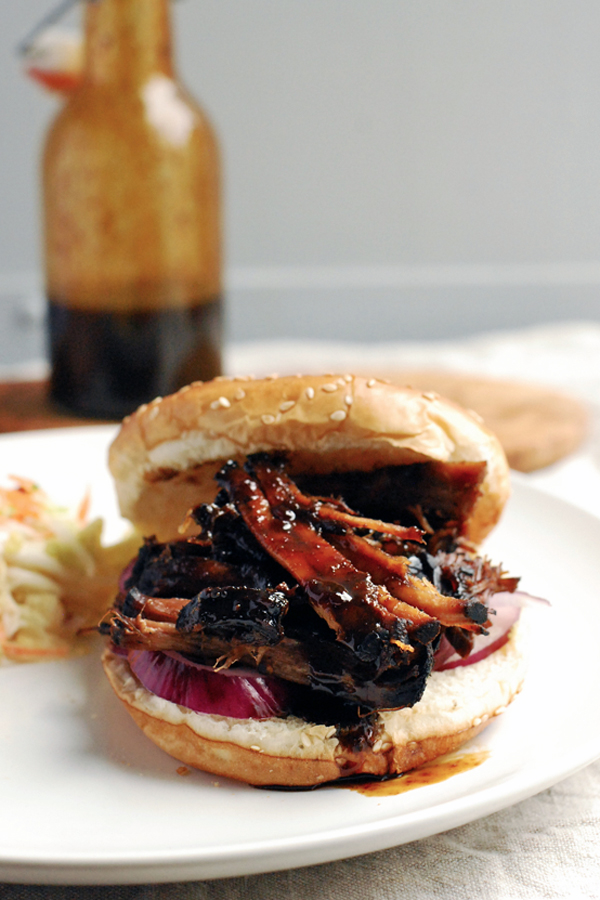 As apartment-dwellers grilling with a tiny grill on the balcony of a building we knew from personal experience to be flammable, our adventures in charcoal were limited to things that could be cooked quickly so that coals could be extinguished immediately. Now that we have a little space, though, Brian and I have wanted to get serious with our new(ish) full-size grill and smoke some meat. Last weekend, we finally made it happen. 
We picked up a pork shoulder and hickory chips at the farmer's market out in Nellysford, VA, and I really liked the idea of an all-day grill project, especially one that was going to smell awesome. In my mind, we'd all be hanging out outside around the grill wearing attractive flannel shirts and Bean boots, laughing and drinking scotch or something equally manly. (Wait––is my ideal fall party actually just camping?). Anyway, as our 96 year old neighbor has commented, every time we try to have a party outside, it rains. Undaunted, but with gloomy clouds threatening, Brian started up the grill in the morning and got the meat smoking.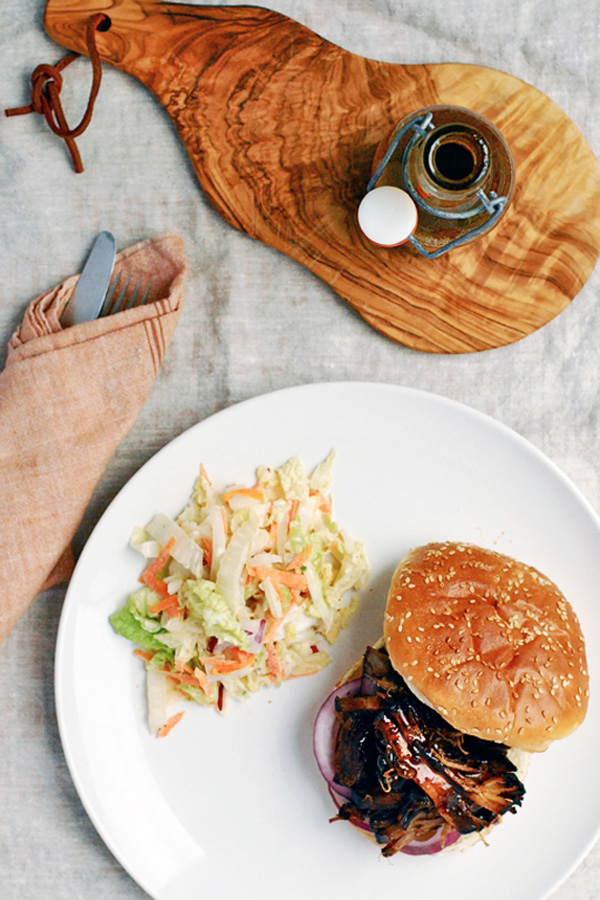 Rain held off for most of the day, and by the time the downpour hit, the meat was ready. As he kept and eye on the fire, Brian taught the girls how to rake, helped them collect sticks, and they all played outside. All the while, the smell of hickory chips wafted through the house.
That evening, we had a few friends over and sat down to incredibly tender, flavorful pork on hamburger buns with molasses barbecue sauce and slaw, baked beans and salad. We drank beer and had this crisp for dessert, making for an excellent end to a nearly perfect fall day, rain and all.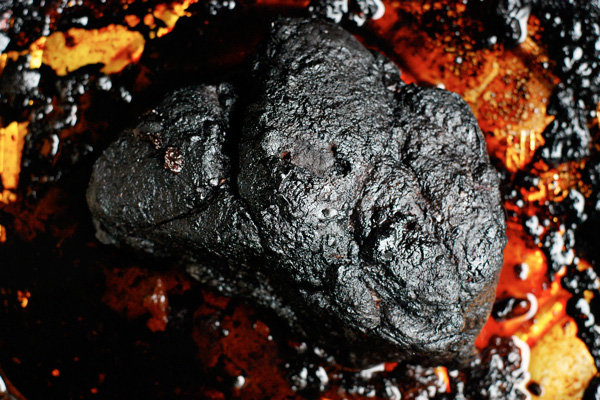 Smoked Pork Shoulder with Molasses Barbecue Sauce
While making your own barbecue does take time, it doesn't require too much work. If you have the means (meaning a charcoal grill, a little space, and neighbors who don't mind some smoke), this is a good starter recipe. Once you have the basics down, experiment with flavors. The recipe yielded completely delicious hickory-infused pork. Because the approach is so simple, make sure you are starting with a great cut of meat.
for the pork
serves six
3 pounds pork shoulder
3 tablespoons sea salt
3 tablespoons paprika
1 tablespoon chili powder
A few twists of black pepper
3 cloves garlic, minced
2 tablespoons red chili paste
1 tablespoon white vinegar
1 tablespoon honey
plain old charcoal and about 4 pounds of hickory chips
disposable roasting/lasagna pan
Combine salt, paprika, chili powder, and pepper. Add garlic, chili paste, vinegar, and honey. Mix well.
Place pork shoulder in a disposable aluminum baking pan and spread the mixture over it.
Start your grill using a little less charcoal than you might for direct-grilling meat. After 30 minutes or so, when the grill is hot enough that you can't comfortably hold your hand a few inches above it for more than a few seconds, use long tongs to pile the coals up on one side. Add two handfuls of hickory chips (and be prepared––things are about to get smoky).
Pour a cup or so of water into the roasting pan with the pork and place it on the grill on the side that's not over the coals. Put the lid on the grill with the vents in the top open just a little.
Every 30 – 45 minutes, add water if there's none left in the roasting pan and a handful of hickory chips if you don't have enough smoke.
After 3 1/2 hours, check the temperature to see how you're doing. You're aiming to get to 190 degrees F, a temperature at which the meat will fall apart easily. Ours took about 4 1/2 hours total.
Meanwhile, make the barbecue sauce (recipe below).
When it's done on the grill, transfer the pork shoulder to a Dutch oven or other large pot along with 1/2 cup of water, cover, and set over low heat until you're ready to pull it apart with tongs and serve.
Serve your barbecue on toasted hamburger buns slathered in barbecue sauce and coleslaw.
for the molasses barbecue sauce (adapted from Williams Sonoma)
makes about 1 cup
1/2 cup vinegar (white or apple cider)
1/2 cup sugar
1/4 cup molasses
2 tablespoons ketchup
1 tablespoon dry mustard powder
1 tablespoon chili powder
1 teaspoon sea salt
1/2 teaspoon paprika
1/2 teaspoon fresh ground black pepper
In a medium-sized sauce pan, heat the vinegar over medium heat. Stir in the molasses and sugar, and all of the spices. Heat until mixture is bubbling, then turn heat down to a simmer (medium-low). Cook for about 20 minutes, stirring frequently, until the sauce has reduced and thickened.
Sauce will continue to thicken as it cools.
Serve immediately, or pour into a bottle or jar and refrigerate. This sauce should keep well for one week.