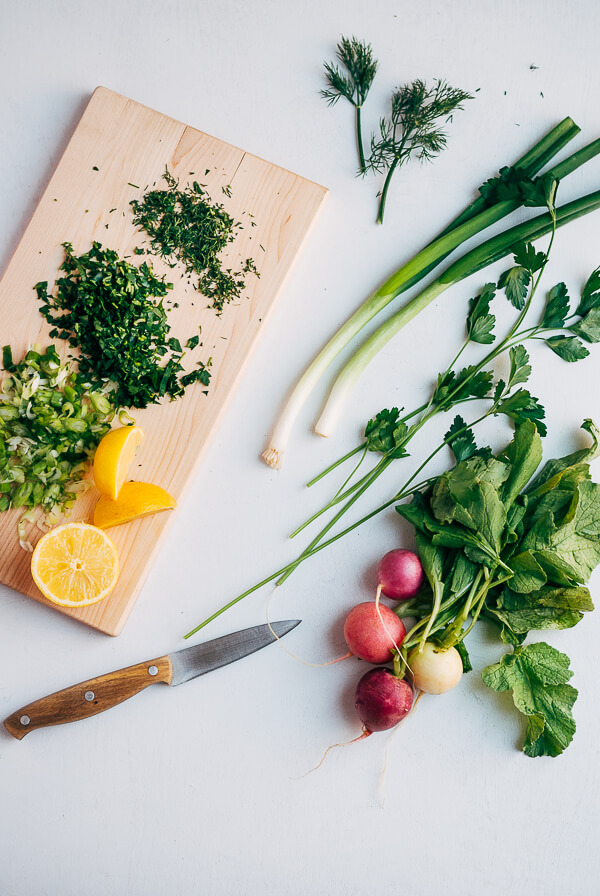 Smoked salmon and herbed cream cheese toasts that are perfect for brunch or an elevated snack. This post is sponsored by Philadelphia Cream Cheese. Jump to recipe.
In grad school, I lived in Boston's Beacon Hill, a neighborhood that can now claim to be the unlikely former home of Ted Kennedy, Sylvia Plath, John Kerry, and me in my art student days. Although I felt out of place, I adored the worn brick sidewalks and the view of a picturesque courtyard from my tiny basement studio. I loved to entertain, and would invite way too many people over to sit on my floor and eat beans (or something else that fit my limited budget). This haphazard dinner party style followed me all through my many East Coast moves, to apartments of varying sizes, all with mismatched chairs that were uncomfortable and too few. I've been under the impression that I love throwing parties ever since.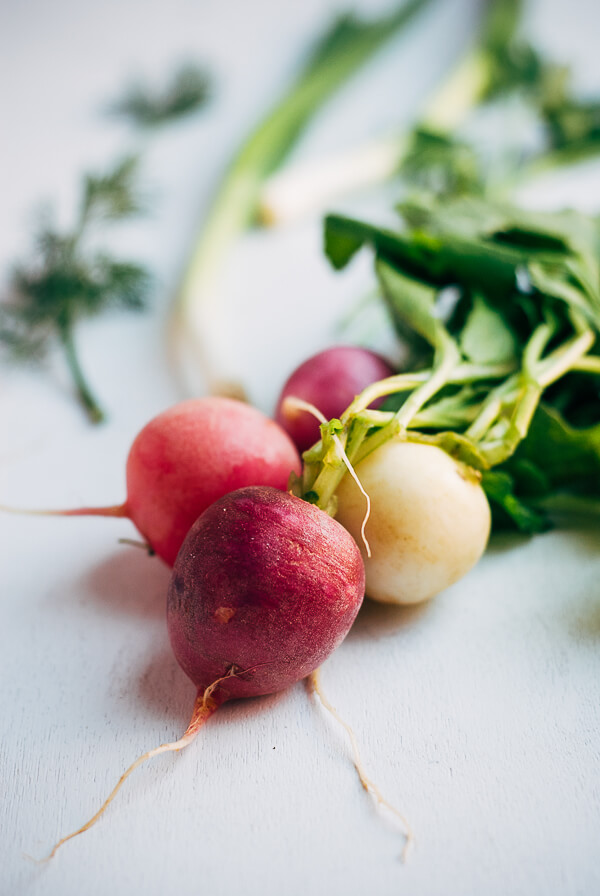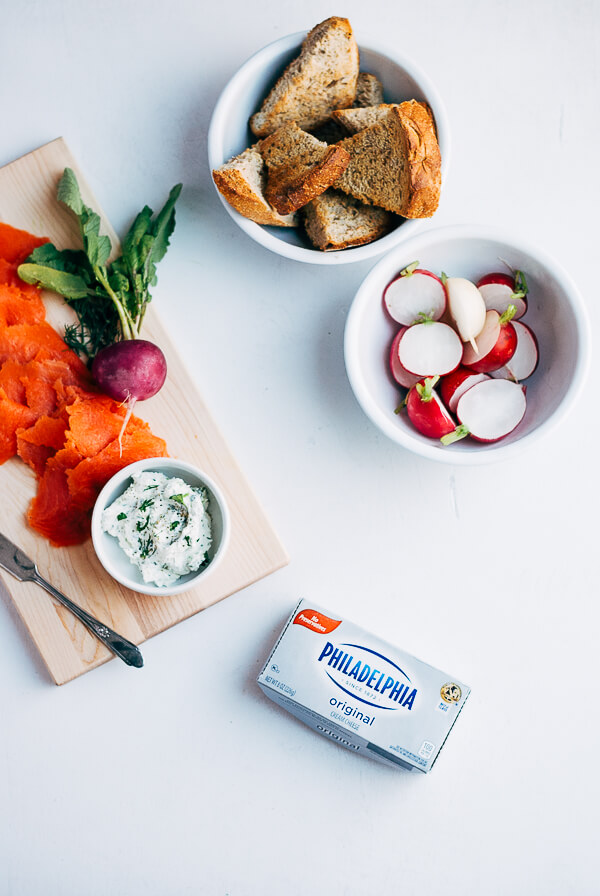 Lately, though, I've been building to a revelation – I like small parties best. Four or six people is enough to cook something special for, but the prep isn't so overwhelming that you never get to actually sit down. You mix some cocktails, set out snacks, and enjoy both making and enjoying the main course at a leisurely pace.
Another revelation – brunch parties rule. Brunch is maybe the most delicious meal, and anyway, it's nice to have a party that sets the tone for your day instead of finishing it. But brunch can also be challenging because brunch staples like egg dishes, pancakes, and waffles require you to be in the kitchen cooking while your guests are waiting. So it's good to have a few dishes up your sleeve that allow you to do most of the prep in advance and require minimal cooking. That's what makes smoked salmon toasts with herbed cream cheese such a great go-to.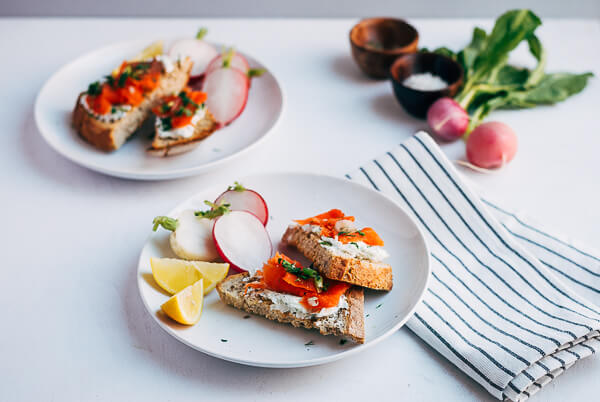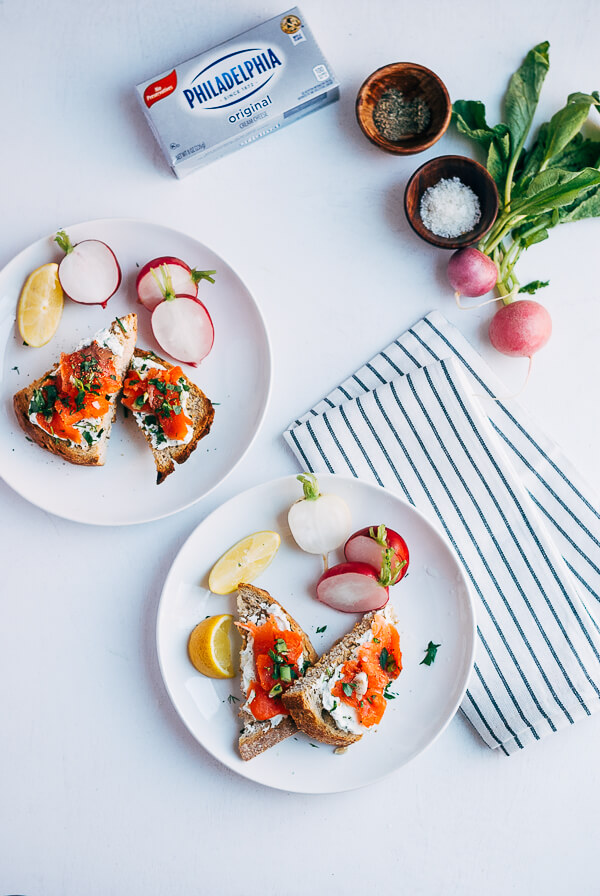 Of course, ease of preparation always takes a backseat to great flavors and textures and these toasts deliver both in spades. Creamy, with a subtle tang, Philadelphia Cream Cheese sets the tone for the spread. A few spring herbs and a squeeze of lemon later, and you have a delicious herbed cream cheese spread that complements the richness of smoked salmon beautifully – the smoky, tangy, salty, and herbaceous tastes work in perfect harmony. This dish is perfect for a special Easter brunch or any number of springtime gatherings.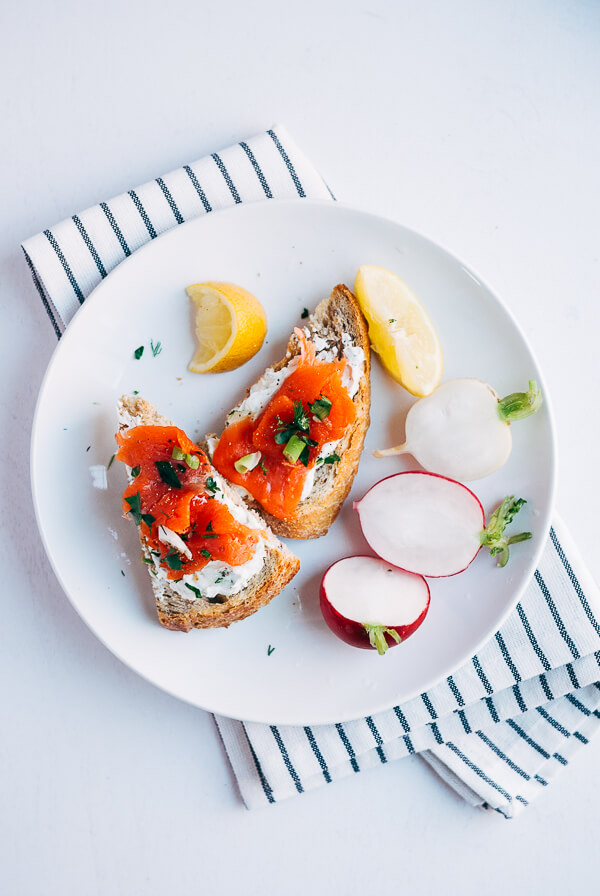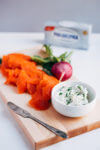 Smoked Salmon Toasts with Dill and Cream Cheese
Smoked salmon and herbed cream cheese toasts that are perfect for brunch or an elevated snack.
Ingredients
1

bunch Easter egg radishes

, rinsed

sea salt

8

ounces

Philadelphia Cream Cheese

1/4

cup

freshly squeezed lemon juice plus 8 lemon wedges for serving

1/4

cup

minced green onion

, plus more for garnish

2

tablespoons

minced parsley

, plus more for garnish

2

teaspoons

minced dill

, plus more for garnish

ground black pepper

8

ounces

smoked salmon

8

slices

toasted rye bread

, cut into triangles
Instructions
Trim the greens and halve the radishes. Toss with a generous pinch sea salt and set aside.

In a large bowl, use a fork to whip together the cream cheese, lemon juice, green onion, parsley, and dill, along with a generous pinch each sea salt and pepper. Herbed cream cheese can be made two days in advance and kept covered in the fridge.

Spread several tablespoons herbed cream cheese on each toast, layer on the smoked salmon, garnish with minced herbs, sea salt, pepper, and a squeeze of lemon juice. Serve with halved radishes.
This original recipe was created by me in partnership with Philadelphia Cream Cheese and is not an original Philadelphia Cream Cheese recipe. Cream cheese and spring eating were made for one another – do you have a favorite Philadelphia Cream Cheese recipe? I'd love to hear about it below.
Thanks to Philadelphia Cream Cheese for sponsoring this post!